The attraction of cat cafes are the cats. Make a reservation, pay a cover fee, play and cuddle with a cat. In essence you are renting a cat. Cat cafes started in Taiwan in 1998 with the unique idea that patrons can enjoy cat time and get a snack or a hot beverage.  They quickly spread around the world where cat lovers can now go to hang out, have a drink and a tidbit, and play with cats.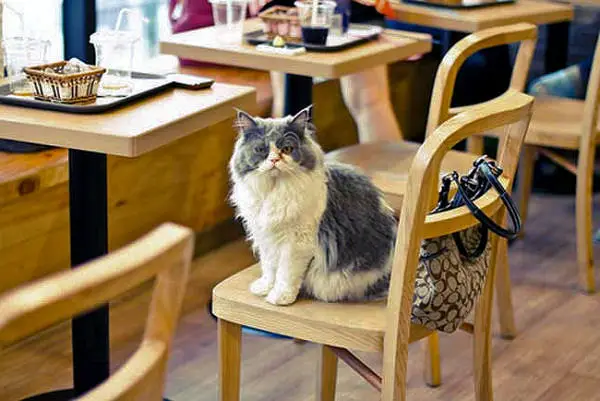 Might sound a little unusual, but look at the trending for funny cat videos on YouTube. People are fascinated by cats and their antics.
Most cat cafes require a reservation before visiting your favorite cat town cafe. Once in the cafe you order your drinks and food. Some allow the cats to wander freely and in others, you walk into an extravagant play area to spend time with diva kitties, rolly polly cats, and just plain tabblies – although nothing is plain about any cat.
Feline cafes often have a secondary purpose – mainly an adoption store.  The hope is that cats in cafes will find families. Cat cafes allow cats to blossom, play, reveal their personalities and find permanent homes. Cat cafes around the country and the world originated to get cats out of animal holding pens or shelters and give them a better chance for life and hopefully a furr-ever home.  Let's take a peek at some of the most popular cat cafes.