We had the distinct pleasure of speaking with the chief hooman (Laura Kicey) of two of our favorite social media darlings – Olive (a calico) and Rye (a tortoiseshell).  This delightful duo were rescues from the Philadelphia Animal Welfare Society (Philly PAWS) and next week will be their 2-year adopt-aversary.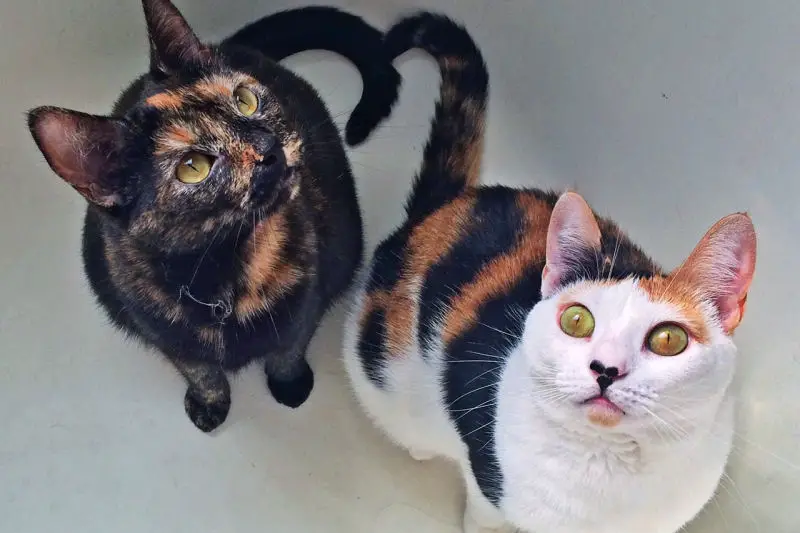 The two were adopted on the same day (Aug. 23, 2014) from the same shelter, but prior to this they hadn't met before.  On that special day Rye was about 6 months old while Olive (the elder damsel) was estimated to be 1-2 years old.  Olive was being treated for an eye infection and dealing with the trauma of a stillborn litter, while Rye was characterized as a very scrawny little tortie with a very big mouth.
What originally seemed like an unlikely combination, these two BFFs are now inseparable.  In fact, together they have since amassed over 92K Instagram followers!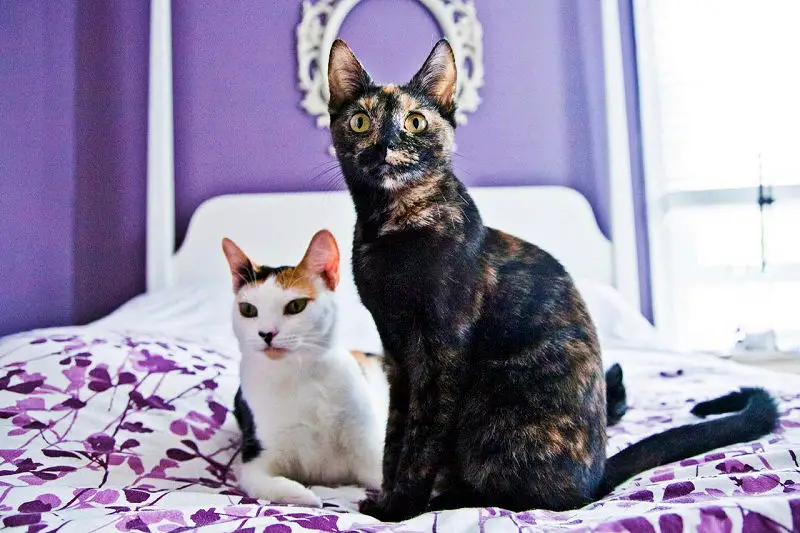 Olive started to blossom after her first week home, but for several months it was apparent that she was still grieving her lost litter.  To compensate she took on the mothering role for Rye.  Laura said "Olive didn't seem to know quite how to be a cat. She was afraid of jumping up on anything, she never meowed, and she often wagged her tail when it seemed she was happy or excited, just like a dog."  Rye was the perfect companion to teach Olive the 'way of the cat' and now their relationship has evolved to a partnership of equals.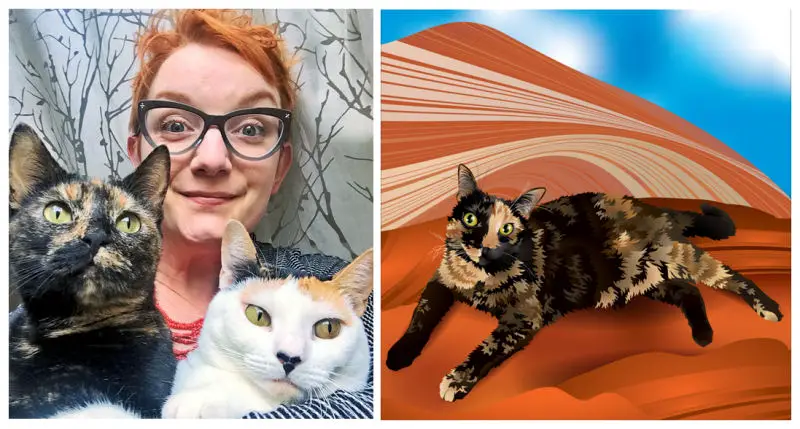 "They do love to fight and wrestle and chase each other around the house," Laura adds, "but they also love to sleep snuggled together, especially in the cold winter months."
Their adventures are updated daily on Instagram and if you wonder how the photos are so cleverly taken and exude an artsy deco feel…that would be Laura's talent as a professional photographer and designer.  How's that for a powerhouse combo!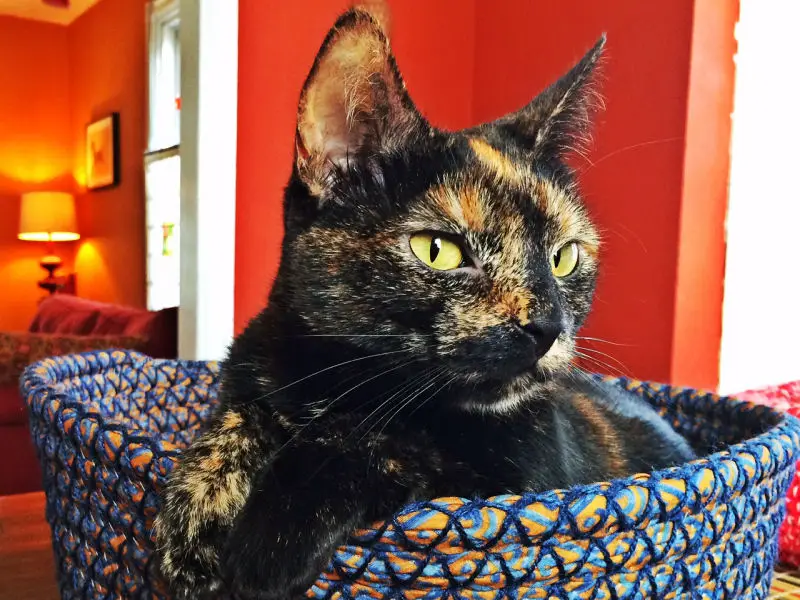 Getting personal we probed a bit further and found out their kryptonite – turns out Rye has a real weakness for yogurt (plain or berry) while Olive is a big fan of cheese.
In terms of their personalities, Rye is super affectionate with people. The best part of every day is when her hoomans get up in the morning (she spends the night in Laura's home office because she is a very enthusiastic night player and attacks any body part moving under a blanket).  "She cries and cries until we pick her up and hug her and she smashes her faces into our shoulders, eyeglasses, ears, cheeks and noses purring like a maniac. Better than coffee!"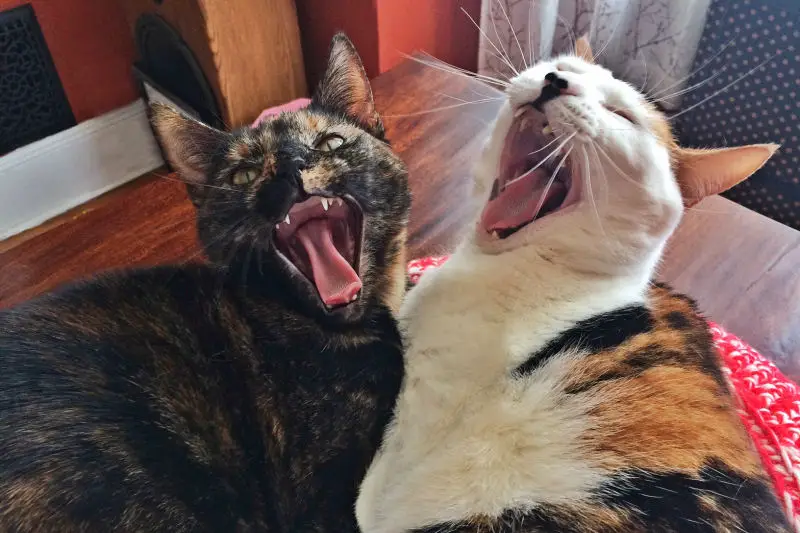 Laura adds "Olive's most hilarious attribute is that she is still learning how to be a cat and is still extremely bad at it. She seems a bit developmentally stunted, which we joke is due to her growing up on the streets and never learning how to hunt, so we say she lived on cigarette butts, paint chips and dead bugs. Olive might be dopey, but she seems to enjoy everything profoundly, no matter what!"
[clickToTweet tweet="Rescue Duo Are Now Instagram Darlings!" quote="Rescue Duo Are Now Instagram Darlings!"]
The pair are both so extremely agreeable it is pretty crazy. They aren't biters or scratchers in the least. Rye gets most upset if it is too hot to go out and will cry to be let out onto the sunroom while pulling at the weather stripping on the bottom of the door and then roll around wailing dramatically.  Olive on the other hand, almost never makes any sounds at all and normally does not make much of a fuss.  "When she really wants to be pet, she'll weave in between your legs, stand up on her hind legs and grab at your knees until she receives the loves she needs. She isn't especially fond of being videoed with the Snapchat filters but will only ever just look away or get up and walk away. We don't have divas in this house!"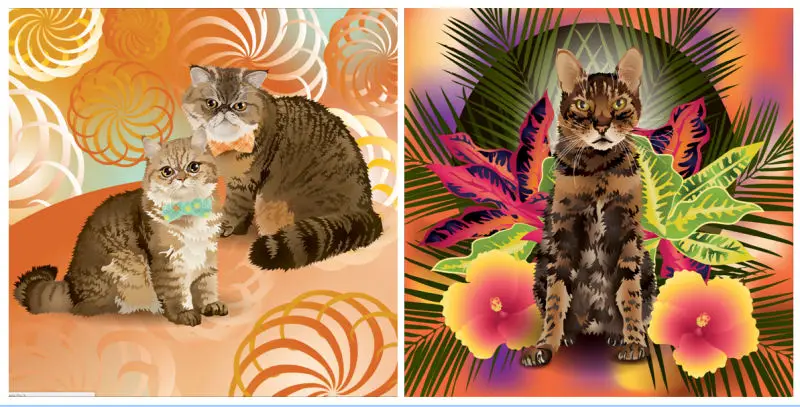 When asked what exciting new projects are on tap, Laura told us that she is always working on new art, both custom pieces and general cat art. They were included in the just released Cats of Instagram book and her cat art will be appearing in a few new venues including Kawaii Kitty Café in Philadelphia and also Sleepy Cat Urban Winery in Allentown, PA.
We asked if Olive & Rye could speak, what would they say to their IG fans?  Olive would say "I don't know what's happening, but I am so excited ABOUT EVERYTHING!" repeatedly, and maybe also "What's happening!? Can I smell your feet? I'm so overwhelmed I may need to take a nap!"
Rye would declare her undying love to everyone and then ask if they had anything to eat and/or demand to be let out on the porch/be snuggled/play.  Laura is certain they would both enthusiastically endorse visiting your local shelter or cat café and adopting your next best friend.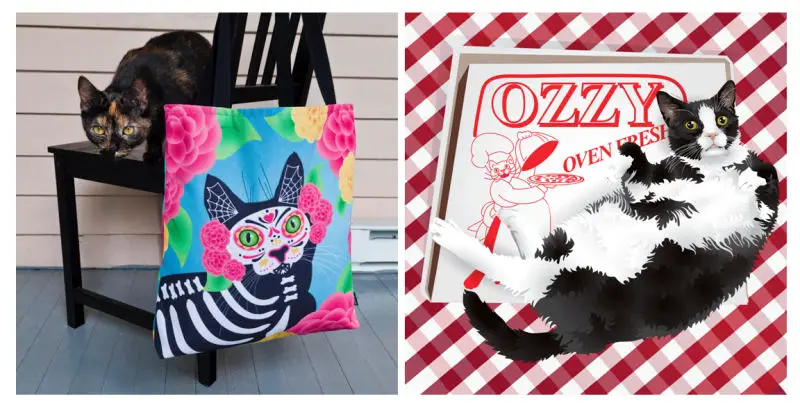 We next asked if you had to pick the closest matching Hollywood celebrity…who would be Olive and who would be Rye?  This one really cracked us up when told that Olive is kind of a Gary Busey, wild-eyed, slightly unhinged and unpredictable.  Rye is more like Poussey on 'Orange Is The New Black' – kind of a cute tomboy, smart, extremely charming and likable but a bit of a troublemaker.
Finally we asked why Laura chose the names Olive and Rye?  We assumed it had something to do with a stiff drink but turns out that she always liked "old lady names" and almost named her last cat (Hazel).  The moment she met Olive and saw her huge intense green eyes and general roundness – it was meant to be.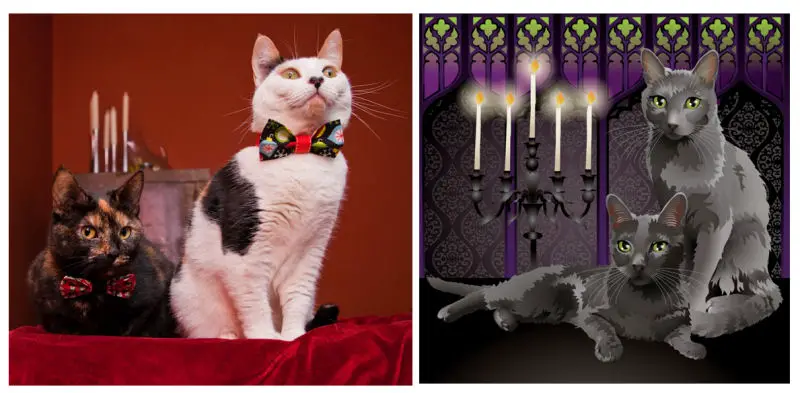 Since they hadn't anticipated adopting two cats that day, they didn't have a second name immediately for Rye (whose shelter name was awful – Nittnay, after the Nittany Lion of Penn State).  Laura and her bf tossed a few things around and kind of wanted a food-ish name but something short and kind of boyish– she is a total tomboy and many people think she is a boy if they don't know that torties are always female.  Plus she looks a bit like a loaf of marble rye bread.
Decision made! Rye sounded perfect with Olive and even had a little martini making vibe too which was cute.
Learn more:
Check out Laura's amazing custom cat portraits and stunning art apparel via: oliveandryecats.com
…or visit their Etsy shop at: OliveAndRyeCats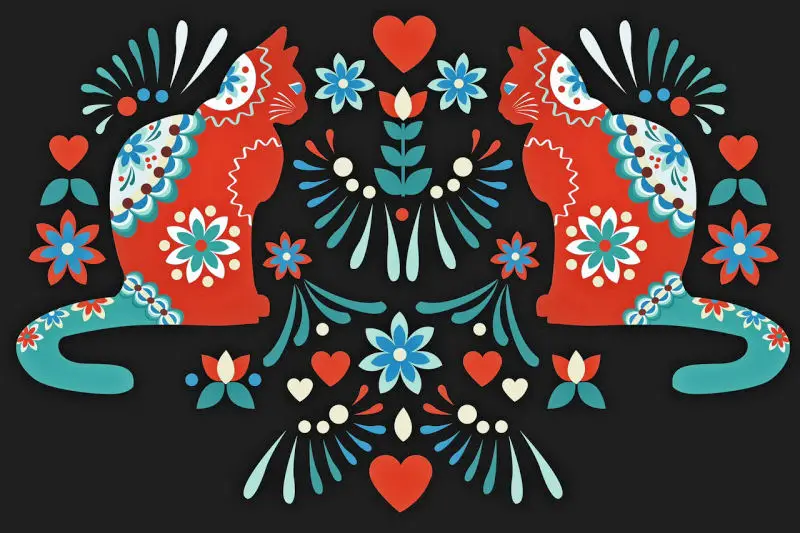 And be sure to follow Olive & Rye's IG account right meow at: @oliveandrye
Save
Save
Save
Save
Save
Save
Save
Save
Save
Save
Save
Save
Save
Save
Save
Save
Save
Save
Save
Save
Save
Save