Introducing The Tuxedo Trio (aka Boston's Beauties)
The Tuxedo Trio are a Boston based family consisting of Ben who just turned 5, Jack now 3, and Hugo who is 2.  Owner Deb told us that they are the proud owners of three best friends. Ben is the alpha male, always making sure Jack and Hugo know he's the boss. Jack is by far the most playful. He loves to play fetch and catch–and lately he has been loving it when we blow bubbles around the apartment for him to catch. Hugo is the vocal one, always chirping and talking loudly like he needs attention. She told us she couldn't imagine her life without them in it.  We asked Deb a few questions: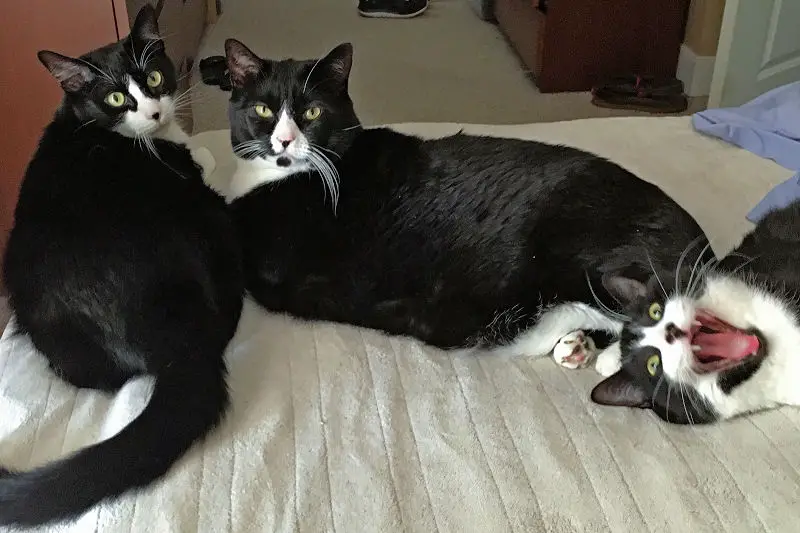 Photo courtesy of @tuxedotrio
Q:  Why did you choose tuxies?
It's weird–they kind of chose me! We wanted to adopt some kittens when we knew our older (orange tabby) cat, Jake, was not going to make it through his bout of bone cancer. Around that time, a friend of the family's female cat snuck out of the house before her spay appointment and came back pregnant. Not wanting the kittens to end up at a shelter, she began looking for good homes for them all. I told her if she had two boys in the litter, we would take them and it turns out the only two boys in the litter of six were two tuxedos! That's how we came to adopt Ben and Desmond. Jack came along about a year and a half later–from the same family friend. And then, when Desmond passed suddenly from heart failure, I began looking for another kitten. I wasn't actively seeking out another tuxedo, but it just so happened that we found Hugo online and I knew I had to adopt him.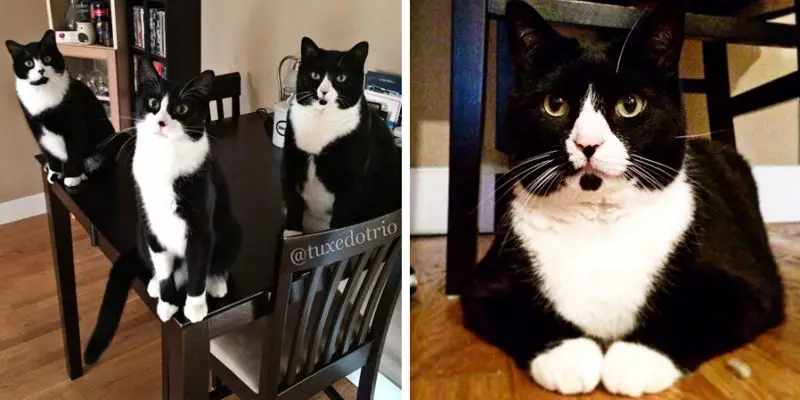 Photo courtesy of @tuxedotrio
A Tribute to Tuxedo Cats
Click To Tweet
Q:  Funniest moment(s) you've experienced with the trio?
I would have to say every day is an adventure with these three guys. Seriously, I can think of so many stories that have made us laugh. One time we came home from work when Ben and Desmond were kittens and found the freezer wide open and all the food from inside it all over the floor. I'm talking melted ice cream, frozen blueberries smashed into the hard wood floor, half-eaten raw chicken ripped to shreds… ugh it was a mess. And that's how we came to have baby locks on our freezer even though we don't have any children.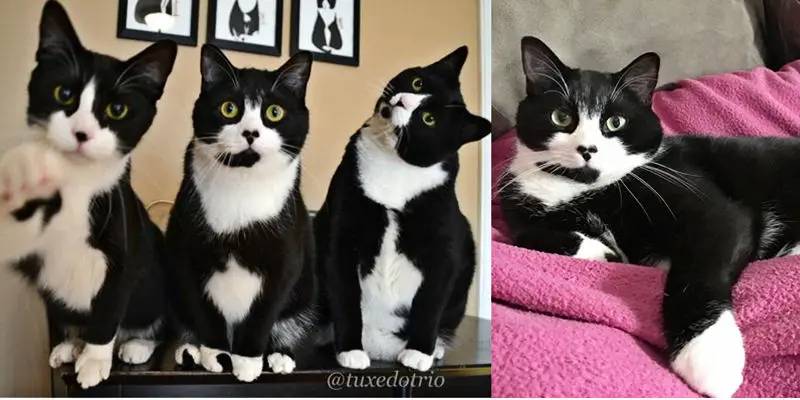 Photo courtesy of @tuxedotrio
Q:  Any noteworthy story about their background and/or how you acquired them?
I might as well tell you where their namesakes come from! My husband and I are huge LOST fans, so we named the cats after characters on the show (Benjamin Linus, Jack Shephard, Hugo Reyes, Desmond Hume). That's also where the design for our shirt designed by YippeeCatYay comes from:
(If you have ever watched LOST, you will get the reference.)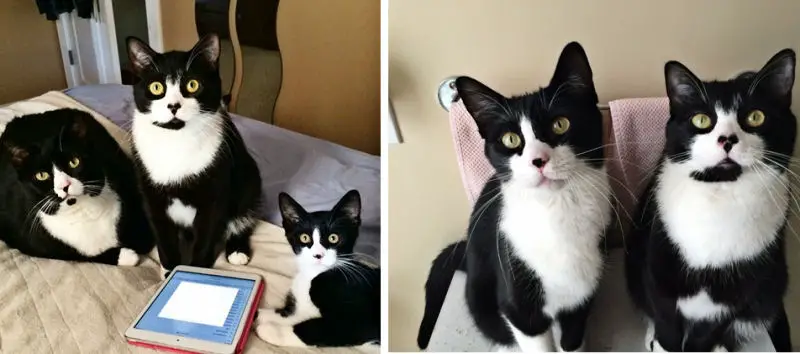 Photo courtesy of @tuxedotrio
One other thing I'd like to add–we have a blog! I like to write posts on city living with 3 cats, arts and crafts, home organization, and product endorsements. I started the blog 5 years ago when I toilet trained Ben and Desmond (Ben still uses the toilet to this day–yes, you read that right) and then just kept writing about the cats and our lives.
We love these guys!  Follow their exploits on Instagram here => @tuxedotrio
In closing we wanted to make mention of a very famous tuxedo cat named Simon who in 1949 was awarded the Dickin Medal, which honors animals in wartime. Read his inspirational story…