It's no surprise that pets play a huge part in people's lives. The role they play can range from recreation, to working animals, to support, and anything in between. In any case, they provide emotional support and truly can be one of our best friends. It's safe to assume everyone sees their pet as a support animal, whether or not this is actually the case. However, these pets can actually play a crucial role in our lives when it comes to our health. In fact, trained support animals may help improve the quality of life when going through big changes, like being diagnosed with cancer, being hospitalized, or anything in between.
So what does a cat's role look like in this scenario?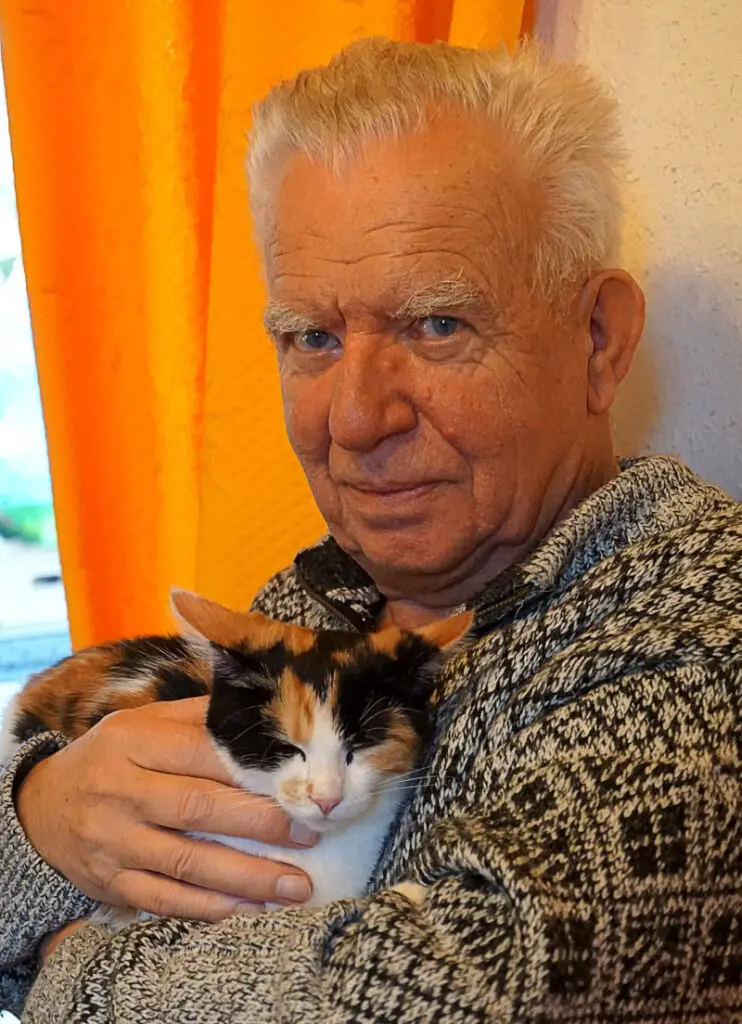 Having a Cat as a Support Animal
Oftentimes, dogs are the poster child for support animals. Dogs can be trained for physical tasks, can help lead the blind, and can even detect certain foods that may contain allergens. However, there are plenty of other pets that can be considered support animals, which is where cats come in. When it comes to emotional and social well-being, cats can actually provide the same or better results based on the patient.
Through chemotherapy, time in the hospital, and blood tests, the emotional and mental health of a cancer patient can dwindle fast. Their whole lives are changing, and the results can always vary between good news and bad news. This is why the side effects of cancer and hospital time aren't just physical; they tend to impact our emotional, mental, and even socia well-being.
Cats can be registered as emotional support animals (ESAs), which can actually allow you to have your cat in multiple areas outside the home to ease mental health and emotional health detriments a cancer patient may undergo, both during and after treatment. This means that a patient doesn't have to give up their cat after diagnosis, it just means coming up with a new plan to provide care on both ends of the pet-owner relationship.
We thought it would be nice to showcase two such therapy cats whom we adore almost as much as the patients that they visit and cheer up!
Meet Mr. London Meow – a remarkable hospital therapy cat, who regularly visits the Royal London Hospital bringing joy and comfort to many of the patient's there. He's well known in the cancer and trauma wards and by much of the hospital staff. Who wouldn't want a visit from this handsome fella!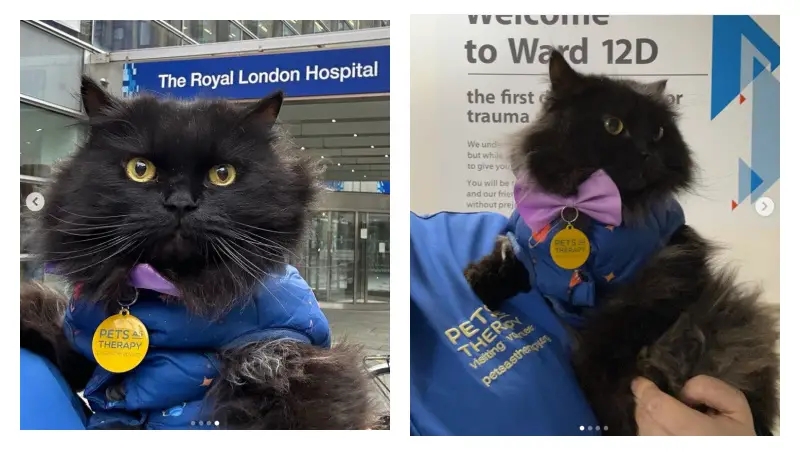 You can follow and learn more about London Meow on his IG feed at: @mrlondonmeow
Introducing Summer – a former show cat and now therapy cat that is often seen visiting the Cancer Center waiting room of her local hospital. This gorgeous girl is also a regular visitor at the pediatric ward and has even been known to frequent the hospital's Behavioral Medicine area.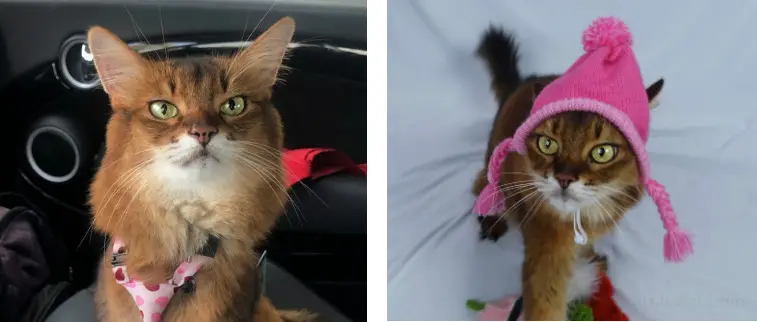 You can follow and learn more about Summer's adventures on her IG feed at: @summerstravels
Caring for Your Cat While Undergoing Treatment
Personal health is going to be at the forefront of your mind if you're undergoing a diagnosis or treatment. But, it's important that you're caring for your pets along the way. Caring for a cat while taking care of yourself can seem overwhelming, as expected. If you're lucky enough to have people in your life that can help you, have them help with a few things to ensure that your pets are taken care of during this crazy time.
Removing waste from any place your cat may be able to get into is the first step. This means shelves, underneath beds and tables, countertops, etc. Removing this waste will mean there are less things for your furry friend to get into, and less to worry about when you come home from a long day of treatment. Even taking out the trash and helping with the litter box can go a long way – one less thing to worry about can truly make or break in your emotional health when coming home.
Another step to consider is keeping your cat indoors as much as possible. A lot of cat owners do have cats that are outdoor cats. But, they can potentially bring in diseases that could affect your health. It's better to have them be a little hyper for the time being, than risk more health concerns. In the same vein, you'll want to stay on top of vet visits. Working with your vet to help plan visits around your schedule and appointments can seem daunting at first, but will make your life a lot easier if you can gauge when you'll be feeling up for a vet visit.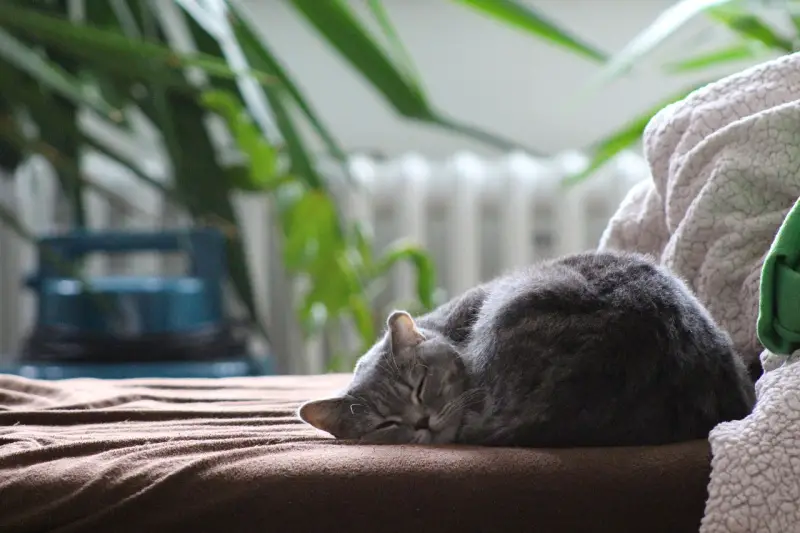 Communicating with Your Cancer Team
Outside of vet visits, one thing that can help you as a cat owner and cancer patient is working with your cancer team and communicating effectively. While healthcare professionals are just that, healthcare professionals, reaching out to them about having pets at home can help nurses, doctors, and their administrators come up with a schedule and a plan for undergoing treatment. This means time away from your animals can be more intentional, while still focusing on your health.
They can also tell you if your pets pose a risk to your health; this goes for all pets you may have, not just cats. You never know if having pet rats, snakes, dogs, etc., may be causing more side effects. If that's the case, it's a great time to lean on loved ones to help share the responsibility for taking care of your pets. If you aren't able to work with family and friends for care, finding a cat sitter may be a good route. There are plenty of sites and apps to help, but you can usually find someone who will do daily drop-ins, house-sits, or anything else you may need, both on a regular basis and for impromptu events that may occur.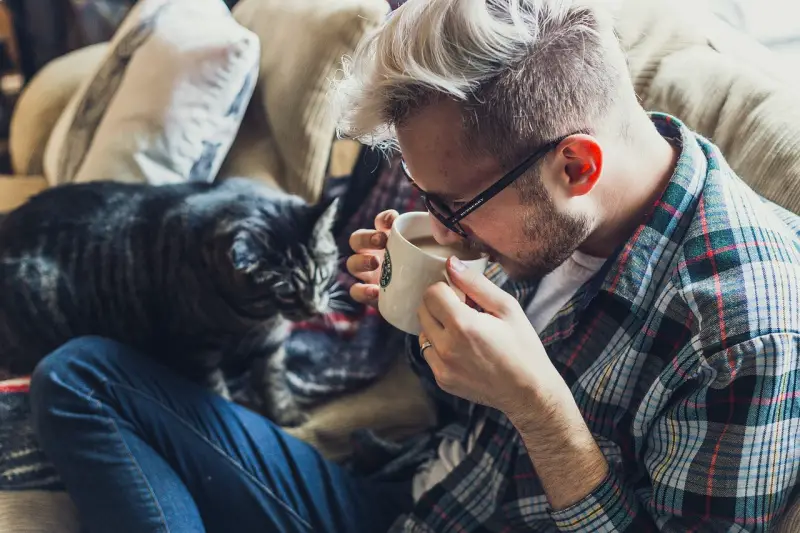 While planning for cancer can be difficult and tiring, making sure your pets are taken care of is still important. After all, your furry friends are also family! Steps to ensure that your pets are healthy to be around, you're keeping your home safe for them and you, and much more can truly make a difference in your quality of life as you start to deal with diagnoses, treatment, and much more along the way.