* CONTEST NOW CLOSED *
Truth be told, we have a soft spot for cat themed children's books and are so pleased to have come across another delightful book called Hello My Name is Bunny!  Inspired by a real-life rescue cat, this is the tale of a small kitty with a big heart who's finally found her fur-ever home, thanks to a kindly New York City couple. The author (Matt Bloom) graciously donated 5 signed copies to us which we raffled off to 5 lucky readers!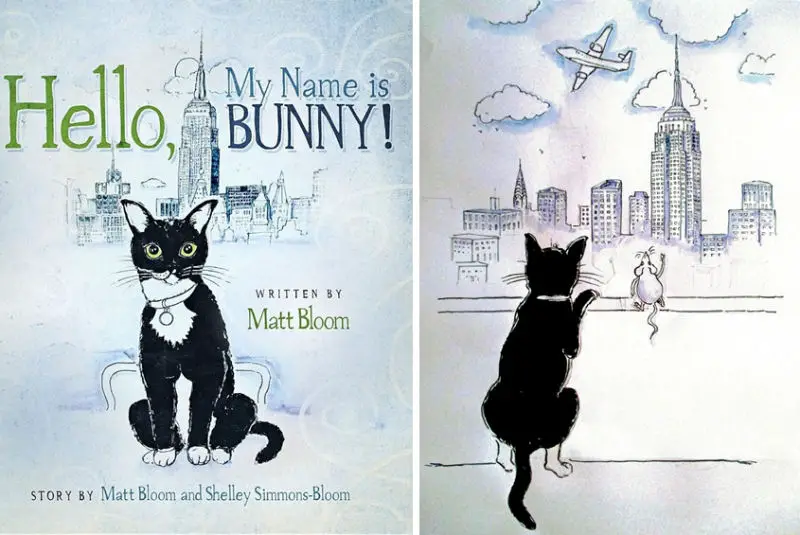 Bunny can't seem to enjoy her good luck knowing other animals aren't as fortunate as she is. This desire to help those in need compels Bunny to escape her safe, comfy apartment and embark on a wild adventure that takes her through Manhattan's busy streets and over its towering skyscrapers in a daring attempt to rescue a mistreated carriage horse.
Will Bunny's mission to save the poor carriage horse succeed? Will the help she gets from Mike the Mouse, Polly the Pigeon, and Peter the Delivery Man be enough?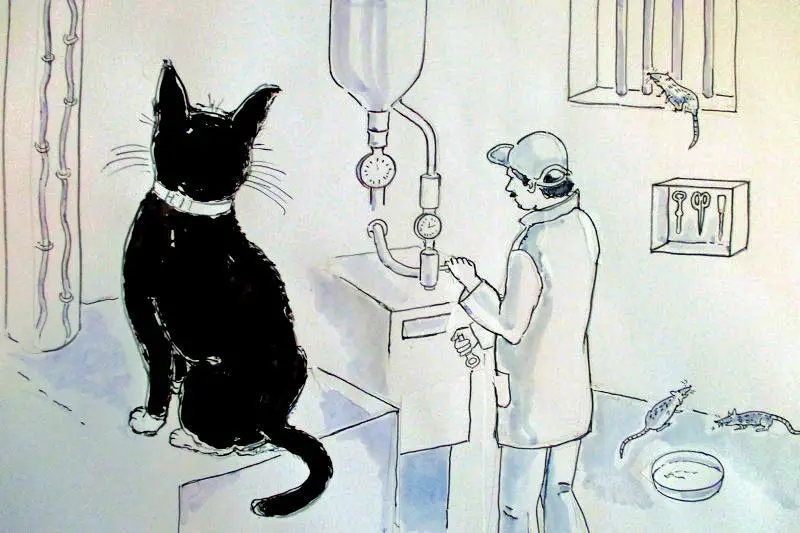 Join brave Bunny and her loyal friends on their incredible journey to find out!
Contest Entry Guidelines:
This contest ended on May 16th, 2017 and was available to residents of the United States and Canada only. Contestants needed to submit a comment in our "Leave a Reply" section at the bottom of the page saying:
My cat's name is [insert your cat's name] and he/she would be Bunny's secret weapon in helping her succeed on this dangerous adventure because [insert your cat's name] has the following feline super power [describe your cat's special power].
The winners were chosen by the author from all correct entries and contacted by email.  Retail value is approx. $21.95 USD
Background
Here's the real Bunny that inspired this book … yup, she's pretty darn adorable huh!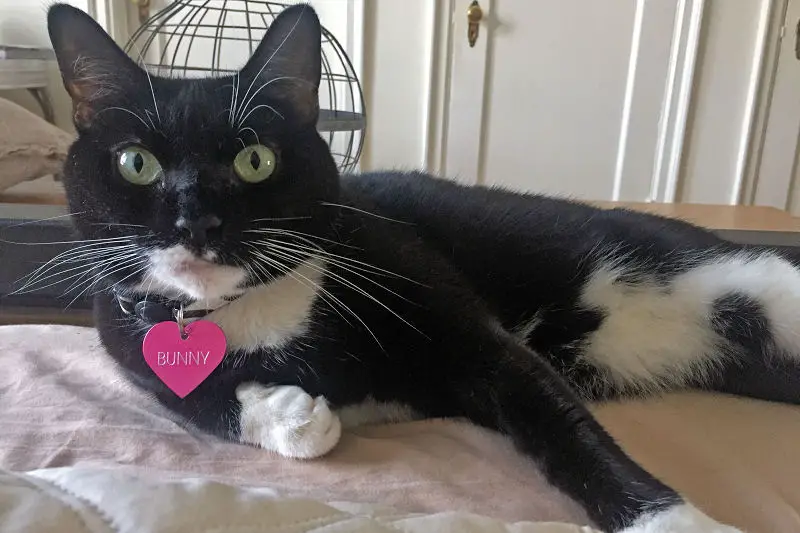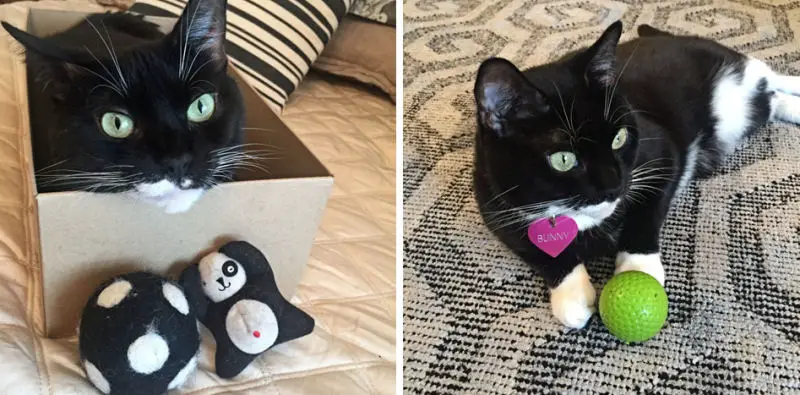 Giving Back
Oh, and to make a good story even better, US $5.00 from every Hello, My Name is Bunny! book sold will be donated to KittyKind in NYC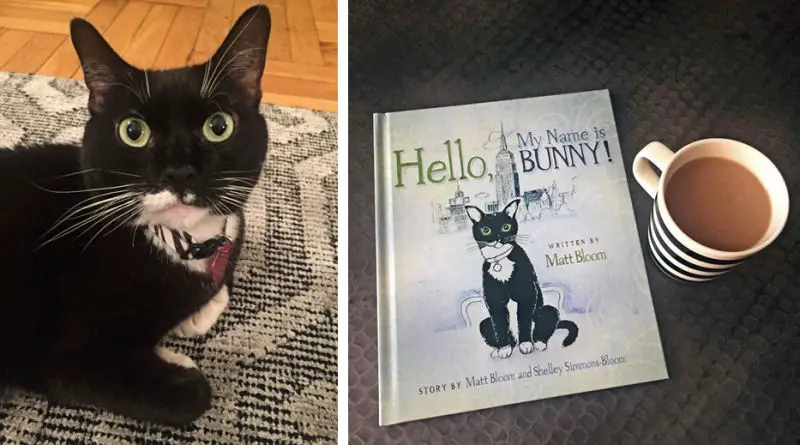 We tried to get our cats to co-operate for a photo op with the book but the best we could do (thus far at least) is the cuddle clones stuffed replica of our tuxie (Newman). At least he sat purr-fectly still!  Stay tuned – we'll eventually get some and post here.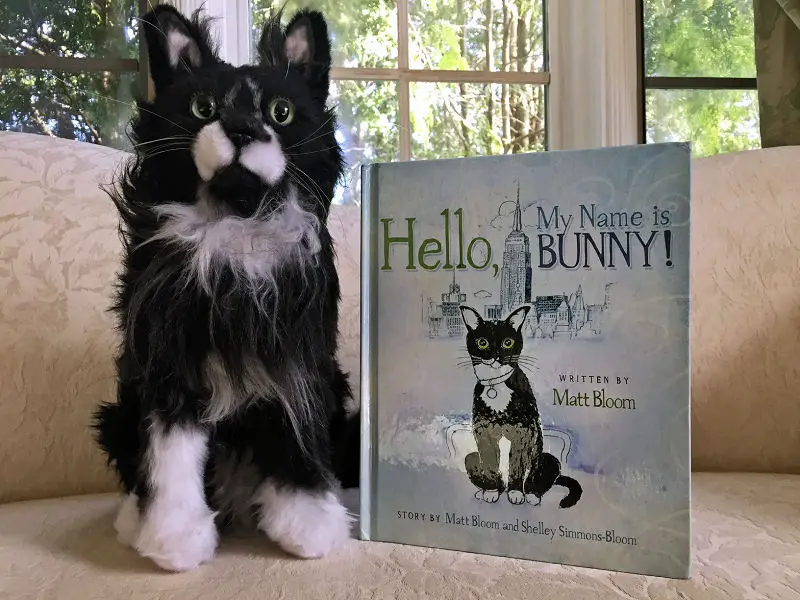 It really is a truly delightful book that any age will enjoy reading!  >^..^< You can follow Bunny on her IG account at: @hellobunnybloom