We're kicking off the month of May with another cool contest. Our pals at Pet Ki Enterprises Inc. specialize in handcrafted toys that are designed to stimulate cat's/kitten's natural hunting instincts by having toys that resemble real life bugs and critters that cats would normally chase in the wild.
Their RompiCatz toy collection are premium quality, excellent durability and built with top-of-mind safety. Cats never get tired of playing with them.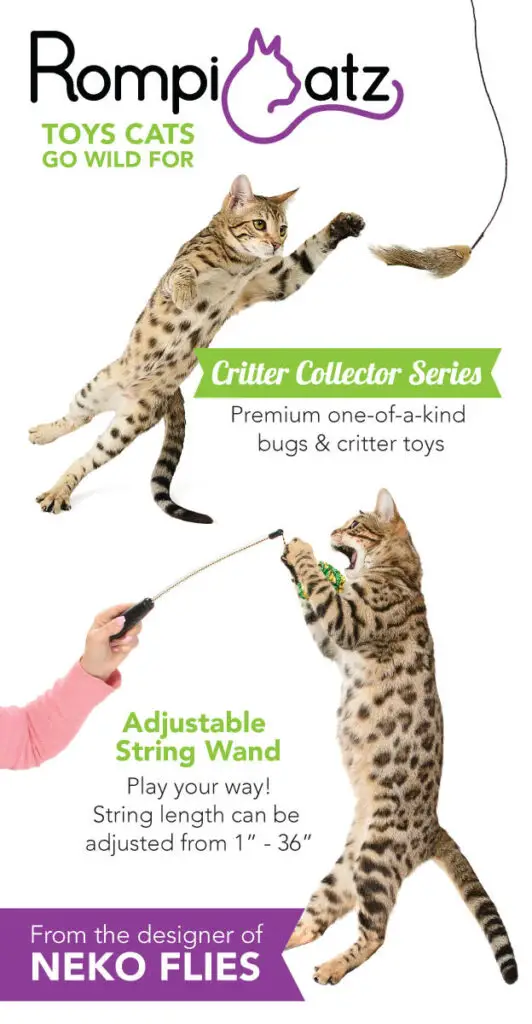 Some of you may remember the very popular Neko Flies collection of cat toys – they have recently been rebranded in the U.S. as the Critter Collection. Both are now under the umbrella brand called RompiCatz.
We're excited to announce that Pet-Ki kindly offered us 2 pawsome prize packs from their Critter Collection that two lucky Purrington Post readers will WIN! Each prize pack is valued at $78 USD and here's what they contain:
2 – classic rods
1 – bugzbird/birbug
1 – cattipeed/kattipede
1 – wily mouse/foxifur kittenator


* Contest Details
This contest ends on May 22rd, 2022 and is available to all North American residents. To enter you simply need to submit a comment in our "Leave a Reply" section at the bottom of this page saying:
My cats names are [names of your cats] and we would love to win this RomiCatz prize pack because [your answer]
The 2 winners will be chosen by the Pet-Ki team from all the correctly submitted entries and contacted by email on or around May 30th, 2022. Have fun with your entry and of course, GOOD LUCK!
Learn more about RompiCatz toys.