We did a post last year called Why Do Cats Eat Grass? The reasons may surprise you but it's both normal and healthy. Like people, cats need vegetables in their diet to aid in digestion and to provide balanced nutrition.
Kitty's Garden from Pioneer Pet supplies your cat with the tasty green grass that it craves, and gives cats a safe alternative to nibbling on your houseplants, which can be potentially toxic to them if swallowed.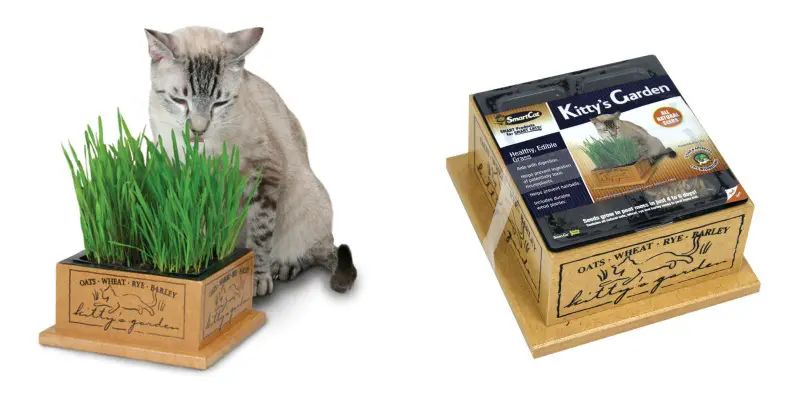 All you do to serve your cat is place Kitty's Garden near their food dish or in some other place they'll find it.
Features and Benefits
o Includes Oats, Wheat, Rye and Barley
o Grows in 4 to 6 days
o Helps prevent hairballs
o Aids with digestion
o Helps prevent ingestion of potentially toxic houseplants
o Aids with digestion
o Sturdy wood frame keeps your cat from knocking it over

The Pioneer Pet team were kind enough to offer 5 Kitty's Garden kits for five lucky Purrington Post readers to WIN!
* Contest is Now Closed
This contest ended on March 26th, 2019 and was available to US residents only. To enter you simply needed to submit a comment in our "Leave a Reply" section at the bottom of this page saying:
My cat's name is [insert your cat's name] and he/she would love to WIN a Kitty's Garden because [your cat's reason]
The 5 winners were chosen by Pioneer Pet from all the correctly submitted entries and contacted by email.
You can read more about Kitty's Garden from Pioneer Pet here => Kitty's Garden.