A Montreal couple got married in California earlier this month with over 1,000 guests at their wedding.  Not that unusual, except that aside from the officiant, all their guests were cats! Now how purrfect is that!  See the video below.
It took place at the Cat House on the Kings which is a non-profit cat sanctuary located near Parlier California.  The 12-acre, no-cage and no-kill sanctuary, with its rolling hills and roaming cats, was the perfect, blissful place for the couple to perform their nuptials.  For more details see the post we did earlier this on this year about the Cat House called "Amazing Real Life Cat Lady!"
This particular love story began even before the bride (Louise Véronneau) met her husband Dominic. Back in 2012 she first visited the Cat House and was so touched by the shelter that she made herself a promise to include it on her bucket list for a return visit. Véronneau said that she fell in love with the work that Lynea (owner of the cat sanctuary) and her team were doing for these cats.
The couple met 3 years ago, and have since traveled around the world together. It turns out that they both have a passion for animals, particularly cats. "I saw that we were sharing the same values," Véronneau said. "These are values these are the basics of our relationship and out love for animals and beings."
When it came time to marry, they carefully pondered on what would be the most appropriate and memorable venue that embodied their values. The decision was not a difficult one.  Her dress would be white, his suit grey. The ceremony would be outside, and simple — no altar, no pews, no guests. Just 1,000 or so meowing, purring, nuzzling, curious cats.
Fortunately, as it turns out, cats make surprisingly polite and attentive wedding guests.  The cats either simply stopped to watch, or came and rubbed up against the couple's legs for attention.  A white cat even followed the bride during her walk from the house to the bench where the couple was married. In lieu of gifts, the couple asked people to donate to the shelter.
Lynea Lattanzio, (the sanctuary owner), even officiated the wedding but admits she was hesitant at first for fear of forgetting her lines.  Everything went meow-nificently!  This was the first time a wedding had been held at the shelter, and both Lynea and her staff hope it won't be the last.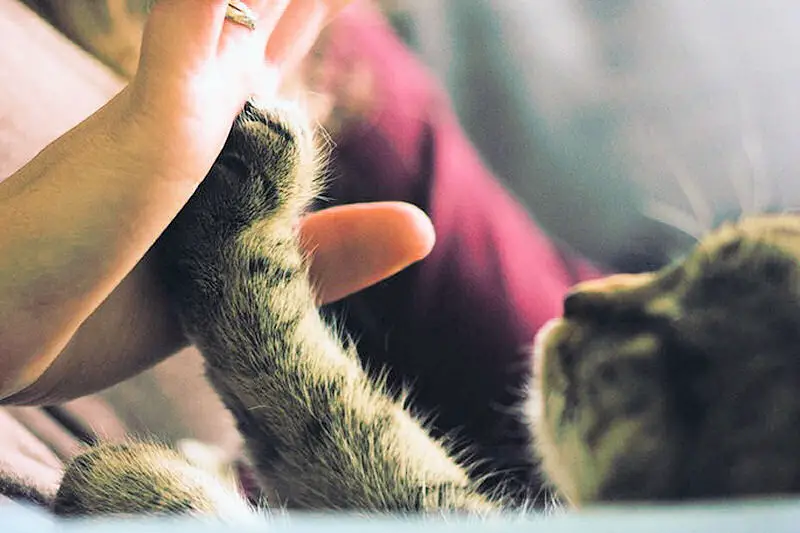 How fun would it be to announce to the couple at the end of the ceremony that they are now meowwied.  Some people wait a lifetime, for a mewment like this!  Sorry, had to throw a few puns in there. =^..^=