One of our favorite IG feeds features an adorable black panfur called Lizzy (stage name @OwlKitty). This hard working showbiz girl is a four year old online superstar who lives in Portland with her pawsome pawrents (Olivia & Tibo) and her feline sisfur (Juliette – an ten year old tabby).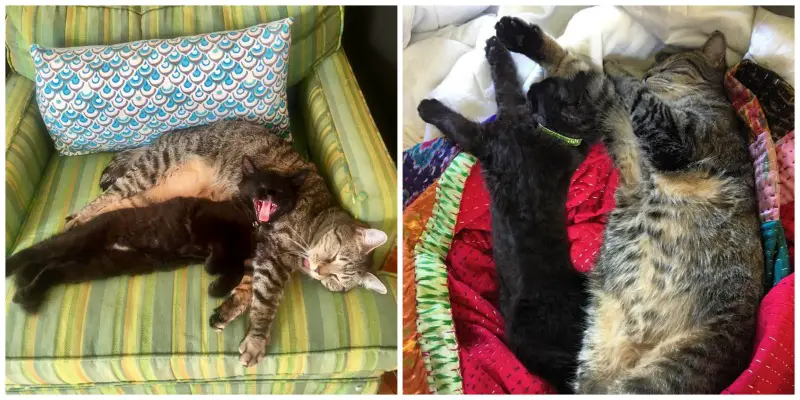 When not behind the camera Lizzy loves chasing the red dot of her laser pointer, cuddling with Juliette and coercing her hoomans for a treat of cream cheese.
Cat dad Thibault (Tibo) is a filmmaker, animator and Photoshop wizard. When he isn't directing OwlKitty, he works as a senior video editor for the ACLU. Meowmy (Olivia) is a creative writer and content editor, and has worked in the arts, consulting and non-profits. She is currently ghostwriting OwlKitty's forthcoming autobiography. Talk about the purrfect talent storm for online creativity!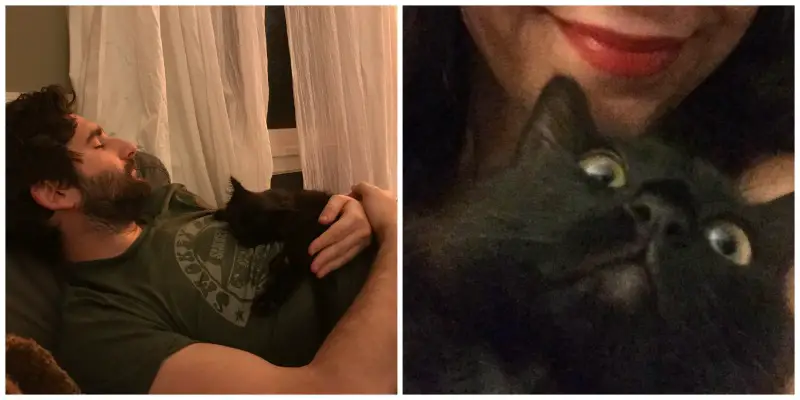 The couple adopted Lizzy in 2018 from a nonprofit cat-only shelter located in Sherwood, OR. Lizzy was the only black kitten in a litter of 6 kittens and it was love at first sight for Olivia. Her wide beautiful eyes earned her the nickname of OwlKitty. And so began their remarkable journey.
The kitten (originally named Sequoia) arrived at her new furever home with Olivia and Tibo a few weeks later. They renamed her Lizzy and unknowingly launched her unexpected journey to internet stardom. Don't ya just love these 'humble kitten rises to fame' stories!
Oh did we mention that Lizzy … ooops, OwlKitty has over 788K followers on IG!
OwlKitty's Instagram account (@OwlKitty) went live in November of 2018 and her third post suddenly went viral, garnering over 80,000 views. And the rest as they say is history. Don't take our word for it … keep reading to see why Lizzy is such a superstar.
Tibo and Olivia cleverly use a green screen for the action shots of Lizzy during Hollywood feature film edits. No small task we imagine painstakingly editing them to look as meowgnificent as they do.
Lizzy suffers from feline asthma, a condition that is not uncommon to cats but often brings with it a high cost of treatment (inhaler, medications, etc). So in addition to promoting their message of 'adopt don't shop', Olivia and Tibo also use their unique platform to raise awareness about pet medication costs, caring for cats with asthma, and seeking to raise funds and awareness for feline causes.
Meet these delightful cat loving pawrents in the video below:
And now the moment you've been waiting fur …
Here are just a few of our favorite cinematic meowsterpieces starring the inimitable Lizzy. Need we say more?
FRIENDS
What the cast was missing all along …
Here's a 'peek behind the scenes during the filming of the Friends video above.
FRIENDS (behind the scenes)
Avengers Endgame
We're really feline this epic showdown with Thanos …
Jurassic World
If only Chris Pratt had Lizzy's help with the Indominus Rex …
The Matrix
Morpheus never saw it coming …
The Office
If you're fans of 'The Office' (like we are), thought we'd leave you with this gem:
So, are you as smitten now with OwlKitty as we are?
Hey Lizzy – we're thinking about you Owl the time! Be sure to follow OwlKitty on her Instagram account or visit owl-kitty.com.