Philadelphia – city of brotherly love and home to the Liberty Bell, the Declaration of Independence, and of course those delicious Philly cheese steak sandwiches!  After 242 years since the signing of Thomas Jefferson's landmark document back in 1776, we're excited to share a repeat historic milestone to Philadelphia's remarkable pedigree …
It's baaaaack … Kittydelphia returns for its second year!  >^..^<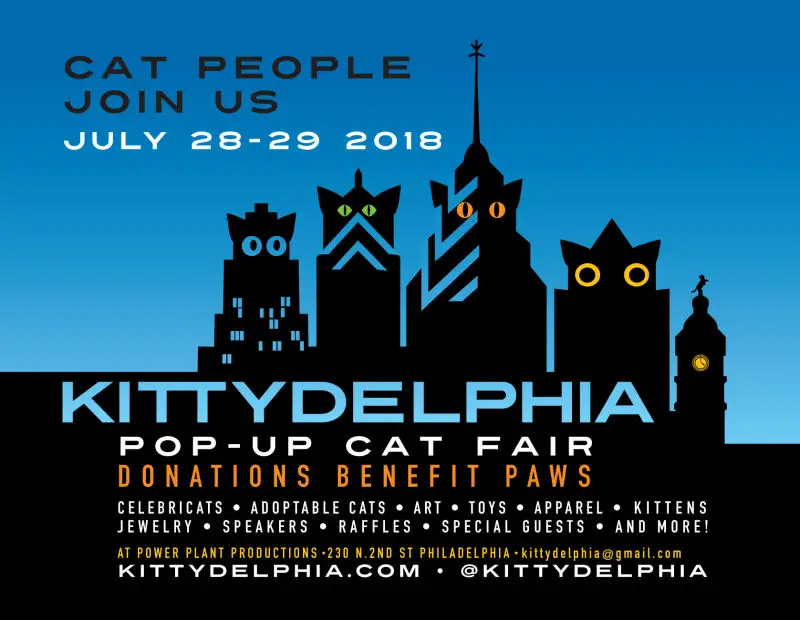 This year's two day pop-up cat fair runs from July 28-29 at POWER PLANT PRODUCTIONS – 230 N. 2nd St., Philadelphia. Full of catitude and meowvelousness, this feline fanciers feast will include a host of cat-themed vendors, assorted raffles, and even some special appearances by insta-famous cats.
Long time readers may recall a post in 2016 called Rescue Duo Now Instagram Darlings featuring two of our favorite social media darlings – Olive (a calico) and Rye (a tortoiseshell). Well since then there's been a sweet new addition to the family – an adorable tortoiseshell named Fig (who btw was adopted last year during the first Kittydelphia).  Philadelphia-based cat lady extraordinaire Laura Kicey (photo below) is mom to these three rascals and the organizer and meowstermind behind this clawsome event.
Laura is a highly talented and sought after graphic artist and freelance photographer with her own store called Olive & Rye Cat Art, where she sells custom cat portraits and cat-themed art, apparel, and home goods. Check out these two delightful cat art tote bags from her collection.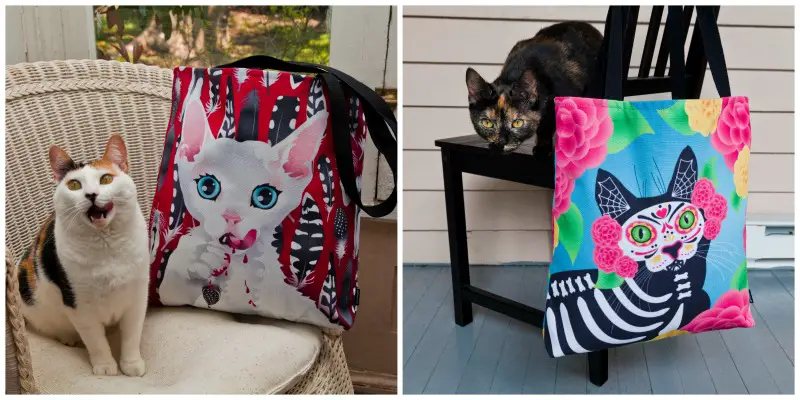 Kicey also sells leggings, mugs, and other items emblazoned with her own designs, as well as custom-made portraits of her client's pets. We are purrticularly loving these (below).
When asked about the inspurration to create Kittydelphia, Kicey told us way back in 2015, she attended the first-ever CatCon expo which allowed her and other vendors to sell cat-related goods. She subsequently attended several other pet-related conventions but found that most were heavy dog-centric ("My booth got peed on three times!" said Kicey of one expo), so she decided to bring a smaller-scale, cat-centric concept to Philly. Last year's inaugural event was a hit and we predicted this year's triumphant return!
[click_to_tweet tweet="Kittydelphia – the pop-up cat fair returns on July 28-29″ quote="Kittydelphia – the pop-up cat fair returns on July 28-29″]
The event once again promises to have cats available for adoption from Philly PAWS, a donor-funded, no-kill shelter in the city, along with plenty of kitty-themed merchandise.
CelebriCats
There will of course be four-legged celebrity cats to adore. Returning again is teh ever popular Sophie the Model, a black cat with nearly a quarter million Instagram followers. Sophie is an outspoken ambassador for black cats with a goal to help stimulate their adoption. Follow Sophie at @sophie_the_model.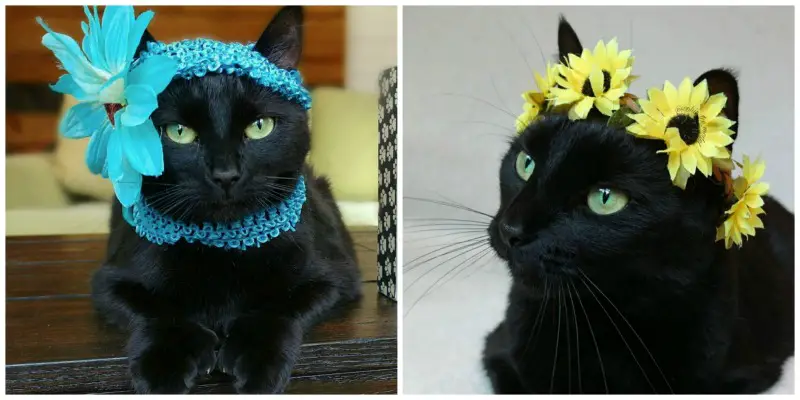 Joining Sophie in attending a portion of this event will be Cosgrove of @rvtechs (below left) and George the Cat of @mycat_george (below right).  With a chance to see these adorable faces who wouldn't want to go!
Guest Speakers
Two of the keynote speakers will be Dr. Liz Bales of @docandphoebe (below left) and the DiPaolo family of @littleman_mika (below right).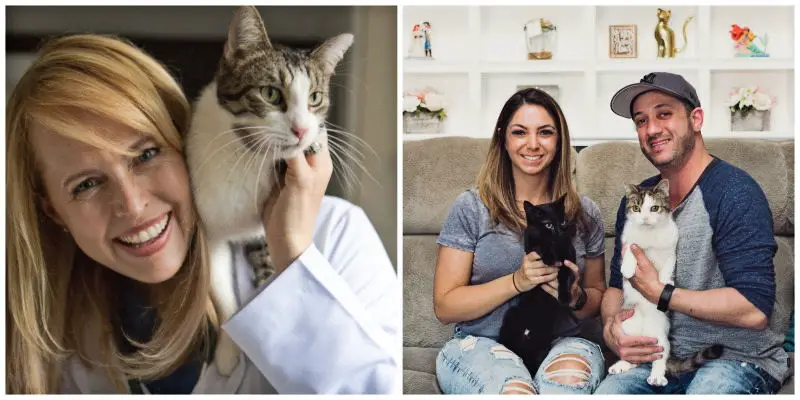 Cat Themed Goodies
Here are just a few of the tempting goodies that vendors will have on display and available for purchase.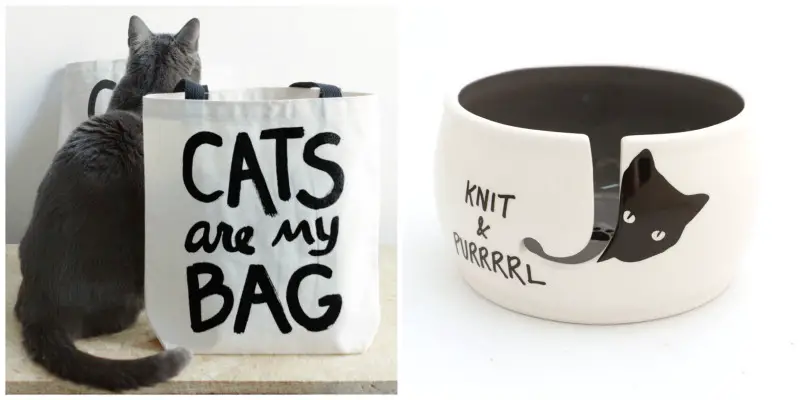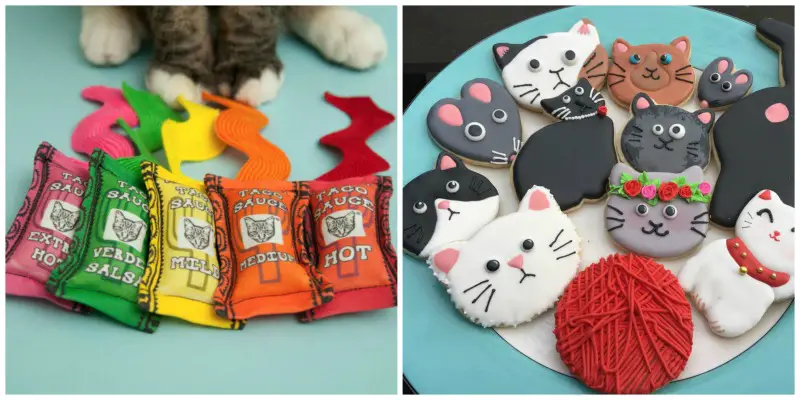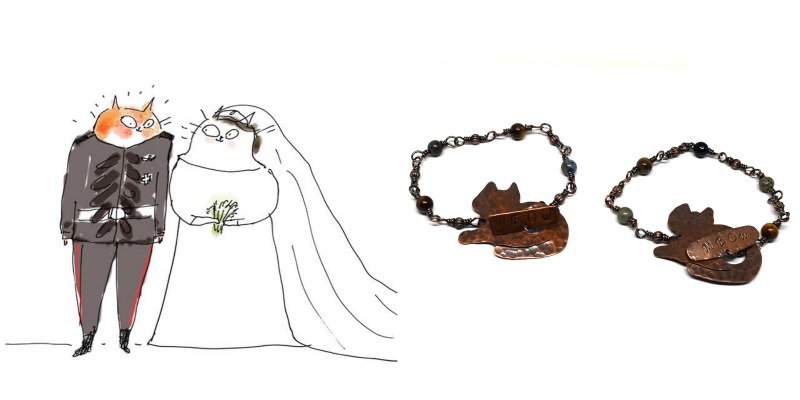 Finally, enjoy the official trailer (below).
SUMMARY
For the complete list of vendors and full event details check out the Kittydelphia website. The event is free to enter, but there is a suggested donation of $5 toward Philly PAWS.