Introducing an all-natural product called Coco Furcare designed to improve your cat's skin and coat. It's a multi-purpose topical spray that keeps your cat smelling clean and fresh, helps with shine and healthy coat, clears symptoms of skin allergies, and shields against bug bites.
One spray. Multiple benefits.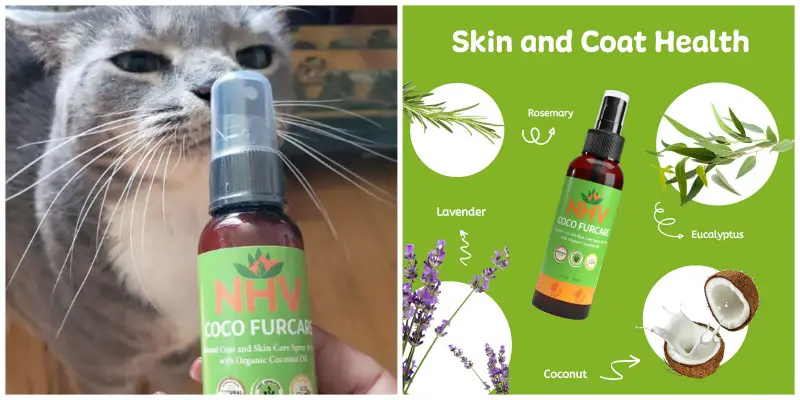 Coco Furcare fits right into the on-the-go routine of a caring but busy pet parent by helping to:
Ward off external parasites like fleas and mosquitoes
Soothe hot spots
Act as a natural de-stresser
Perform as a natural deodorizer
Coco Furcare is made by NHV natural pet products, who offer high quality, vet formulated herbal pet remedies. All NHV products are human grade, made with 100% natural ingredients, and formulated by a holistic veterinarian and a master herbalist.
Coco Furcare uses herbs like eucalyptus, neem, lemongrass and clove which have been traditionally used to deter insects from attaching to a host.
For cats with sensitive skin, the herbs neem and cedarwood soothe their skin and keep itchy reactions from getting worse.
For cats who love the sun, the coconut oil and rosemary leaf provide mild protection from UV rays so your cat can enjoy sitting in the sun puddles.
Use it for your cat as a daily conditioner. It has a pleasantly mild citrus scent of lavender, lemongrass and clove which helps to deodorize your cat daily and between baths. It leaves their skin soft and clean with no greasy effect of coconut oil – just the refreshing goodness.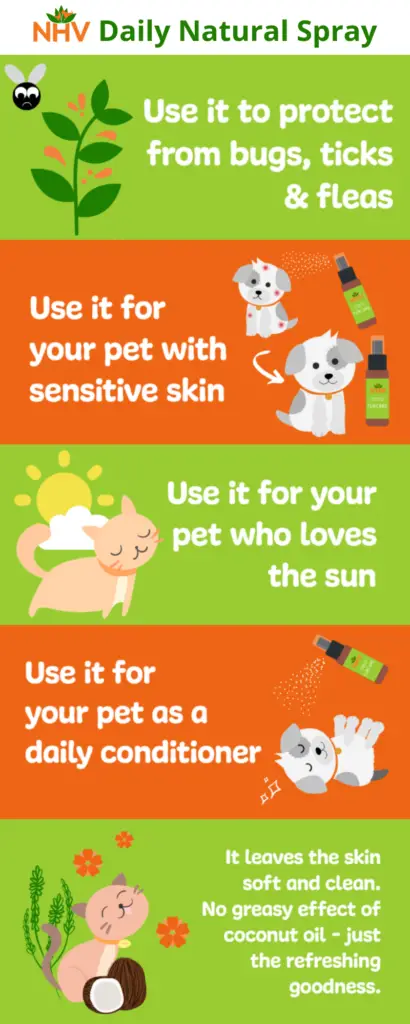 Our pals at NHV natural pet products were kind enough to offer us 5 bottles of Coco Furcare Spray for five lucky Purrington Post readers to WIN!
* Contest Now Closed
This contest ended on August 19th, 2019 and was available to U.S. residents only. To enter you simply needed to submit a comment in our "Leave a Reply" section at the bottom of this page saying:
My cat's name is [your cat's name] and we would love to win a bottle of Coco Furcare because [your reason]
The winners were chosen from all the correctly submitted entries and contacted by email.
You can buy Coco Furcare here or learn more at NHV Natural Pets.