If you've ever struggled to give your cat her medicine or supplements, we've got great news! Introducing the DIY Capsule Kit for Cats called the CATCaps™ Capsule Kit from Capsuline.
Giving medicine or supplements to your cats is no longer an issue with the CATCaps™ Capsule Kit. The chicken flavored capsules mask the smell of any type of powder, so your cat will enjoy consuming the capsule and the medication.

What are CatCaps™?
CAPSULINE CATCaps™ are empty gelatin flavored capsules made with gelatin BSE FREE 100% bovine pharmaceutical-grade gelatin and water. Their high quality (human consumption grade) guarantees that your pet will always be safe. CATCaps™ are easy to fill and fast dissolving.
How does the Kit work?
Encapsulating your cat's medicines or vitamins with the CATCaps™ at home is as Easy as Load, Fill, Cap!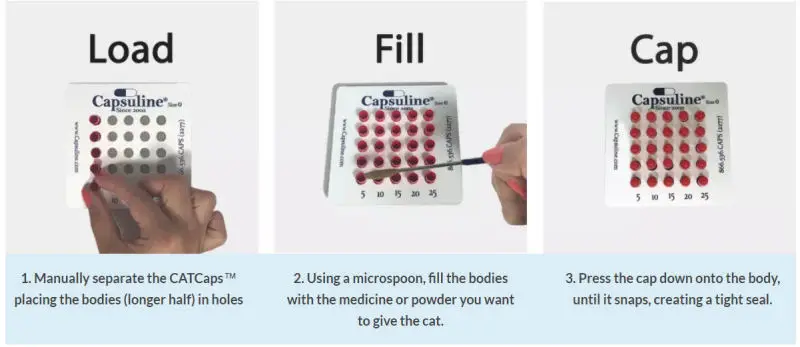 The Capsuline team were kind enough to offer us three of their kits for 3 lucky Purrington Post readers to WIN. The giveaway is a 2 Pack – DIY CATCaps™ Capsule Kit – Chicken Flavor which includes (photo below):
• 200 CATCaps Chicken Flavor
• 50 Count Holding Tray
• Micro-spoon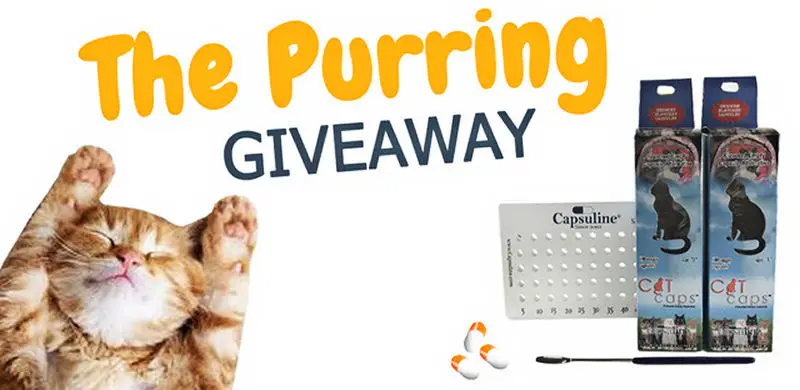 * Contest Now Closed
This contest ended on September 4th, 2018 and was available to U.S. residents only. To enter you simply needed to submit a comment in our "Leave a Reply" section at the bottom of this page saying:
My cat's name is [insert your cat's name] and he/she would much prefer to take their medicine with CATCaps because [insert reason].
The 3 winners were chosen by Capsuline from all the correctly submitted entries and contacted by email.
For more information about The DIY Capsule Kit for Cats, and to purchase, please visit their website. Use code 'PCAT10' for 10% OFF your purchase.