Who among us hasn't had a good belly laugh at the satirical wit of Scott Metzger's ferociously funny feline cartoons?  He's our favorite cat-toonist, paws down!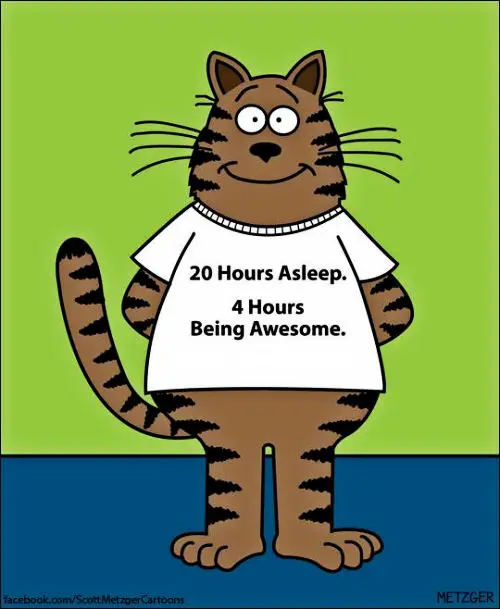 We had the pleasure of speaking with Scott recently and found out that next month will be the 20th anniversary of when he sold his first big batch of greeting cards to a store called Two Neat in Mill Valley, California.  And to boot, this great little store still carries his cards today.
We decided to celebrate by showcasing our feline favorites from Scott's brilliant and ever fresh collection.  To get some insight behind Scott's creative mind, we asked him a few questions:
Q:  What inspired you to draw cat cartoons?
A:  "A cat I used to have, Simon, inspired me to draw cat cartoons. He was a big, fat, 22-pound tabby and he was a real character. He was a slob and kind of a jerk, but he was a good cat who provided a lot of entertainment. I had drawn cat cartoons before I had Simon, but Simon made me want to draw more cat cartoons. He provided plenty of fodder."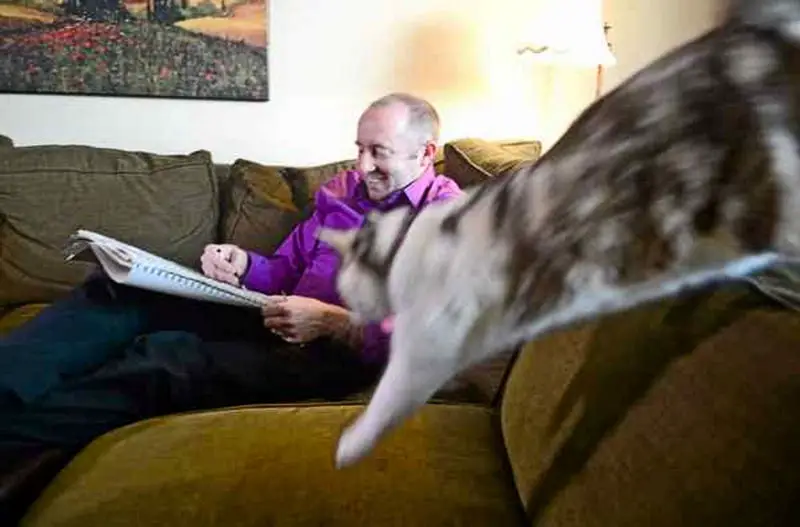 Photo of Scott hard at work by Frankie Frost
Q: Do you/have you ever owned cats?
A:  "So far, I've owned five cats. The first one was Samantha (my family got her was I five years old), the second one was Simon (my wife and I got him right before we were married) and today we have three cats. My tuxedo cat, Max, is a muse for my cartoons right now. He's mellow, friendly, and will jump on the first available lap. He's a cool cat."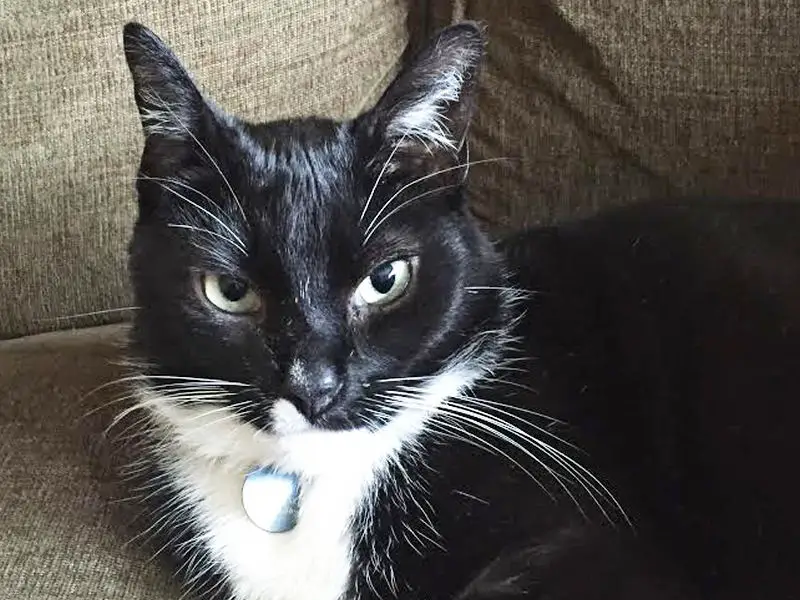 Photo of Max
Q:  Where/how do you get most of your creative ideas from?
A:  "My ideas for cat cartoons usually come from either riffing on some behavior my cats do or from stupid/funny things we humans do and tweaking into the cat world."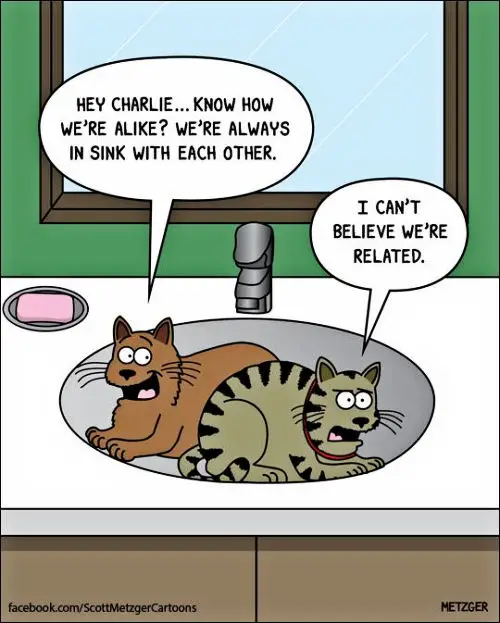 Q:  If you had to pick a favorite cat cartoon of yours…which one would it be?
A:  "The cartoon below is one of my favorites. I drew it several years ago when Simon was alive. The cat on the left is based on him."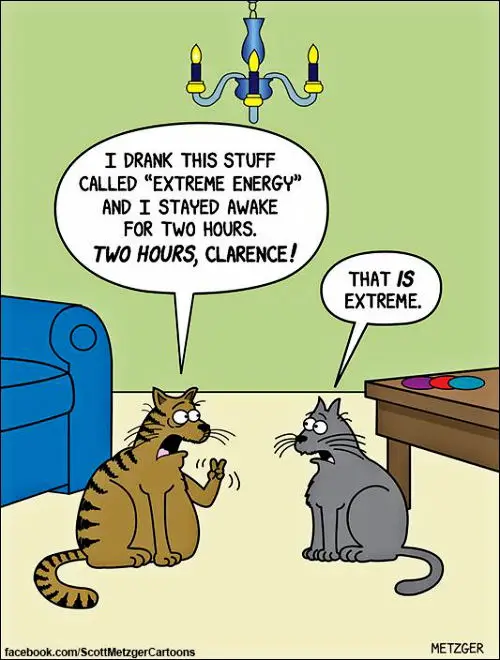 Q:  Do you have a favorite celebrity cat (from TV/movies or even animated) that you admire?
A:  I can't say that I have a favorite celebrity cat, although I was a huge fan of Garfield when I was a kid.
[clickToTweet tweet="Celebrating 20 years of brilliant cat cartoons!" quote="Celebrating 20 years of brilliant cat cartoons!"]
Q:  If you were a cat…what breed would you be?
A:  A tabby.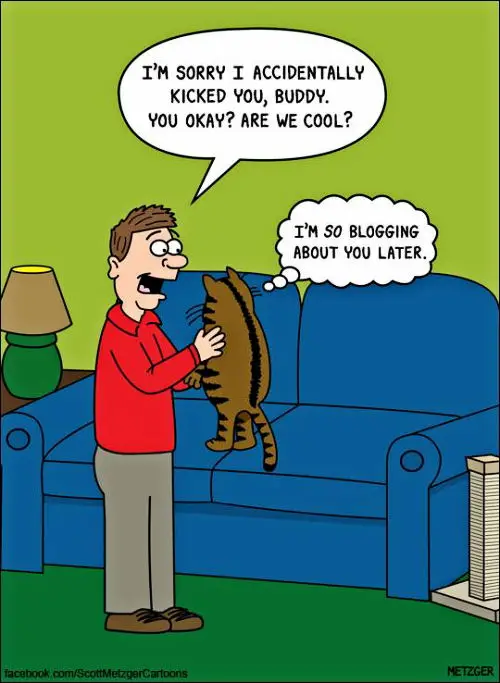 Q:  Any exciting upcoming event or new cartoon publication of yours in the works?
A:  Yes! In mid-October I'm releasing a book—a collection of cat cartoons. I'm really excited about it. I got my cat Max to write the Foreword, which was a pretty big coup.
Needless to say we were very excited to hear about the new book – stay tuned for details closer to launch date.  Not to be remiss, these are Scott's other 2 cats – Frankie and Hannah. (Frankie is the black one).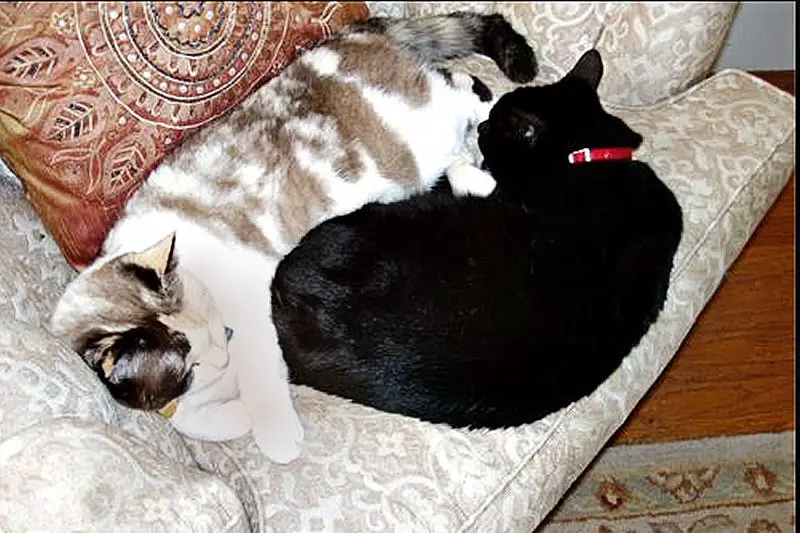 It's always tough to choose favorites, so we broke it up the task  into 2 categories of cartoons:
Cats being cats
Cats being people
Following are our top 5 picks for each: