With the growing popularity of cat tattoos in the feline lovers community, we thought it might be fun to showcase some cute, clever and downright stunning cat tattoos. For inspurration we reached out to Tattoodo – the world's largest tattoo community with over 500,000 tattoo artists on their platform.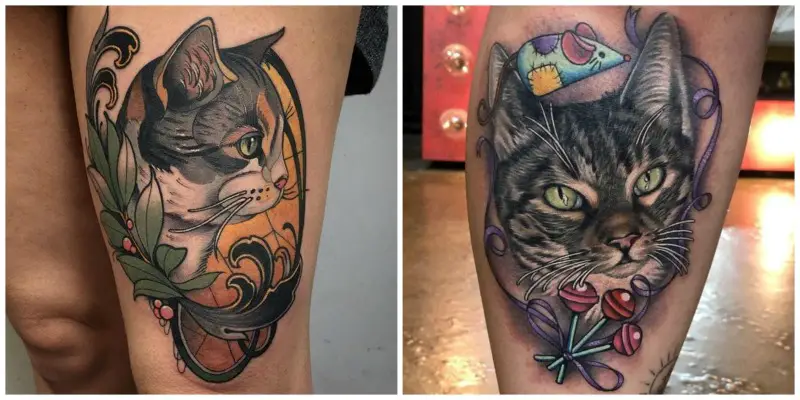 Tattoodo is considered the world's premiere destination for tattoo culture and lifestyle and offers a global booking platform for reputable shops. Here users can find inspiration and book with reputable tattoo artists worldwide. They can easily submit their (cat) tattoo idea and get contacted by artists that fit their style and budget in their area.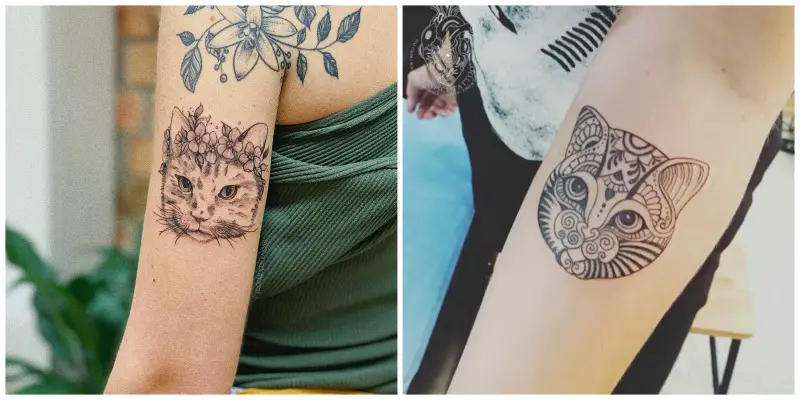 We spoke with one of their tattoo artists named Iris Lys to ask her insights and creative process on designing her unique cat tattoo art. You can see more of Iris' work on her Instagram feed at @iris_lys.
Here's what the talented Iris shared with us along with a few photos of her impressive portfolio:
"I always had love for cats, since I was a kid, we always had cats at home. I have always been obsessed with them. One day I started drawing a few cats…when I realized people really liked it I thought this could finally be what was meant for me: tattooing an animal that has fascinate me forever!"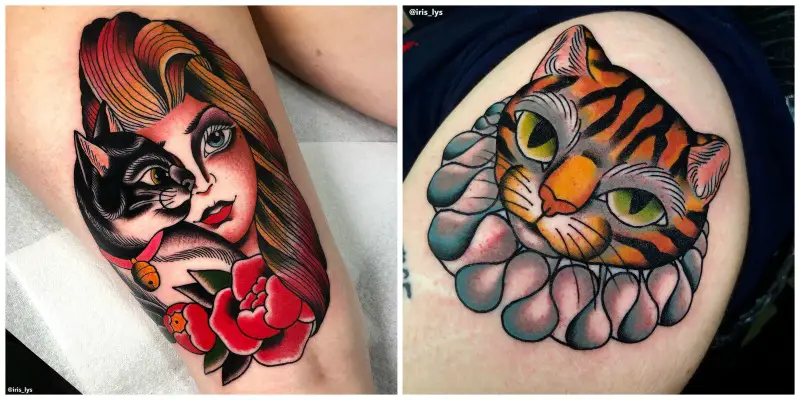 "I don't get inspiration from other artists or tattooers as my style is unique. I just started sketching cat faces the way I was imagining them and after a while I always try to improve them. I have a very large imagination; I can see things in my head. I might think about something while staring at my cats or sometimes my customers give me cool ideas too."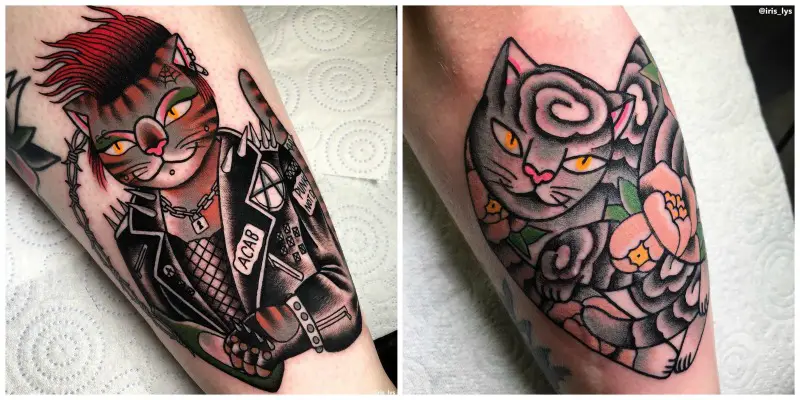 "I also did versions of known traditional pieces such as the Rock of Ages, Pharaoh's Horses, sun dance etc…but all in a cat style. I think cat all the time, everyday. I have done so many funny things; kinky cats, shibari cats, women and cats, hands and paws, funny play on words…ideas are endless! Drawing and painting are the ways to disconnect from my brain which is over thinking everything; it makes me forget my pain or my stress. "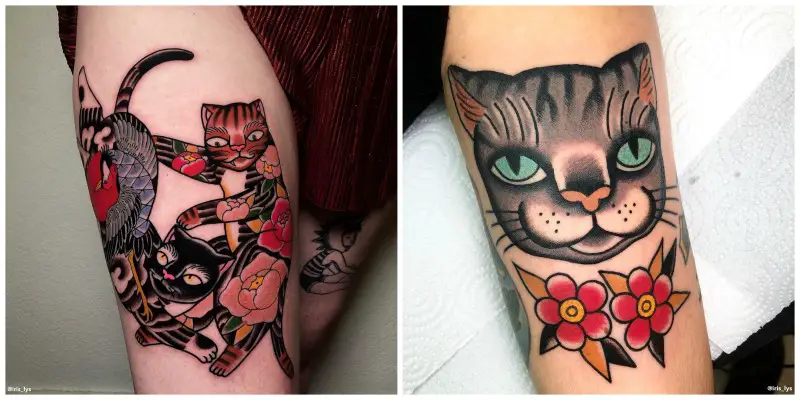 "Cats always make me feel good whether I draw them or pet them." Thank you Iris for taking the time to share your creative process and passion.
Following are more examples of the many cat tat designs you'll be able to find on Tattoodo. If you listen hard, we'll bet you can even hear some of them purr! Here's to tickling your feline tatitude…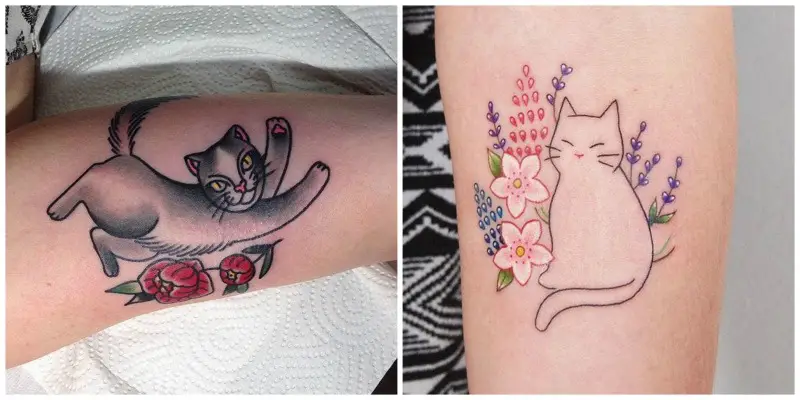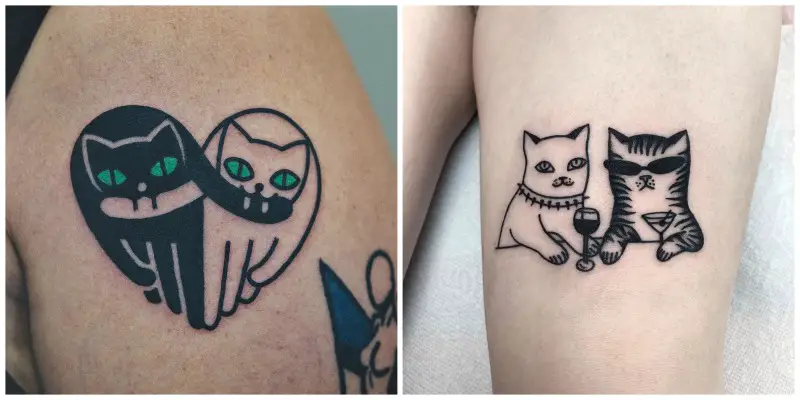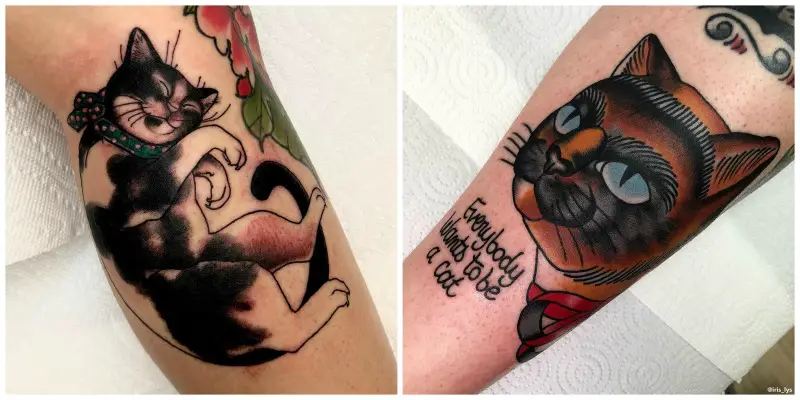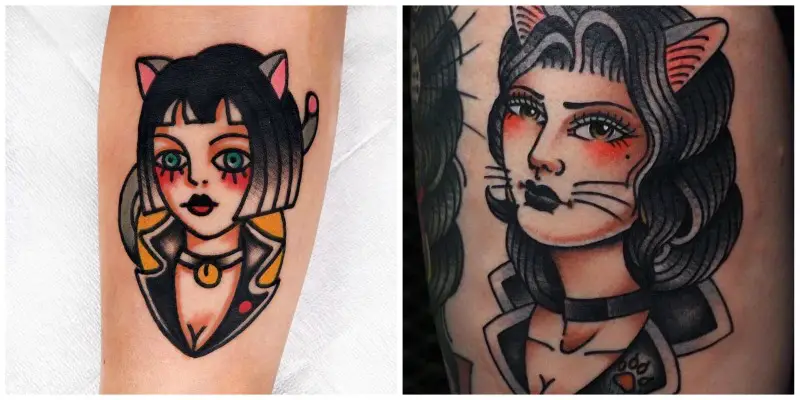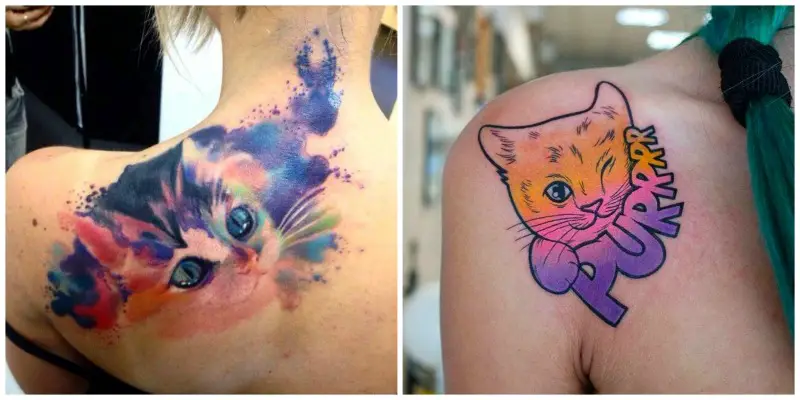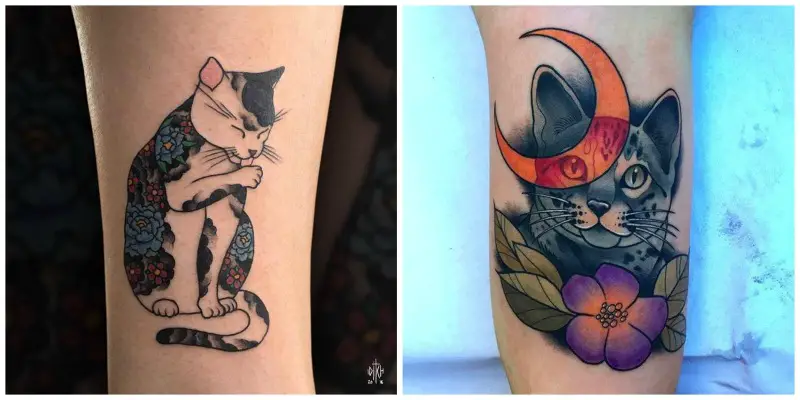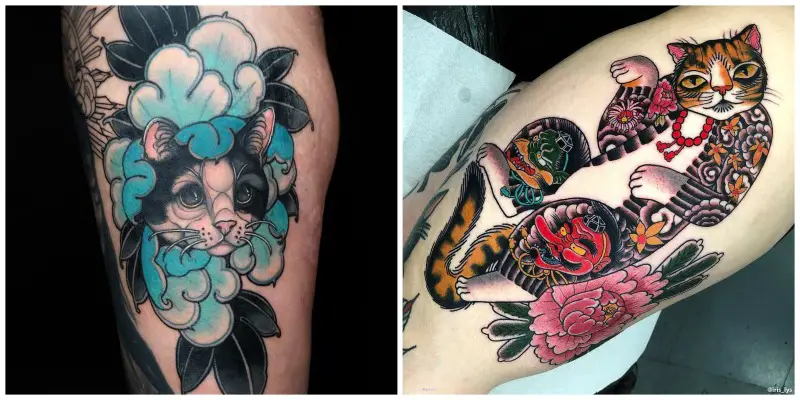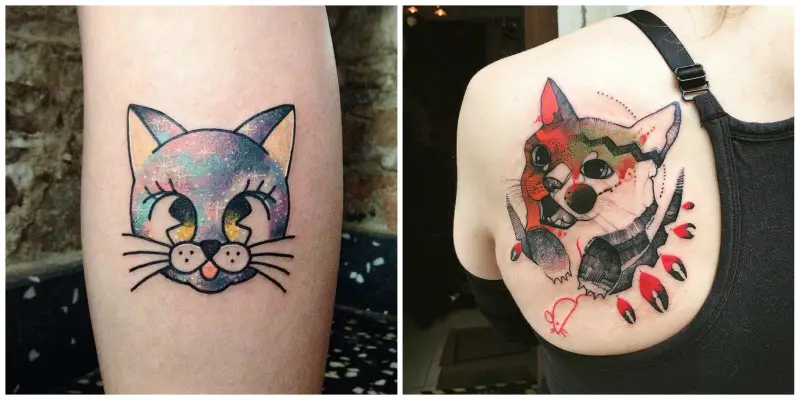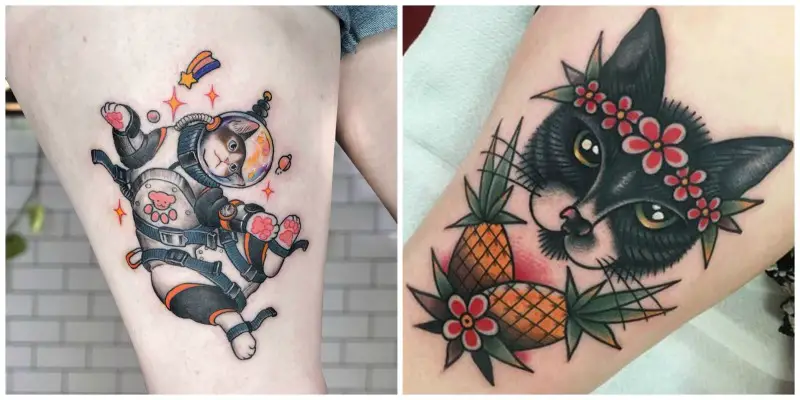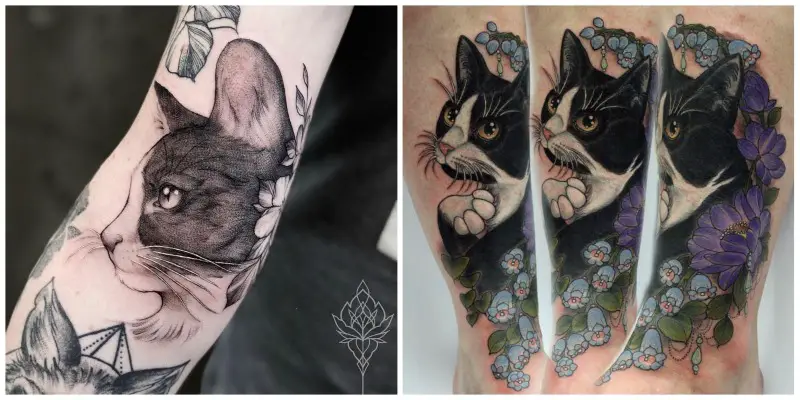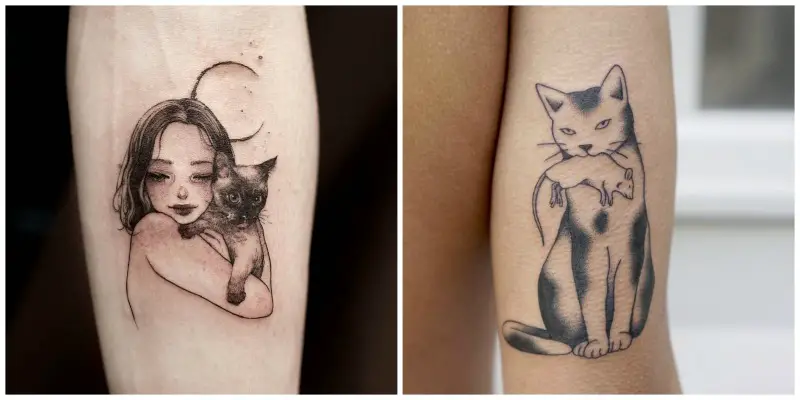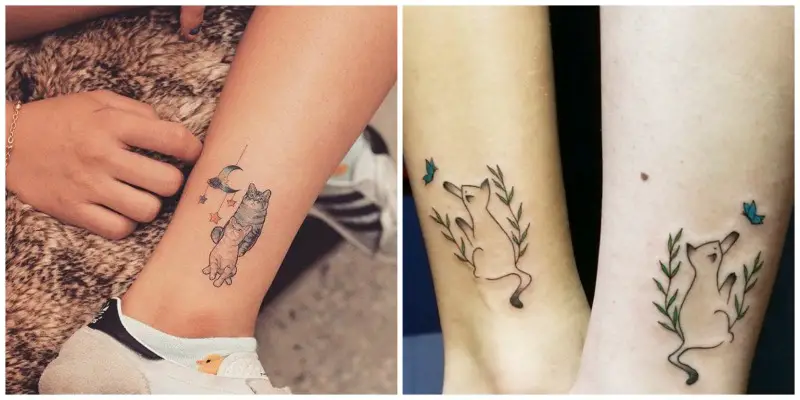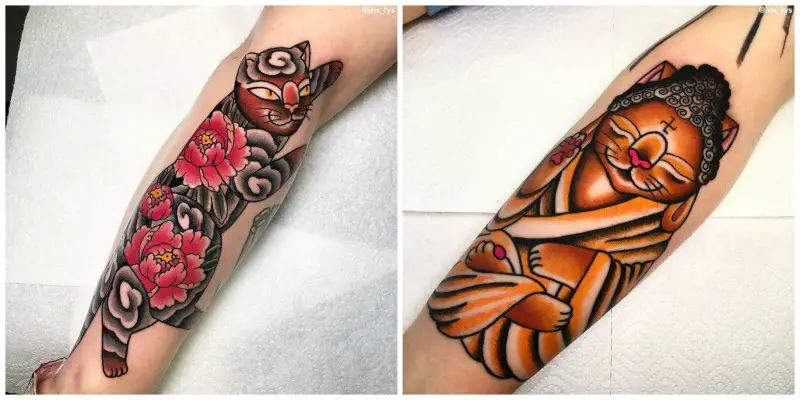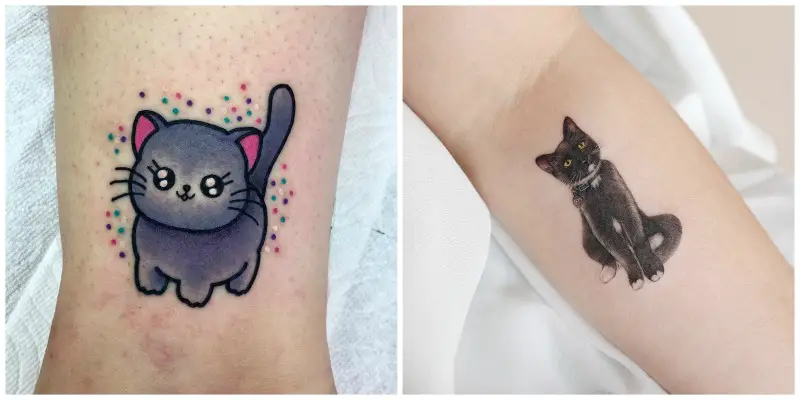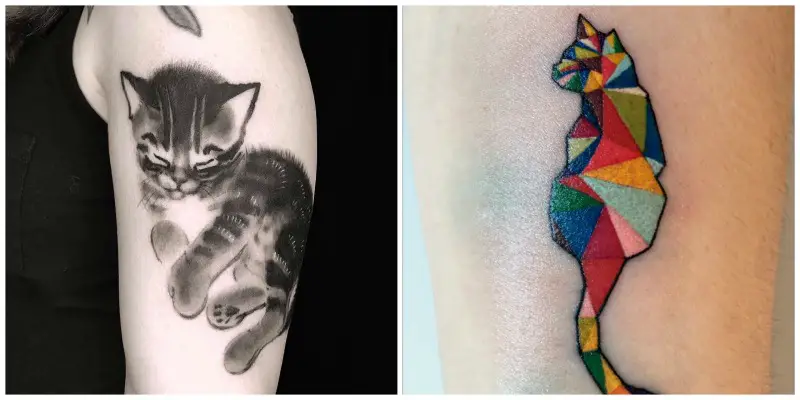 Credit: All photos provided courtesy of Tattoodo
Summary
As they say in the ink business, the relationship isn't official until the ink dries. We hope you enjoyed this post and please drop us a comment in the 'Leave a reply' box below telling us about your favorite cat tat. Feel free to email us a pic of your cattoo (if we get enough we may create a separate readers gallery to showcase them).
Finally … did you hear about the cat lady with the misspelled tattoo? When asked she said, "I have no regerts."