We had the opportunity last week to visit LA's first cat cafe – Crumbs & Whiskers.  Located on trendy Melrose Ave, this cat lovers haven is the purrfect combination of felines and frappuccinos.
They just opened on Sept 30 and reception by the public has been paw-some!  Hours are 11:00 am -7:45 pm (appointments recommended). They are open 6 days/week and closed on Wednesdays for their weekly vet checks and adoption processing.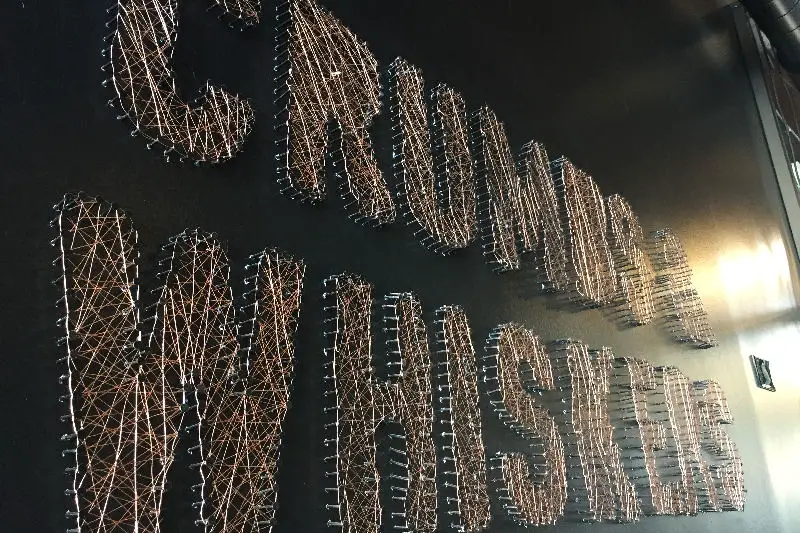 On arrival, we were greeted by the lovely and delightful Anna (left) and Tyler, and of course, 17 of the cutest kitties you could imagine!  All the cats are available for adoption from Karma Rescue in LA and each cat is carefully chosen for their suitability to be part of the cafe crew.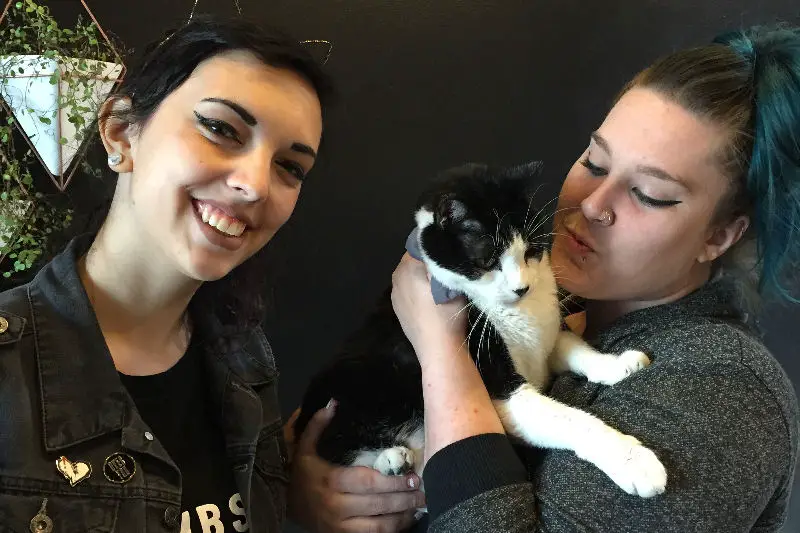 All the cats stay here until they're adopted.  Anyone who visits and falls in love can fill out an online application with Karma Rescue.  The applicant is screened within 24 hours of submitting the adoption form and a home visit is then arranged. If everything checks out, the cat has a new home.  When we visited, 7 cats had already been adopted.
There are house rules when you visit…we particularly loved #5!  When you see these delightful fur babies in person, you'll understand why!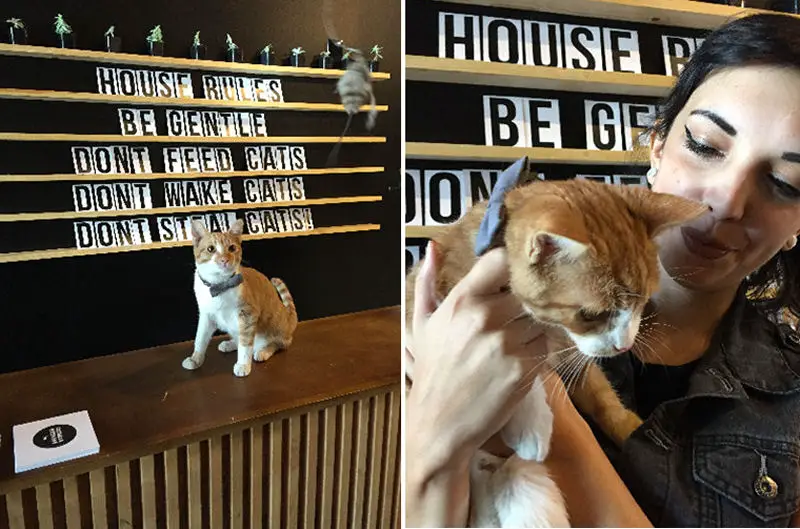 Each guest is welcomed with a brief overview of the facility, provided an explanation of the house rules, told what to expect during their visit, and actively encouraged to ask questions and participate.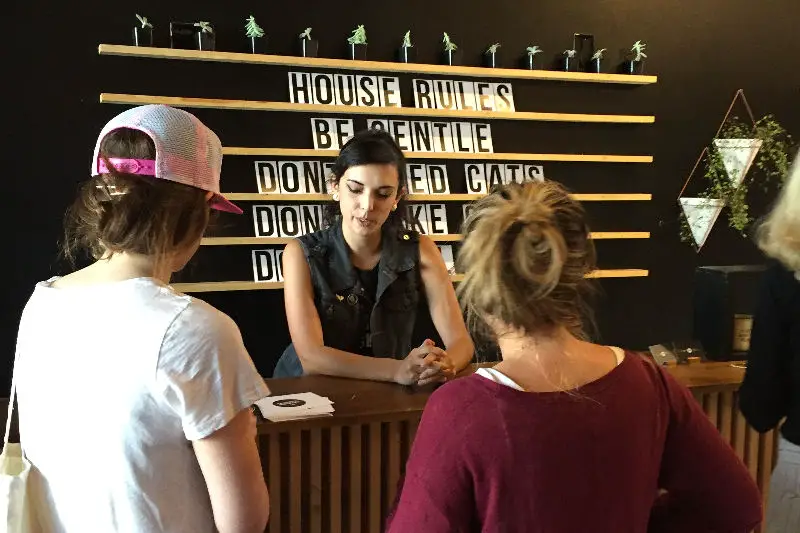 We didn't however, see any rules about cats not allowed to manage the front desk.  Such catitude!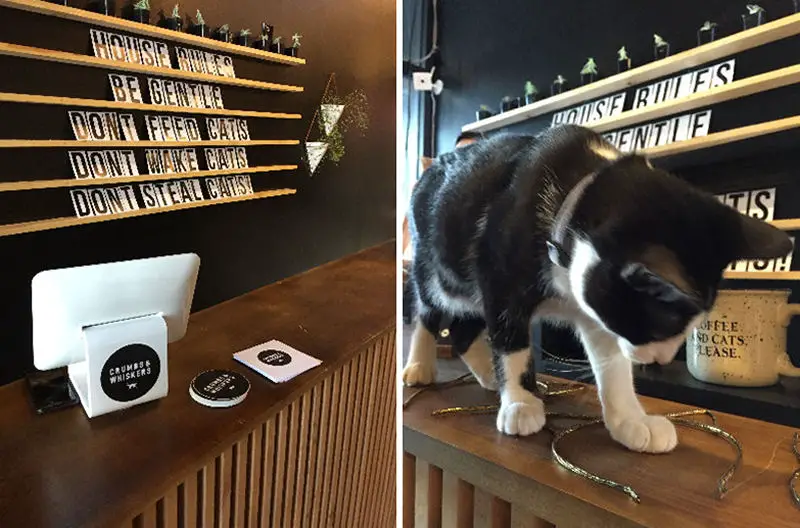 Did we mention that this is the second Crumbs and Whiskers location. The first is in Washington D.C., where owners Chetan and Kanchan Singh live.  This brother and sister duo seem to have the recipe right for creating the purrfect atmosphere and giving cat lovers what they want, while filling a much needed void in helping rescue cats in need.  Sounds like a win/win in our books!
[clickToTweet tweet="LA's New Cat Cafe (Crumbs & Whiskers) is Meowvelous!" quote="LA's New Cat Cafe (Crumbs & Whiskers) is Meowvelous!"]
The cafe is spacious, clean, bright and very comfortable.  The decor is minimal but inviting, and the wall sign that says 'cats before bros' clearly sets the tone that cats rule and humans drool!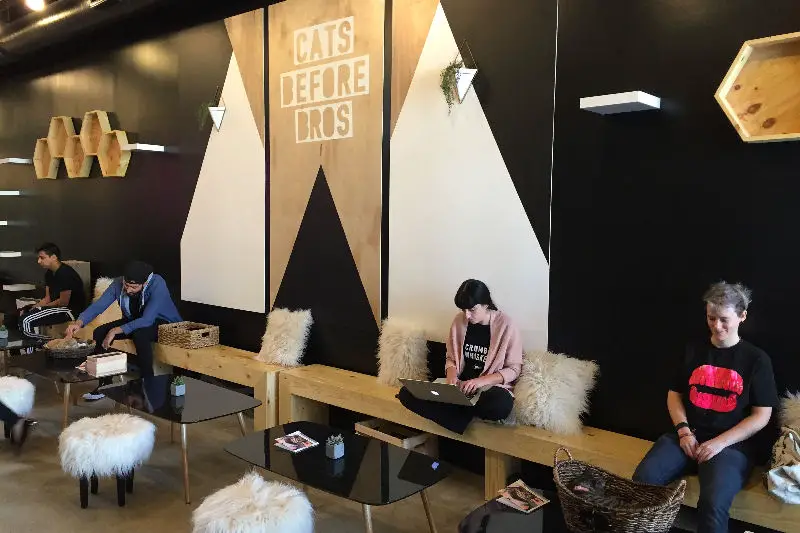 Visitors are limited to no more than 15 people which leaves plenty of space to wander and interact with the kitties in an non disruptive and relaxed manner.  Sessions are 75 min long which is more than ample to get to meet the crew and get in plenty of cat love.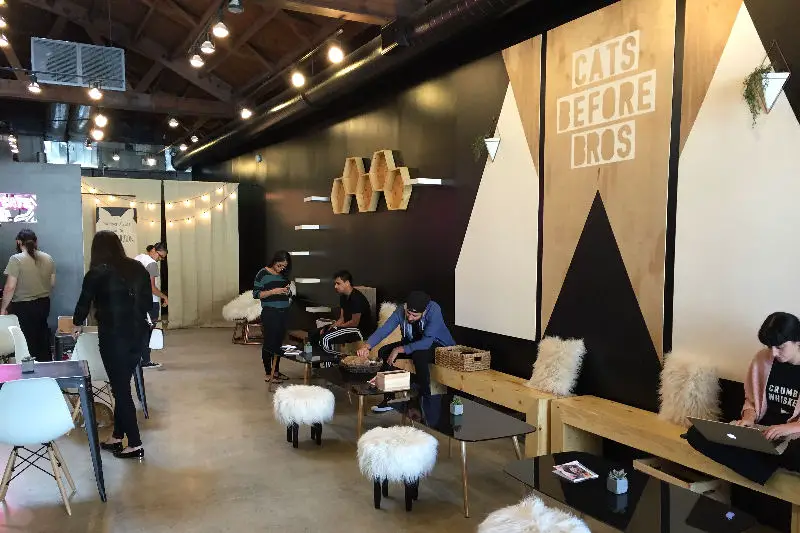 Visitors must pay $22 weekdays or $25 weekends for a 75-minute cat cuddle session, or 15-minute sessions are also available for $9. Reservations are recommended with a minimum age for visitors being 7 years old.  Is it worth it?  Fur sure!
Where else can you lounge on luscious throw rugs and comfy pillows surrounded by adorable kitties? We'd take this over a movie and popcorn any day!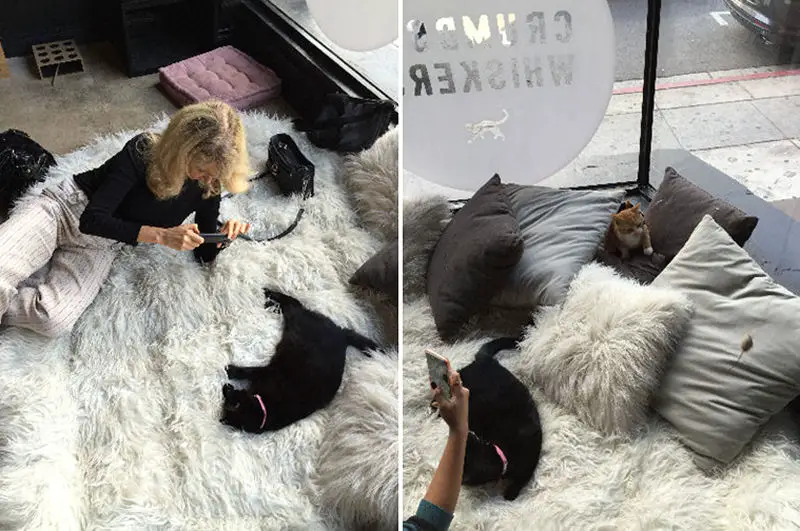 Snuggling up to cuddle beside the cats while they nap is a real treat!  Are you feline more relaxed yet?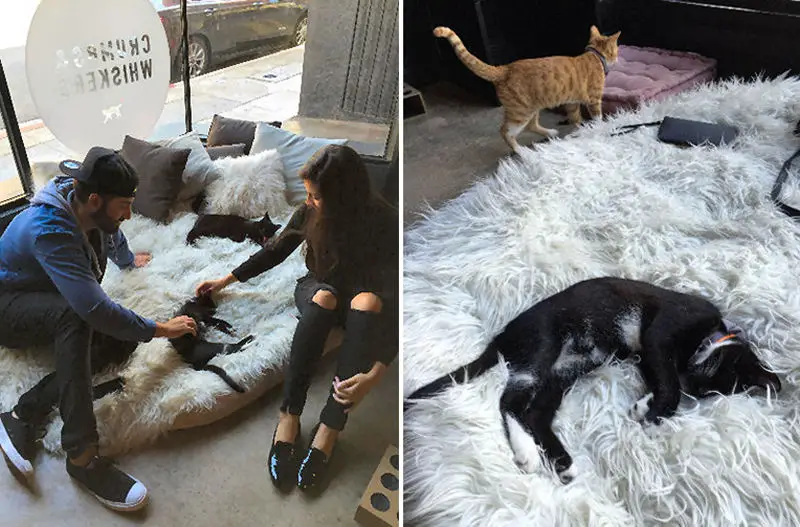 And there are plenty of climbing places where the cats can observe and do what cats love to do…climb, perch and observe.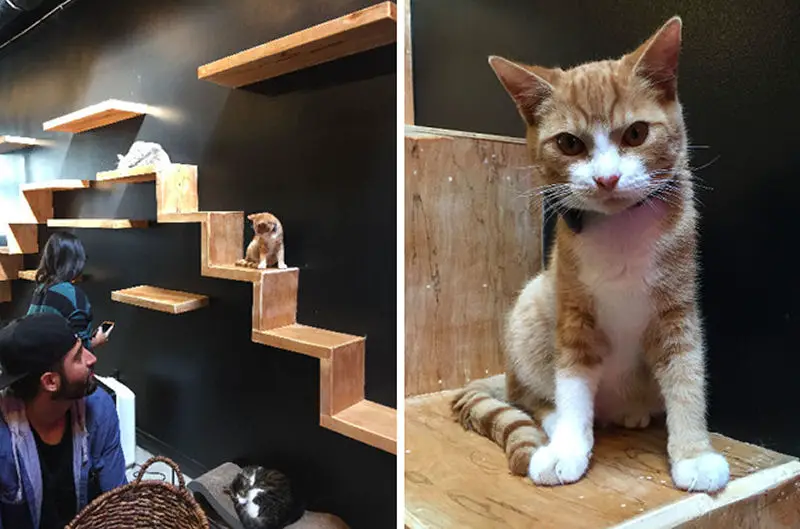 And of course, get in their all important nap time!