Introducing the Online Cat Conference 2018 – a virtual convention for anyone who'd like to help community cats! It takes place on January 26-28, 2018. It's three information packed days with over a dozen presentations on topics ranging from how to do basic Trap, Neuter and Return (TNR), how to start a low cost spay/neuter clinic for cats, missing pets, treating ringworm, finding homes for feline leukemia positive cats, and much more.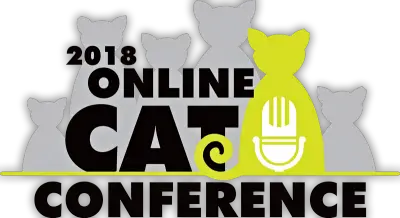 This online cat conference is the brainchild of Stacy LeBaron. Stacy runs the Community Cats Podcast and has over 20 years experience working with Community Cats in Massachusetts. She was the President of the Merrimack River Feline Rescue Society for 14 years and since 2011 she has run the MRFRS Mentoring program assisting over 80 organizations with setting up TNR programs and getting funding to support those programs.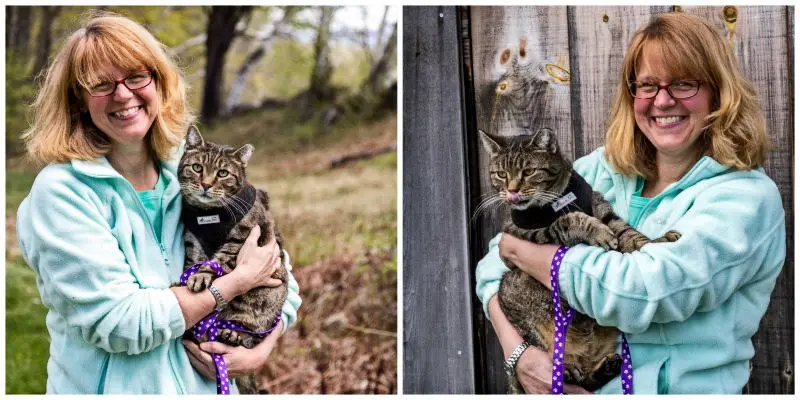 Photo: Stacy and Hooch 
What a meowvelous idea to offer cat lovers this opportunity to join in from the comfort of their homes (kitty on lap) and virtually attend from anywhere in the world. We spoke with Stacy and asked her to shed some light on the background and genesis of this conference and here's what she shared with us:
Q:  Is next month's Online Cat Conference 2018 the first one you've organized?
Yes this is first ever online cat conference.
Q:  Is this virtual event an industry first?
There have been many webinars provided over the years, but to my knowledge there hasn't been a weekend long event.
Want to help community cats? Join the Online Cat Conference on January 26-28, 2018
Click To Tweet
Q:  What is the primary goal of the Online Cat Conference?
The primary goal is to provide an affordable, non judgmental, educational platform for anyone interested in helping cats in need in their communities. Many people can't afford the time or money to go to a conference. Other people may be intimidated and think that they need to work at an animal welfare group to attend a conference. I wanted to provide a way for anyone to attend this conference virtually. I also would like to be able to bring the international story to the conference. Cat overpopulation is a global challenge and we need to start thinking globally as an industry and not just focus on the United States.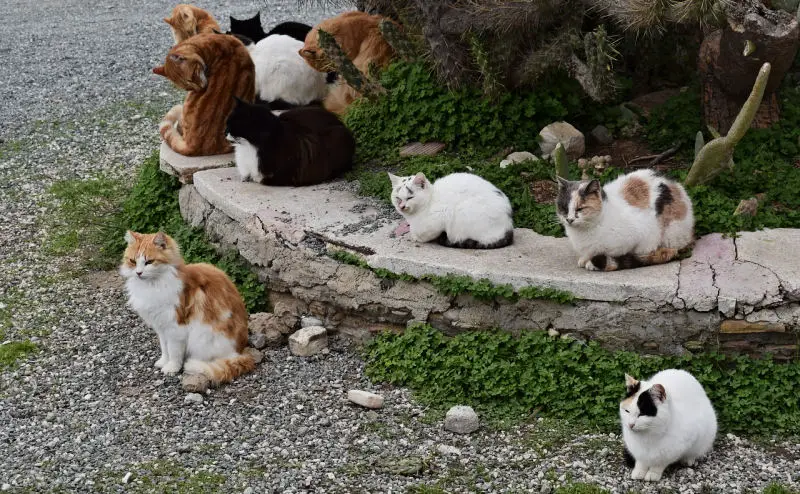 Q:  What are you hoping will come out of this 3-day feline love-a-thon? 
I really hope to empower more cat lovers to know that they can help community cats without thinking it is this is overwhelming. I am a big fan of the phrase, "Many hands make light work". So if we could all do our small part in helping trap, neuter and return these cats in our communities, cat overpopulation wouldn't be an issue across the country and world! Our end result- Humane cat communities across the country.
Q:  How many expert speakers are you hoping will present?
We have 12 speakers signed up at this point. Following are some of the wonderful speakers: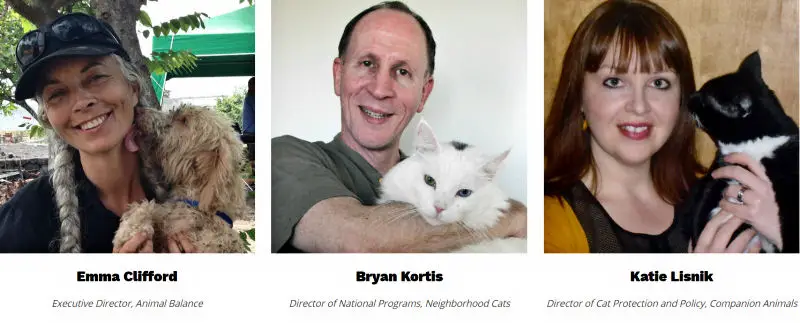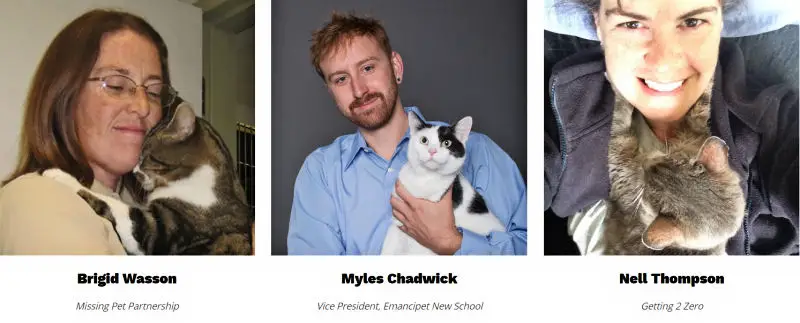 Q:  Who are you targeting to attend the event?
This conference is for anyone who cares about the cats in their community. Many attendees will be staff or volunteers at animal welfare organizations. But we have an open door to anyone who is interested in finding out more about how to control cat overpopulation.
Q:  What can purr-ticipants expect to see and learn?
We have 12 presentations planned at this time. Topics covered range from case studies(Hawaii, Beijing, China and Australia), all about kittens, how to do basic Trap, Neuter and Return, how to start a low cost spay/neuter clinic for cats, missing pets, treating ringworm, finding homes for feline leukemia positive cats, and much, much more… All participants will get access to recordings after the event too.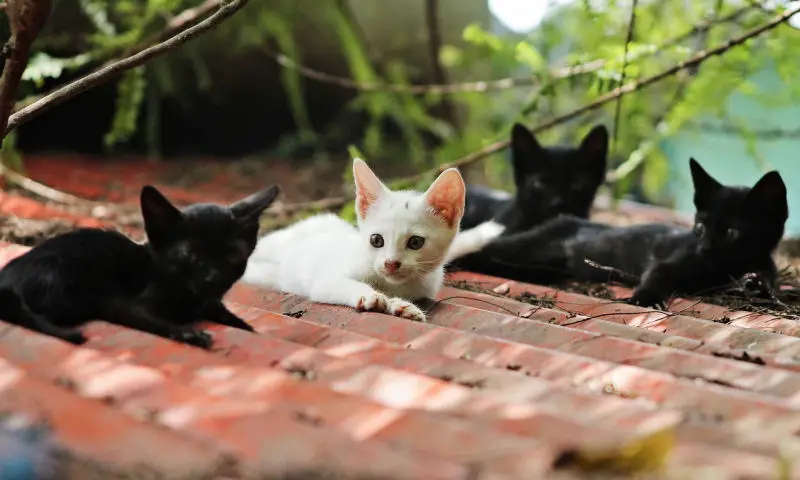 Q:  How long has this event taken to organize? Biggest challenges? Any funny stories that happened during the planning?
I have been thinking about doing something like this for a year and I have been planning it over the last 6 months. I have been "practicing" with the technology over the last year by offering free webinars with Hannah Shaw, also known as the Kitten Lady, Bryan Kortis of Neighborhood Cats and Julie Jacobson from Spay Tennessee. You can see recordings of those webinars at: https://www.communitycatspodcast.com/webinar-recordings/
Q:  Any surprises planned for the event? (Shhhhh…we won't tell!)
We will be offering some raffles (gift cards, books, t-shirts, bumper stickers) during the weekend. I am sure other goodies will become available as we get closer to the weekend.
Q:  Assuming success (which we know it'll be)…are you hoping it will become an annual or even bi-annual event from here on?
Yes, I am definitely planning on making this an annual event. This has been as much fun organize as it has been to develop my podcast.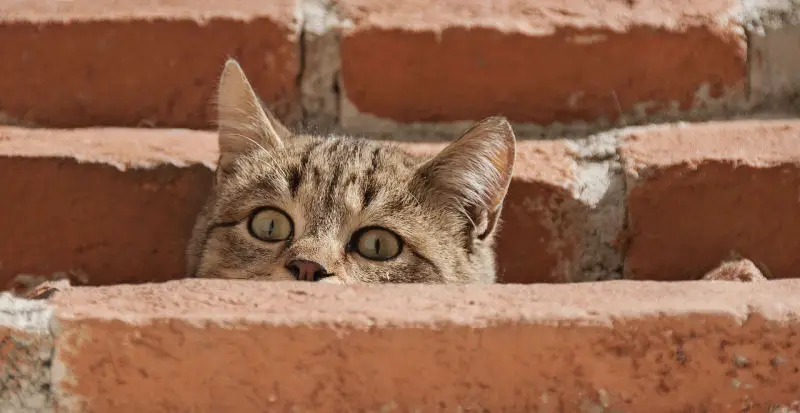 Summary
It looks like a very well organized and informative event that is both timely and … Join like minded cat lovers who all want to make a difference in their community. BUY TICKETS for the Online Cat Conference 2018.