Talk to the Paw is the story of a single girl, a single guy and an adorable cat burglar ready to steal your heart!  Some cats bring "presents" to their owners…but little MacGyver takes being a cat burglar to a whole different level.  This delightful novel was inspired by the true story of a Portland, Oregon, cat who stole from his neighbors – and stole America's heart.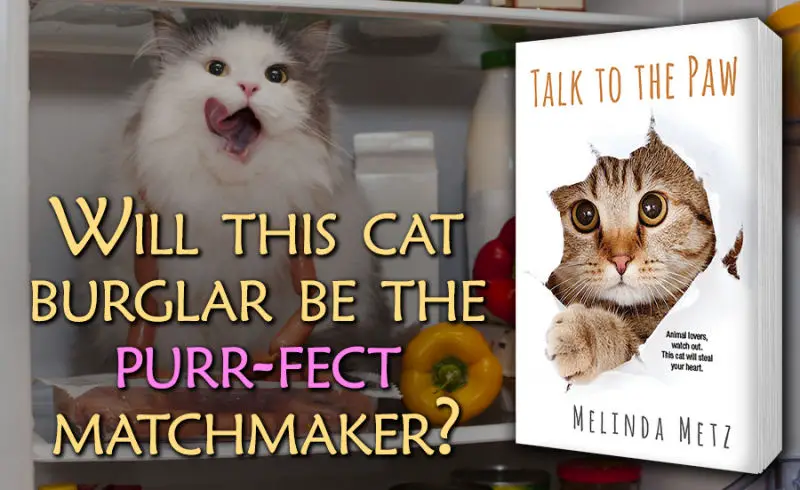 Here's a teaser of what's in store…
She's Putting Her Love Life On Paws
Jamie Snyder is thirty-four and single but NOT ready to mingle. After suffering through The Year of the Non-Committal Man, The Year of the Self-Absorbed Man, and The Year of the Forgot-to-Mention-I'm-Married Man, Jamie's ready to celebrate The Year of Me—and MacGyver, of course.
MacGyver is an adorable tabby with a not-so-adorable habit of sneaking out at night and stealing things from the neighbors. That's right, MacGyver is a cat burglar. He's still the only male Jamie trusts—and the only companion she needs…
Enter for a Chance to WIN a copy of 'Talk to the Paw' - A Romantic Novel
Click To Tweet
But Her Cat Has Other Ideas.
MacGyver knows his human is lonely. He can smell it. It's the same smell he's noticed on their neighbor David. David is a handsome young baker who's tired of his friends trying to fix him up. But now MacGyver's on the case. First, he steals something from David and stashes it at Jamie's. Then, he steals something from Jamie and leaves it with David. Before long, the two are swapping stolen goods, trading dating horror stories, and trying not to fall in love.
But they're not fooling MacGyver. When humans generate this much heat, the cat is out of the bag…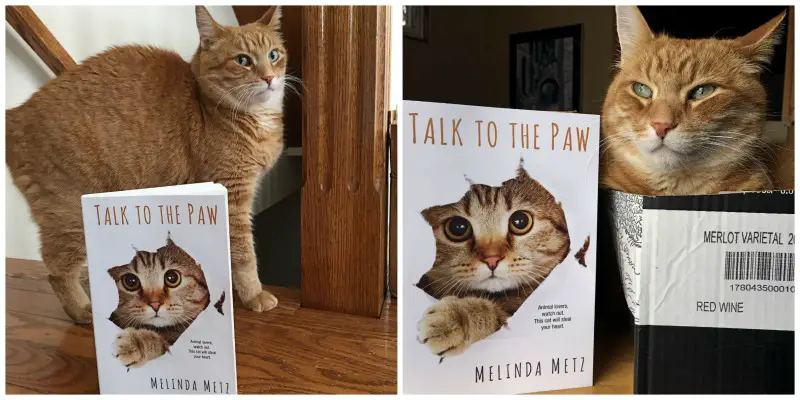 Above photo: Our ginger tabby who got all indignant when we told him it wasn't his face on the cover
Great news — it's contest time. We spoke with author Melinda Metz and her publisher (Kensington Publishing Corp.), and they were kind enough to offer three lucky Purrington Post readers a chance to win not only a copy of  the 'Talk to the Paw' book, but also a goody box filled with delightful surprises. It's meowvellous! [photo below].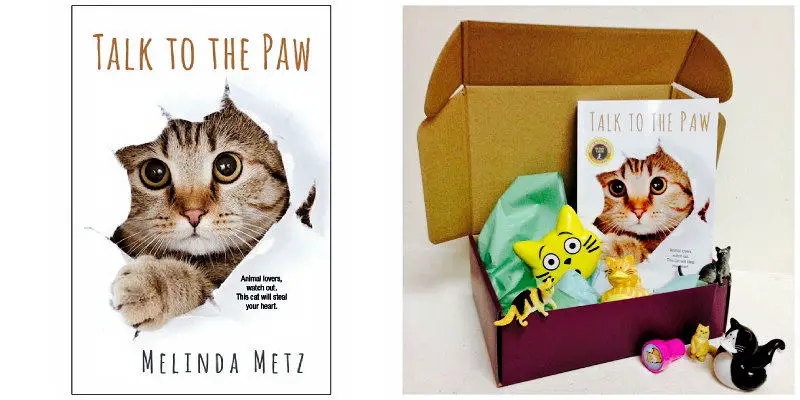 Contest Details
This contest ends on March 6th, 2018 and is available to US residents only. To enter you need to submit a comment in our "Leave a Reply" section at the bottom of this page saying:
My cat's name is [insert your cat's name] and if he/she became a cat burglar, the first thing they'd steal is [item your cat would burgle]
The 3 winners will be chosen by the author (Melinda) from all the correctly submitted entries and contacted by email on or around March 13th, 2018.
Have fun. Be creative. Good Luck!
Author Bio
Melinda Metz is the author of the Roswell High series, basis of the hit television show Roswell. She is an Edgar Award nominee for the Wright and Wong mystery series, and lives in North Carolina.
Can't Wait to Read it?
You can order it on Amazon here => Buy your copy of 'Talk to the Paw'