Spring is in the air so let there be poetry!  In feline fitting style we found a new poetry book called "I'm Not Sorry: Poems by Cats" that was just released (March 2018) on Amazon.  The cats who authored its various poems have destroyed curtains, scratched couches, bitten hands, shredded toilet paper… and they are not sorry.
So to celebrate their paw-someness, they decided to share these insightful and funny poems written by themselves.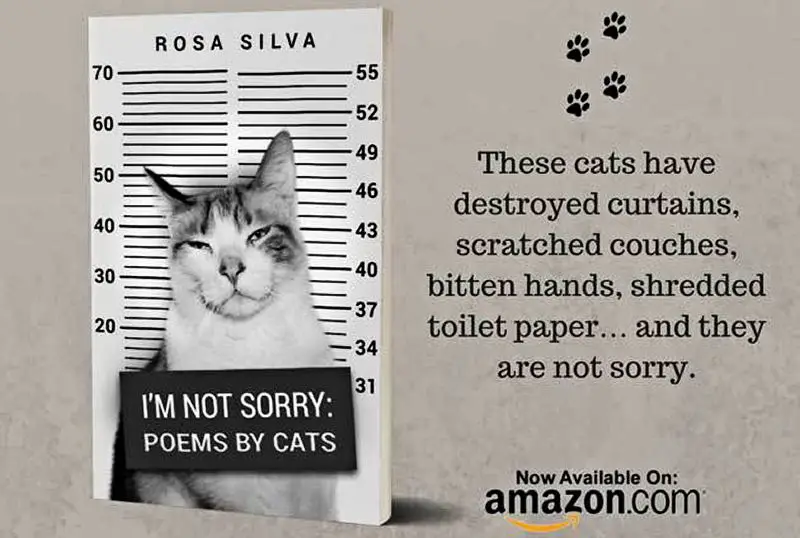 With titles like "It's 6 a.m., time to wake up", "I hate the vet", "Oops, I did it again", "Let me in", and "Red dot, red dot", this collection of laugh-out-loud poems offers a cat's view on common wacky and exasperating feline behavior.  See a few examples for yourself.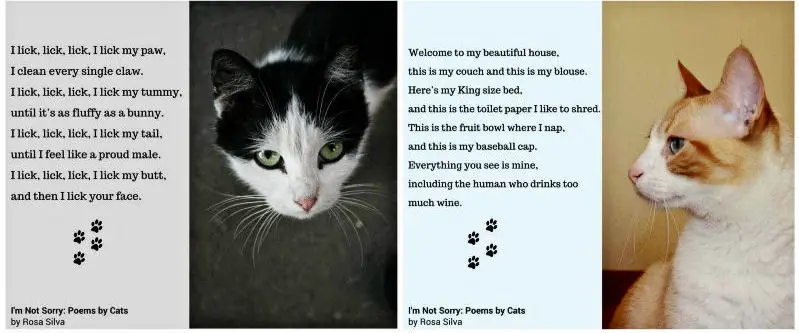 It's a perfect gift for crazy cat lovers who appreciate hilarious insights into the feline psyche.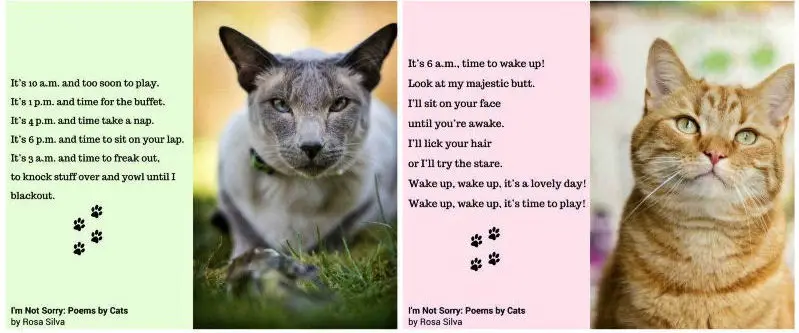 We caught up with their co-writer (Rosa Silva) who was kind enough to offer 5 Purrington Post readers the chance to WIN a copy. Contest details below: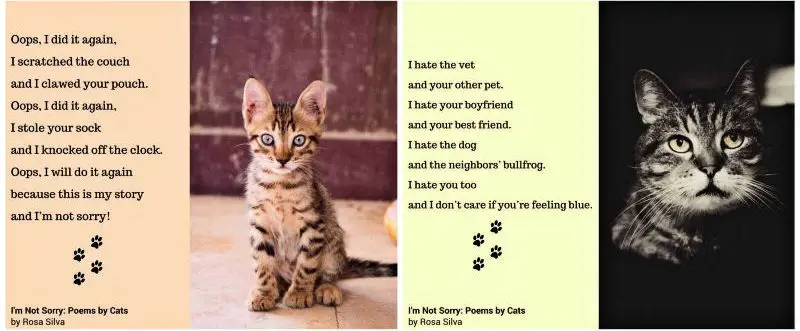 * Contest Now Closed
This contest ended on April 7th, 2018 and was available to North American residents. Entrants needed to submit a comment in our "Leave a Reply" section at the bottom of this page saying:
My cat's name is [insert your cat's name] and if he/she wrote a poem the title would be… [insert your cat's poem title]
The 5 winners were chosen by Rosa Silva from all the correctly submitted entries and contacted by email.
About the Author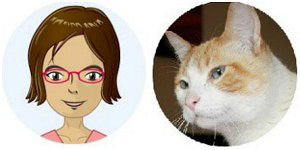 Rosa Silva is the author of "I'm Not Sorry: Poems by Cats" and when she's not working on her next book, you can find her reading, travelling, or writing the next post for her blog Cat Lady Confidential. She shares her home with (surprisingly) just one cat. Mister Cat is a blue eyed prince who was rescued by Rosa from the streets when he was only a 6-month-old kitten. He loves sleeping, sun puddles and yummy snacks.
Want a Copy Now?
You can order it on Amazon here => Buy a copy of 'I'm Not Sorry: Poems by Cats'