No cats were harmed in the preparation of this article. And the only danger they face is Erica Danger – cat photographer extraordinaire (photo below)!  >^..^<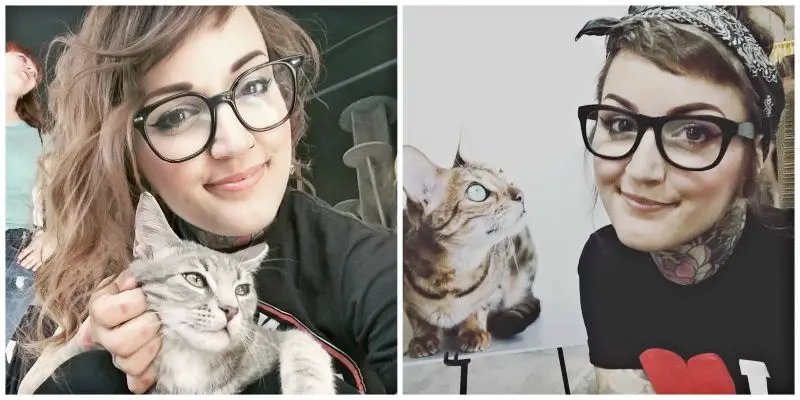 Erica is a photographer and designer living in Los Angeles who specializes in photographing cats and humans, with a focus on capturing the emotion and personality of her subjects. We caught up with Erica via her IG feed @ericalikescats and since we loved her work, we did this feature post on her. Here's what Erica shared with us…
Q:  You had to know this one was coming…do you own a cat(s)? 
Yes! Currently I have one cat, whose name is Mouth, after Corey Feldman's character from The Goonies, because she's such a talker. She actually showed up on my doorstep when I was living in Portland, Oregon, screaming her little kitten lungs out! I usually call her Mou, Miss Mou, or any of 43 other random nicknames. (Photo below) My husband and I are about to start fostering kittens, too, so please pray for us not to end up with a hundred more, haha!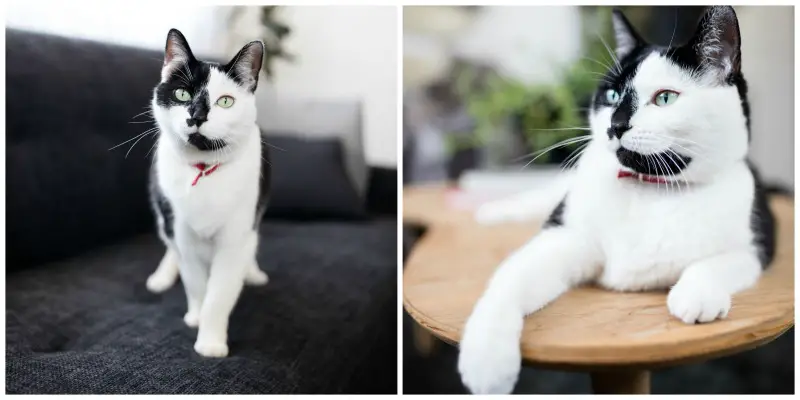 Q:  Tell us a bit about the why you began photographing cats and the background behind it.
I had been photographing people, music, and events for years, but after moving from Portland, Oregon to Los Angeles, I was working in an office and not sure what I wanted to do with my career. I joked to quite a few people that I really wished I could pet cats for a living. I'd say, "I'm REALLY good at it, and if people just knew, surely they'd hire me to pet their cats!"
A friend suggested something that would allow me to put all of my most valuable skills to work: becoming a cat photographer! It took quite a while before I was convinced that maybe, just maybe, that could be a real job…But here I am!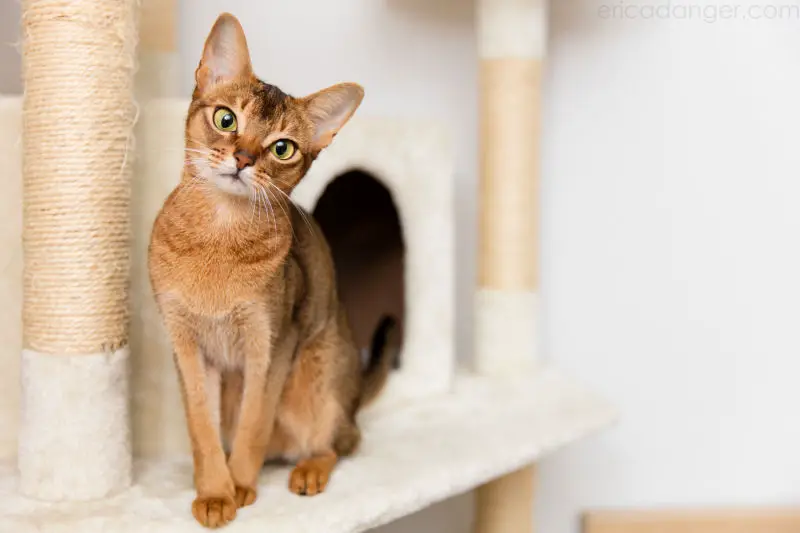 I still shoot a ton of different subjects, which you can see on my website as well, but pet photos are my favorite by far.
Q:  Funniest or best moment while doing a cat photo-shoot
There are so many! Cats are supposedly super graceful, so anytime a cat does anything clumsy, it cracks me up. But I think the shoot that makes me laugh the most was photographing for a client who had 17 cats, with lots of those being rescued Bengals and other really energetic cats.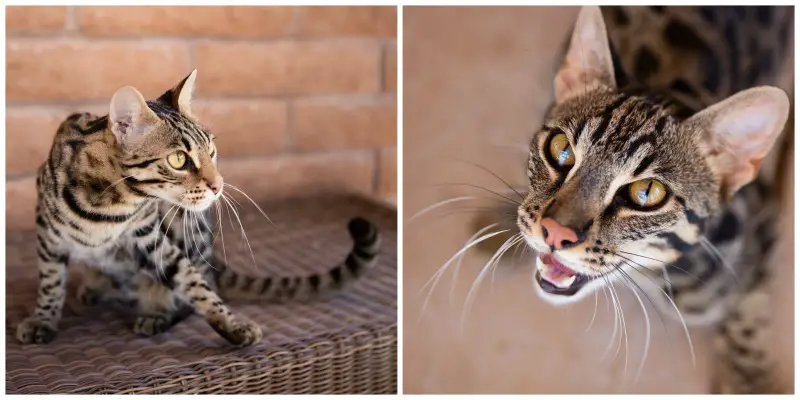 While I was working with one cat, bent over or crouched down, I'd have 2 or 3 others jumping in my hair and launching off my back, for like two hours straight! I wish I had a video clip of that shoot…It was a total riot! My client was horrified and super apologetic, but I told her not to worry – It comes with the territory!
Q:  Most unusual or unexpected moment while doing a photoshoot?
Oh, wow. I feel like everything is sort of unexpected during photo shoots with animals, haha! Especially considering how often I travel for my shoots – I've relied on directions in Dutch while lost in Amsterdam on the way to a shoot, had an overly excited kitten bite clean through my finger thinking it was a treat, and had plenty of super affectionate lovebugs nearly knock me over with the intensity of their headbutts, haha!
Q:  Are cats harder than other pets to capture in a shoot?
I actually think cats the easiest to photograph! Maybe because I've photographed so many and I've learned so much about cat body language and behavior, but they're my absolute favorite to shoot!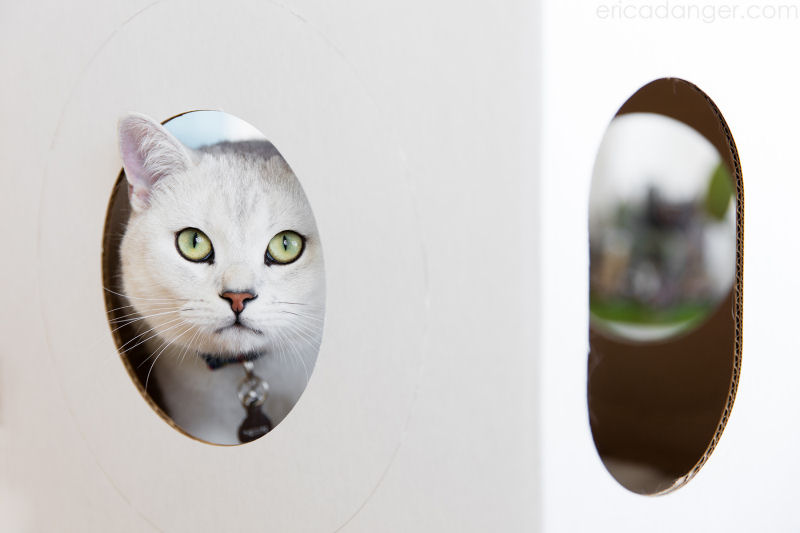 Q:  Your fav cat photo (ok, we'll let you have 2) and why?
One of my favorite photos is one I took when I first started experimenting with cat photography, but it's been published in a bunch of different places
My friend's cat, Pumpkin was playing in the herb garden, and I snapped this really great shot of her peeking out between the plants. She's parsley hidden! Get it? (photo below).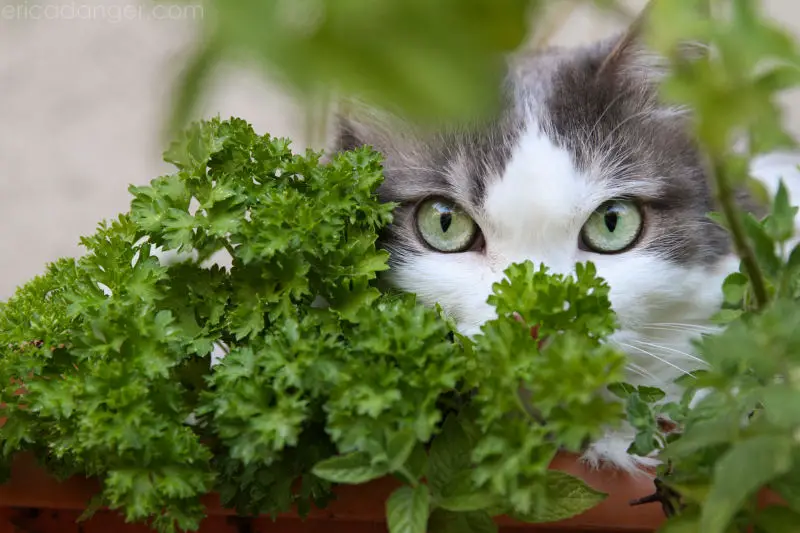 My other favorite photo was shot in Iceland. My husband and I were headed there to explore and see all of the famous landscapes, and I'd heard Reykjavik is full of friendly cats…Just my kind of place! And I'm happy to report that the rumors are true!
I brought my camera and was getting lots of cute shots, but when I came across this cool looking, rugged sort of table and chairs set up against the side of a building, I immediately envisioned a cat on top of them. I pointed at the table and told my husband, "There needs to be a cat right there!" He laughed at me, but he's a good sport, and he waited while I skimmed my eyes up and down the street and crouched down to see if any cats were hiding under the cars parked nearby. No cats!
So I shook the bag of cat treats that I usually have in my pocket, and this awesome little black cat came eagerly trotting around the corner and hopped right up for me! He posed for me for quite a while, and I got the exact shot I had pictured when I first spotted the table and chairs! I thanked him and was happy to reward him handsomely with plenty of treats and pets! (photo below).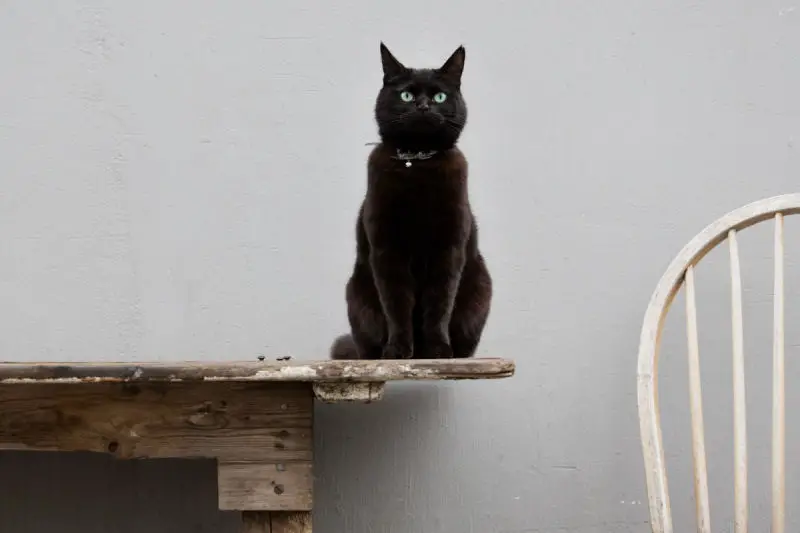 Q:  Most inspiring story behind one of your shoots?
After Hurricane Harvey, I spent two months in Houston, Texas shooting photo and video for Best Friends Animal Society, who partnered with local rescues to find displaced and homeless pets, care for them, and then reunite them with their families. As you can imagine, it was pretty difficult and emotional work!
Best Friends staff and volunteers came from all over the world to help out and spread the word about the found pets, the free spay, neuter, and microchipping that Best Friends was offering, and fostering cats and dogs. People far and wide were donating pet food, medical supplies, bedding, and so much more.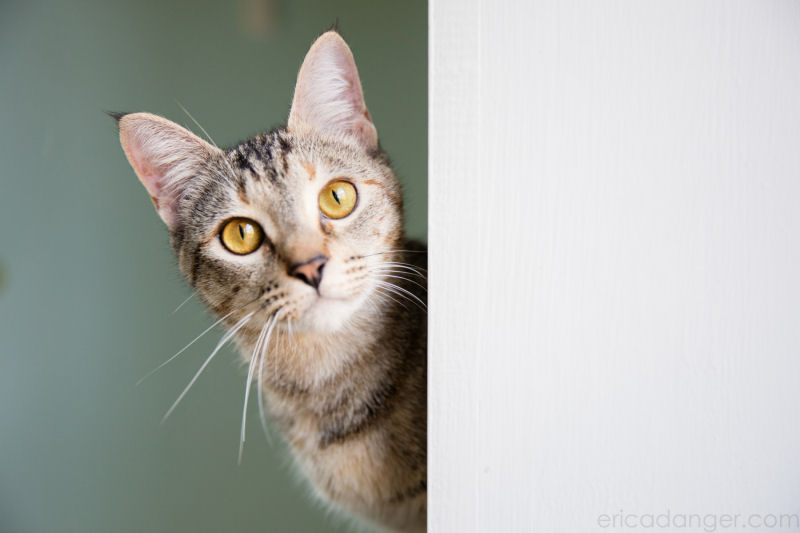 As scary as it must have been to experience the hurricane and the flooding, then being separated from their families and homes, I felt like the cats and dogs really knew we were there to help. There was this amazing trust and patience most of them had with everyone.
These families went through so much, too – I met people who were at work when they were given 10 or 15 minutes notice to evacuate, with no chance to retrieve their cat or dog.  A little boy whose best pup jumped out of the rescue raft while on their way to safety. A mom who was struggling to hold her three-year-old daughter in one arm and two dogs in the other, in waist-high floodwater, when the dogs fled out of fear.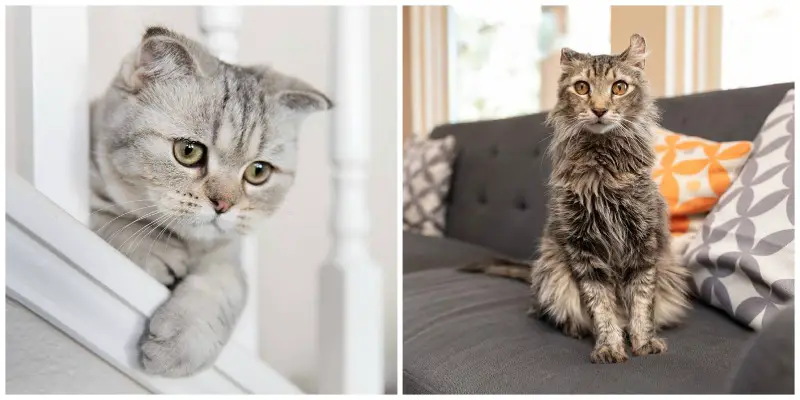 It's just heartbreaking to imagine the hurt and feeling of helplessness…So you can imagine the emotional rollercoaster, hearing these stories, but then getting to witness the moment they find their beloved family pet! Every reunion I photoed or filmed, I was just trying to hold the camera steady while the happy tears streamed down my face, haha!
We were able to reunite quite a few families with their beloved pets, and those were so but after housing over a thousand pets for 3 months, it was time to help the remaining pets find foster homes.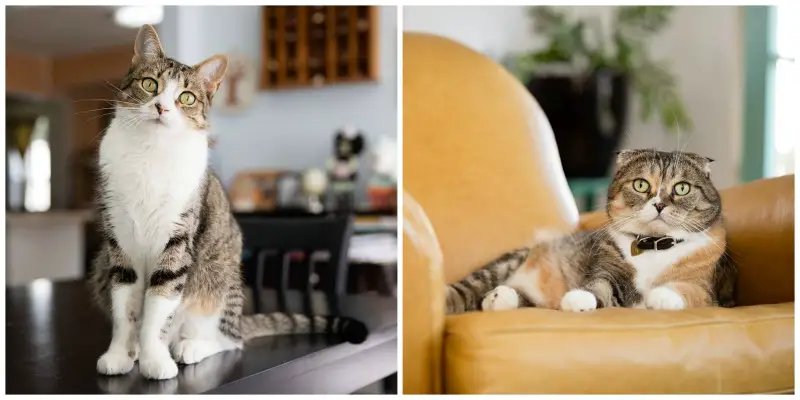 An elderly couple came by and expressed interest in fostering a cat. Nothing weird there, but what tugged at my heartstrings was when they asked the cat caregivers which cat was the least likely to find a good home. They were brought over to this tired old black tom cat, who was FIV positive and scrappy as heck. They said, "He looks terrible. We'll take him!" They named him Monty and took him home to get settled in!
A couple weeks later, I had the pleasure of taking photos of Monty in his new home, and he was like a new cat! He looked so much healthier, and he'd finally had a chance to relax and be a little spoiled! His foster family was so sweet and kind, and I was thrilled when they ended up finalizing the adoption!  (photo below)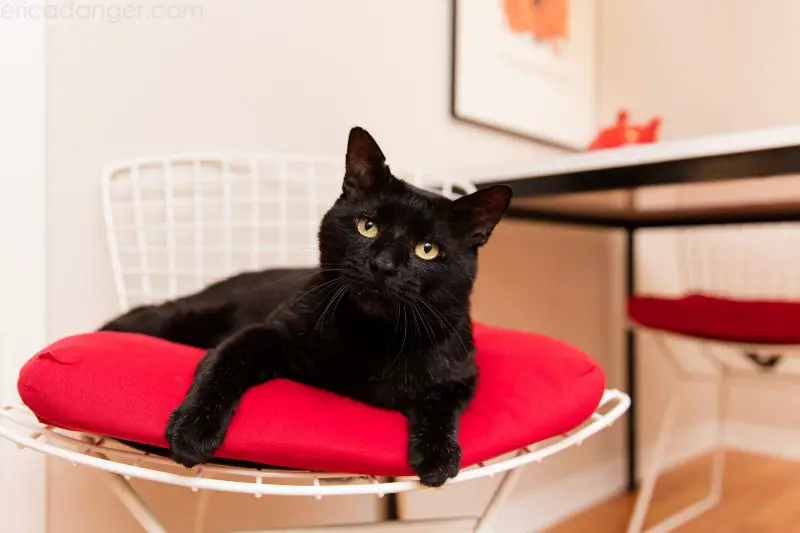 It was incredibly inspiring to see Houston's communities coming together to help one another during a time of tragedy and hardship. I know it's not exactly ONE photo shoot, but being a part of such an enormous effort has been one of the most inspiring and rewarding experiences of my career so far!
Q:  What are your top 3 tips for our readers to take incredible shots of their own cat/pet?
That's easy!
First, find your light! Natural light is the best, if you've got it – It makes every cat look great, and your camera or phone will be able to focus and shoot quicker! Definitely a plus!
Second, stage the scene! If the background of your photos is full of clutter, there are crumbs on the couch, or the table has clumps of cat hair, it will distract from your cat's awesomeness. Take a few minutes to clean up the area, and your cat will shine like the star he is!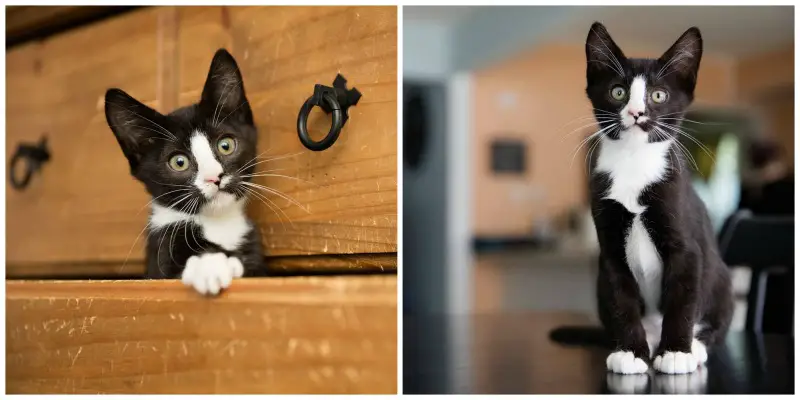 Last, if you're taking photos with your phone, always always always tap the screen to help your phone focus properly and expose the image correctly. (Sometimes you'll need to tap and hold.) Cell phone cameras are programmed to assess the image and give it their best guess, but it's still a guess!  If you tap to indicate your cat's face is the main subject, your phone will make sure his face looks great and will adjust everything else accordingly!
Q:  Any special projects in the works that you'd like to share? New book? New film? 
I've always got big plans! I have a couple of book ideas I hope to be bringing to fruition soon, and I'll be releasing some fun new merchandise in my webstore this fall – more enamel pins, tote bags, and other fun goodies! And I always have lots of travel dates in the works, both stateside and abroad – Keep an eye on my website and social media for more details!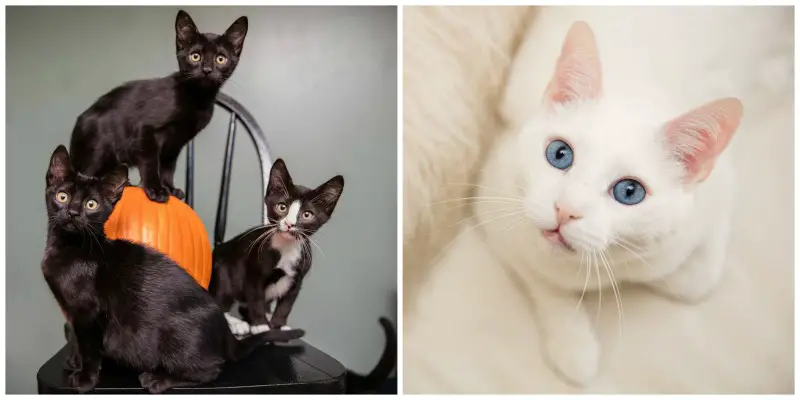 To learn more about Erica be sure to check out her website at 
ericadanger.com
.

Credits: All photos used with permission from Erica Danger