It's no secret that we love cat cafes, and we're so excited to introduce CatCafe Lounge — the first local nonprofit Cat Cafe in Los Angeles serving fresh brewed coffee, tea, and snacks!
This purrfect new kitty rescue haven just opened on Feb. 3, 2018, and their mission is to increase adoptions and reduce euthanizations while socializing cats. CatCafe Lounge is creating an environment which allows cats to be comfortable and relaxed, enabling them and their potential adopter to make a lasting connection.
Their motto is: Sip. Socialize. Adopt.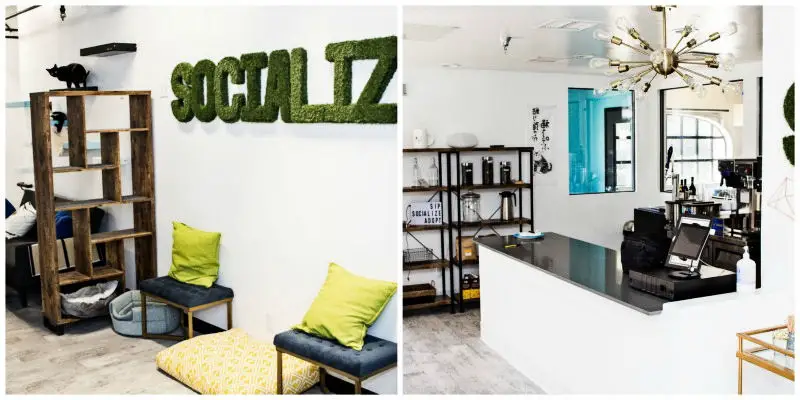 We had the pleasure to speak with Kristi Labrenz, founder and Executive Director and here's what she had to say:
Q:  What promoted you to create LA's first local nonprofit Cat Cafe?
After visiting a cat cafe in Japan in late 2015, I thought, "why wouldn't we do this in the U.S. BUT have the cats be adoptable."  What would be better than creating a cat designed utopia that cats flourish in and where people feel comfortable. Comfortable enough to envision their life with a cat of their own.  As far as why we formed as a 501c3 nonprofit, I felt that the operation should be for the community to increase adoptions, socialize cats, and provide pet therapy for those that can't have their own. It never crossed my mind to form as a for profit – what impression would that leave on people knowing the money that is spent at the cafe is not 100% for the cats or for supporting the mission to save lives. We were formed to reduce euthanizations by increasing adoptions while socializing cats.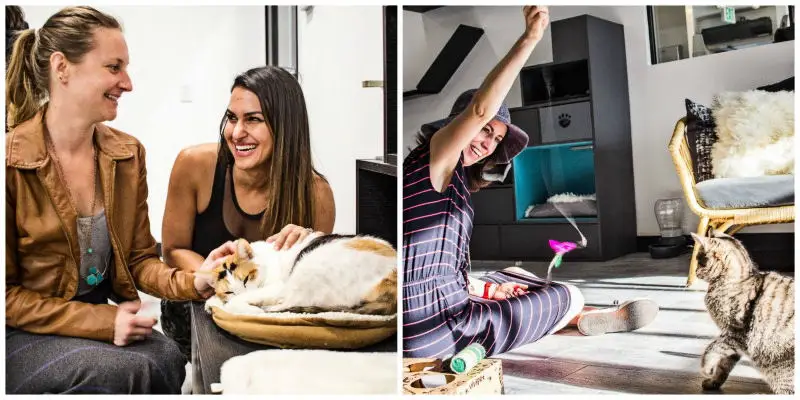 Q:  Can you tell us a bit about your opening day and the first week of being open to the public?
We adopted 3 kitties during our Grand Opening!! And 2 of them were black. Most people think black cats are bad luck or scary, but for us they are good luck and we love them just as much as any kitty.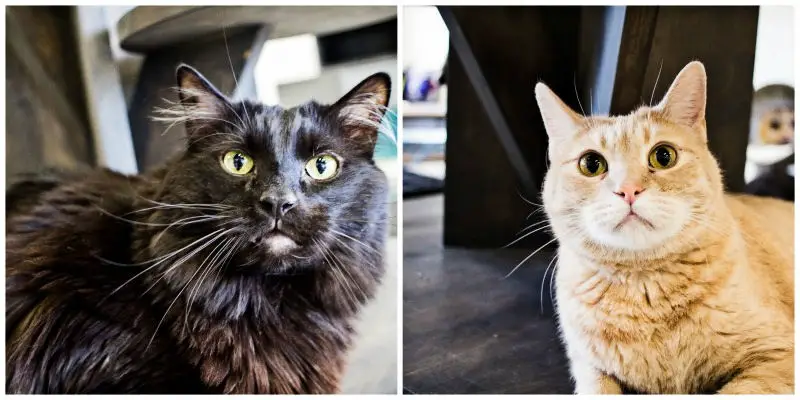 Q:  How many cats do you currently have? 
We have 30! And 3 have been adopted. We anticipate housing up to 35 residents. Our space is huge and has TONS of vertical space for the kitties comfort and well being.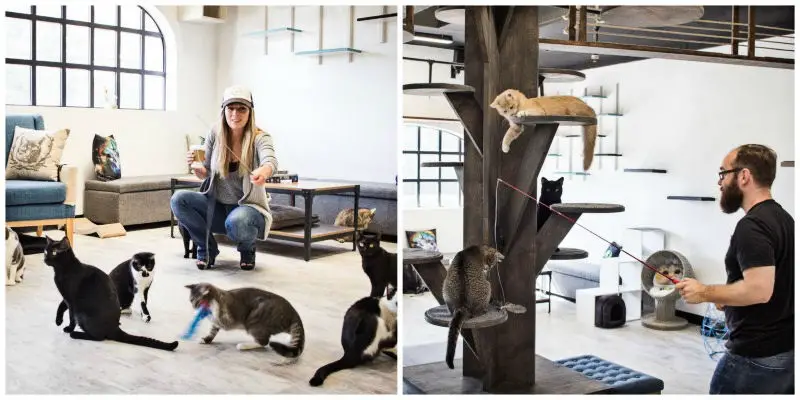 Q:  Where do you source your cats from?  The SNPLA (Spay Neuter Project of Los Angeles) only, or other facilities too?
We only work with SNPLA at this time but look forward to collaborating with other partners to save lives.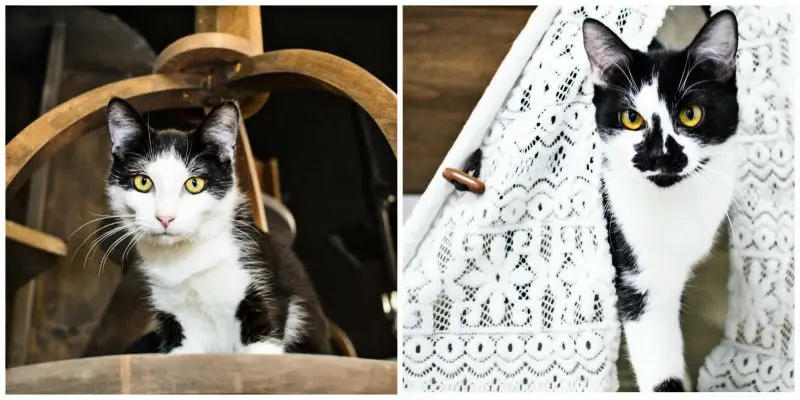 Q:  What makes CatCafe Lounge different/unique from other cat cafes like Crumbs & Whiskers?
I love that Crumbs & Whiskers is an ally in helping save lives in LA. We chose however to operate as a nonprofit and we have an physical cafe onsite which serves Rishi Teas, Verve Coffee, and light nibbles from local growing boutique business, like Madame Shugah. Also our space is designed for cats 1st, offering them TONS of vertical space, most of which were donated and custom made by Silverado Salvage & Design. We also have a TV lounge showing bird and squirrel videos for kitties that just want to lounge. And of course they have their own dedicated cat privacy where they can go to take a break if they feel overwhelmed.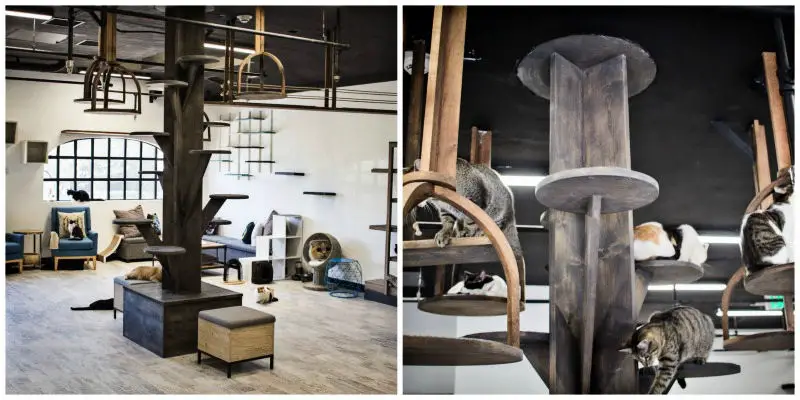 Q:  Can you share any interesting and/or funny story that happened during the preparation/launch of CatCafe?
I don't know about funny – but we did have many challenges with landlords and co-tenants that deterred us from opening in 2016! For example the tenant below us cut all our utilities and then was busted by the city for not having permits. So we were held back for months and it cost us A TON of money. We had to sacrifice the build out of our catio (outdoor cat patio) for the time being – hopefully we can launch it in June of this year.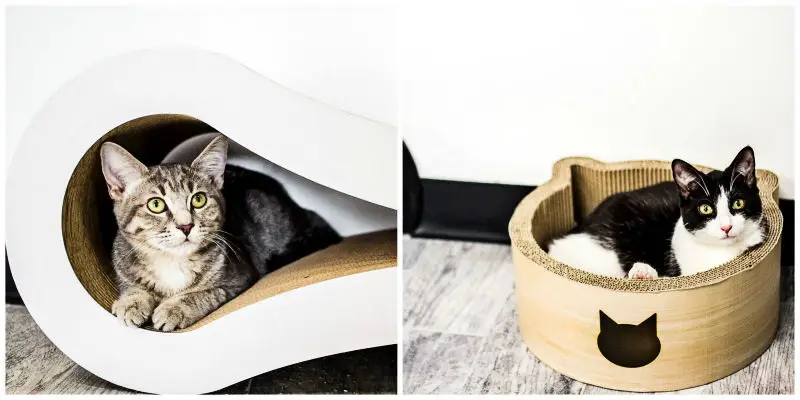 Q:  Is part of your goal to help LA become a No-Kill city by the end of 2018?
ABSOLUTELY – as a nonprofit we are one of NKLA's Coalition Partners pushing for a no-kill 2018! We got this LA!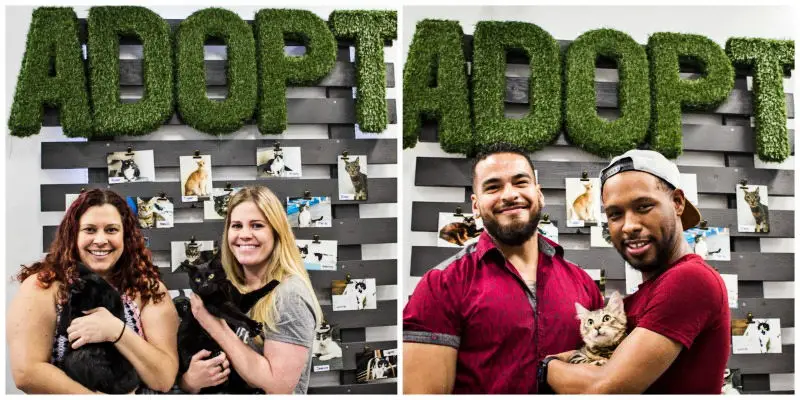 Q:  What's the BEST thing about having launched this wonderful venue?
I don't  think I can pinpoint 1 thing. Adoptions, obviously, but the part that keeps me motivated and pushing through all the challenges is working with kitties that would have been euthanized due to being overlooked at the shelter because they were timid or "feral". We have so many lovely souls that just needed a cage-free outlet to shine! Cats get such a bad rap as being mean or aloof. The reality is most of those stereotypes stem from bad experiences with terrified cats. I have yet to meet a person who is "lovely" when they are in fight or flight mode – especially on the 405! I love it when people say, "oh your cats are so friendly". I'm thinking,  yeah,  because they are free roaming and living in purrradise.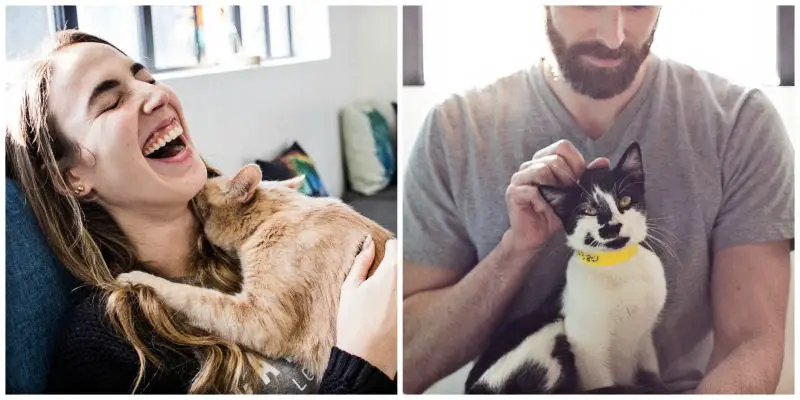 Q:  Any big plans or announcements coming up in the months ahead?
Catio plus we've been planning Cats & Comedy for years – we have been cultivating a talent pool at my friend's house called Bones & Buddies Backyard Comedy. And Yoga of course – its a cat cafe staple at this point. A few more that we will keep hush hush until the time is right!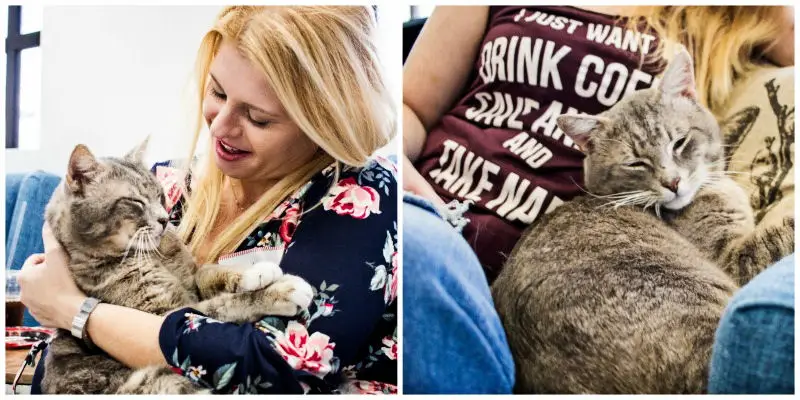 Q:  Why should every cat lover in LA (or Socal) visit CatCafe Lounge?
When you sip.socialize.adopt @CatCafeLounge you are helping socialize our population which makes a huge impact on so many lives, people and cats, plus your admission is tax-deductible and comes with a free drink. What's not to love about that!
[clickToTweet tweet="Introducing CatCafe Lounge. LA's only nonprofit Cat Cafe." quote="Introducing CatCafe Lounge. LA's only nonprofit Cat Cafe."]
Summary
CatCafe Lounge is definitely on our bucket list for 2018.  As Kristi says, "What's not to love!"  Check out their website at: catcafelounge.com for more information and visiting hours.
In the meantime, here's a bit more kitty eye candy from some of the paw-some patrons who grace this purrfect palace: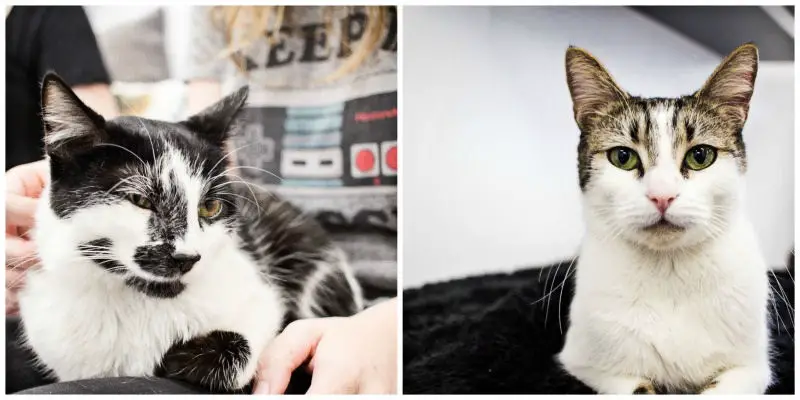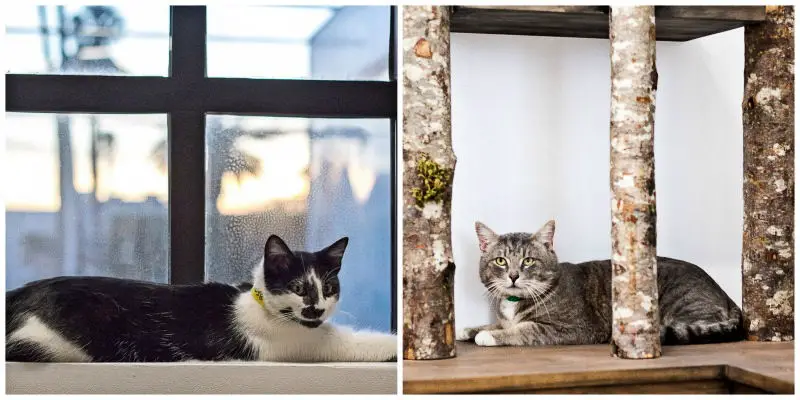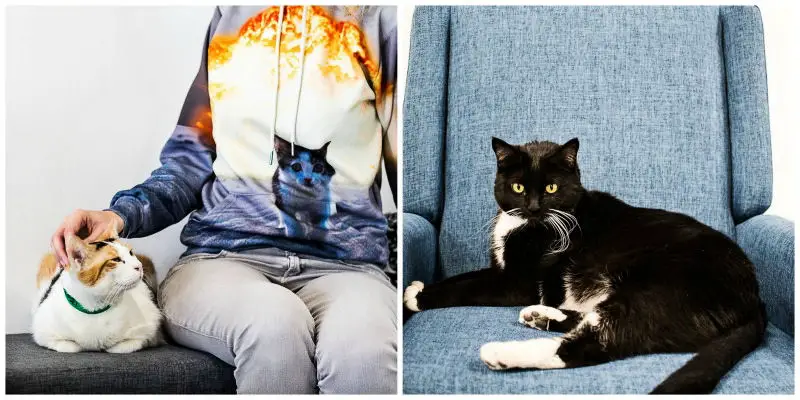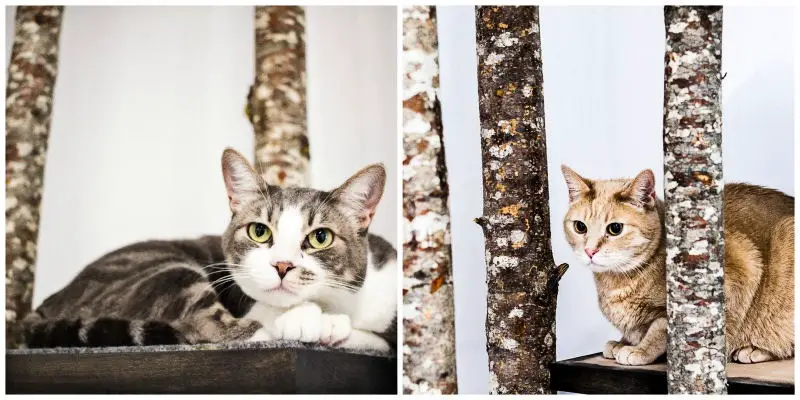 Please drop us a comment in the 'Leave a Reply' box below if you've had the pleasure of visiting CatCafe Lounge and share your experience.  >^..^<