OK, we admit it.  We have a soft spot for animal lovers and particularly those who contribute their time and energy to animal welfare.  Well we came across such a couple – meet Ollie Davidson and Natalie Alms.  Although not romantically linked, these two friends love each other as much as any couple.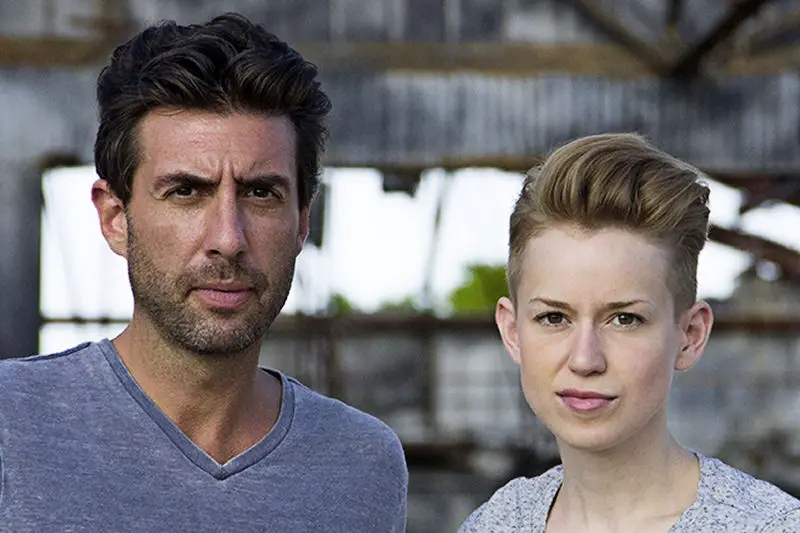 The two met while working for animal support groups. Combined, these two have spent over 20 years in animal rescue and welfare.  Both had a passion for animals and music, and their fortuitous meeting resulted in the creation of "Almond&Olive" – a folk duo from Chicago. They are just finishing their debut album (due for release later this Fall) in which they will donate a portion of sales to the Jackson Galaxy Foundation (JGF).
[clickToTweet tweet="This cat loving duo to launch debut album and give back!" quote="This cat loving duo to launch debut album and give back!"]
Ollie had already been working with the JGF to improve the lives of animals at risk by transforming the places they live and supporting those who care for them.  It seemed like the purrfect next step.  As big supporters of JGF ourselves, we give their initiative a big "two paws up"!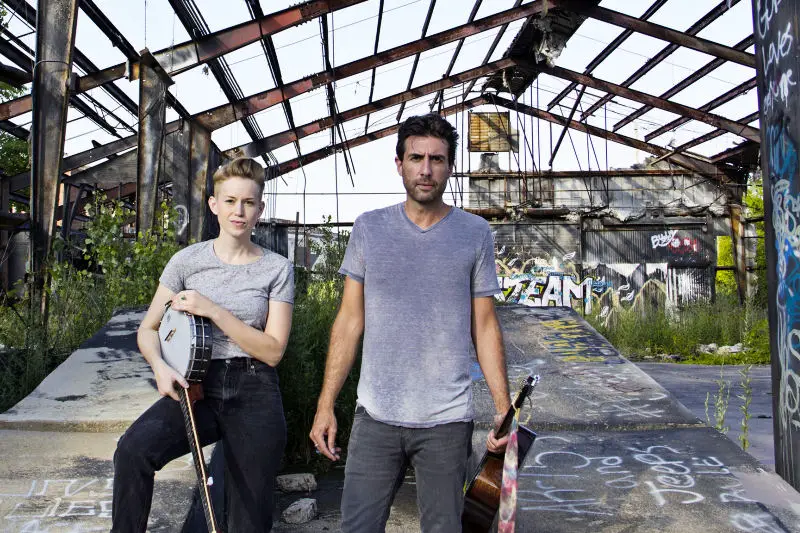 The duo create inspiring songs that span the folk and Americana genres, while incorporating Natalie's timeless vocals in finely crafted songs. The music features Natalie mostly on banjo and Ollie mostly on acoustic guitar, while also deploying highly skilled professional musicians, stalwarts of Chicago's Old Town School of Folk Music scene, who provide backing. The industry buzz suggests that this will be an impressive debut for one of Chicago's most exciting new bands.
Ollie told us, "Not only are we creating something amazing, but with our creation we will be also giving back."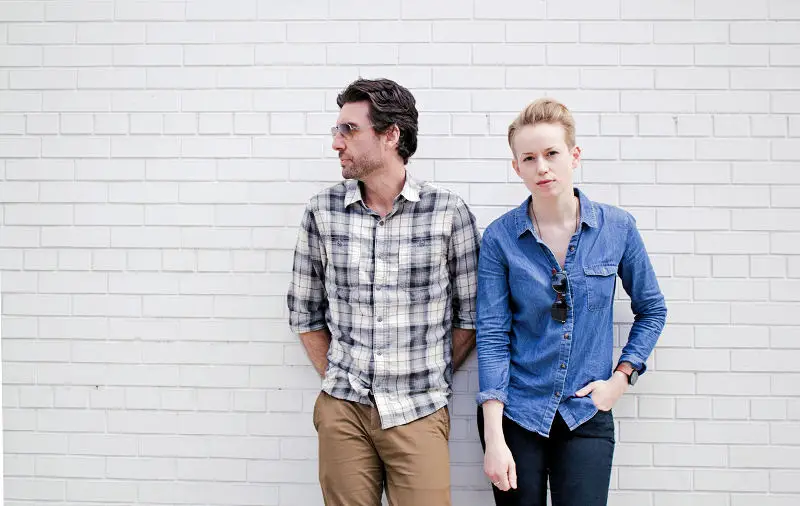 We had to ask them about where the name Almond&Olive came from.  Ollie said, "It works with our names (Alms = Almond and Ollie = Olive) and personalities. Plus, like almond and olives, music is good for you!"  Also, Ollie is vegan, and Natalie is vegetarian!  Sounds like a great fit!
Alright, enough about the hoomans already…in case you're wondering…yes, of course they own cats!  Natalie's cats are Atticus and Peter, and Ollie's cat is Alex.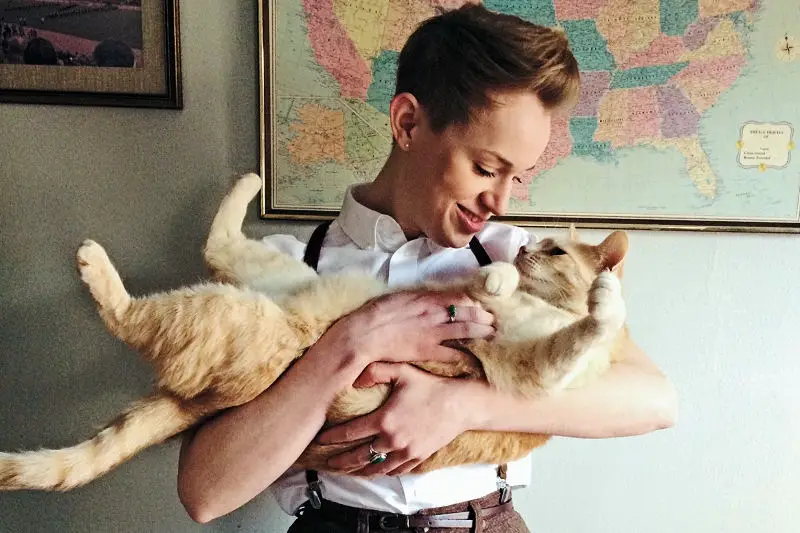 [Natalie with Peter]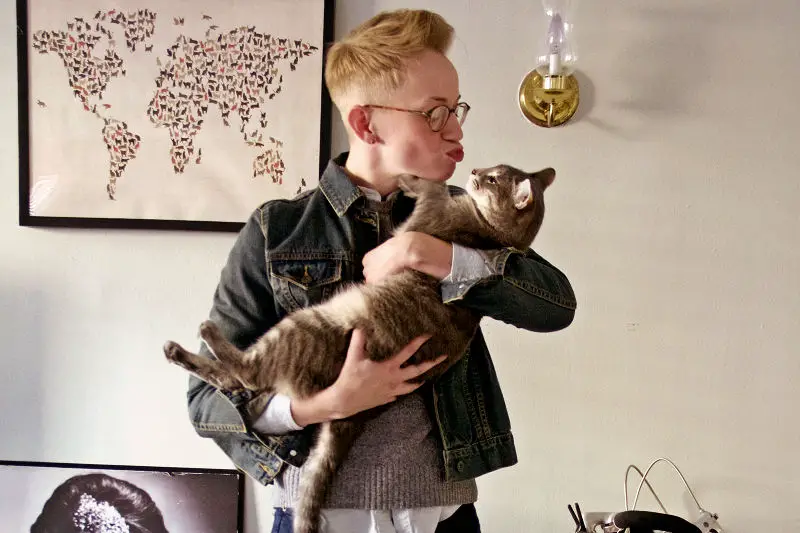 [Natalie and Atticus]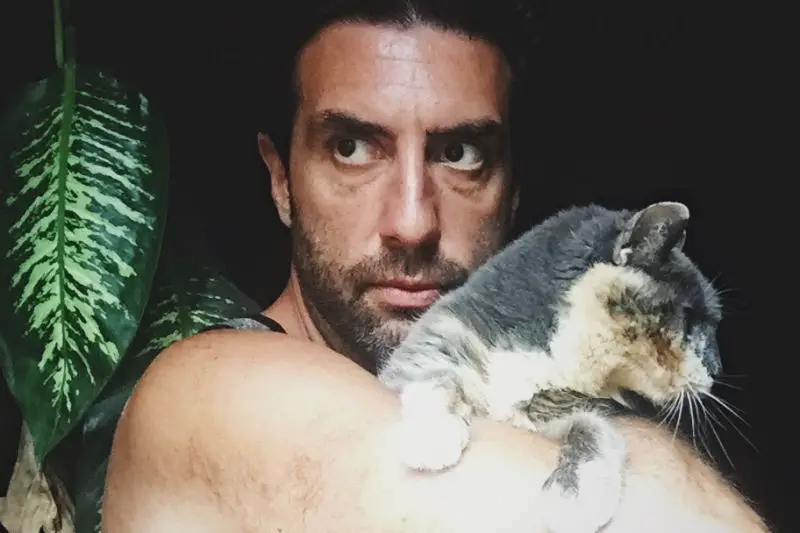 [Ollie and Alex]
Sadly, Ollie's other kitty (an orange tabby named Juice) recently passed. Ollie said, "Juice meant so much to me – him and Alex have been with me through everything – over 16 years all together.  He had health issues that could no longer be beat back. In a lot of ways for me, I'm doing this record for him (and Alex – don't want her to get jealous. You know how those torties are!)."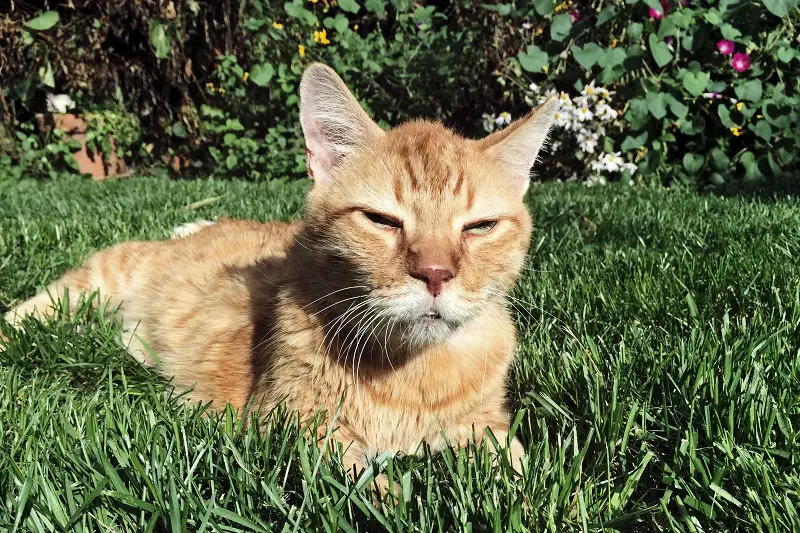 [Juice – may he R.I.P]
We asked Natalie if she had a favorite cat…"I don't have a favorite! My cats growing up and now my very own babies are strays that I've rescued who are mixed breeds. The "mutts" of the cat world!"  When asked if Ollie had a favorite breed, he told us, "I love all animals of all shapes, sizes and colors. I will say though, I love orange tabbies and pastel torties!"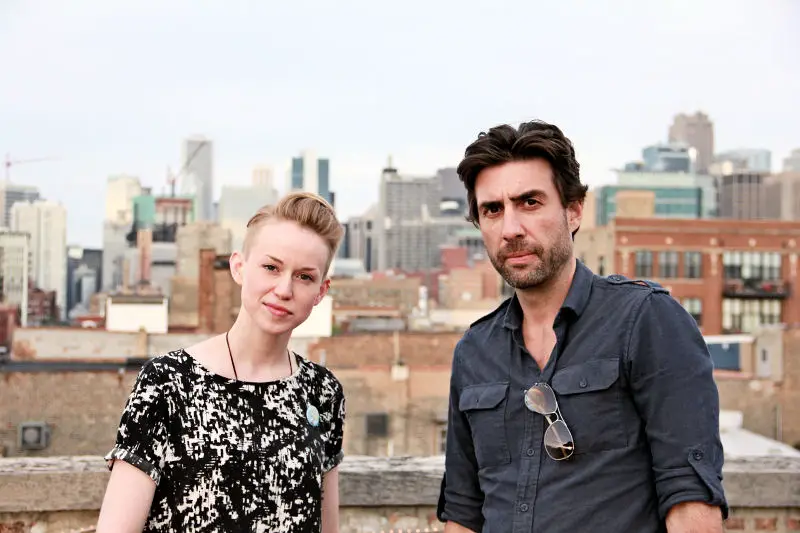 They love cats! They love each other! They love music! This has all the makings of a home run!
Please check out their Kickstarter page which includes a mini-documentary. We're pleased to say that they are successfully funded and we can't wait to hear their new album!
Save
Save
Save
Save
Save
Save
Save
Save
Save
Save
Save
Save
Save
Save
Save
Save
Save
Save
Save