We all know that cats rule the Internet.  But did you know that 2016 is the 25th anniversary of the Internet?  Sparky (below) found this shocking, and he wasn't even around in the pre-Internet era.
So we had to ask the question: "where were all the great cat photos before the magical Inter-Web appeared?"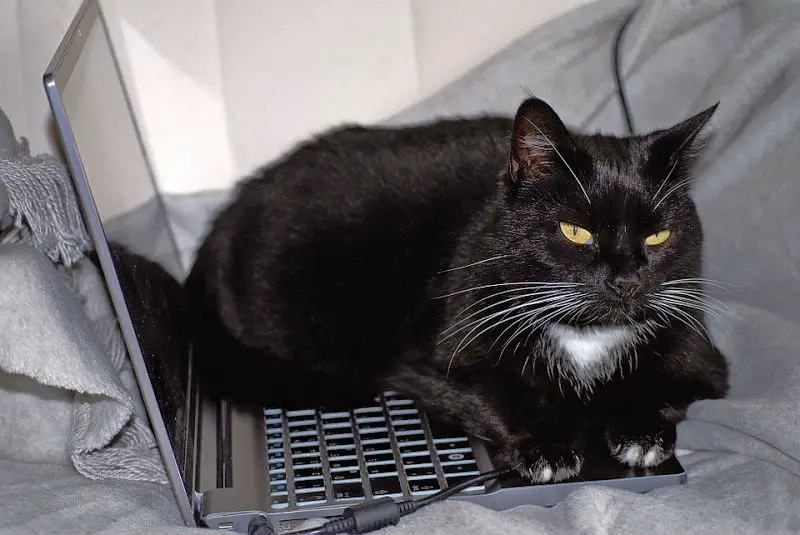 To answer that, let's take a trip back some 65 years ago to the early 1950's and introduce you to Walter Chandoha.  He was the go-to guy when you needed a cat photographed.  Today many affectionately call him "The Godfather of Cat Photography".  We just call him awesome!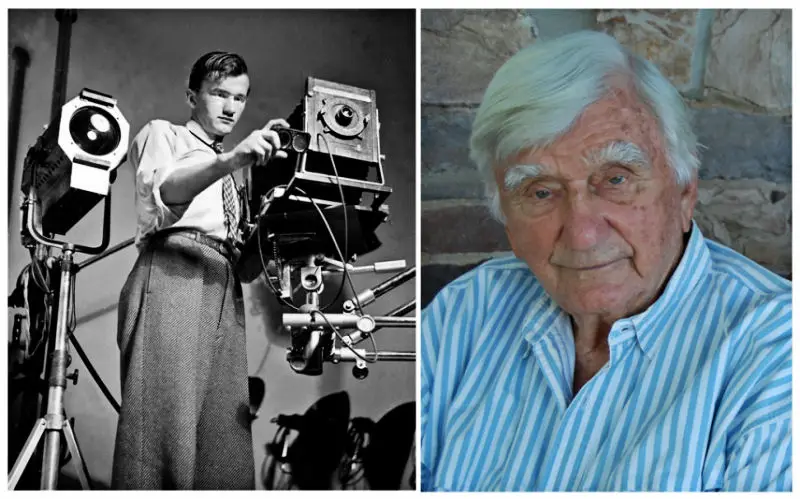 Head shot photo by ©Chiara Chandoha
Walter's signature style was brightly lit cat photos, in which he used as many as six lights in a single shot. He attributes part of his success to how brightly he lighted his feline subjects.  In fact, he would regularly use two lights for the background, two for the foreground, and two more for back lighting which illuminated the very edge of the cat's fur creating his distinctive and memorable look.  Walter's daughter Chiara was kind enough to share the images we've used in this post to help us showcase Walter's exceptional talent.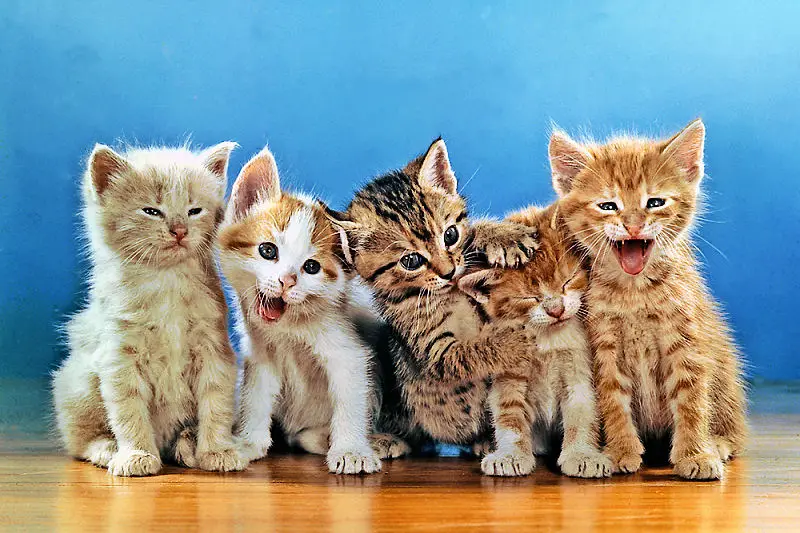 Photo by ©Walter Chandoha
Over the next 30-40 years Chandoha defined the genre and during this esteemed career his work has appeared on everything from cat food labels to jigsaw puzzles to ads for brassieres. He even managed to write a shelf full of books, including a book revealing all of his tricks, and one called 'The Literary Cat', his compendium of kitty photos, poems, and other musings.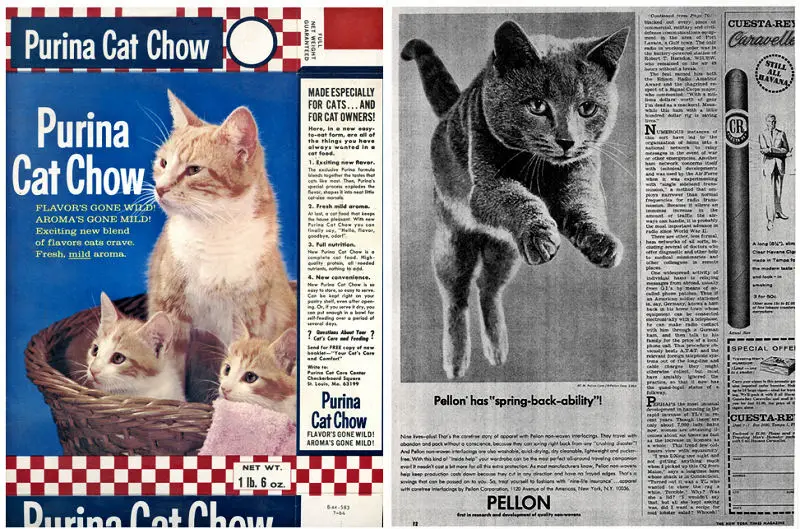 Photo by ©Walter Chandoha
We wanted to celebrate Walter's pioneering work as it set a standard for the generations of feline photographers that followed.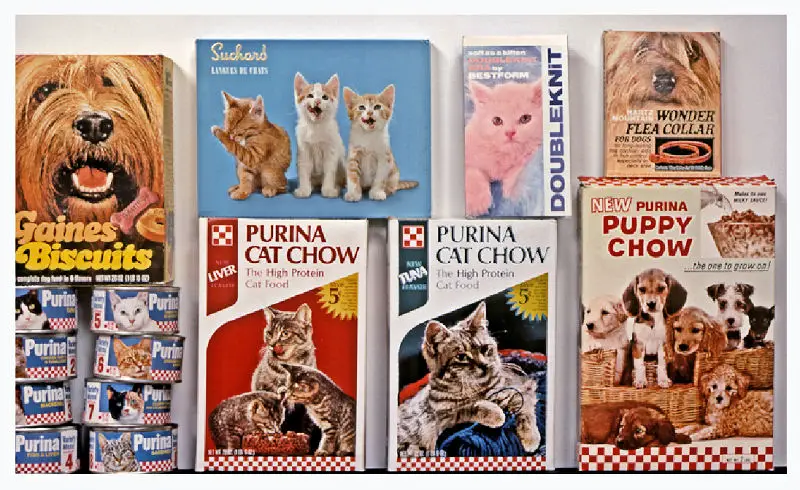 Photo by ©Walter Chandoha
Like many inspirational stories, this one began rather unexpectedly. It started one winter day in Astoria, New York, when he stumbled upon a small gray kitten mewing in the snow. Walter bundled it up and brought it home. He named it Loco, and once settled in its new home, the kitten did what cats do – chased his tail, attacked his toys, frightened himself in mirrors, and generally acted adorable. And so Chandola would grab his camera and begin to snap photos. He liked them enough to enter them in things like the Brooklyn Eagle's weekly photo contest, and Loco soon went viral.  Well, as viral as a cat could go in the late 1940s.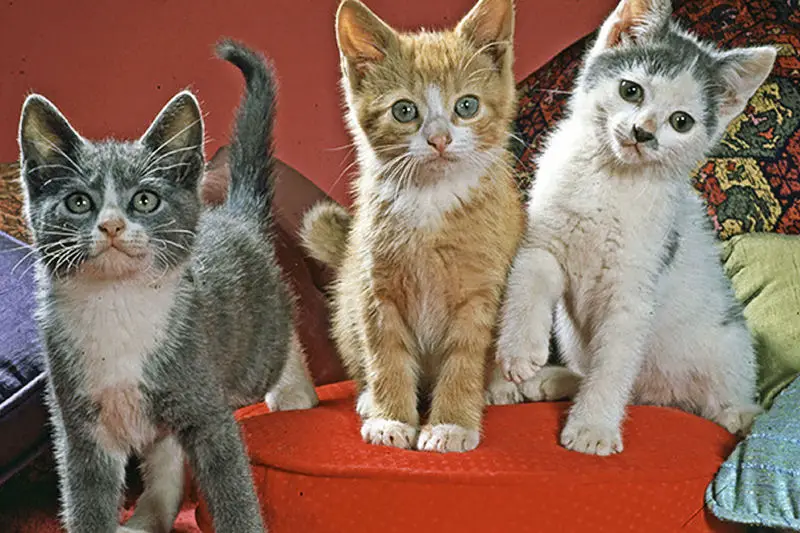 Photo by ©Walter Chandoha
Chandoha always worked from home, first in a makeshift studio in a bedroom and later to a restored Colonial-era barn. Working from home made the job a family affair, with his late wife Maria and his six kids helping out. "Without Maria I could not have made the vast majority of my pictures," he says. She handled all of the administrative work, typing contracts, getting film developed, and generally keeping things running smoothly."
[clickToTweet tweet="Before the Internet he was The 'Godfather of Cat Photography'" quote="Before the Internet he was The 'Godfather of Cat Photography'"]
She also proved to have quite a knack for keeping the cats calm while Chandoha snapped away on his Hasselblad. "Cats cannot and will not be rushed," he says. "And if you are a cat owner, you know, well, you're really don't own a cat, they own you and spend their days on their own terms and schedules."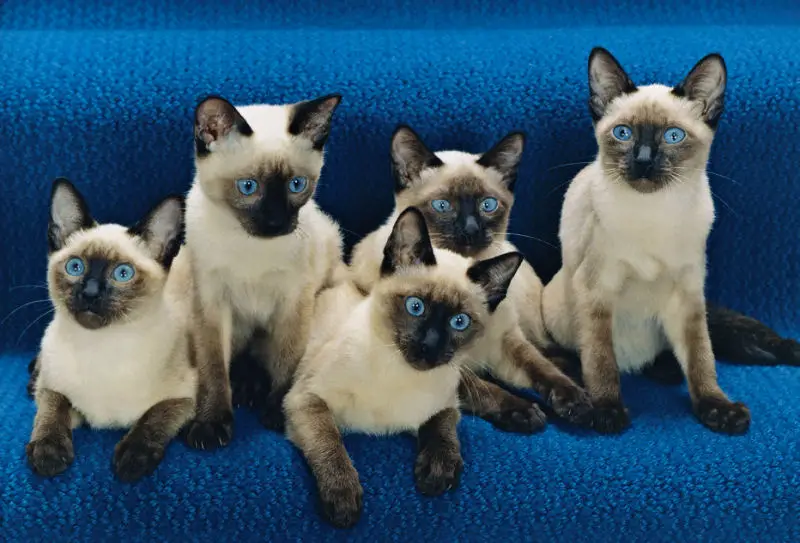 Photo by ©Walter Chandoha
Today at 95, Walter is still at it and remarks "When I started taking pictures 70 plus years ago, it was film and heavy metal or even wooden cameras. Film was expensive and you had to know what you were doing with your equipment."  Today anyone with a smartphone can snap a pickie of Boots and instantly upload it to Instagram.  Walter is thrilled at the technological achievements made since his early days, and said, "The Internet has made it possible for all cat owners to share their love of these wonderful animals."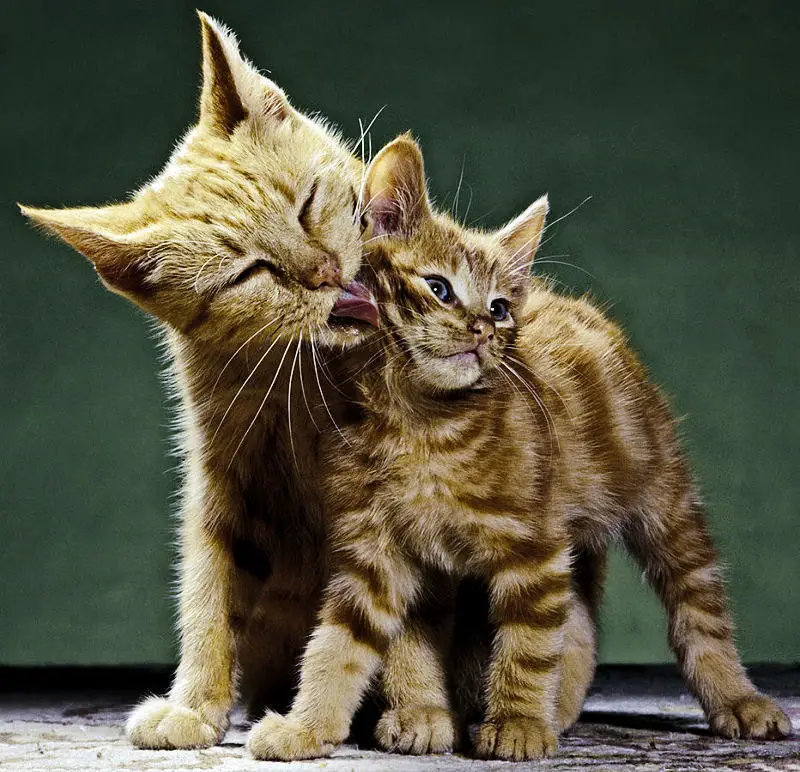 Photo by ©Walter Chandoha
We asked Walter some questions for this interview and we share them below:
Do you currently own any cats?
I have only one cat, Maddie, an adoptee from the St Hubert's Shelter in Branchburg NJ. A family moving to California put her up for adoption and the minute I got her home she immediately acclimated, she was obviously a much loved pet. Please persuade your readers to make the shelters their choice when they seek a new pet.  But we have had many, many cats, there was Tom, Mingina, Friend, Spook, Floyd, Precious and a longtime favorite was Rags. Along with many barn cats that keeps the rodent population at bay on the farm.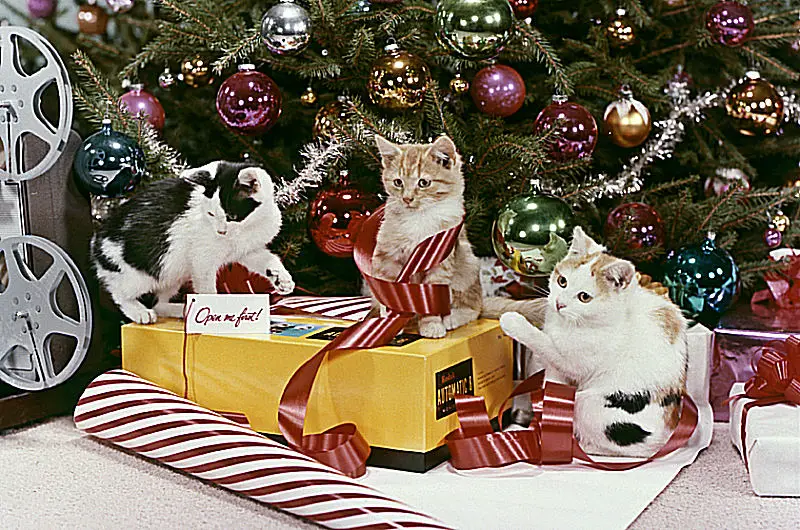 Photo by ©Walter Chandoha
Did you have a favorite cat?
My all time favorite cat has been, LOCO (photo below), the cat responsible for getting me started on a lifetime carrier as a professional cat photographer.
His actions were so interesting that I began making pictures of him . So much that I sometimes neglected my school work. But it was worthwhile, when I made some pictures of him that I thought might be salable. I offered them to NY papers and later magazines.  I was now beginning to get some sort of a reputation as a cat photographer among art directors and editors.

So much so that upon getting my marketing degree I had a problem, do I try to get a job in marketing, where I had absolutely no experience or become a free-lance photographer specializing in cat photography and wisely other animals. After discussing all the pros and cons with Maria, we decided to take our chances with free-lancing. The impending birth of our first born heavily influenced my choice. I would be home with Maria helping to care for our baby.

It was a good choice even though we had many misgivings for a year or two. But slowly the future looked brighter, thanks to LOCO!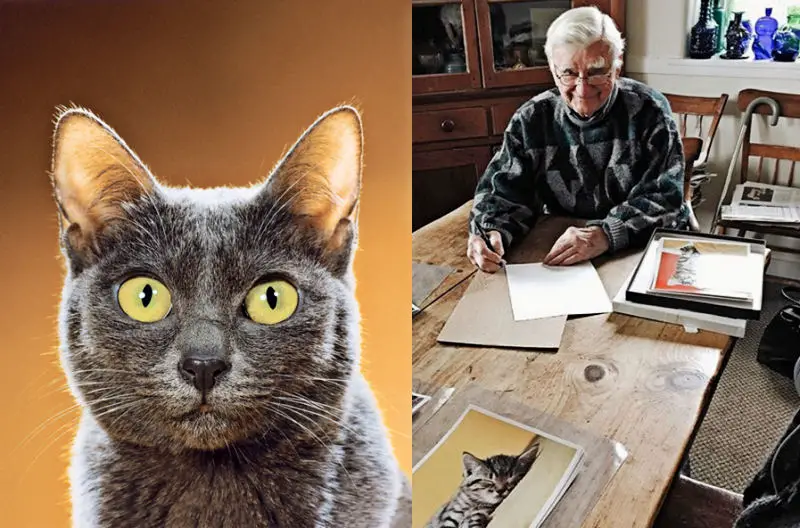 Photo by ©Walter Chandoha
What's the funniest thing that ever happened during one of your cat photo shoots?
Funniest thing was caused by a kitten, but resulted in another 'one in a million' shot of a Weimaraner  pup that we were working with in the studio. One of our children came into the studio during the shooting session carrying a kitten. The dog had NEVER seen a kitten before, the kitten meowed and the pup became wide eyed and startled resulting in another of my most popular images. We call it the widened Weimaraner, this image is a greeting card with Avanti.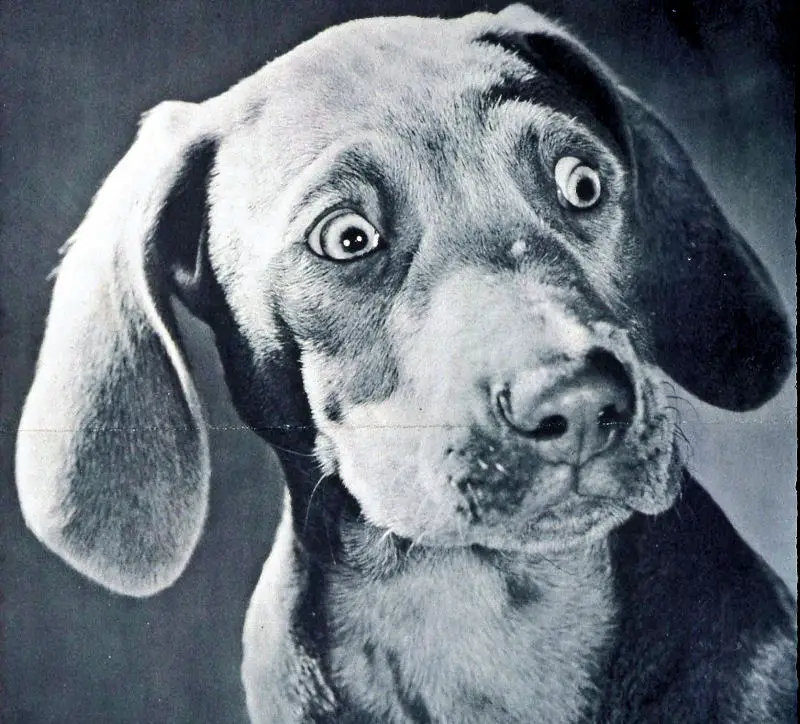 Photo by ©Walter Chandoha
What's been the greatest honor in your career as the 'cat photographer'?
Greatest honor was making photographs for the huge Kodak Colorama in New York's Grand Central Station and atop of the Kodak pavilion in the New York Wolds Fair in 1964. I was one of the few non-Kodak photographers selected to create images for these visual spectaculars. The Colorama images were 18 feet high and 60 feet long and the Worlds Fair images were 40 x 60 FEET!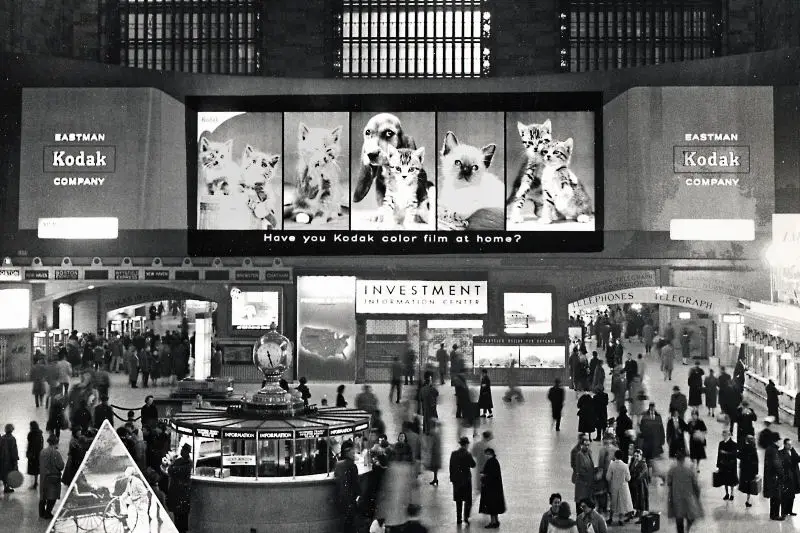 Photo by ©Walter Chandoha
 Can you offer any tips to help us take better photos of our cats?
First of all be patient and ALWAYS make note of what your cat will or won't do in all situations. Study it's habits and their likes and dislikes. After 70 years of making these observations it's easy to make good cat pictures. At 95 years young, I'm STILL observing them! Now taking pictures. Get down to the cats eye level to get eye contact with the camera's lens. Make sounds to get their attention, meow, bark, moo, whinny, grunt or growl sometimes my studio sounds like a barnyard. Reward them with a favorite goody, a piece of cheese, liverwurst or tuna. When they are looking for more goodies, shoot, shoot, shoot. Best camera to use now is a DSLR.

Check out this WSJ video interview for some tips from the master himself!
Summary
Here's to Walter's incredible achievements and his inspirational leadership in feline photography!  We would be remiss not to mention that Walter is also an accomplished photographer of dogs and many other animals too.  In fact, he even did garden photography and was awarded a Fellow and the Hall of Fame award by the Garden Writers of America Association!
Follow Walter on Instagram here: @chandohacats  And be sure to check out his latest book 'The Cat Photographer'
Save
Save
Save
Save
Save
Save
Save
Save
Save
Save
Save
Save
Save
Save
Save
Save
Save
Save
Save