Resembling a cuddly teddy bear, the British Shorthair is a cat breed of enormous popularity!  Their lineage can be traced back to Roman times where they were cross-bred with feral felines and Persians in an attempt to improve the quality of their coats. We're huge lovers of this breed!
That's why we're so excited to introduce two purrfect specimens (sisters actually) that will melt your heart.  Meet Zoë (left) and Izzy (right) …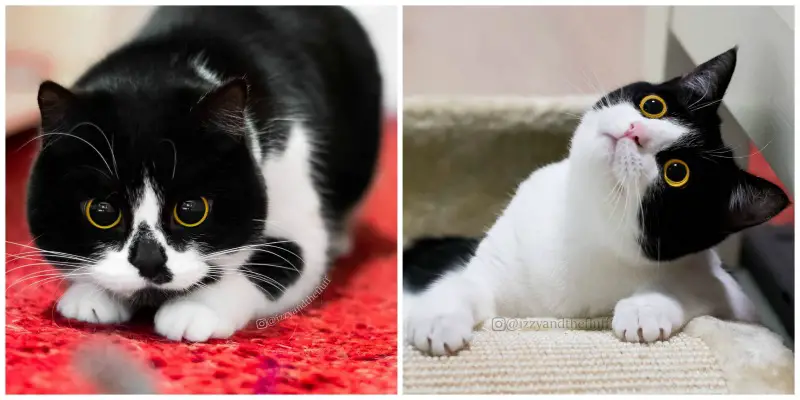 And speaking of melting hearts, Zoë (also known as 'The Fluff') has the most amazing and perfectly shaped black heart marking on her chest earning her the nickname 'Queen of Hearts'.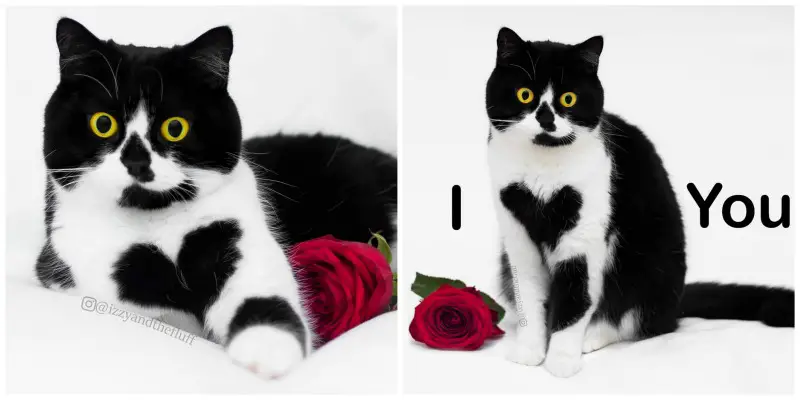 While her equally adorable sister (Izzy) we affectionately call the 'Empress of Expressions' for her irresistible and oh-so expressive face!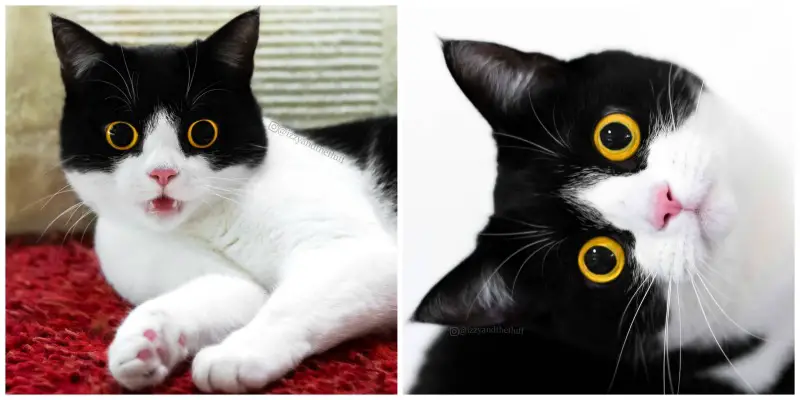 With their stunning good looks, adorable expressions and sassy catitude, these two cuties have already amassed an IG fan base on @izzyandthefluff of over 265,000 fans and growing.
We caught up with their wonderful and courageous cat mom (Joanne) who was kind enough to share some background on these two lovable rascals. Please take a moment to read Joanne's story (bottom of post).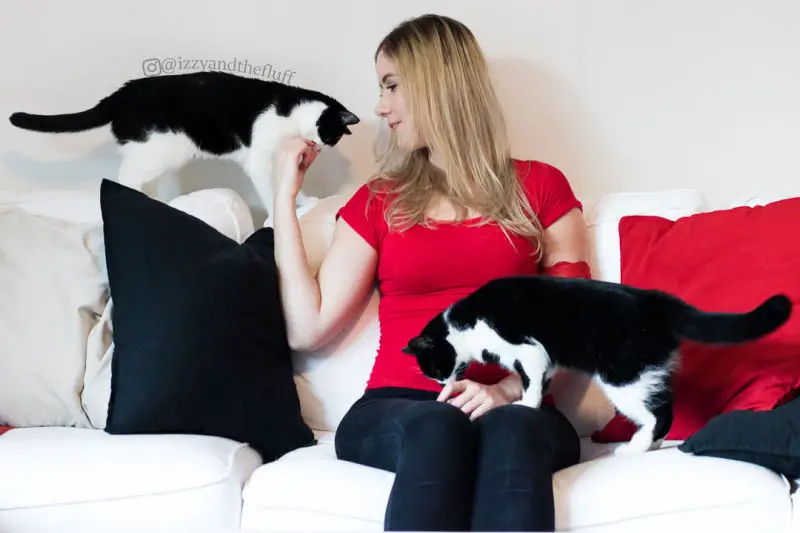 Q:  How old are Izzy & Zoë?
They are 2 years old – almost 3. They were born on July 12, 2015. Technically Izzy is older as she was born first of all her siblings, but they are litter mates. They were the only two tuxies in their litter.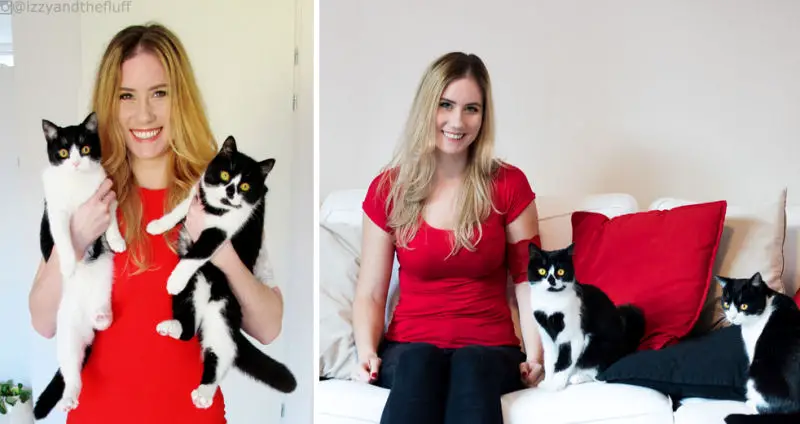 Q:  Why is Zoë called the Fluff anyway?
Zoë is the only kitten of her litter who did not have short hair, but rather medium-long hair. Before Izzy and Zoë got their final names, Zoë was referred to as 'the fluffy one' to keep them apart. This nickname stuck. Her fur is about twice as long as Izzy's. Many people don't realize the extent of Zoë's fluff, because she just looks a tad bigger than Izzy. But Zoë is in reality smaller than Izzy and she weighs less, too. She only looks bigger because she's b/fluffing.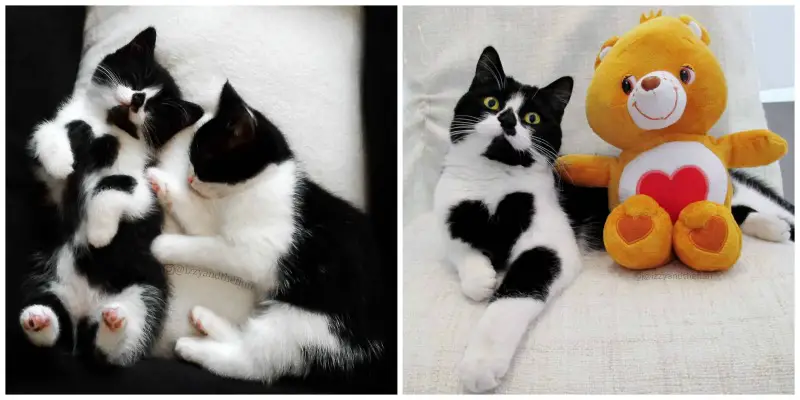 Q:  Which one has the amazing heart marking on her chest?
Zoë is the one with the heart-marking on her chest. Originally we were only going to adopt one kitten and had chosen Izzy. When we came to pick up Izzy, we saw the heart-marking on her sister. Remarkably, no one had noticed this before. When said out loud, the others present still didn't see it. She was very tiny and moving all the time. Zoë's heart-marking was not the reason we adopted her – we did so because she was adorable and we couldn't bear to separate her from her clearly bonded sister Izzy. It wasn't until we had taken her home, she sat still for a second and we took some pictures of her to send to friends and family, that it became apparent just how perfect this heart-patch was.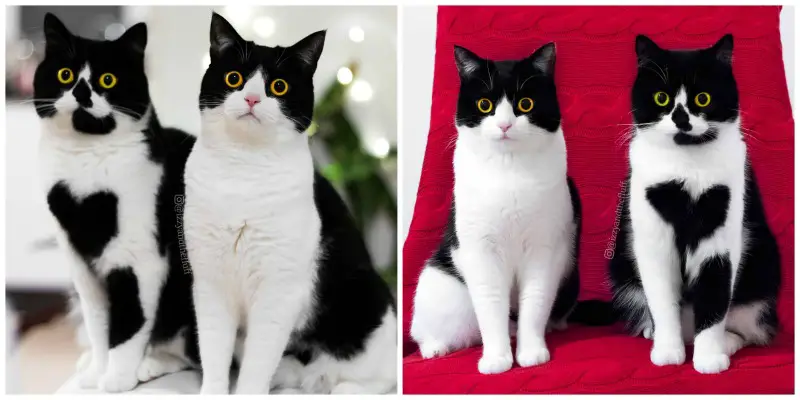 Q:  Can you describe their purrsonalities?
Izzy is the biggest cuddle bug. She can't go without human affection for more than a few hours and will let you know when she needs her fix by loudly meowing and rubbing herself all over you. She basically follows me around the house all day and I always wake up with her sleeping in my arms or on top of me, even if this means she has to sleep on my shoulder whenever I sleep on my side. It is the best way to wake up, ever.  Izzy is also the more fearless one of the two. She loves to play in the yard and her favorite thing to steal are hairbands of any kind.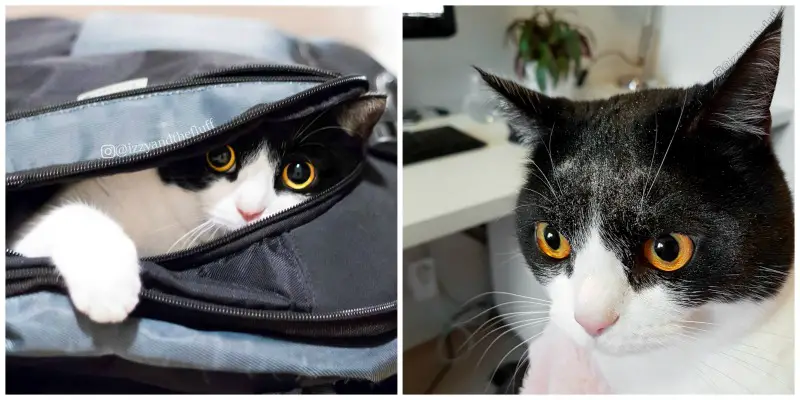 Zoe is cautious, yet way more curious and mischievous. She's the prime example of curiosity kills the cat. She's fallen in the full bath tub 5x and she's always anxious around new people yet she can't stay away from them either. She regularly has a case of what we call 'the crazies', which involves her doing random side-jumps against walls and furniture, jumping over Izzy and bitch-slapping unfortunate plants. She is obsessed with stealing anything plastic and is also very affectionate, but in a more subtle way than Izzy. She loves to sleep under the covers with me and in my 'tent' (the space underneath my knees when I sit on the couch under a blanket) and often requests belly rubs.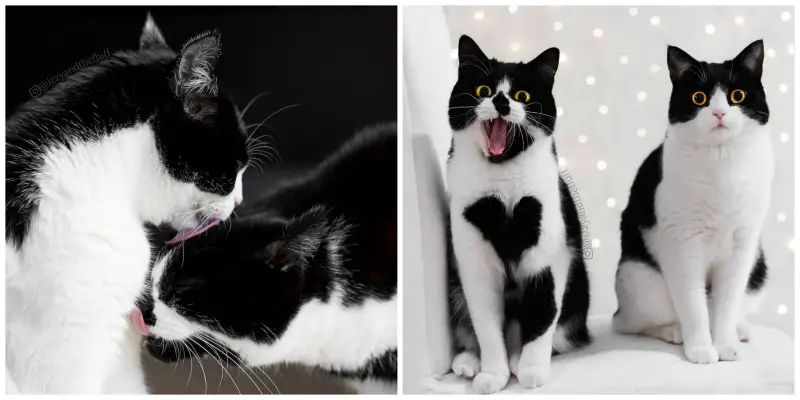 Q:  Do they get along well?
They get along great. They are truly inseperable. They can often be found sleeping in each others arms or grooming each other. Izzy is the dominant one of the two because Zoë is such a scaredy cat. But when they wrestle, Zoë always wins because Izzy is too sweet to play with her claws out and Zoë plays dirty.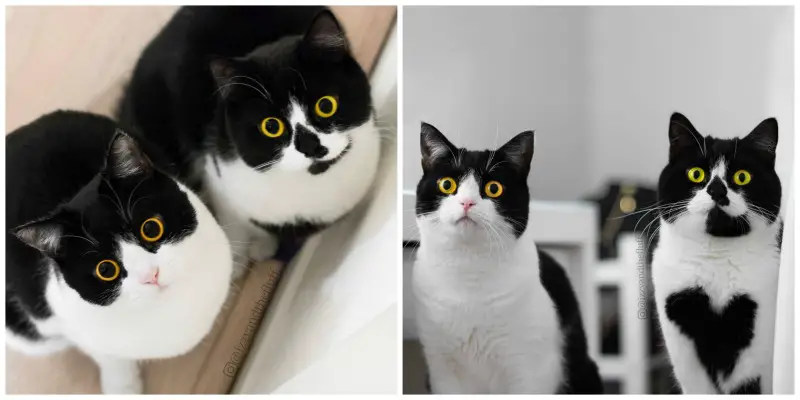 Q:  When you started their IG feed did you have an idea of the massive fan base they would attract?
I had absolutely no idea what I got myself into when I started their Instagram feed. I started it because I loved taking photos of them and wanted to share those, but I was spamming my friends, family and personal Instagram with their photos way too much. That's when I decided to make them their own account so that people who wanted to see could see and others were safe from my cat-spam. When friends asked me what I wanted to achieve with it, I jokingly said '10k followers', not seriously thinking I would ever get that far. Then Zoë went viral across the globe and I had no idea what hit me. Now 265.000 followers later, I still have a hard time believing it really.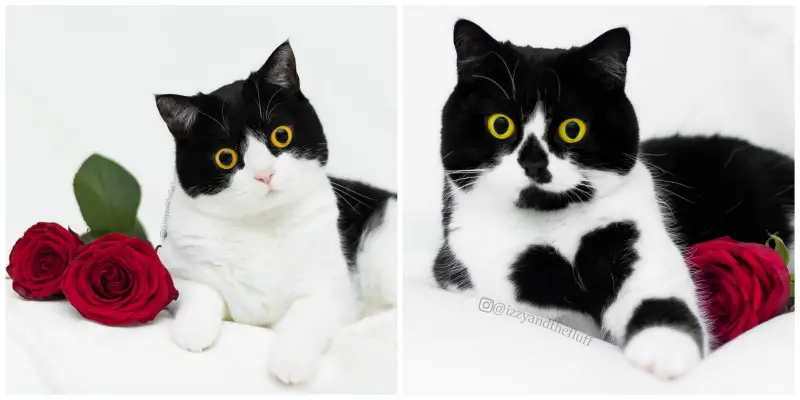 Q:  Funniest thing either of them has ever done?
Izzy: last week I heard a loud bang downstairs. I then found Izzy with her head covered in what appeared to be white dust. When I tried to get it off her, it smelled awfully similar to their treats. That's when I found the opened XL treats jar on the floor, with the dust from the treats all over the place. It appears that she had opened the treats jar and literally stuck her head in it to eat them. Photo of her mugshot attached. She regrets nothing.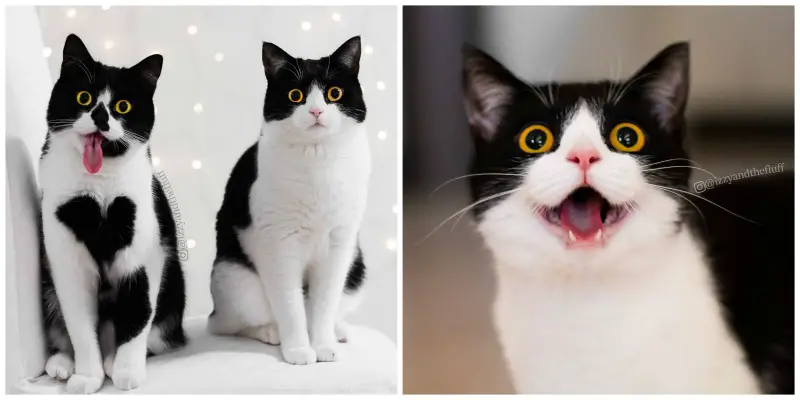 Zoë: her crazy wall-jumps crack me up every time. Sometimes she does actual back flips, which I unfortunately have yet to capture on film. She just does it at such random times that I never have my camera ready. Check out this video impression of their crazies: Girls Gone Wild
Q:  Naughtiest thing either of them has ever done?
Izzy: hiding under a plant in the yard, giving me a near heart-attack because I couldn't find her.
Zoë: recently succeeded in actually eating a strip of plastic, which led to an emergency call to the vet. Luckily it came out intact.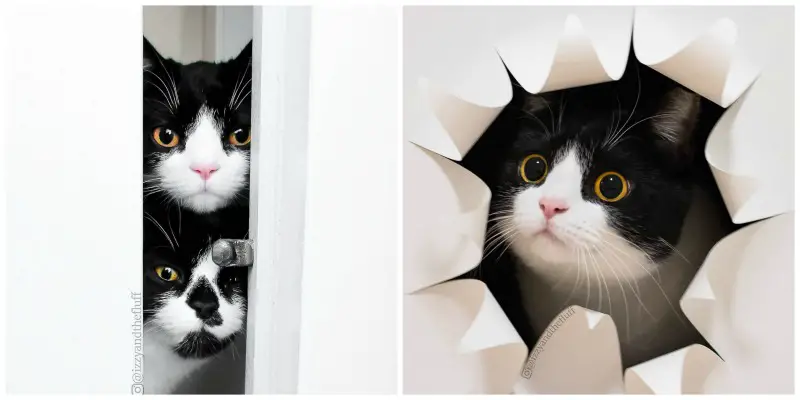 Q:  Can you tell us a bit about Izzy and the Fluff shop?
The Izzy and the Fluff shop is part of my efforts to raise funds for my medical costs for chronic Lyme Disease. I've suffered from this disease for over 15 years and treatment for it is not covered by insurance due to outdated guidelines. I can't work because I'm way too ill for that. This is why you can often tell from my instastories that I'm home with Izzy & Zoë all day. Because I can't work, I definitely can't afford my own treatment.
Meet Izzy and Zoë - 2 Unforgettable British Shorthair Sisters
Click To Tweet
My parents have been paying for it so far, but money is running out. That's why I've joined a collective fundraiser for Lyme Disease treatment costs. I've decided to combine this with the many requests for Izzy & Zoë mercandise and launched my first merchandise item, a postcard line. All of the proceeds go towards my fundraiser for my medical costs. This way people can support my cause while getting something cute in return. Eventually I want to add more items. Next up is a Calendar.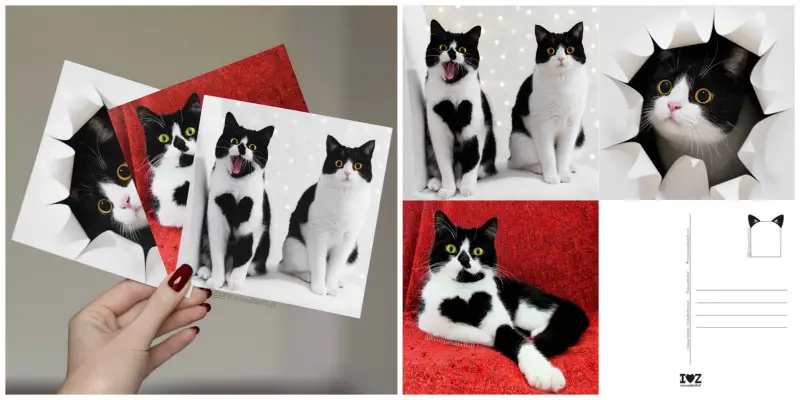 Q: What parting words would you like to say to your MANY fans?
To my huge fan base I would like to say I love and appreciate each and every one of them. Izzyandthefluff is my escape from my not so fun daily reality of being sick. This account gives me a lot of positive energy. It also makes me feel like I can still achieve something from my home, despite my illness. Every nice comment, DM or feature that I get, makes me incredibly happy.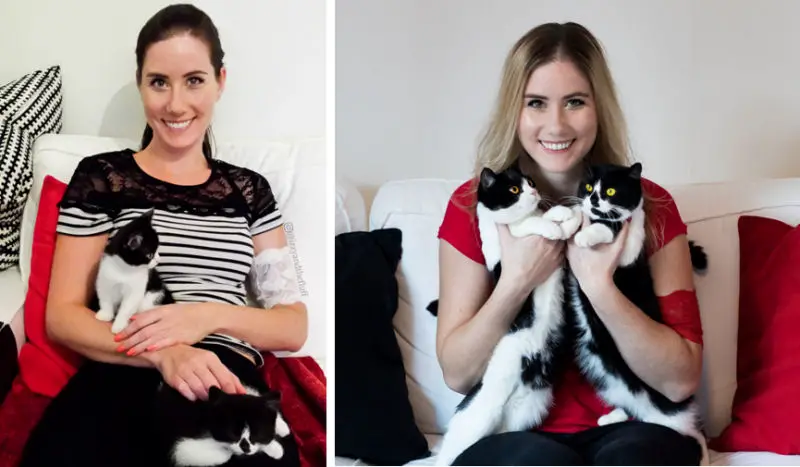 * A SPECIAL REQUEST *
Cat mom (Joanne) is a truly wonderful lady who absolutely adores her furbabies. She would love to finish her master, get a job, start a family and just live a normal life. This is not at all a given for Joanne (31), who has been disabled by Lyme Disease for 15 years. She is being treated by a Belgian doctor for the last five years, because the Dutch guidelines (where she lives) for Lyme Disease abandon chronic Lyme patients as they are terribly outdated. Her treatment is not covered by insurance and money is running out. Without a treatment, her health will deteriorate.
A team of friends and family will join a charity run on her behalf. You can support her cause by sponsoring any of her team members with a donation for their entire run. Every bit counts! The money will go directly to Joanne for her treatment. You can also help her by purchasing one of her lucky birds, as 100% of the proceeds will be donated to her treatment.
Please take a moment and read Joanne's story and kindly consider donating if you can or sharing her story to those who might.  >^..^<