OK, we admit it…we're Fuddles fans!  As the festivities of the holidays fill the air, we decided to spotlight one of our favorite feline Christmas books: "A Very Fuddles Christmas".  The book's illustrations are absolutely delightful and the story line will have both kids and adults smiling ear to ear!   >^..^<
The book begins with the pleasantly plump and pampered Fuddles doing what he does best…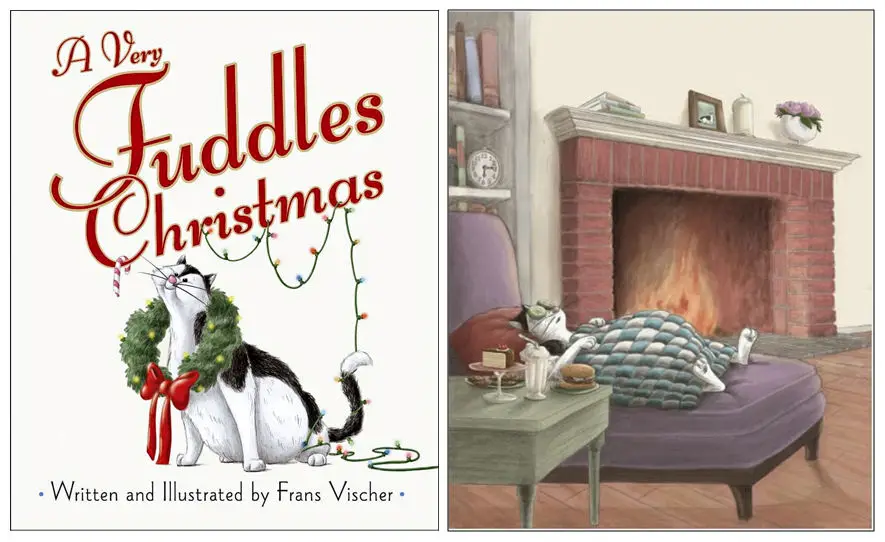 But before we say anymore about Fuddles' Christmas adventure…we recently had the pleasure of chatting with Fuddles creator/writer/illustrator/animator (Frans Vischer) and asked him if he'd kindly provide us with his perspective on the Fuddles legacy. Here's what he shared with us:
Q: What's the premise/storyline of "A Fuddles Christmas"?
As his family prepares for a Christmas party, which Fuddles knows is intended solely for him, he abruptly finds himself outside, and shocked to find everything turned white. Locked out, and unfamiliar with snow, he navigates the treacherous backyard for an open door. Sidetracked by some pesky squirrels, (who are also featured in the first Fuddles book) Fuddles chases them up a tree and inadvertently lands inside the chimney, thus solving his dilemma for finding a way back inside.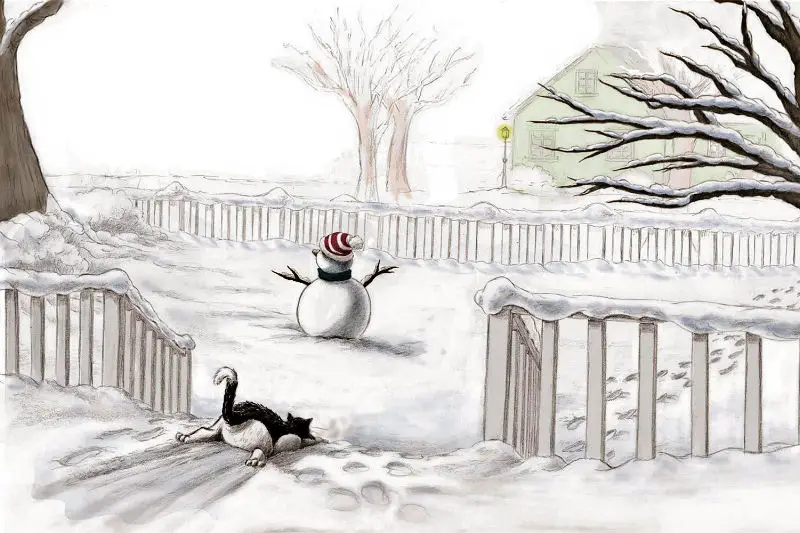 Q: What originally inspired you to illustrate/animate?
My grandfather always drew horses for me, and I would spend hours copying his drawings. I loved the mood/ambiance in Disney films, they made an indelible impact on me. When I was 13, I was invited to visit the Disney studio, (after my mother sent them some of my drawings.) I instantly knew that I wanted to become an animator. I began making short super 8 mm. films, and have been hooked on animation since.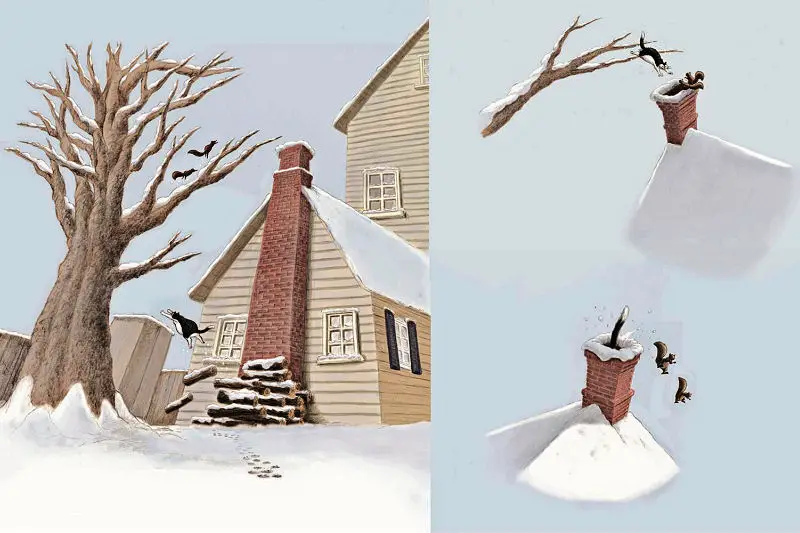 Q: Do you prefer to draw cats or any animal?
I enjoy drawing, period. But I do have a special place in my heart for drawing Fuddles. He's so much fun to doodle and dream up situations for. And everybody loves a fat cat!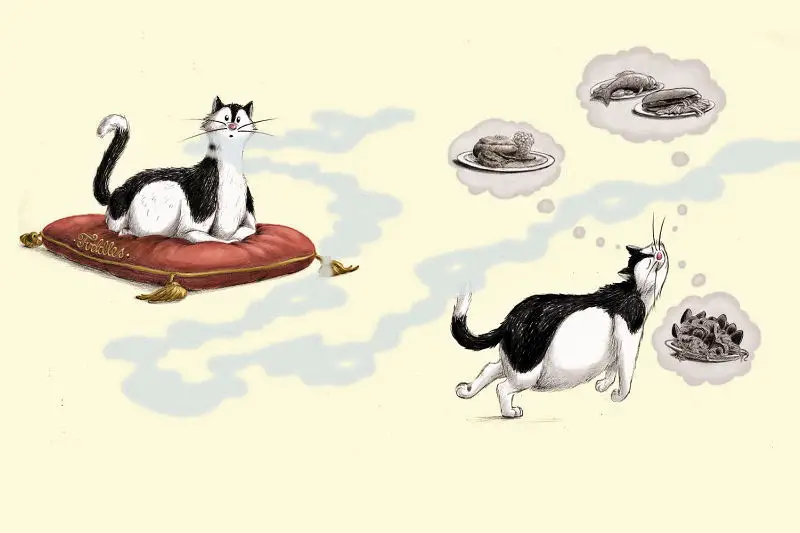 Q: What inspired you to write a Fuddles series of books?
After my children's middle grade novel, Jimmy Dabble, was published, my agent suggested I try picture books. I often drew our cat for fun as he lay stretched out on the floor or scrunched up snoozing between couch pillows. His love of leisure and food gave me ideas about a pampered fat cat.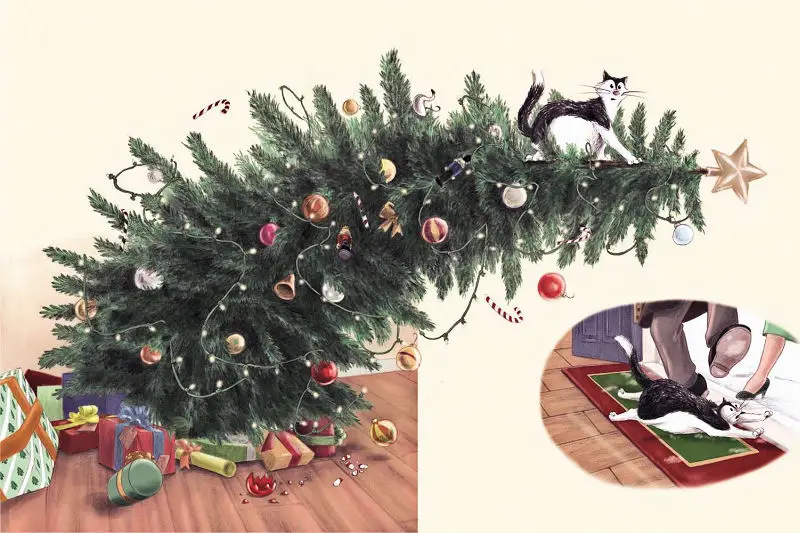 We live in the foothills, with lots of wildlife close by, including coyotes, who would love to feast on our cat. So we keep him indoors. Whenever someone leaves the front door open, he's quick to seize the opportunity to explore the world, which became the plot of the first Fuddles book- a leisure-loving cat, ill-prepared for an outdoors adventure.
[clickToTweet tweet="A Delightful Animated Feline Storybook: A Very Fuddles Christmas" quote="A Delightful Animated Feline Storybook: A Very Fuddles Christmas"]
Q: How true to life are some of the situations he gets into?
I have to be honest, the real Fuddles did not slide down the chimney. He has occasionally ventured into the fireplace, (with no fire going, thankfully!) leaving lovely sooty trails throughout the house. He also keeps a keen eye on a birdhouse hanging from our backyard deck, an idea I used in the first Fuddles book. It's fun to watch his feeble attempts at catching birds.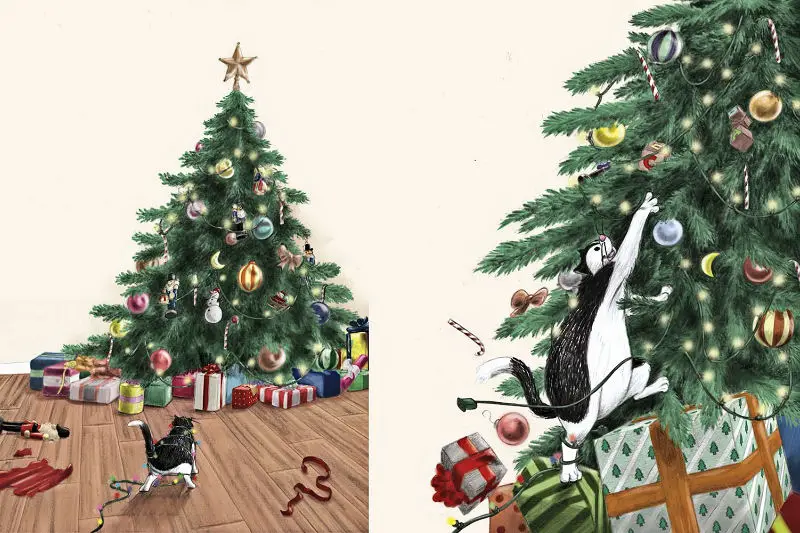 Q: Funniest/oddest thing that happened while writing a Fuddles book?
In the first Fuddles book, he has a run-in with the neighbor dog, (who plays a small role in Fuddles and Puddles). When I originally conceived Fuddles, his design was more stylized and cartoony, and the neighbor dog was a typical bulldog with a spike collar. He looked quite vicious, with big sharp teeth, (he would've torn Fuddles apart if he'd caught him.)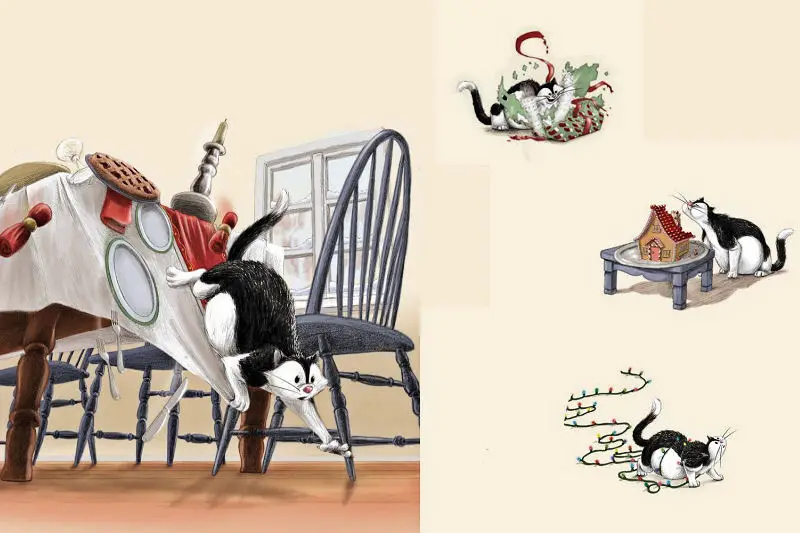 My editor and art-director felt the mean-looking bulldog didn't fit the style of the story. I went through numerous dog designs, and the editor and art-director kept asking for more realistically drawn dogs. They were really happy with a bulldog I drew, but then they felt that Fuddles looked too cartoony by comparison. So I ended up redesigning Fuddles, using more realistic shading on his fur, as well as the background settings. I'm ultimately very happy with the style, but it was a funny way of arriving there!
Q:  We asked Frans if he could share with us a little background on the drawing process to show the magic gets created.  
He told us it all starts with a concept sketch like this…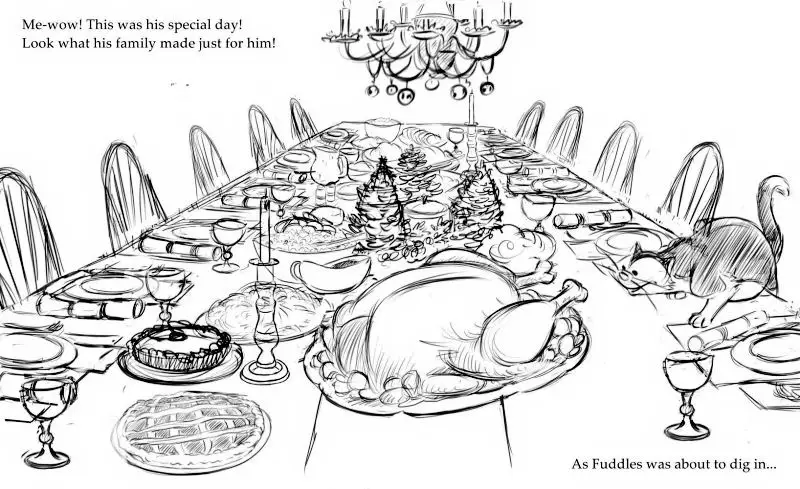 Next is the final pencil drawn sketch…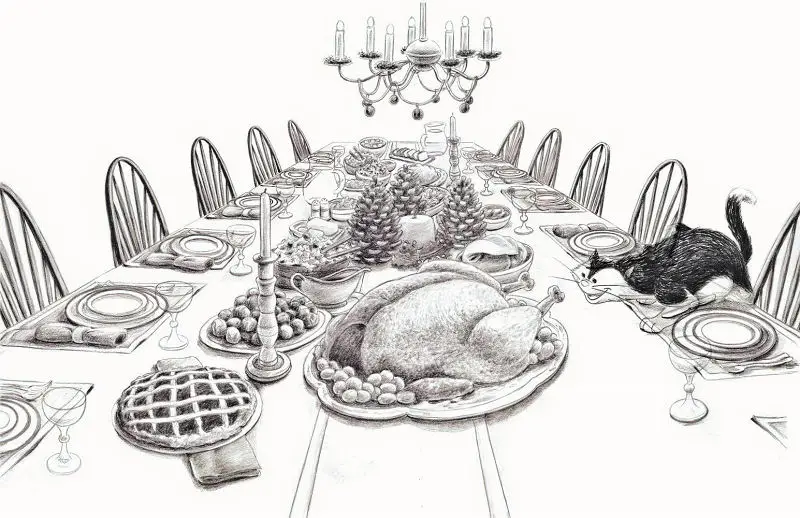 And voilà, the fully colored final artwork!  Impressive huh!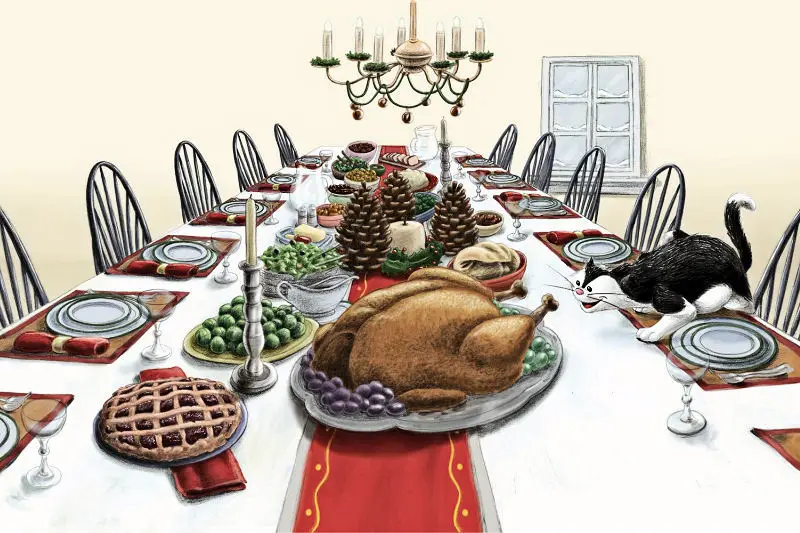 Q: Do you have a favorite illustration/sketch/scene? If so, what is it?
The vertical illustration of Fuddles going down the chimney was really fun to do, because I practically animated Fuddles. The poses work sequentially, as if he's rotating while sliding downward. I love exaggerating actions, so I added sparks flying off his claws as they scrape past the chimney bricks.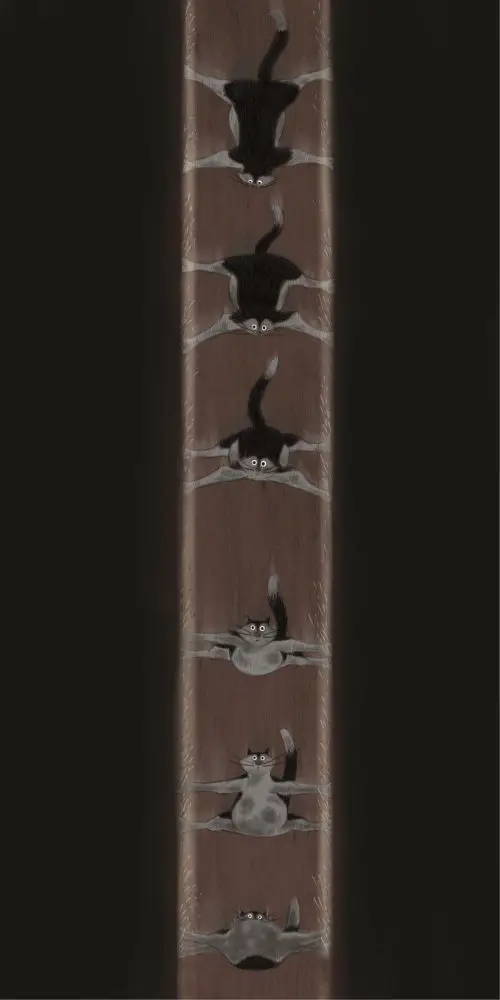 And of course the landing!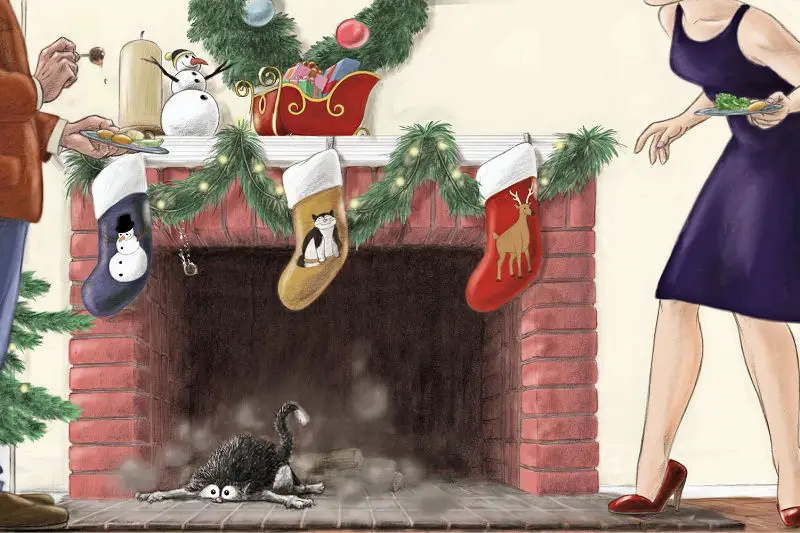 Q: Do you own a real cat named Fuddles? If so, can you describe his character.
Yes, we have a real cat at home, named Fuddles, and he's really fat. He gets into every crevice in the house in search of food, which consumes his every waking thought. He's currently on a diet, (against his will,) but at his peak he weighed 28 pounds! His long body allows him to peruse the kitchen counters for goodies, convinced that whatever he nabs is meant for him. Fuddles is a real pleasure puss, lounging luxuriously in the funniest poses and places.  The photos below with Frans & Fuddles should need no introduction.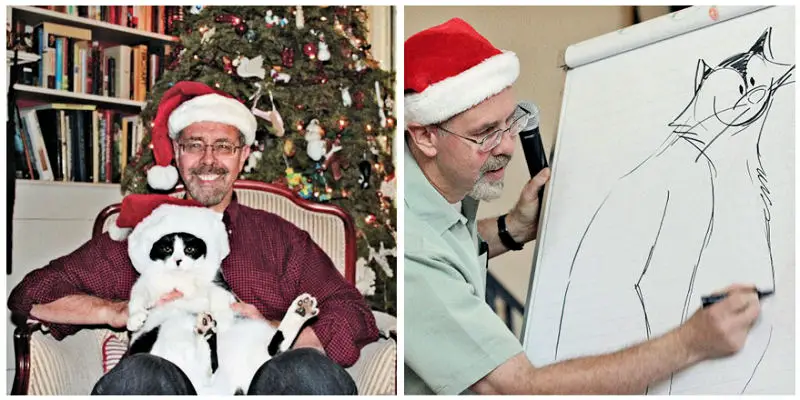 Q: Any exciting new books in the works?
I have several non- Fuddles related picture book dummies (mock-ups) and a middle grade novel with my agent, awaiting to be sold. The novel I'm especially excited about, because it features a man who writes kids books about their pet hamster. His kids help his book sales using unconventional methods. (I poke a little fun at myself here, but I'm quite happy with the story. Hopefully my agent can sell it…) I would love to do more Fuddles books as well.
Be sure to visit the official Fuddles website.
Finally, we know you'll enjoy this animated book-trailer for A Very Fuddles Christmas:
Happy Holidays to you and your loved ones!