Our paw pals at Vitakraft recently have expanded their popular Lick 'n' Lap™ snack line with two new products – Smooth Jelly and Meaty Gravy.
Pet parents have trusted Vitakraft with all their pets' needs for over 180 years, and as a result, Vitakraft truly knows 'What Cats Are Really Into.' To meet the needs of different cat personalities, the team at Vitakraft are committed to making high-quality, low-calorie cat treats in multiple textures: liquid, jelly, morsels, and sticks.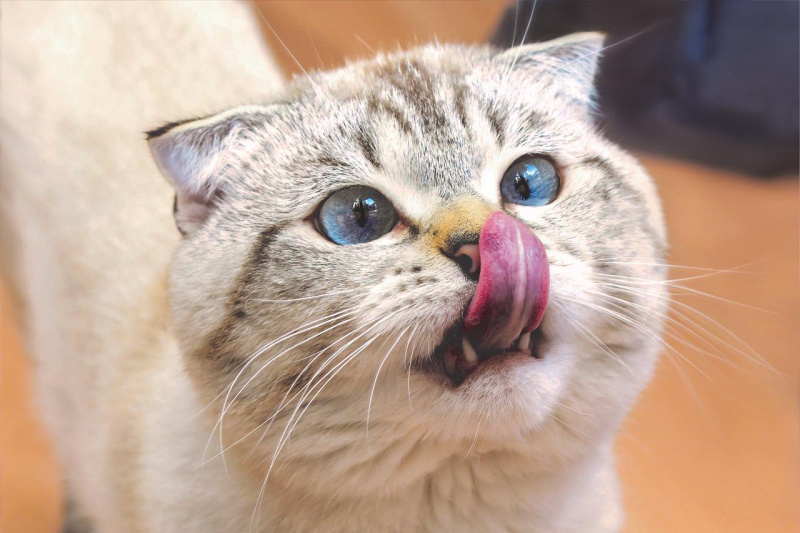 We're pleased to announce that Vitakraft has just debuted two new products in its signature Lick 'n' Lap™ Snack Line, including Lick 'n' Lap™ Smooth Jelly and Lick 'n' Lap™ Meaty Gravy. With Lick 'n' Lap Cat Treats, even the most stubborn and finicky of cats will cozy up as soon as they see you pull out a Lick 'n' Lap!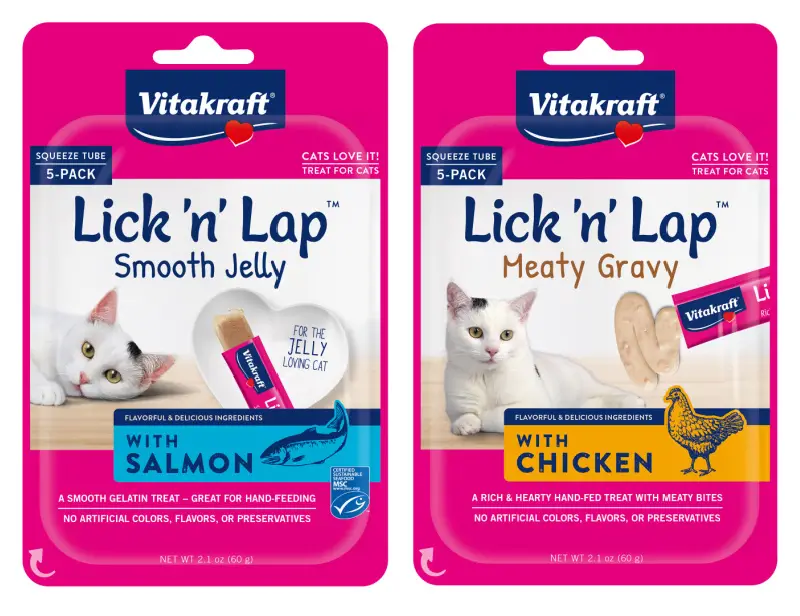 As an in-between meal treat, delicious training tool, or scrumptious saucy topper for food, the Lick 'n' Lap Snack Line offers convenient, single-serve pouches that provide cats with flavor-boosting treats made with real chicken and salmon. All Lick 'n' Lap varieties can be enjoyed straight from the tube, squeezed directly into a bowl, or used as a tasty food topper. They're the perfect format for hand-feeding and bonding with your furry friend.
The Lick 'n' Lap Smooth Jelly is a smooth gelatin snack that's the perfect, easy-to-eat treat for cats of all ages. It is soft, savory, and delicious, making for a wonderfully interactive bonding treat. It is available in individual, easy-to-serve tubes, sold as a 5-pack.
The Lick 'n' Lap Meaty Gravy is a delicious squeezable treat made with pieces of real meat that will make any cat purr. It is excellent for all cat life stages and is a hearty interactive bonding treat. It is available in individual, easy-to-serve tubes, sold as a 5-pack.
These new lick-able treats join the original Lick 'n' Lap Snack, Vitakraft's #1 cat treat, which are used by Certified Feline Training and Behavior Specialist Molly DeVoss to turn shelter cats from scared and shut-down to adoptable. These treats add moisture to a cat's diet and are bursting with natural flavors and added vital ingredients like Omega-3, to support a healthy coat and skin, and Taurine, to support a healthy heart.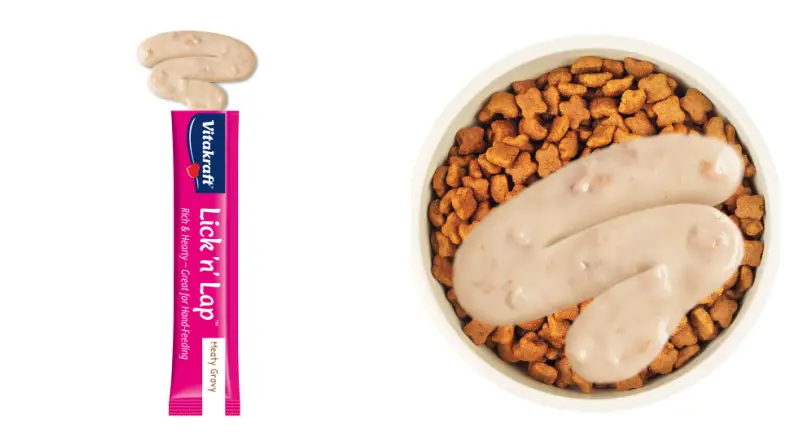 An actual client testimonial (Brittany, Las Vegas):
When my sister and I rescued Odin (photos below) from a shelter, he was understandably wary of strangers and just very cautious by nature. He took his time getting used to our living room and even more time overcoming his fear of plush toys. We figured if he wanted to get comfortable with us, he'd need a little encouragement.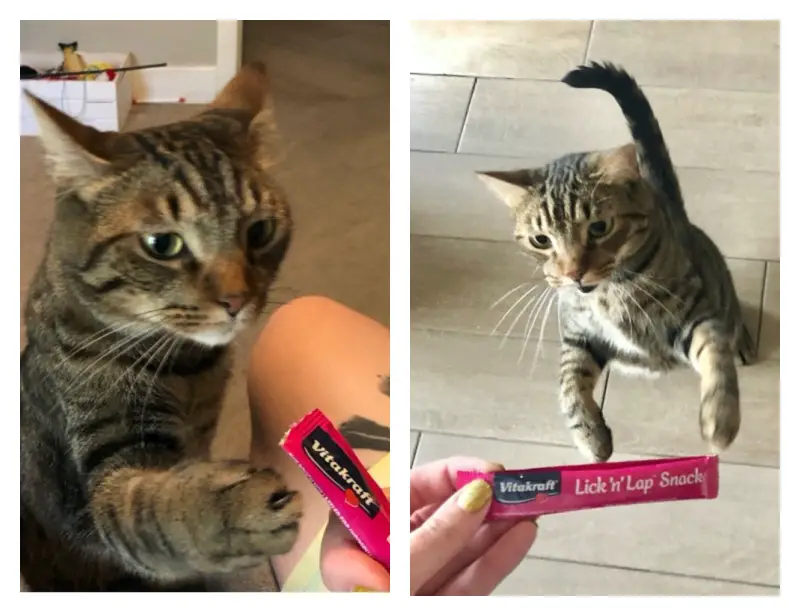 A friend recommended Lick 'n' Lap Smooth Jelly by Vitakraft Cat Treats, which you handfeed to your cat to bond with them. They come in squeezable packets in a gelatin-like consistency that the cats can lick off of the end. We went to Petco and picked up some salmon flavored snacks so we could get to work on making friends with little Odin.
When we tried offering him the Lick 'n' Lap, Odin stayed far away from us for most of the afternoon. I put a bit in his food bowl so he could give it a try when he felt comfortable.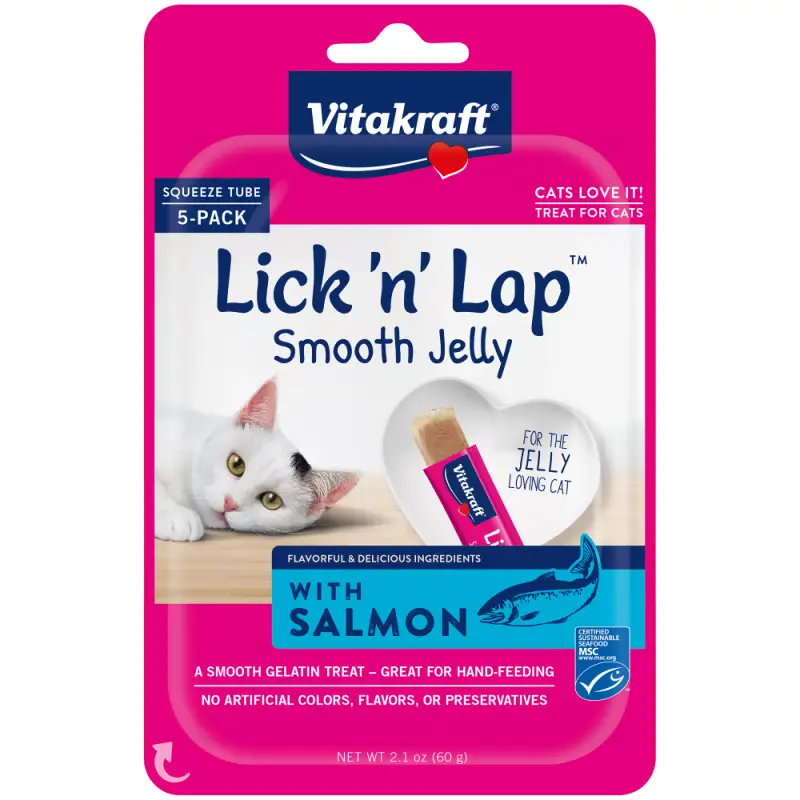 A few hours later, we noticed that he had eaten the treat, so we tried again to offer him a handfeeding session. Slowly, I got him to nibble on the Smooth Jelly as I was holding it, and my roommate was able to do the same. It was such an exciting moment for us—we were finally starting to see the beginning of a breakthrough!
The next day I woke up, and as soon as Odin saw me, he seemed more friendly than ever before. I pulled out a packet of the Lick 'n' Lap and opened it up for him to smell.
And boy did he like it! It only took him a few sniffs before he decided I was safe and started happily lapping up every last bit of that delicious treat. He didn't stick around once he was done – we weren't there yet – but I was so excited about this new development.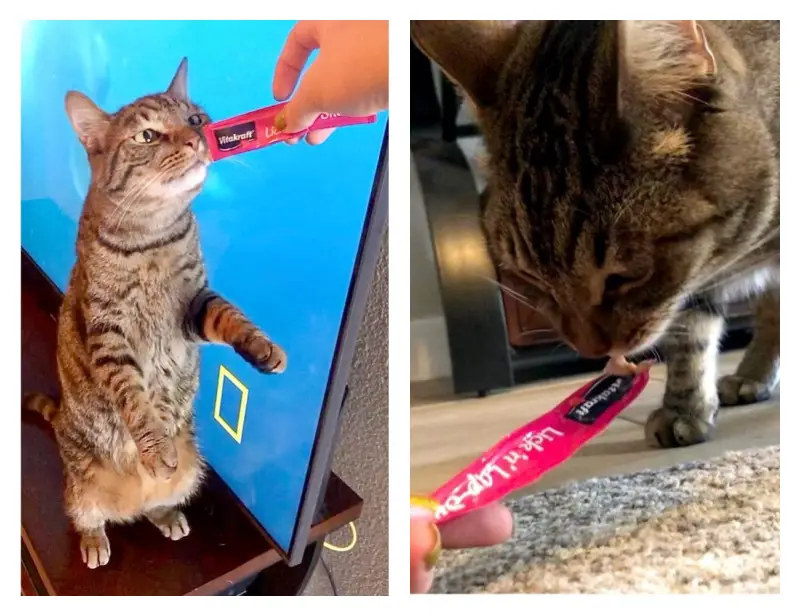 A day later, I secretly opened a packet and positioned myself near Odin. As soon as he smelled the salmon, he started running around my legs like a furry tornado. I gave him a couple laps off the packet, then put a little bit on my finger just to see if he'd go for it – and he did! He licked the jelly off my finger with his eyes closed, purring in delight. Once we finished the treat, he jumped onto my lap—a first!
Vitakraft claims to know "what cats are really into," and while I can't speak for every cat, I can say that they know what Odin is into. After just a few packets, he became the best friend my roommate and I were searching for all the while. It's been months now and he's so much less cautious and fearful than he was in the beginning, and he always darts over when he sees his Lick 'n' Lap packets.
About Vitakraft
Vitakraft – from small agricultural retailer to international pet food group. What began as a small pet food shop in the village of Heiligenrode near Bremen, Germany, over 180 years ago has since developed into one of the most successful companies in the pet care industry. From the very outset, their company philosophy and actions have been guided by one fundamental principle: "For the love of pets." Around the world, over 2,000 employees produce and sell around 1.2 million high-quality Vitakraft products every single day. Since 1837, Vitakraft has been dedicated to the well-being of all animals with a #1 priority of providing high-quality products that ensure all animals receive the perfect diet – just like in the wild. You can find Vitakraft Cat Treats near you at Walmart, PetSmart, Petco, Pet Supplies Plus, and other major and local pet supply shops. You can also find the full range of treats in different textures and flavors at vitakraft.us/cats or on Facebook at Vitakraft USA.
Disclosure – This post is sponsored by Vitakraft. While we are being compensated for helping spread the word about Vitakraft, The Purrington Post only shares information we feel is relevant to our readers.