A delightful new children's book has just been released called Petula, The Circus Cat.  It follows the story of a cat with a very unique talent.
The story begins by introducing a homeless cat that shows up at the door of Mr. and Mrs. Bumble. They take her in, and even though the cat is scared and shy at first, Mrs. Bumble's affection brings her out of her shell. They name her Petula, and she develops a trick of standing on her back feet and walking to Mrs. Bumble.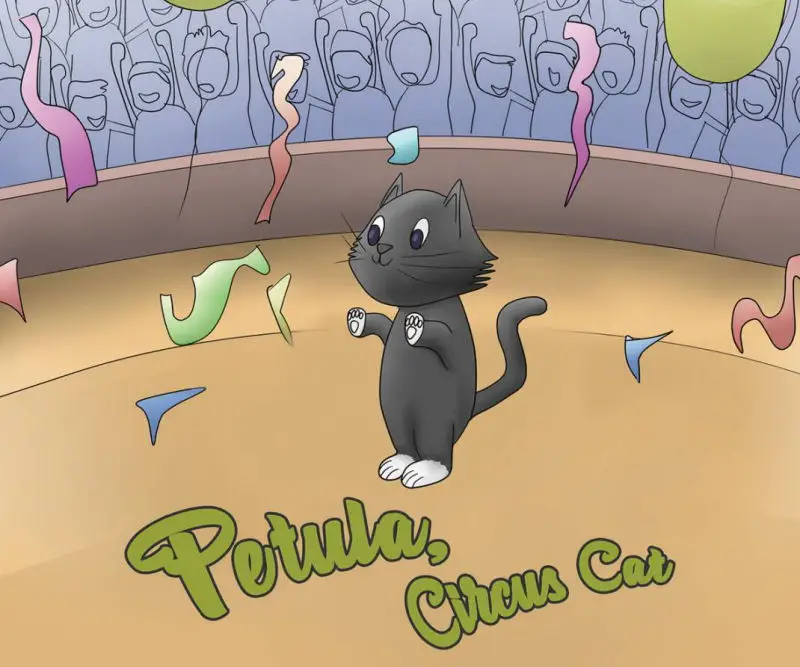 Interestingly enough, Petula's trick is inspired by a real cat in author Marylouise Sholly's life. "Petula, The Circus Cat is based on my own cat who actually does walk on the back of her feet for a short distance – she is my inspiration for this story," says Sholly.
Bright lights, big city may sound exciting, but sometimes the quiet life is better, especially if you are a shy little cat like Petula, but her pet-parents, Mr. and Mrs. Bumble, may have other plans.
Parents and children alike will be captivated by Petula, The Circus Cat, with its colorful illustrations, a darling storyline, and the underlying message about the transformative power of love that Mr. Bumble and Mrs. Bumble discover through their experiences with Petula.
We spoke with the publisher and they kindly offered us 5 copies of Petula, The Circus Cat for five lucky Purrington Post readers to WIN!
* Contest Now Closed
This contest ended on October 10th, 2018 and was available to U.S. residents only. To enter you simply needed to submit a comment in our "Leave a Reply" section at the bottom of this page saying:
My cat's name is [insert your cat's name] and if he/she performed in the circus their unique act would be [name your cat's special circus skill].
The 5 winners were chosen by the author (Marylouise Sholly) from all the correctly submitted entries and contacted by email.
About the Author
Marylouise Sholly's biggest thrill – doing freelance work for The Wall Street Journal. She has worked as a print journalist for more than 20 years and has been employed for most of that time as a full-time writer/photographer. Now, she works as a correspondent for a number of local newspapers.
Can't wait? You can order your copy on Amazon here => Buy Petula, The Circus Cat