We're always finding creative talent in the cat-o-sphere and recently were introduced to a wonderful pet portrait artist named Vicki Liu.
She did this beautiful 5×7 watercolor portrait (w/ gold leaf) of our two boys (photo below).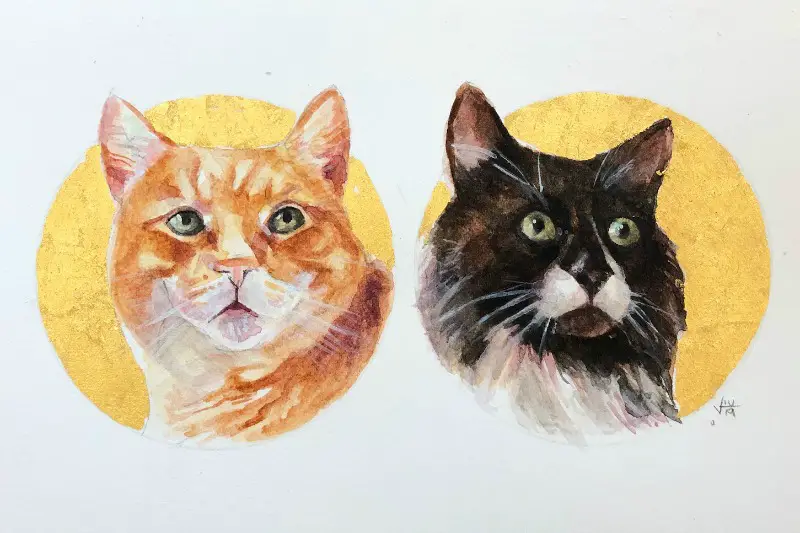 Always sketching as a small child, Vicki participated in elective art classes in high school, went onto MIAD for a year, with a focus on illustration, and ended up transferring to UW-Oshkosh to attain her BFA in Painting & Drawing.
While in college, Vicki received one of two collaborative research grants given to art students each year. Since then she has been working on many ceramics, paintings, drawings, illustrations, plein air work and much more.
Vicki was kind enough to offer 1 custom water color portrait for a lucky Purrington Post reader to WIN!
* Contest Now Closed
This contest ended on Feb. 15th, 2019 and was available to residents worldwide. To enter you simply needed to submit a comment in our "Leave a Reply" section at the bottom of this page saying:
My cat's name is [insert your cat's name] and he/she would be a purrfect meowdel to be drawn by artist Vicki Liu because [your reason]
The winner was chosen by the artist from all the correctly submitted entries and contacted by email.
You can read more about Vicki on her website at vicki-liu.com.