We love showcasing talent across the cat-a-sphere and are delighted to share our conversation and some wonderful feline portraits from Isa, an illustrator from the Netherlands. At only 23 years of age, she's already making waves in the pet art community. Most people know her as Pet Disneyfication.
Here are a couple of her pawsome portraits that we purrticularly loved:
This is Sprout from @kitty_fostering_oz 
This is Hosico from @hosico_cat
We had the opportunity to speak with Isa and ask her a few questions:
Q: Why did you create Disney Petification (what inspired you)?
I have always loved animals and drawing, but the pet "disneyfication" started 8 years ago, when I was 15 or 16 years old. I wanted to learn how to draw animals in a Disney-like style, since I loved the original 2D Disney movies. Aristocats, Lady and the Tramp and the Lion King were my favorites ever since I was a little kid. I've been told by my parents that I used to watch the Lion King daily for a long time. All Dogs go to Heaven and Spirit are also big inspirations, though they weren't made by Disney. Basically, I have always loved 2D animated movies about animals. 
I asked people to send me pictures of their pet over on Reddit so I could practice. The drawings weren't very good but people online seemed to enjoy them, so I started doing these sessions whenever I had some free time, and gradually I got better. Some people even asked if I could make them a portrait for money, but it took a long time (a few years) before I was comfortable enough to take paid commissions. And now, years later, it's my full time job! Who would've thought!
Q: How long (on average) does it take you to create one of your meowsterpieces?
How long it takes for me to draw a piece really depends on the drawing. Sometimes the first sketch is great, sometimes I have to redraw the drawing 3 times before I think it's good enough. On average it takes me 2-3 hours.
Q: What are your favorites?
My favorite portraits so far are these four:
Ferg and Isa from @iamthecatphotographer and @kittenxlady …
2. A memorium piece of Quinton from @tummyandgummy …
3. Vincent the shelter cat from shelter @colmillosypatas (he passed away unfortunately) …
4. Foster kittens Poppy and Petunia from @pokeypotpie …
Q: Do you own a cat? If so, what's his/her name and have you illustrated them?
I have my childhood cat Mabel, but she lives at my mom's house. She's a tortoise shell cat (photo below). I also have three pet rats, Chip, Tripple and Murphy, in my own home now, but I haven't drawn them (yet).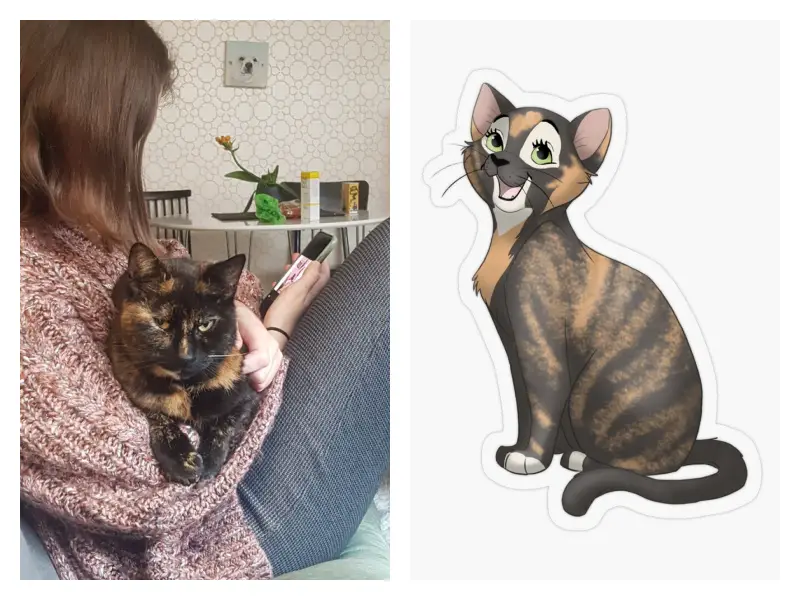 Q: Any interesting story you wish to share with us on a specific portrait you worked on?
I drew a shelter dog, Diesel, a pitbull breed, and a while afterwards I got a message from the shelter he was at. They said that Diesel got adopted by a family who saw my drawing on Diesel's adoption page (the shelter had added it themselves) and that convinced them to go and meet Diesel! So I thought that was pretty special. I've been drawing shelter pets for about a year now I think, and they haven't all led to adoptions, but it was nice to know my drawings could have some kind of good influence.  

Q: Any new and exciting projects ahead?
There is an exciting project I have been working on for a while now -but I can not talk about it and it's not set in stone yet – so for now I'm just happy to draw even more pet portraits and improve my skill! Stay tuned …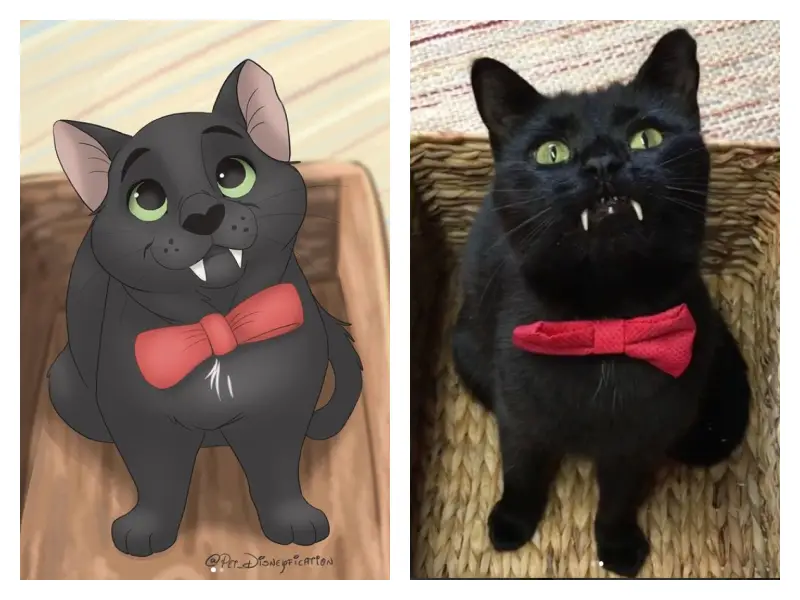 Q: Anything you'd like to share with our readers?
I hope everyone enjoys the holidays, and if you can, please spread some joy to your local shelter! The shelters will have a busy time with all the animals that were bought as an impulse gift, or as a way to pass the covid lockdowns, but are returned to the shelter when the pets become an inconvenience. 
Summary
Be sure to check out Isa's amazing portraits on her IG account at @pet_disneyfication.
Credits: all images used with permission from artist
Artist Bio
Isa is a 23-year-old illustrator from the Netherlands, but most people know her as Pet Disneyfication. She studied Illustration & Animation for two years at St. Joost Breda, but decided to follow her passion and start her own illustration business in 2019. She always had a passion for animals and art and managed to combine them into a full-time job; pet portrait artist! Her greatest inspirations are the old 2D animated works from Disney, Dreamworks and Don Bluth. In her portraits, she tries to capture an animal's spirit, with the twist that they look like they could star in their very own animated movie.