As fans of Matilda the Cat (that celebrated feline from NYC's famous heritage hotel – The Algonquin), we were so thrilled to find out that a children's book about this famous feline has just been released.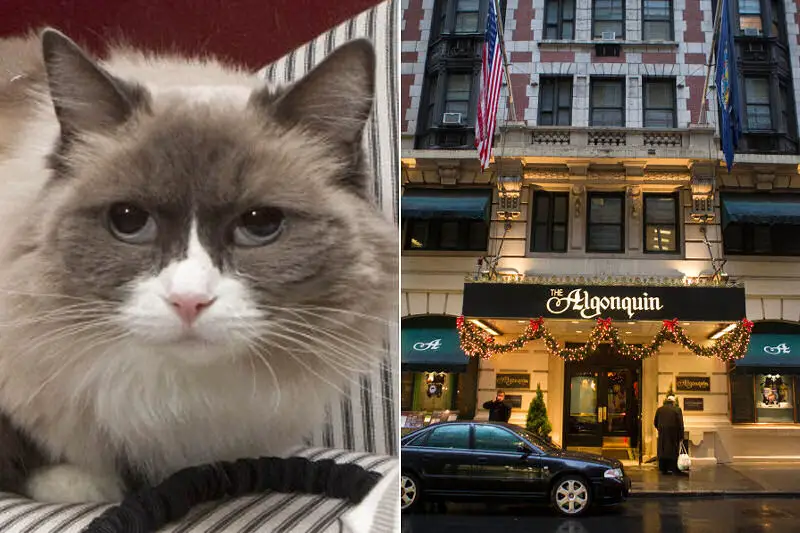 "Matilda, The Algonquin Cat" was written by cat lover and journalist Leslie Martini for kids of all ages and is available in hardcover, paperback and Kindle. It tells the real-life story of Matilda as told by herself through delightful and captivating illustrations by artist Massimo Mongiardo.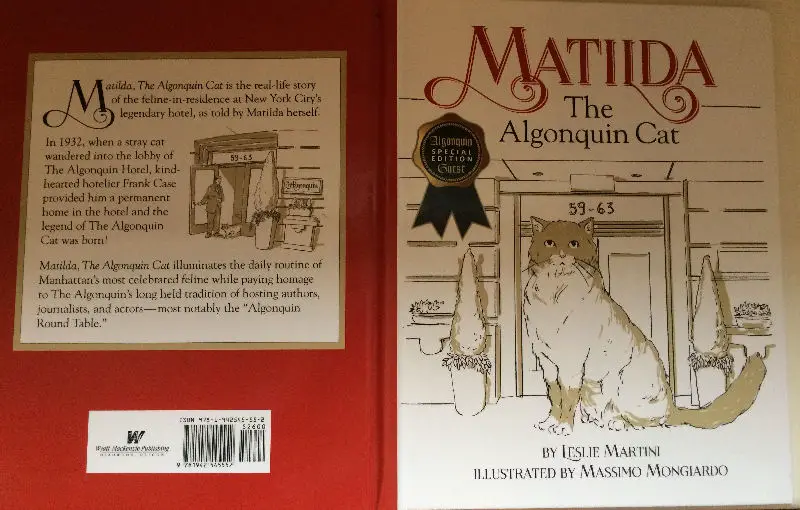 Martini's 44-page picture book also playfully recounts the history of the 10 previous cats who have also called The Algonquin Hotel their home.
But you haven't heard of Matilda, you say?  Well let's retrace…
It all began back in 1902 when the elegant twelve-story Algonquin Hotel opened its doors and became the daily meeting place for talented young writers, editors, actors, and publicists. In 1932, a stray cat wandered into the lobby, and the renowned actor John Barrymore named him "Hamlet".  Since then the Algonquin has always had a resident cat…and the rest as they say is history!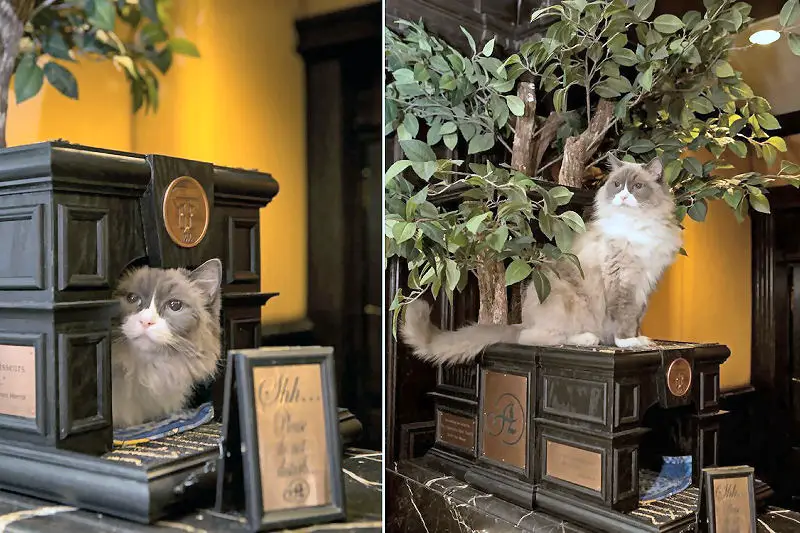 All the male cats are called Hamlet, and the females — for reasons unknown — are called Matilda. She's often seen meeting guests at the front desk or helping out the concierge.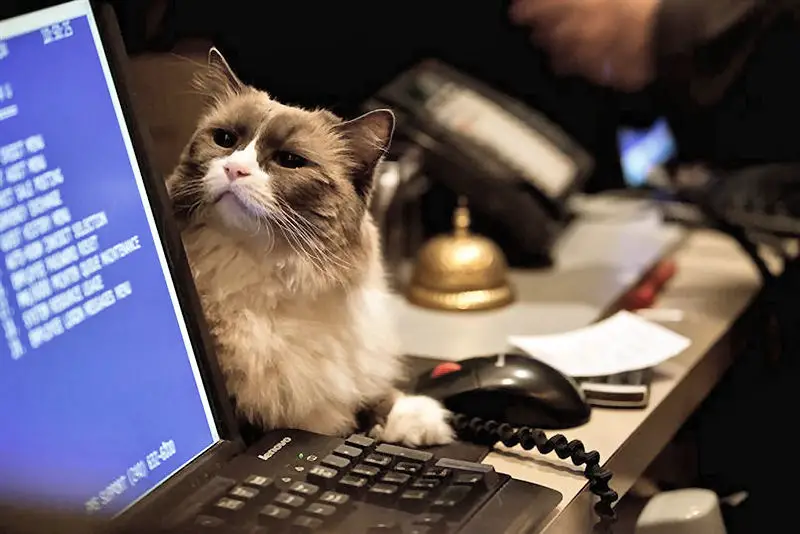 Feline fashionistas may recall that Matilda was in the spotlight back in August, when she hosted the hotel's 10th annual Cat Fashion Show in the lobby.  See our post on this Feline Fashion Fest.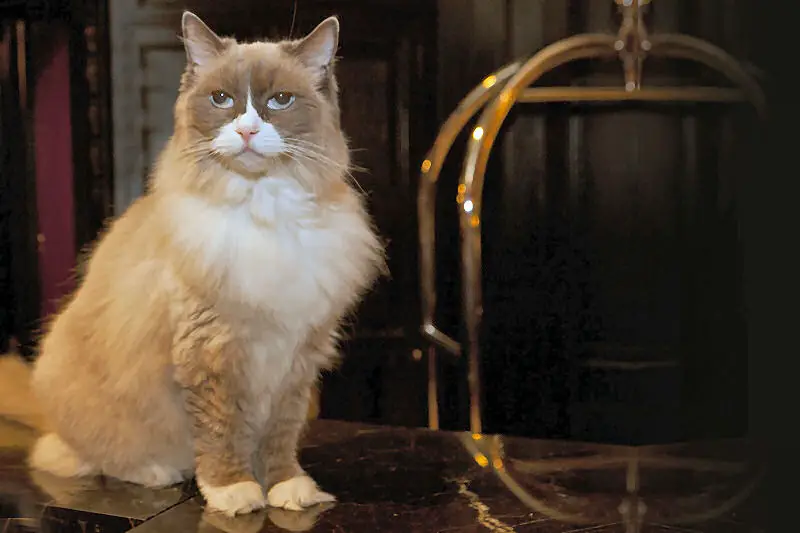 We had the opportunity to interview Leslie about her book and here's what she shared with us:
Q:  You had to know this question was coming…so do you own a cat(s)?  If so, what is his/her name(s)?
Yes!  We own two ragdolls— Prince and Pearl.  And two dogs. I volunteer at a local shelter so it is a bit of a farm.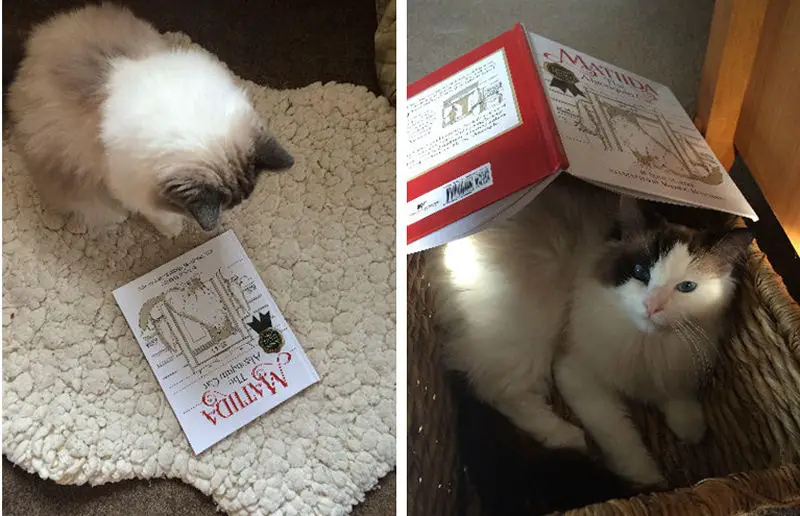 Leslie (below) reading to her furbabies.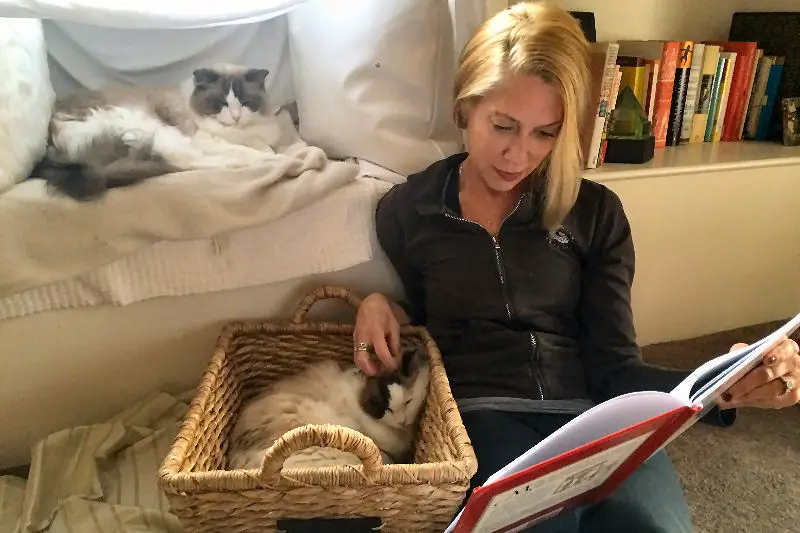 Q:  This being your first book, what made you choose to do a children's book?
The Algonquin holds such historical significance as a literary landmark— this was where the most famous literary wit in the world gathered: Dorothy Parker, George Kaufman, John Barrymore. Along with these brilliant minds was this cat who was a witness to all of it.There has been an Algonquin Cat for more than eighty years and its a remarkable tradition. Having the story told thru the cats eyes seemed a natural way to go.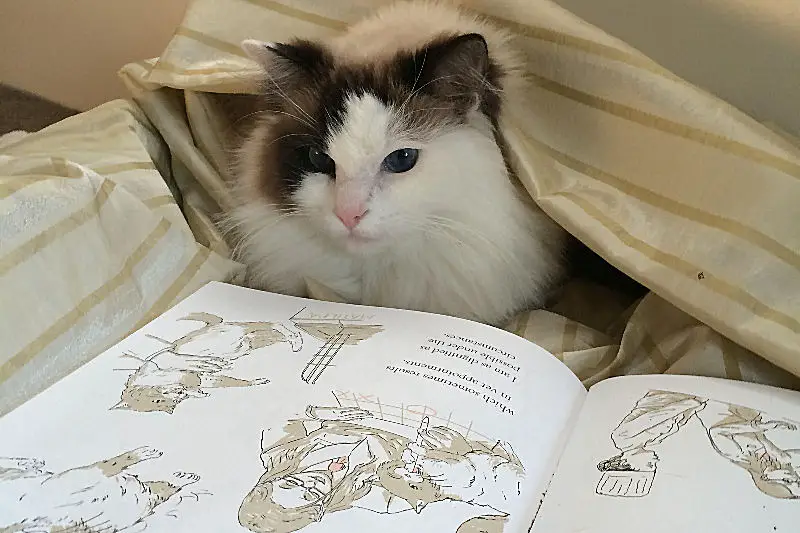 Even her kitty agrees with us that the illustrations and layout of this picture book are Meow-nificent!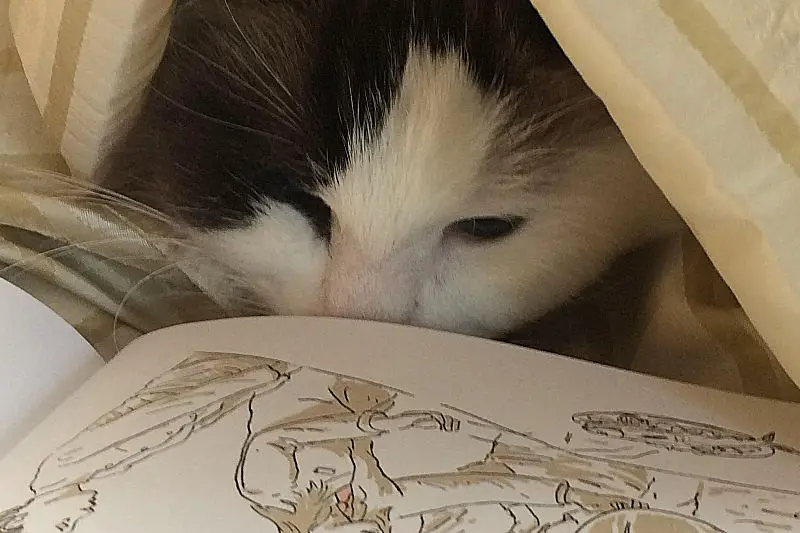 Q:  You met one of the Algonquin Matilda's as a child…have you always wanted to write a book about her since then?  If so, why?
The first time I visited the Algonquin, I was five years old. I remember the doors opening and felt like Dorothy entering OZ.  It was so magnificent to me. And then I saw the cat. She was sleeping on a red velvet luggage cart and I thought she was a queen. It was my first encounter with royalty. When my mother became sick with Alzheimers, I began to think about the impact that first visit and the following visits had on my youth, and the many memories I still have.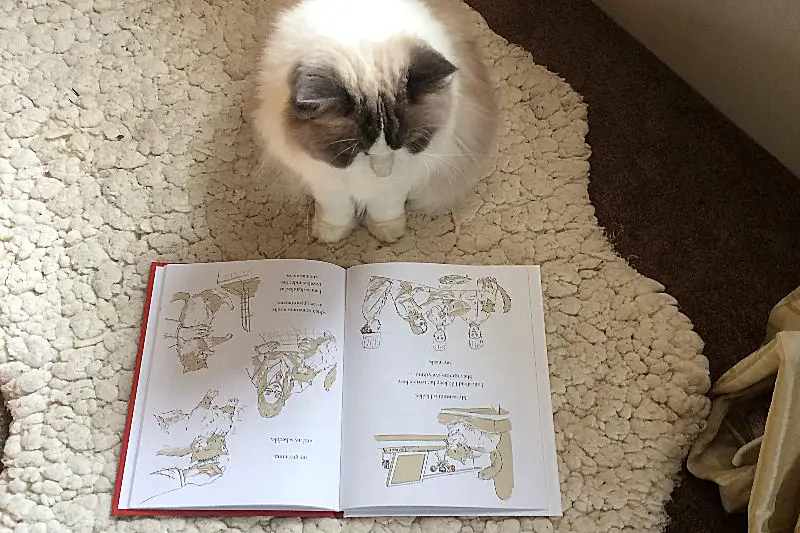 Q:  There are so many famous cats…what's so special about Matilda for you?
The impact she made on me as a child. She was the the first "famous" cat I ever met.  I had never known another famous cat, and to me, she was THE most famous. Other famous cats came later, but to me, she was the most famous and I was lucky enough to met her. She still is the most famous, in my eyes. 🙂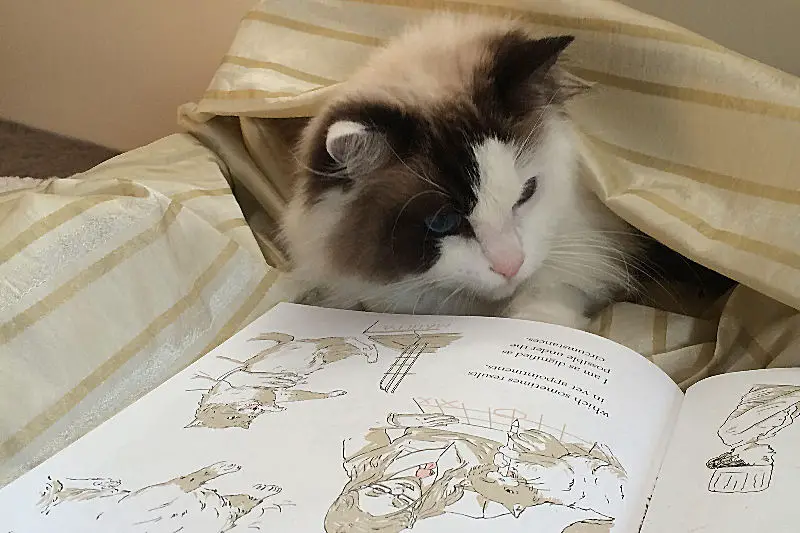 Q:  As a children's book we think of learning and entertainment…what's your main story line? As an accomplished writer, does your story line have any other purpose or special meaning?
Children will see the world through Matilda's eyes. From the moment they open the book, they will be transported into the Algonquin lobby and seated on the front desk with Matilda greeting the guests. Matilda will take them into her office. She will take them on a tour of the suites upstairs. She will show them all the cool things she gets to do since she is the one who is running the hotel. y in the life of Matilda. I wanted children, adults, cat lovers, historians, lovers of NYC to be taken on a journey—to come inside the Algonquin Hotel, a 114-year old NYC landmark and have the experience of seeing through the eyes of the feline-in-residence. In doing so, my goal was to pay tribute to both the hotel as a true literary landmark and to the legend of Matilda herself.
[clickToTweet tweet="Matilda, The Algonquin Cat – A Delightful New Children's Picture Book!" quote="Matilda, The Algonquin Cat – A Delightful New Children's Picture Book!"]
Q:  What impact do you hope your book will have on a child who reads it?
I hope that it makes them feel they got to know Matilda. I hope they laugh and I hope it makes them want to read it again. I hope that it makes them curious. I hope that it opens up a window into their imagination. I hope that it has an impact not just on children, but adults, cat lovers, animal lovers, historians. I hope they learn something that perhaps they may not have known before about NYC, the Algonquin Hotel, the Round Table or Matilda. I hope it inspires people to create their own traditions with their friends and families. And I hope that it makes people want to go visit Matilda!  Or write to her via Facebook, Twitter or Instagram.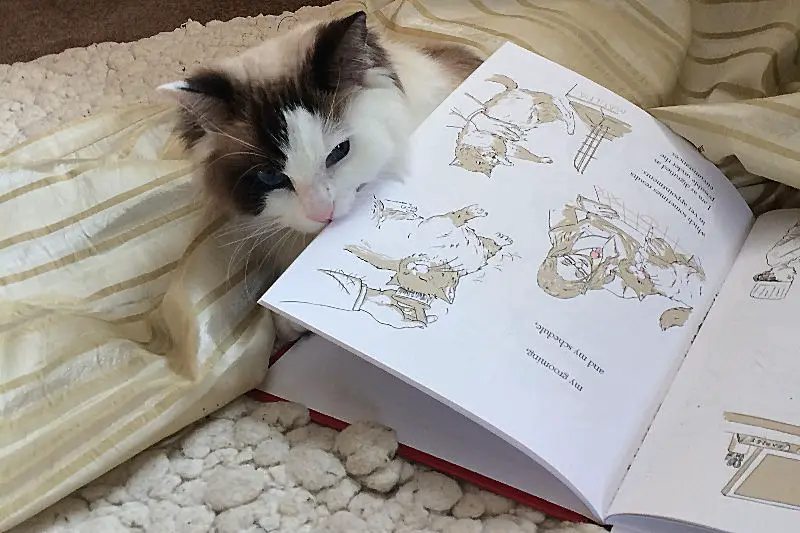 Q:  How would you describe the current Matilda?
Matilda is the most famous cat in the world. She is royalty. She is sophisticated, but she is silly. She is clever. She is lovable. And like all cats, she is VERY smart. Do not try to outsmart her.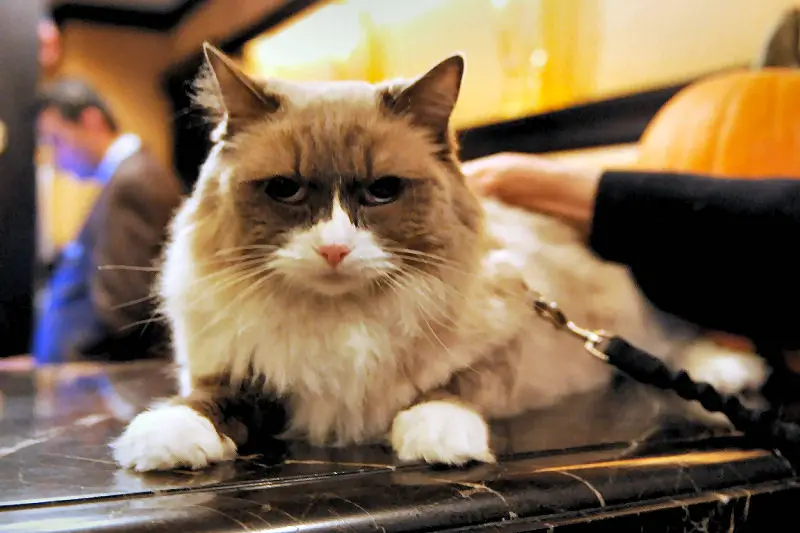 Q.  So Leslie, can we expect a second book?
Matilda has many more lives.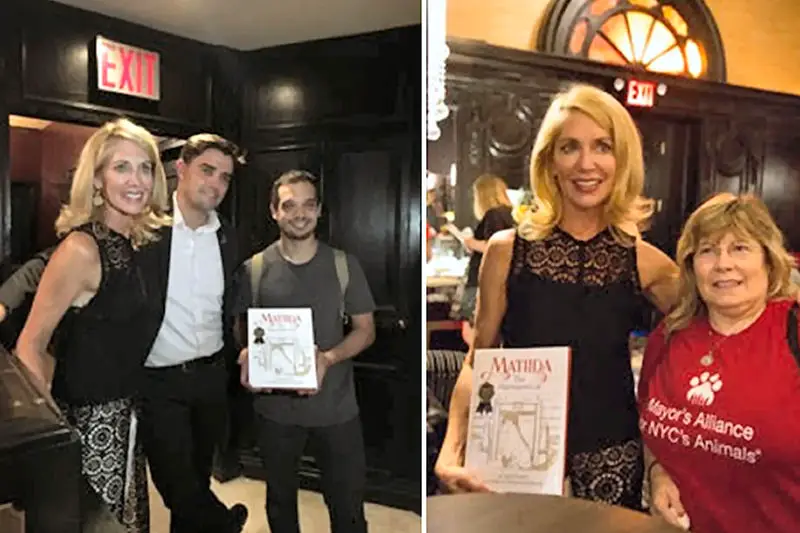 Q:  What's the funniest or most unexpected thing that happened while creating the book?
Bringing my daughters to Matilda's birthday party. The cat fashion show is an event everyone must see.
Q:   Why should every parent make sure that they order this book for Christmas for their kids?
Matilda is for any child who loves animals. It will make them laugh and want to read it again. It will make them feel as though they are in the Algonquin Hotel right there with Matilda. Because it is told from a cats point of view, it is  accessible to a wide variety of children and adults. It is an intergenerational  story that can be told over and over again because it is entertaining and heartwarming.  Parent Marci Johnson said this about her son's experience: "My ten-year-old son is a voracious reader and he gives Matilda The Algonquin Cat two thumbs up. Once he opened the book, he didn't stop until the last page was turned. The story delighted our entire family. As a mother and a writer who has been a longtime fan of the literary history of the Algonquin, I was thrilled to introduce this magical story to my children. Like Eloise and The Plaza, Madeleine and the Carlyle, Matilda is destined to enchant generations of families."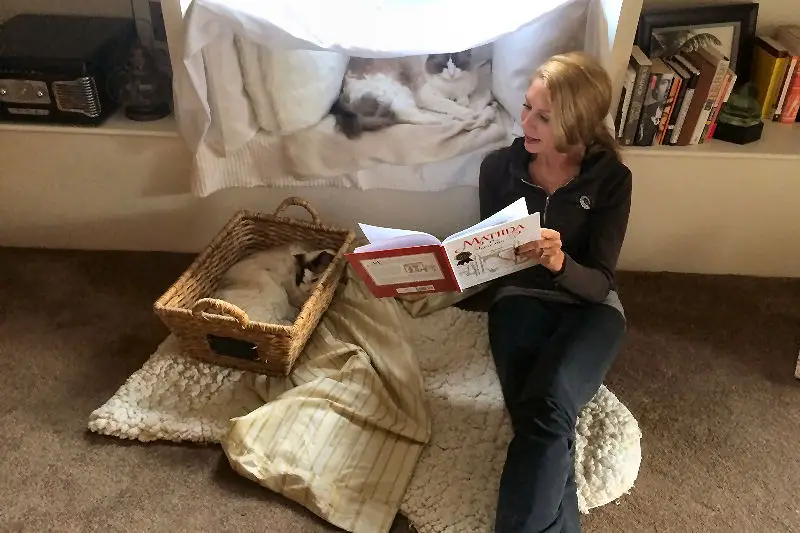 We wish Leslie a very successful launch of her new book which is beautifully written and illustrated, and we think it would make the purrfect gift for any cat lover!  Surprise and delight them with a copy…click here to order via Amazon: Matilda, The Algonquin Cat
Have you ever met any of the Algonquin cats?  If so, drop us a comment below.