We heard a rumor that when Mr. Spock (of Star Trek fame) was growing up on his home planet Vulcan, he would regularly say to his pointy eared kitty "live long and pawspurr."
On that note we decided to share feline inspired tidbits of yogi wisdom to help anyone on their own quest to inner peace and harmony! Introducing Yogi Cats – a book by Paige Hodges (her co-author Pippy shown below posing with book).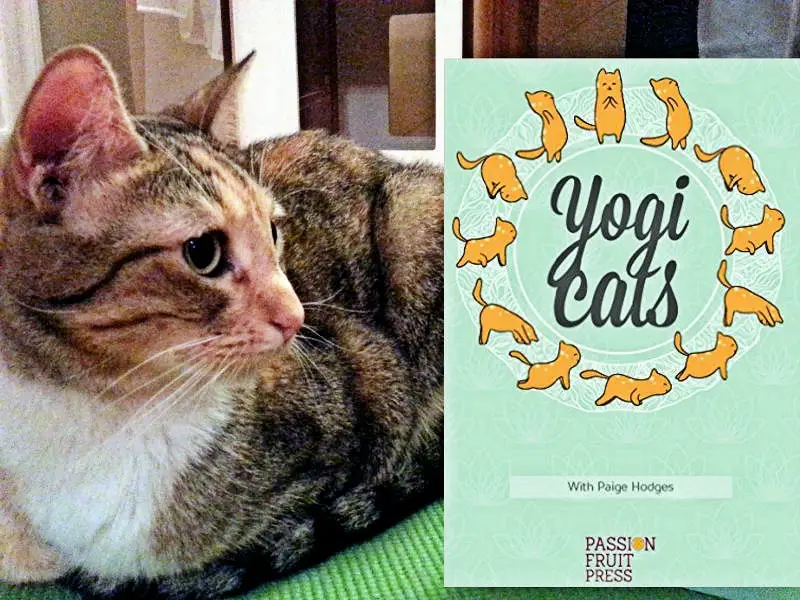 It's a delightfully illustrated book showing cats demonstrating famous yoga poses while offering instruction and practical wisdom. We loved it so we contacted the author who kindly offered to donate 5 signed copies to us which we are now raffling off to 5 lucky Purrington Post readers!  Contest Entry Guidelines below.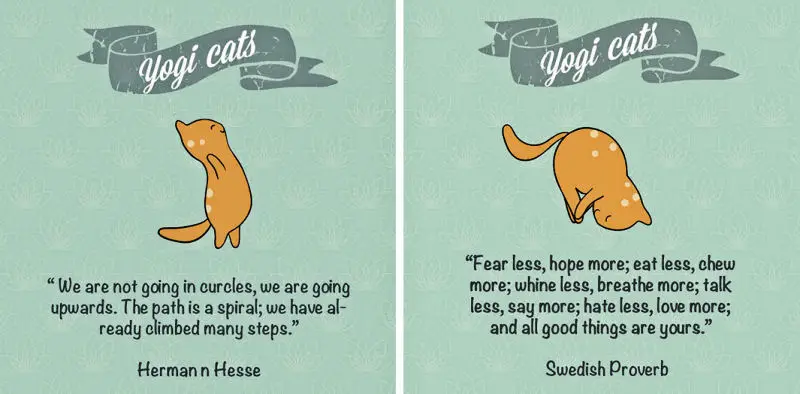 * Contest Now Closed
This contest ended on July 6th, 2017 and was available to residents of the United States and Canada only. Contestants had to submit a comment in our "Leave a Reply" section at the bottom of this page saying:
If my cat [name of your cat] had his/her own yoga pose, it would be called [name of your cat's yoga pose] 
The winners were chosen by Paige (photo below with Pippy) from all the correct entries and will be contacted by email.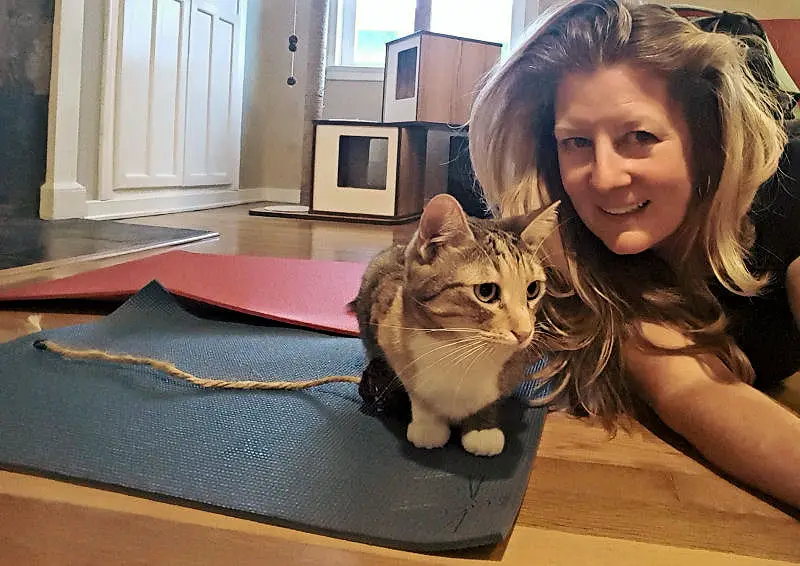 We asked Paige a few questions on the background behind Yogi Cats and here's what she had to say:
Q: What was the defining moment when the creative inspiration hit to create the cat yoga mat?
The Yoga Cat Mat idea credit goes to my brilliant husband, David. Here's the story: I've been practicing yoga and co-habitating with cats for over 20 years. During these two decades a ritual developed. Each time I would bring out my yoga mat for a little downward facing dog (or cat) action all of my cats would immediately plop themselves smack into the middle of my mat with nary a space for me. Usually they would just sit and meditate or show off how much more open their hips were than mine.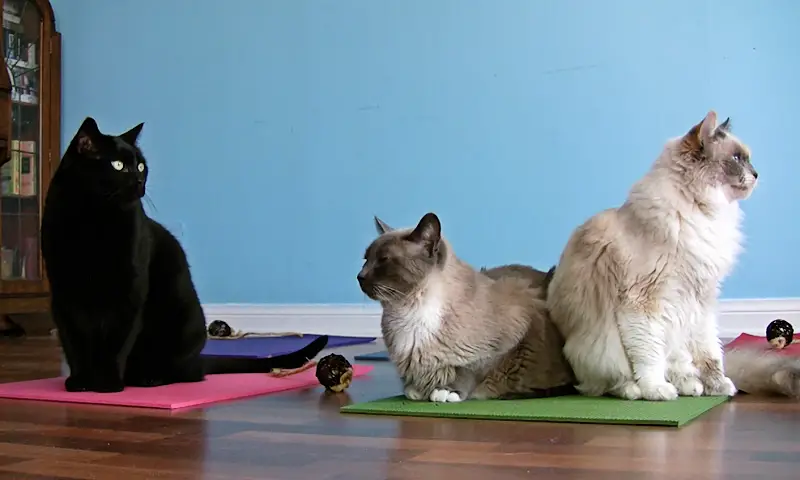 Over those years my husband was always encouraging me to design a yoga mat just for kitties. I always replied that it was a cute idea and maybe one day I would. Well the day finally arrived when four kitties took over my yoga mat once again and I thought why not? Cats love yoga (well their unique version of it) and they certainly love yoga mats and who am I to deny a cat anything they may want or need?
Q: How long have you been making these mats?
I started the process of designing the Yoga Cat Mat in the Spring of 2012 and listed my first mat on Etsy in November of 2012. At that time, I offered only the olive green yoga mat. Over the last few years, I have added more colors (purple, red, slate blue, pink, & black). I now sell on many other venues as well including Amazon.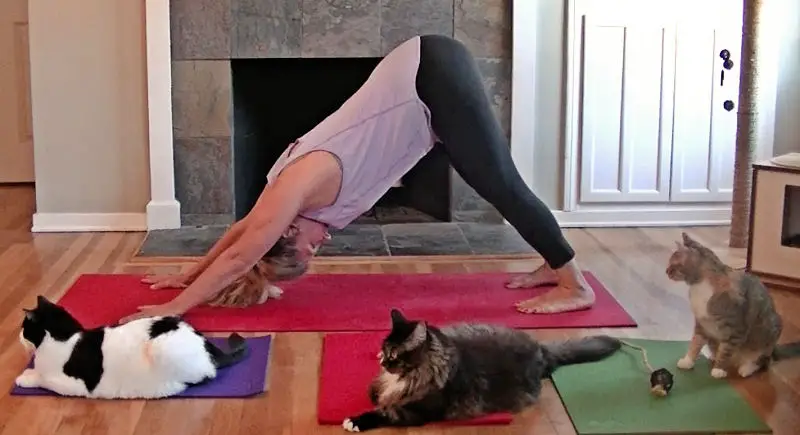 Q: What makes them so desirable for both cats and their owners?
I don't know what it is about cats and yoga mats! They are attracted to them like magnets. I do know that cats love the texture and feel of yoga mats and they are attracted to them as well because cats are natural yogis! Cats also love them because of the special yoga prop attached (twine ball with catnip). Their humans love them because kitty can sit on their mat while human practices on his/her own mat. They are simple and minimalistic in design so blend right in with any home décor. And cats just look so darn cute on them! An added bonus is photographing kitty on the Yoga Cat Mat really enhances the cat pictures you post on social media!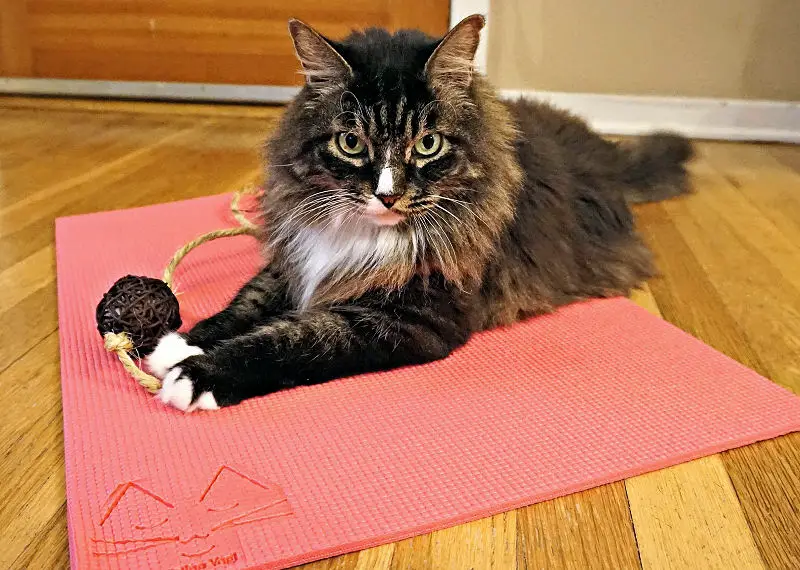 Q: What is the funniest or best story you've heard from a client who owns one?
I've heard many great and funny story from the humans of my catstomers over the years. For example cats who like to hang out under the mat, cats who won't share the mat with other cats in the households, cats who would rather hang out on the mat now instead of in their human's lap, dogs in the household who like it as well, etc… All fun adorable stories, but the one that stands out to me the most is a most touching story about Kirby, a seven year old cat who has Cerebellar Hypoplasia (CH) and who can't walk. He likes to crawl on the mat and play with the ball. His humans said the beauty of the mat is the ball can't get away from him as he tries to play with it because it is attached to the mat with the rope.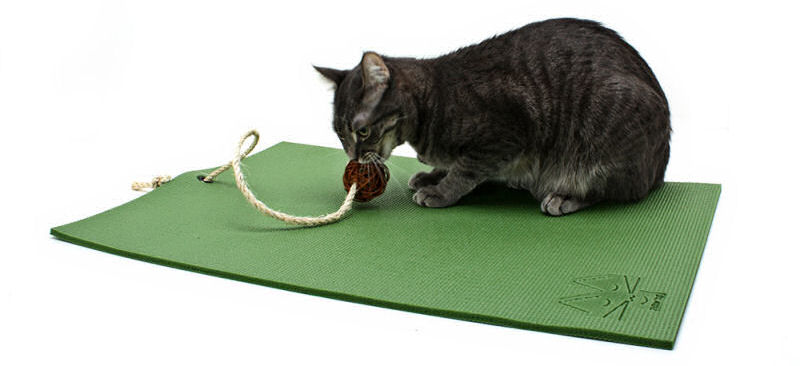 He likes to to lay on the yoga mat while his humans are working out and he plays like crazy with the ball and finally has a toy he can control that won't get away from him. He loves the mat so much he has "stolen" it from the other kitties in his household and they ordered another one for their other cats. Knowing that my mat made a special needs cat happy made the Yoga Cat Mat worth it all for me. If I never ever sold another mat, I consider it a success because it gave a kitty who can't play like other kitties some joy in his life.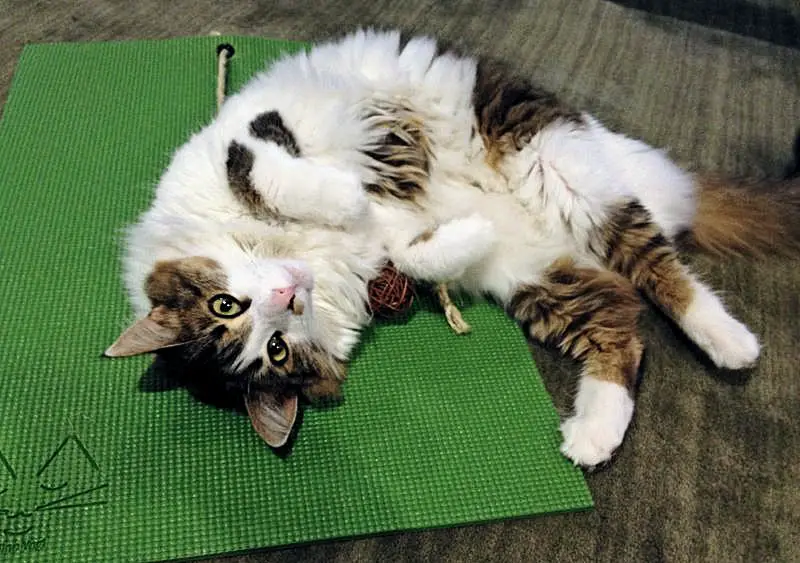 Q: Is Pippy your co-creator?  What was her role in the design? Chief tester?
Yes, Pippy who is the CEO (Cat Executive Officer) of Feline Yogi played a big role in creating the mat. She approved the logo after I doodled it on a sketch pad one night while having a glass of wine. Pippy was having catnip! The mat went through many different designs especially with getting the attached toy just purr-fect! Pippy is a catnip connoisseur and she didn't want just any toy on the mat. It had to be a very special toy with a very special grade of catnip! Pippy now calls the shots on pretty much everything at Feline Yogi. She has high standards, runs a tight ship, and keeps me on my toes!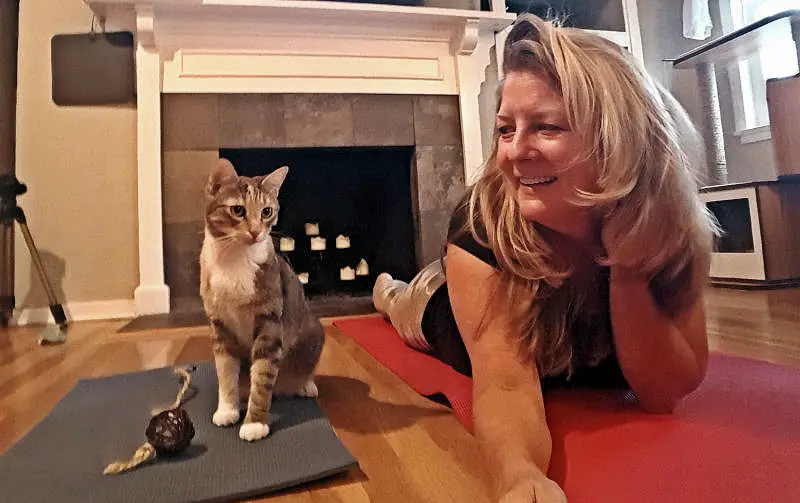 Q: You'll be displaying at CatConLA in August … any special plans or promotions?
Feline Yogi is very excited about CatCon this year. We have displayed at CatConLA from the very first year. This will be our third year to participate. Our Yoga Cat Mats are offered at a discount each year at CatConLA. The mats go for anywhere between 25 and 35 dollars online depending on the cost of shipping. At CatCon they will be offered for $20 (including tax) which is a substantial discount. Our own tabby (photo below) loves his yoga cat mat and catnip ball.
We will also have a Yoga Cat Prop set that will be offered for $5. This prop set includes two special kitty yoga prop toys and catnip.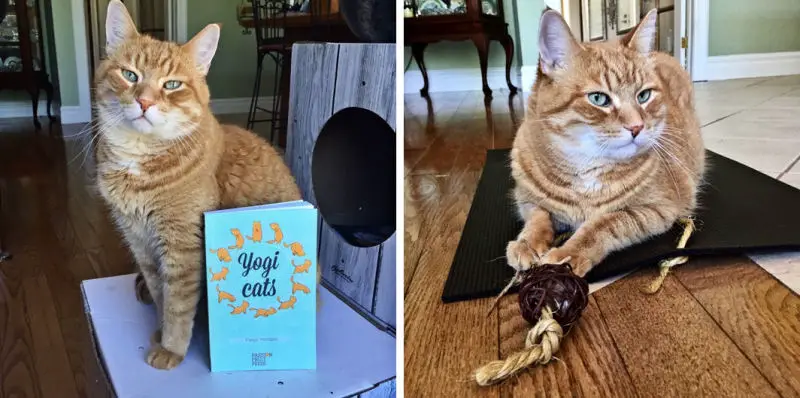 Q: Best tip you can offer for doing yoga with your kitty?
Go with the flow and learn from them. Cats teach us to live in the moment and not have an agenda for how things should go. I study my cats and watch them breathe and watch how accepting they are of their bodies and how they have no judgment. Sometimes I start my yoga practice and I have all these goals. I'm going to really straighten my arms in my backbend, hold headstand for 10 minutes, and sometimes things don't go as planned. And I look at my cats and they are just hanging out and enjoying the moment. They are in balance and that's ultimately what yoga is about -finding balance.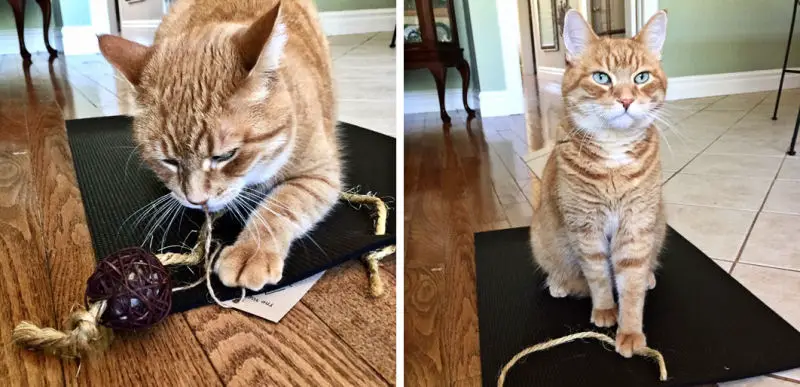 Cats are experts at this which is why they are such brilliant yogis and yoginis!  Meow & Namaste!
Summary
Do you practice yoga with your cat(s)? If so, drop us a comment in the "Leave a Reply" box below with you favorite cat yoga story.
Buy a Cat Yoga Mat
Get your feline yogi fix with the Cat Yoga Mat with Cat Toy. Cat Scratcher, Bed, Activity Play Mat with Catnip Toy. Buy on Amazon here => Cat Yoga Mat