We're always impressed when reading stories about people who learned new skills during the pandemic. One such story is Los Angeles based YouTuber, feline enthusiast, and amateur woodworker Daralyn Kelleher. Over the course of the pandemic, Daralyn launched a humorous DIY woodworking YouTube series called "All By Myself" which has since garnered thousands of views.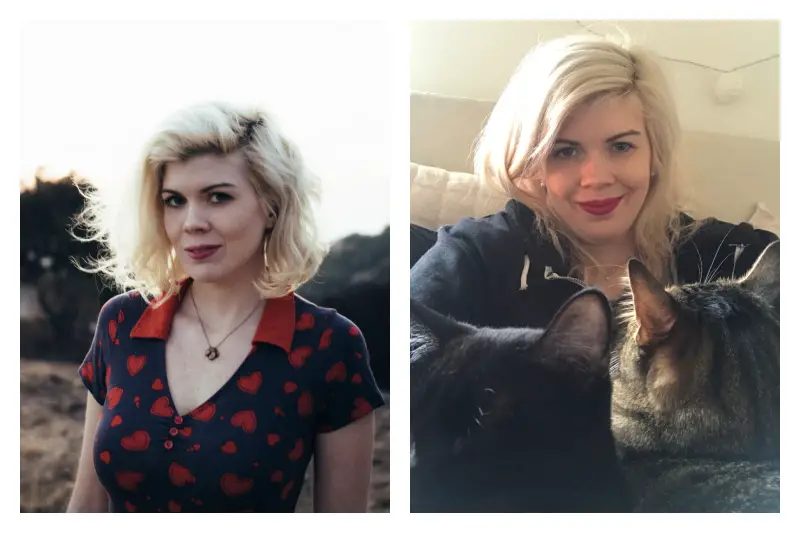 Daralyn was born and raised in Harvard, MA and studied at Northeastern University in Boston, MA. Which undoubtedly attributed to her fluency in English, French and Spanish languages. Prior to settling in Los Angeles, Daralyn had pursued acting and performed stand-up comedy for five years in New York City, continuing for one year when she returned to Los Angeles. With the onset of Coronavirus' cultural and global restructuring, Daralyn found herself with the spare time to begin a new chapter in her life.
Making the best of her newfound spare time during the mandated quarantine, Daralyn decided to try her hand at the art of creating furniture. It wasn't long before she fell in love with the independence she felt instilled in her through the hobby, and she was happy to showcase each new attempt—some unsuccessful, but always humorous—on her DIY YouTube series "All By Myself".
Here's where she attempts (and succeeds) at making a nightstand:
Prior to the pandemic, you could find Daralyn volunteering at a cat rescue renamed Luxe Paws, with a primary goal of trapping stray cats throughout the city in order to get them the care they need. A self-described "cat lover," when she isn't making videos or cuddling up to her own feline companion, Jerry, she can be found trying to tame the feral felines walking the streets of LA. No doubt the philanthropic side of Daralyn's talent will continue to thrive alongside her newly found calling in the realm of woodworking and entertaining.
We had the opportunity to interview Daralyn and here's what she shared with us:
Q: How many cats do you have?
I have four cats. Their names are Jerry, Mary Kate, Biscuit, and Cindy.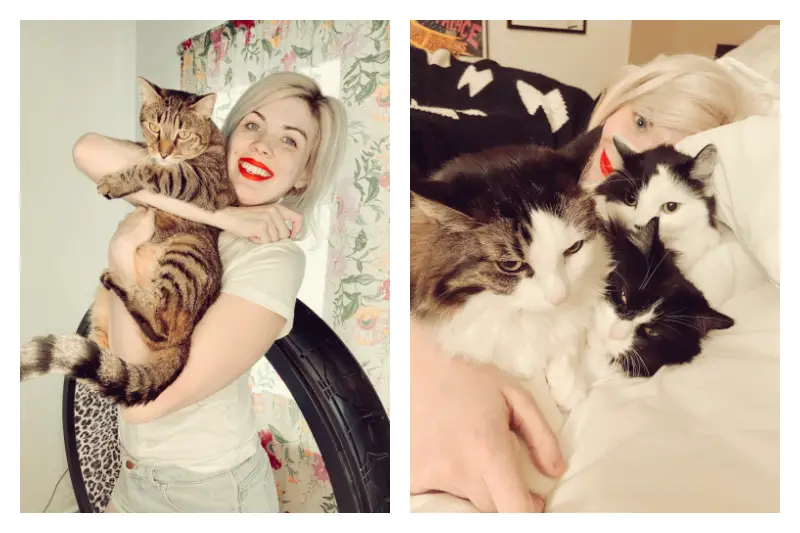 Q: 2020 has been a difficult year for so many…what was the best and worst thing that happened to you last year?
The worst thing that happened to me in 2020 was being furloughed from my job at the start of the pandemic, but the best thing that happened this year was being given the gift of time. It may sound cliche, but I actually got a chance to truly focus on my creative pursuits, and that's been refreshing.
Q: What prompted you to dabble in woodworking?
Basically, I had started a productivity YouTube series, where I cleaned and organized my apartment. After a while, my apartment couldn't get any cleaner, but it definitely needed a furniture update. So, I decided if what I had was time, I would learn how to make it myself, no matter how long it took. And thus, I started my YouTube series "All By Myself", where I attempt to craft furniture despite very limited experience.
Q: What's the response been to your DIY nightstand debut?
The response to my DIY nightstand has been terrific. Many weren't sure how it would come out, as a circular nightstand is not an easy task for a beginner, but overall, people were pleasantly surprised with the results. It might be just a small success, but it's been motivating none the less to see that I have potential.
Q: Are you still doing stand-up comedy? Were cats ever part of your monologue?
I'm not currently performing stand-up comedy, as the pandemic makes it a bit difficult to do so safely. I certainly would like to give it another shot once the world feels a bit more stable. And by the way, yes- jokes about my cats were certainly part of, if not the best part of my act.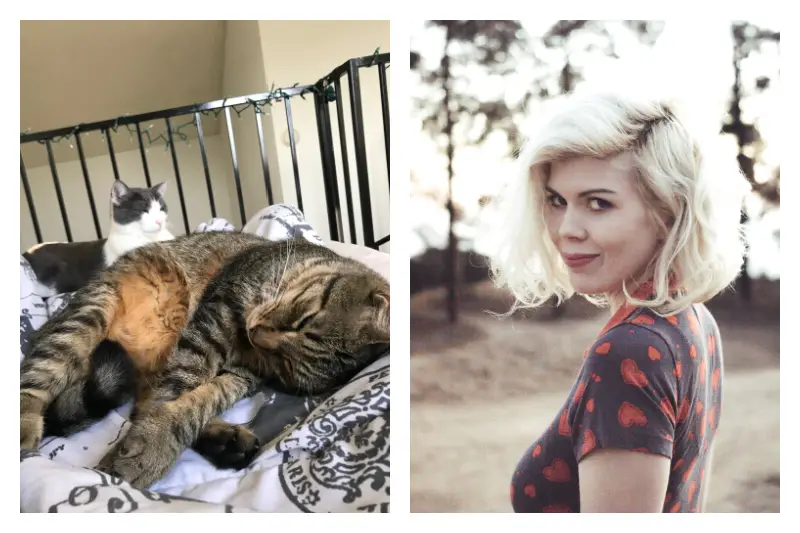 Q: Are you planning a 'cats only' YouTube channel? If so, … deets and when?
When the pandemic began, I started a weekly cats series on my channel, but I found that enabled me to simply buy excessive amounts of toys and treats and then film my cats trying them out. While, that was fun, it didn't exactly scratch the creative itch I have. However, I am currently working on making a piece of furniture for my cats as a video, and in fact, I have multiple pieces of DIY cat furniture in the cards for 2021!
Q: Any new cat adoptions planned for 2021?
Well, I have to say, I have drawn my limit at four. Of course, I did say the exact same thing at three, but then a friendly scared kitten appeared in my garage, and I was legally obligated to cradle her in my arms and whisper "I'm your mommy now". I'll just say, I don't plan to adopt anymore, but will probably foster more cats in the future when I can.
Q: What's the next big project for Daralyn?
Well, I suppose I'll elaborate on the piece of cat furniture I'm currently making! The first woodworking project on my YouTube channel is from when I built an ottoman. In this current project, I'm making over the ottoman into not only a foot rest, but also a cat cube, which includes a comfy bed for one lucky cat to lay in! I'm also re-upholstering it, so it's been quite time consuming, but I should have that video up in the next week. As for the future big projects, let's just say there may or may not be a DIY mid-century modern cat sofa in the future.
Q: What parting words would you like to share with our cat loving readers?
To my fellow cat enthusiasts, have you ever been cuddling your cat and all of a sudden they put their paw on your hand and you realize your heart just melted? … same.
Here's to all the ameowzing cat folks out there!