In the name of completely misunderstanding Schrödinger's scientific work, the creative team at SUCK UK got together and brainstormed (under the influence of catnip we imagine) to create this unique and clever cat/box combination – the turntable scratch mat!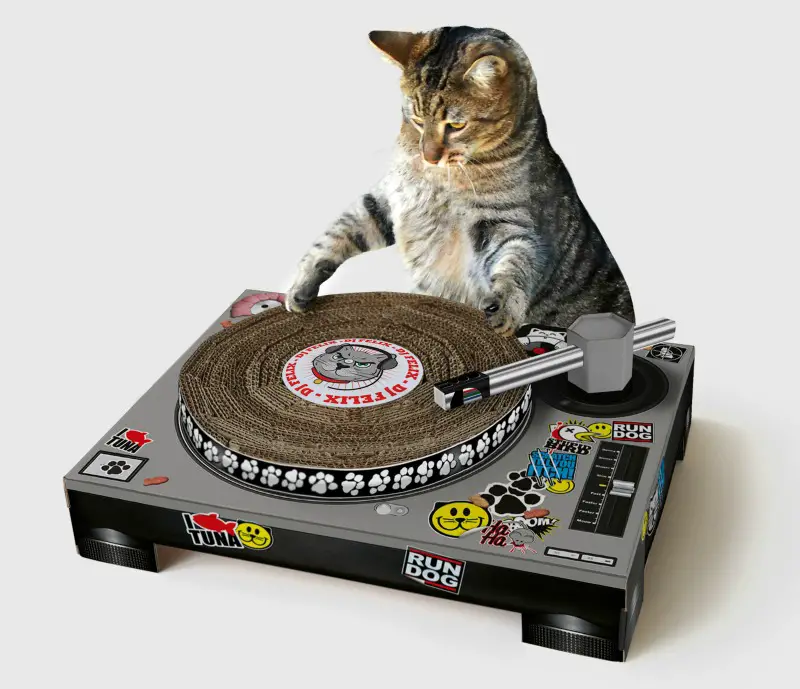 Cats scratch furniture to mark their territory, exercise their muscles and for sheer pleasure. All similar reasons youths mix music – hence the design team reckoned by crossing over both those cultures they'd rather get cats mixing music than teenage boys bringing bedraggled birds back to the home doorstep.
The decks come flat packed and fold together into a simple structure with poseable tone arm and a top which spins as your cat paws at it – meaning you can sit and giggle in a 'LOOK THE CAT IS DOING HUMAN THINGS' way rather than watch in horror as she shreds your favorite couch into tiny pieces.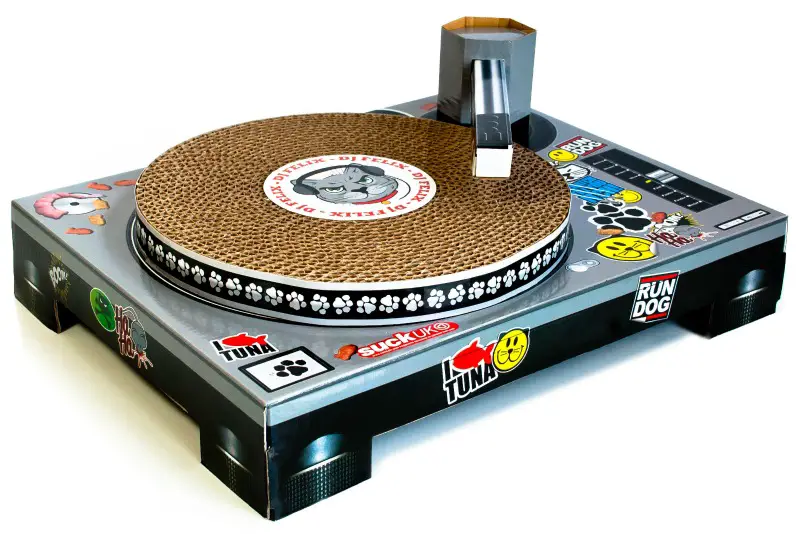 The turntable folds together easily (instructions supplied). Comes with cardboard, mixing deck-shaped cat scratching mat – with spinnable deck and poseable tone arm.

Does your cat secretly desire to be a feline DJ Spin Master? If so, we have good news … our feline lovin' pals at SUCK UK were kind enough to offer us this adorable cat scratch turntable for one lucky Purrington Post reader to WIN!
* Contest Details
This contest ends on October 9th, 2019 and is available to residents worldwide. To enter you simply need to submit a comment in our "Leave a Reply" section at the bottom of this page saying:
My cat's name is [your cat's name] and he/she deserves to WIN this cat scratch turntable because … [your reason]
The winner will be chosen by the SUCK UK team from all the correctly submitted entries, and contacted by email on or around October 15th, 2019.
Have fun, be creative and good luck!