Here's our recommended list:
UltraPet Crystal Clear Litter Pearls:  This is one of our favorite crystal cat litters, and has some of the longest performance life of any we have come across. This is mostly due to the phenomenal odor control ability that it has. That being said, it is actually surprisingly absorbent for a crystal cat litter as well. It is a great choice if you're willing to pay the premium price. It is available in 7-pound bags, is comprised of silica gel, and is available in the premium-price tier.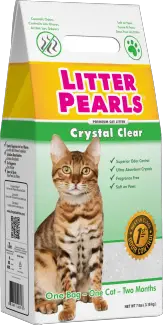 2. Cat's Pride Fresh & Light Ultimate Care Premium Unscented Hypoallergenic Multi-Cat: A combination of great clumping and good odor control means that this product should keep your litter box odor free for 2 weeks or more depending on circumstances. It does require a bit more maintenance in regards to clump removal but if you stick to that you should be very satisfied. It is available in 12-pound jugs, is comprised of clay, and is available in the mid to premium-priced tier.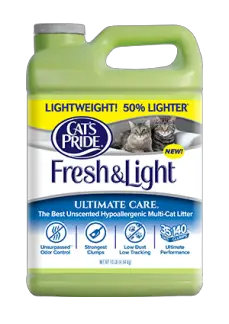 3. Purina Tidy Cats 24/7 Performance: Super effective clumping is to thank for this product's efficient odor control. It is a great long-term solution for those with busy litter boxes. It is available in 14 and 20-pound jugs, 27 and 35-pound pails, and 23, 27, and 40-pound boxes, is comprised of clay, and is available in mid to premium-price tiers.