A few years ago we wrote an article trying to answer the question: "How Much Water does a Cat Need to Drink?"  It stems from the all too common concern of pet owners who worry that their cat may not be drinking enough. It's a valid concern as dehydration in cats can be quite serious.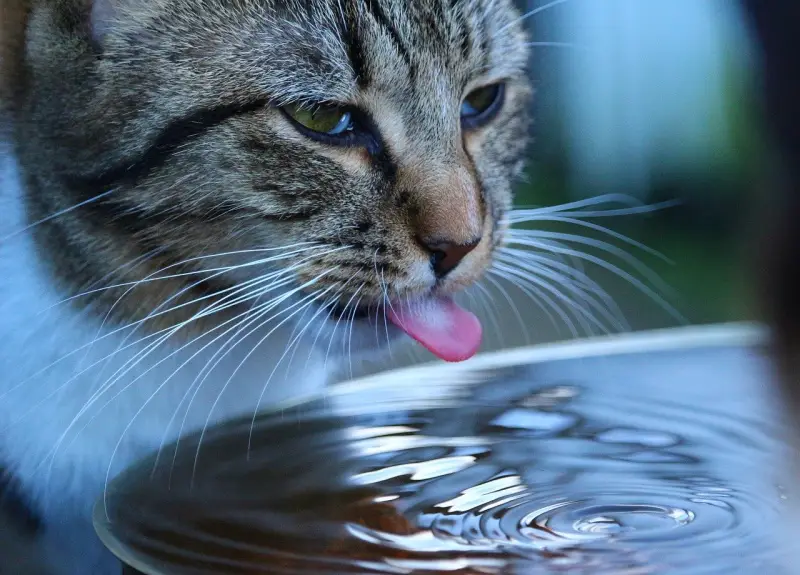 One of the ways to encourage adequate hydration is to invest in a cat drinking fountain. The benefits are numerous – not only do they store a large amount of water, but this water is continually circulated through a filter and purifier and aerated to keep its fresh, bubbly texture and sound.
Cat water fountains come in many shapes and sizes, ranging from single cat use to having multiple cats drink in tandem from the fountain. The water always taste's fresh, since the filter system removes any impurities and the stagnant taste via a charcoal filter.
We recently got to sample the Aqua Pet Water Fountain from Laika (photo below). Made of high quality ABS material, this fountain is BPA-free, chemical-free, non-toxic, durable, safe and easy to operate and clean.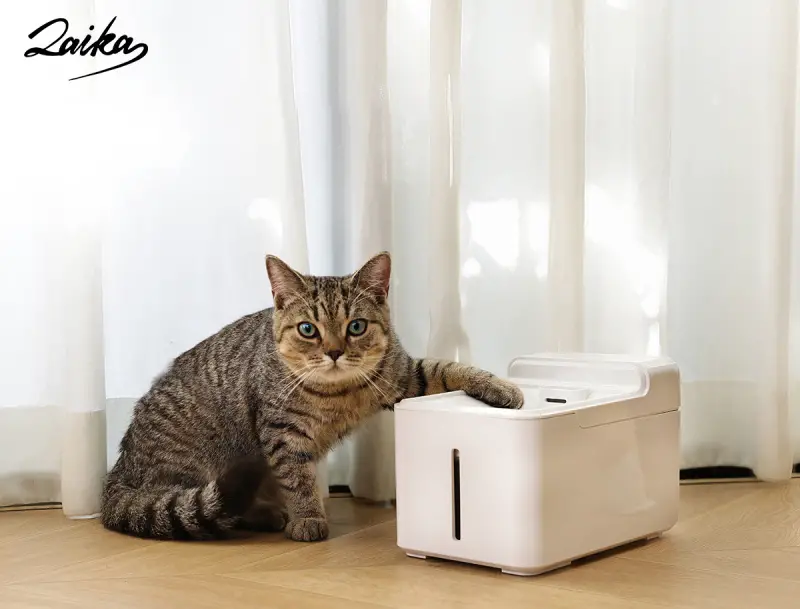 Unique Design – Unlike waterfall water dispensers, this fountain imitates the flow of water from natural streams to encourage drinking.
Ultra-Quiet & Energy Saving Pump – It's extremely quiet (only 29dB) so you won't ever be bothered at night by the sound of burbling water.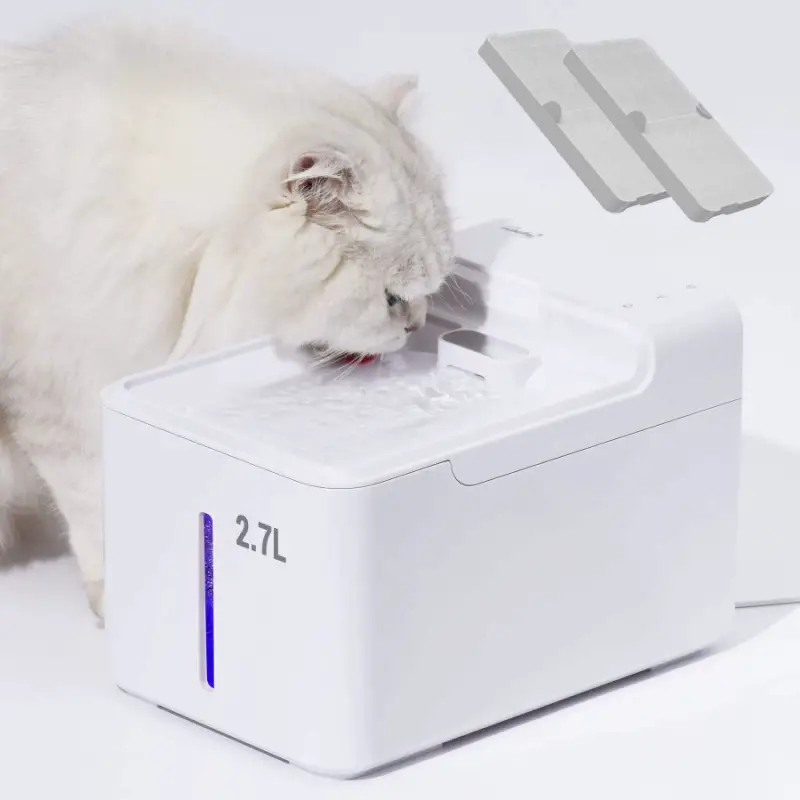 Easy to Clean – With a separated case and fully integrated pump, the water tank is easy to remove and clean. No need for any tools – just rinse and refill.
Quadruple Filtration System & UV Germicidal Light – The water pump is equipped with a quadruple purifying mesh filter cover to block hair, debris and other dirt to ensure that your cats have fresh clean water. The UV Germicidal Light ensures elimination of bacteria to keep the water pure.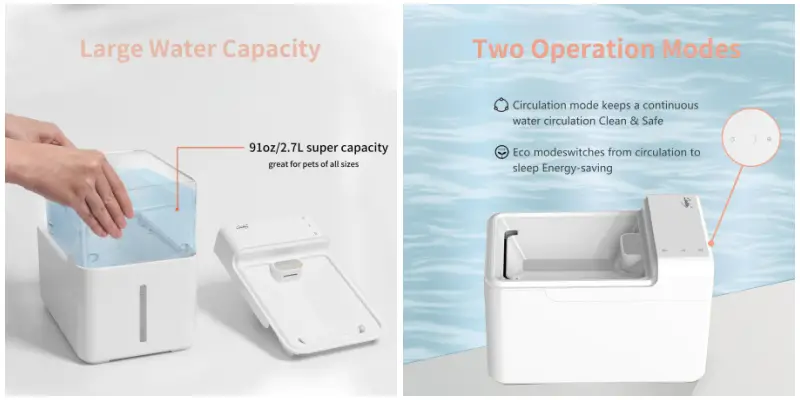 Large Capacity with 2 Modes – The water tank has a 91oz/2.7L capacity which is enough for up to 7 days. There are 2 running modes – Circulation mode to prevent bacterial growth, and Eco mode for energy-saving (if you more frequently change the water).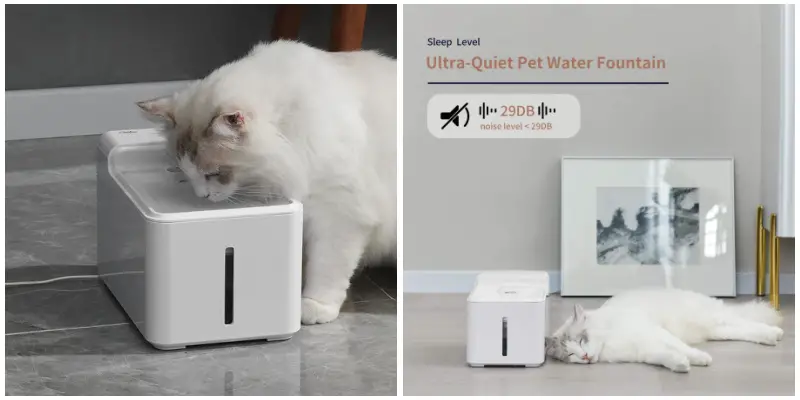 Smart Indicator Light & Auto Power Off – The automatic cat water fountain smart indicator lights will turn red to remind you of low water level and whether the filter needs changing. As a safety feature, the pump will automatically stop working when the water level is too low.
The LAIKA Aqua Water Fountain comes fully assembled with two filters included (one already inserted in the filter box, and an extra one).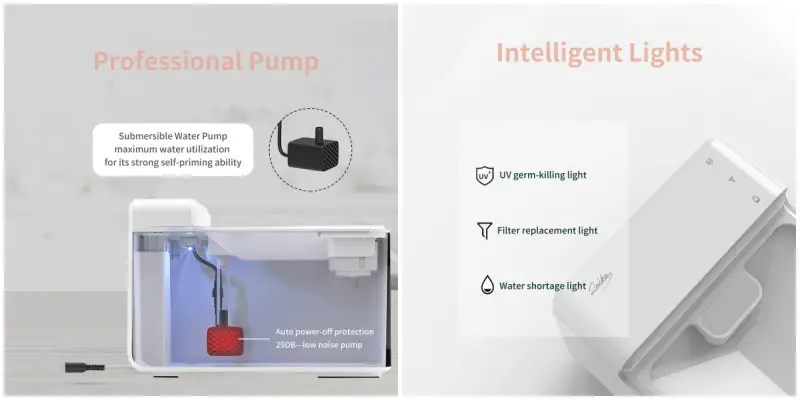 Oh did we mention it's dog friendly too? But don't tell your cats!
Summary
It's a quality cat water fountain at a great price. Learn more here at Laika Pets. Be sure to take advantage of the current special (see image below).