While everyone knows that cats rule the internet, few are aware that they are also behind some of the most renowned art pieces in history. There is no better muse than a cat, and some of the greatest artists of all time are proof of that. Many of the most well-known artists kept cats as pets, and some of them even used them in their artwork.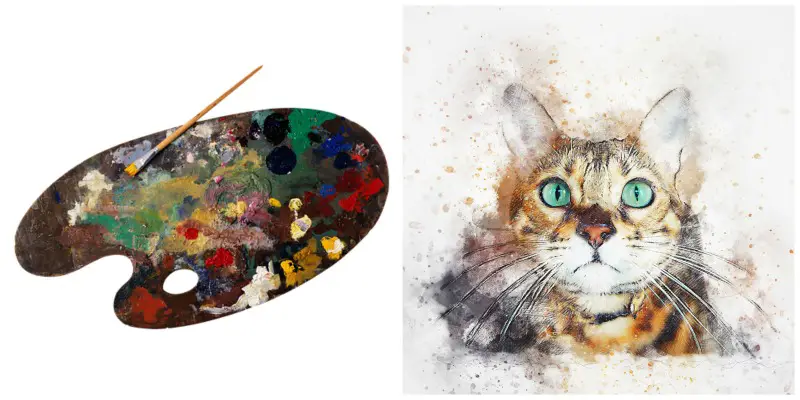 Most of these cat-loving artists lived around the time of the 20th century, but cats have been inspiring mankind for thousands of years. They were first domesticated as far back as the Neolithic era almost ten thousand years ago. They were later venerated in Ancient Egypt and the well-known cat god, Bastet, was carved, painted, and sculpted over the course of several centuries.
Cats continue to be venerated through art and the devotion of their artist friends.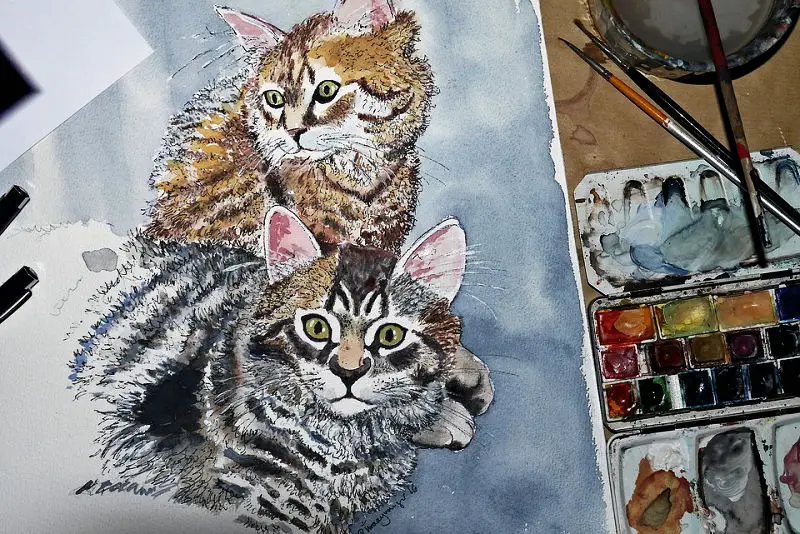 Here are 9 iconic artists in history and their beloved cats (see the infographic below for photos of the artist and their cat).
1. Gustav Klimt
You may recognize this artist by the unique style he adopted in his life and his art. Gustav Klimt was a legendary Austrian painter who used symbolism in many of his paintings and murals. Klimt also adored his cat, Katze, and was famously photographed holding him in his arms in 1912. His white and black kitty was surely the inspiration he needed to produce some of the world's most famous paintings, including The Tree of Life and The Kiss. Unfortunately, many of his pieces weren't recognized or appreciated until after his death in 1918.
2. Henri Matisse
Henri Matisse was a post-impressionist painter and sculptor from France who lived between the 19th and 20th centuries. His love for cats was photographed many times and it also made itself evident in his work. His painting The Great Cat depicts a yellow kitty playfully swiping at fish in a glass. He enjoyed the company of his feline companions Minouche, Coussi, and Le Puce, who were often by his side while he worked. Matisse is regarded as one of the most well-known painters in the entire world.
3. Salvador Dali
Salvador Dali was an eccentric surrealist painter from Spain who lived during the 20th century. His cat, Babou, wasn't any less exotic than his owner and the two were a perfect pair. Babou was an ocelot, a dwarf leopard breed native to Central and South America. Countless photographs capture Dali and Babou spending quality time together in one of Dali's lavish residences. Babou also got along with Dali's friends and would even venture out to parties from time to time. Among Dali's most famous works are The Persistence of Memory and The Elephants.
4. Georgia O'Keeffe
Georgia O'Keeffe was a modern American artist who was known for her floral paintings. She was also a cat lover. O'Keeffe was photographed several times holding a Siamese cat who was believed to be her pet in her later years. Her Siamese friend undoubtedly gave her support as she painted some of her masterpieces that were to come out of her stay in New Mexico. O'Keeffe was a diverse artist and over her career she produced paintings, drawings, and photographs.
[clickToTweet tweet="9 Iconic Artists Who Loved Cats" quote="9 Iconic Artists Who Loved Cats"]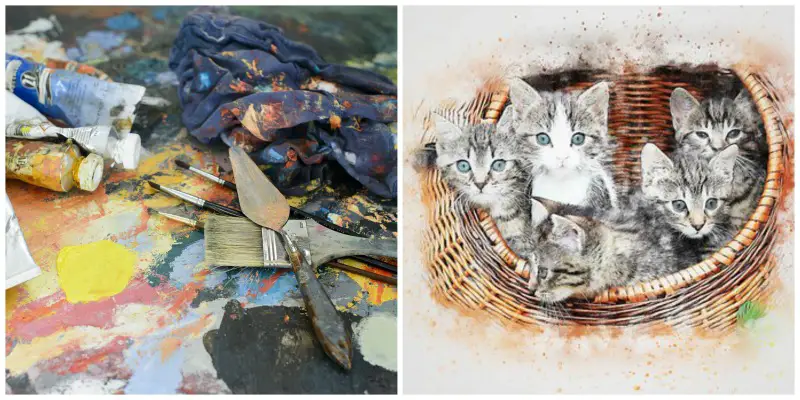 5. Pierre Bonnard
Pierre Bonnard not only loved to keep cats as pets but he painted them too. Bonnard was a French post-impressionist painter whose work could be compared to that of Vincent Van Gogh and Henri Matisse. One of his more memorable paintings is The White Cat which features a stout white cat with long, gangly legs. He was famously photographed holding a striped cat in his lap who probably served as a model for his masterpieces. Many people believe that this cat was his pet.
6. Louis Wain
Of all the artists on this list, Louis Wain appreciated cats the most. Not only did he keep cats as pets but he often painted cats in his work during the late 19th and early 20th centuries. He began his career designing greeting cards and illustrating children's books which often depicted cute cats and kittens. His artwork gradually turned psychedelic, and he painted countless cats while spending time in a mental institution. Rumors that he developed schizophrenia circulated and many believe that his illness caused him to see things differently. Either way, there's something cute about all of Wain's mischievous looking cats. Peter, Wain's pet cat, was photographed enjoying a back scratch by the artist. Peter was likely behind many of Wain's paintings and will live forever in his work and legacy.
7. Andy Warhol
Andy Warhol was a trendy mid-twentieth century artist who was famous for his screen prints of stars like Marilyn Monroe and Elizabeth Taylor. He also painted hundreds of cans of Campbell's soup, Coca-Cola bottles, and cats. His best friend Sam, a beautiful Siamese, graced many of his drawings and paintings during his lifetime. These include Pink Sam with Pink Eyes and Yellow Sam with Red Eyes which show the lovely Sam in various poses and colors. It takes a cat with a lot of personality to influence an artist like Andy Warhol, and Sam definitely had a paw in the creative process.
8. Pablo Picasso
As strange as some of his paintings are, Pablo Picasso was just like the rest of us cat lovers. The famous cubist artist kept a cat named Minou who likely kept him company while he painted his distorted and often ghastly figures. Picasso didn't paint cuddly kittens, but his work does include a painting of a cat in action in Cat Catching a Bird. This painting illustrates cats in their natural, sometimes vicious state and reminds us to do our best to keep birds out of their eager claws.
9. Wassily Kandinsky
Wassily Kandinsky was a Russian abstract painter born in the 19th century. As one of the first artists to paint abstract subjects, his work stood out and separated him from his peers. You may be familiar with his Color Study, Squares with Concentric Circles painting or Composition VIII which are arguably his most famous pieces. However, there was someone else behind the genius: Vaske. Vaske was photographed with Kandinsky in a garden on at least one occasion and the two seemed to share a special bond. The robust orange and white cat was no doubt the inspiration behind Kandinsky's masterpieces.

Credits: Article & infographic contributed by Lauren Matyear – a professional writer and cat owner
Summary
Share with us what style of cat art you like…modern, realism, photo realism, fine art, abstract,etc. Drop us a comment in the 'Leave a Reply' box below with your favorite style of cat painting.