The Architects for Animals® "Giving Shelter" exhibit is a unique fundraising event to benefit FixNation, a Los Angeles-based nonprofit that provides free spay/neuter programs for homeless cats.
On September 5, 2019 top LA architecture and design firms – along with individual architects and designers displayed their one-of-a-kind outdoor dwellings for community cats during a cocktail reception at the Herman Miller Showroom in Culver City.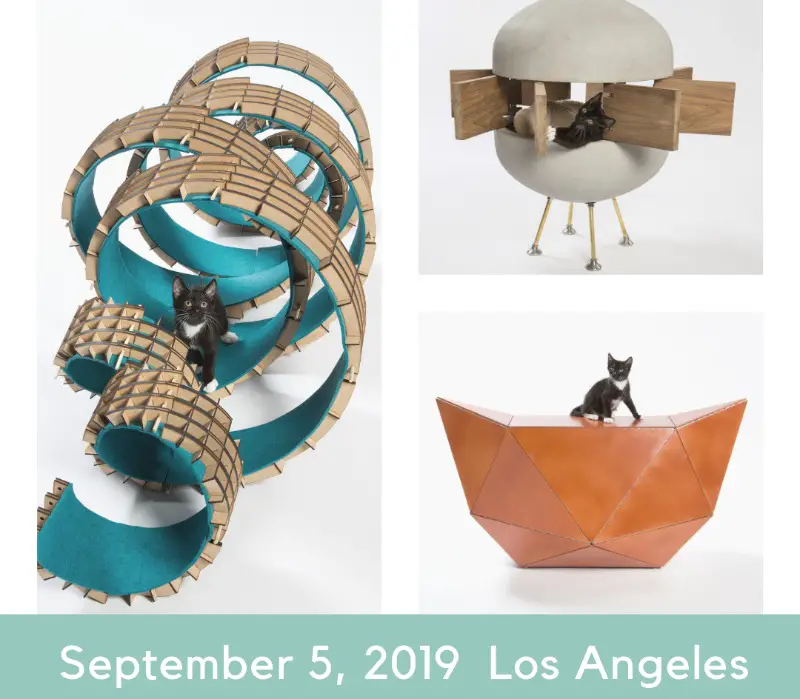 This innovative event was attended by over 300 guests, VIPs and media representatives. Cat loving celebs in attendance included Carolyn Hennesy and Tricia Helfer.
Check out the remarkable designs that were on display:
Abramson Architects CatCube: Meowdular Dwelling Unit
The CatCube is modular system that allows flexibility in the dwellings configurations, letting the user determine the number and type of modules that best suits their cat needs. Each module is lined on the interior with felt and features a colored linoleum on the exterior to create a cozy interior for the cats but a fun, colorful exterior that is also durable.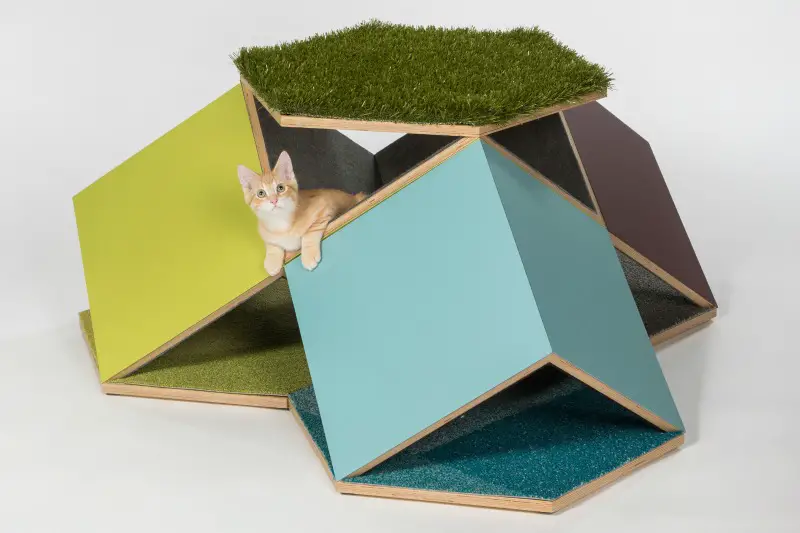 The base of the modules are carpet tiles or pet grass that are easily removable for cleaning or changing out. The set of two modules connect together via hidden magnets underneath the surface of the linoleum, and each module rests on felt pads that lift it off the ground and allow it to slide easily on hard surface flooring materials such as wood.
d3architecture
d3architecture went back in time to reclaim and reuse an assortment of vintage milk crates converting them from vessels of sustenance to vessels of sanctuary.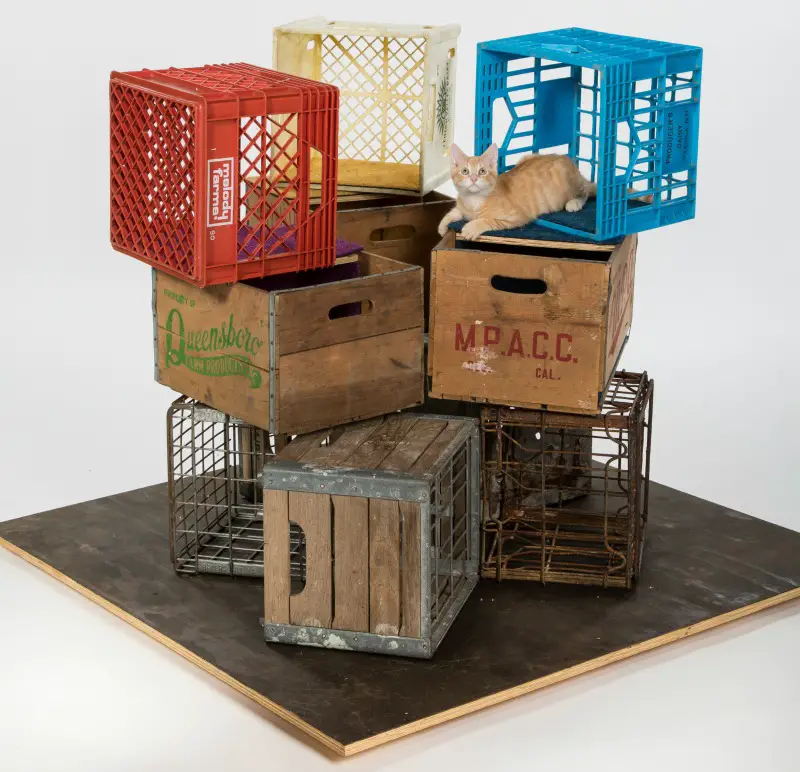 HKS "The Dungeon Master's Lair
The sun streams in golden streaks as the Dungeon Master drinks from Lake Kitchenbowl. Suddenly, ears pricking up, it hears a rumbling whirrrrr and goes to investigate. It finds its old enemy, the Roomba Dragon, weaving through the great Carpet Savannah. Quick! The Dungeon Master escapes through the Couch Plateaus, knocking loose its many Cushion Boulders. The Roomba Dragon consumes anything in its path, chasing the Dungeon Master through the dark Hallway Canyons, right into the Wetlands.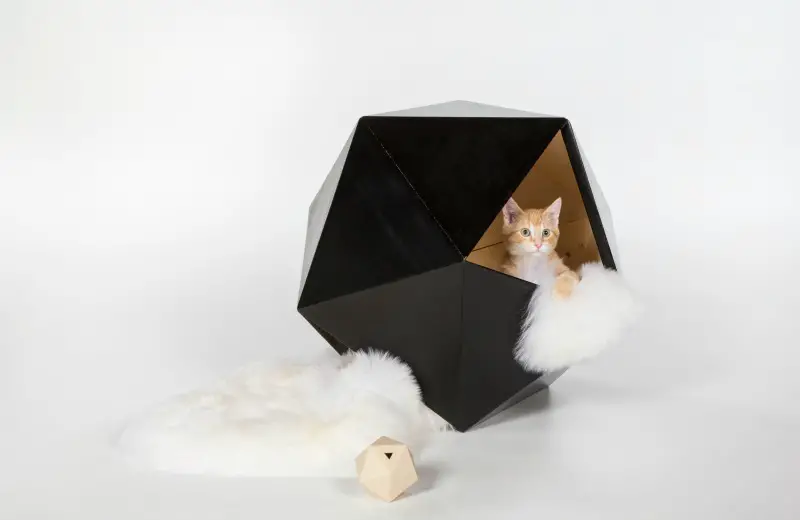 Slippery and bubbly rain falls on the two as they leave the steamy realm. The Dungeon Master is fast on its feet, weaving back through the Hallway Canyons to scale the Stepped Stair Cliffs. Alas, the Roomba Dragon is no match for the Dungeon Master's climbing ability and falls short at the base of the Cliffs. Tired and positively accomplished, the Dungeon Master slowly traverses to the Human's Cave, stopping just short of a peculiar 20-sided form. With a light jump, the Dungeon Master makes it inside one of the openings, settling down for a peaceful night's rest.
HOK
This modular system functions as a playful maze and a peaceful resting zone for our purring friends. The concave dips on the exterior serve as an additional resting area and as a seat for human to relax and interact with cats who are looking for affection.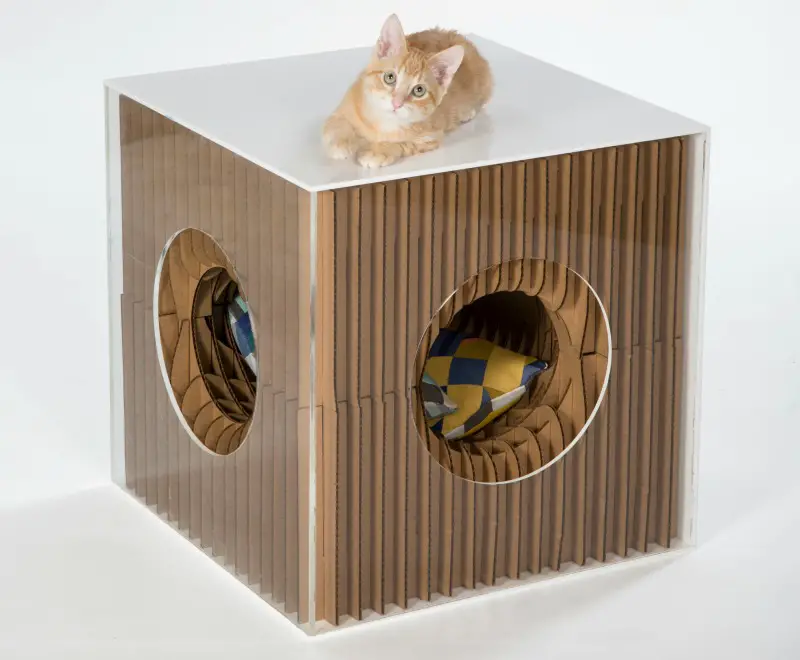 This skeletal design exposes the bare bones of the shelter and metaphorically represents that every cat deserves a warm, dry, playful and restful home.
Morphosis/Xtech
Legs House is a prototype for feline urban dwelling that utilizes Kebony wood, a sustainable alternative to Brazilian Walnut, to create a vertical house expressive of both wild and domestic sensibilities. The CNC machined Kebony slats vary in shape and provide protection from weather while allowing air to circulate through the house naturally.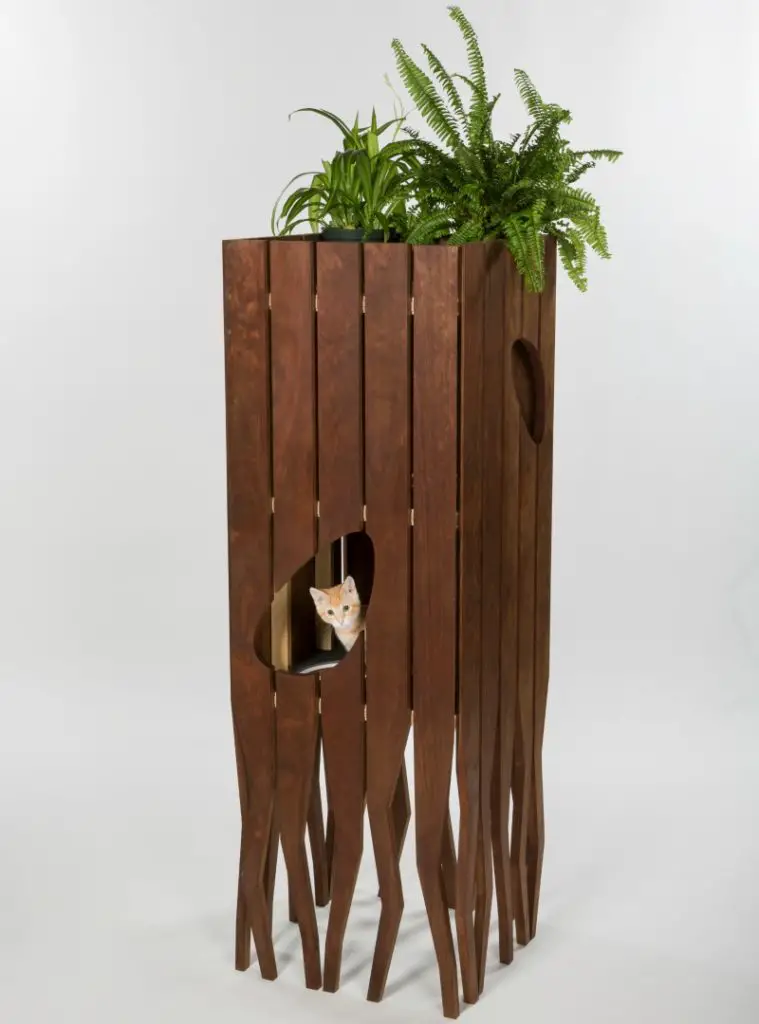 The slats taper as they touch the ground, creating a semi-protected and accessible exterior space. Above, three distinct levels exist where cats can relax, eat, nap, or observe. Textured inlays on these levels are removable and can be cleaned as required. At the uppermost level, a roof garden functions as a lookout tower.
Perkins & Will Clawed Purrent; Function of the Oblique 9
In a parallel universe where cats rule the Earth, French architect Clawed Purrent revolutionized 20th century space making. Clawed's investigation of the Oblique Function, which emphasizes sloped surfaces, bought contemporary architecture into the purred dimension. "Function of the Oblique 9" demonstrates his obsession with shifting and tipping planes and the fractured plan.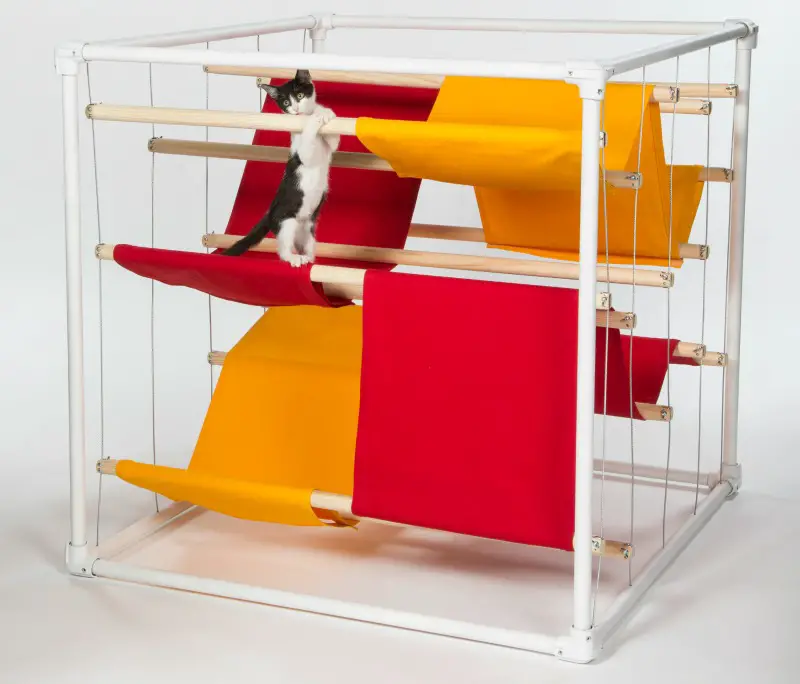 The work is based on a felinomorphic scale of proportions and can be adjusted to any number of configurations offering the possibility of entirely new landscapes within a single volume of space.
rdc
Sneaky Drawers is a collection of three staggered wood drawers encased in a concrete shell. The shell is diagonally cut and hinged to provide the flexibility of open and closed environments within the drawers and its negative spaces.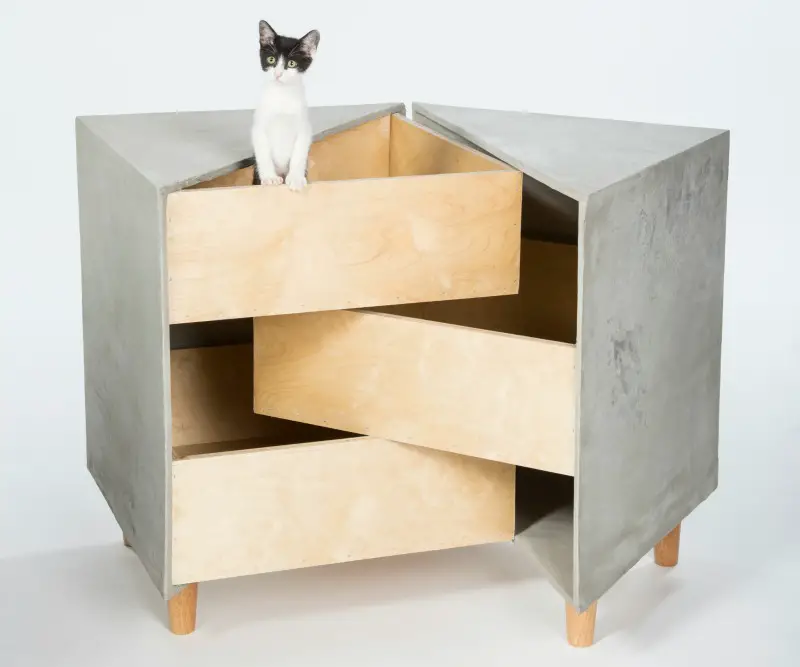 Multiple cats can lounge, jump and snuggle inside and between the birch Sneaky Drawers. rdc hopes this design creates a comfortable home for any furry friend in need.
Standard Architecture | Design THE CAT POD
The CAT POD was developed as part of a multi-use, modular building concept. Each module is a prefabricated, vaulted, concrete shell that can be infilled with wood or other construction. For the CAT POD, FSC certified Teak was reclaimed from flooring samples, and used for the infill. The Teak is fitted to the concrete shell to form a sheltered enclosure with a door.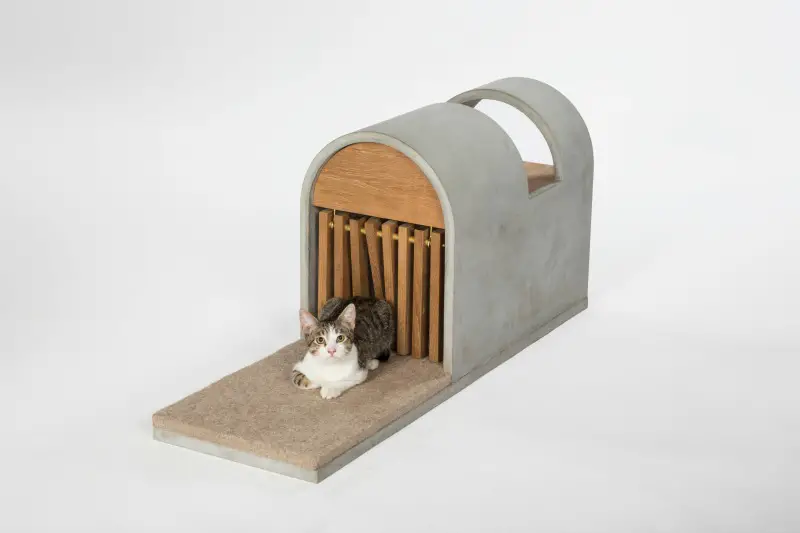 A thick piece of natural, unbleached wool felt forms the floor. The concrete's high thermal mass gathers heat during the day, and slowly releases it overnight. The slatted Teak wall and door may allow a breeze to flow though. Appealing to a cat's desire for warmth, the CAT POD provides a secure shelter for a catnap. Designed and built by Standard. The reclaimed wood for this shelter was generously provided by East Teak.
Stantec The Rise of SkyWhisker
A long time ago in a galaxy far, far away…. Luke SkyWhisker has returned from meowterspace to his home planet of Catofeline in an attempt to rescue his friend Fang Solo from the clutches of the slobbering gangster Jabba the Mutt. Little does SkyWhisker know, the GALACTIC DOGPIRE, led by Darth Mittens head of the Dog Side, has secretly begun construction on a new armored space ball even more powerful than the first dreaded Death Claw.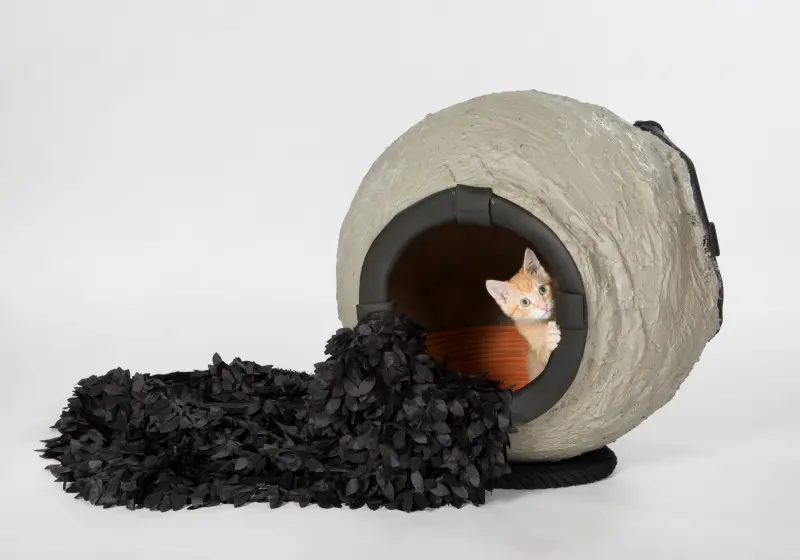 When completed, this fur-midable weapon in the catmousephere will spell certain doom for the small litter of kittens struggling to restore freedom to the galaxy…
Tracy A. Stone Architect
Inspired the simplicity of a tent's rain fly, this entry wanted to create a playful structure that uses tent technology and simple materials. A custom tent pole suspends the rain fly over the platform to create refuge from rain and other elements.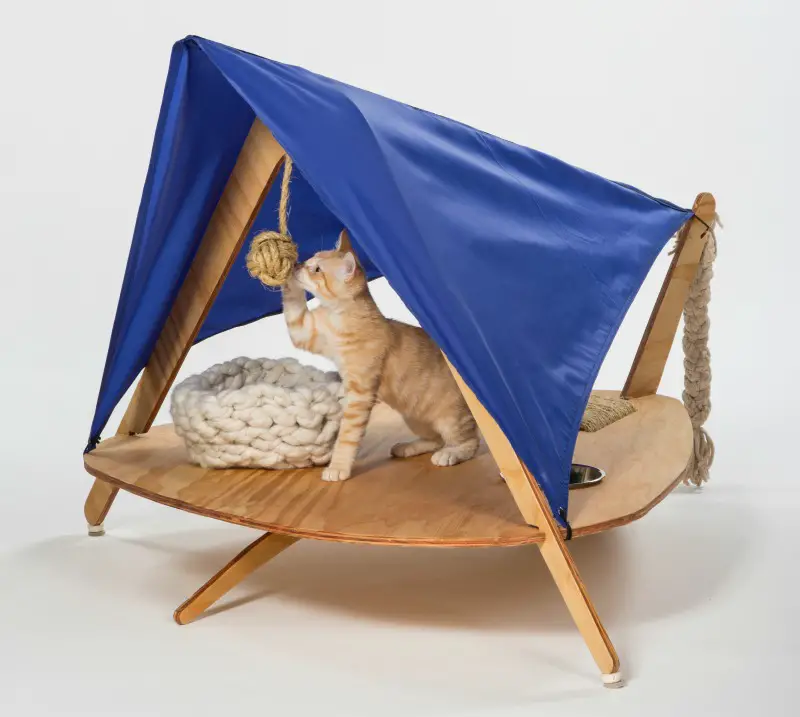 Exciting amenities (water bowl, scratch pad, dangling toy) have been integrated to give our feline friends a memorable stay.
WORD Design and Architecture
The 'Cat-esian Joint' is a riff on the very simple cartesian joint, and features three felt-lined tubes that are interlocked and provide a climbing surface and shelter akin to the hollow of a tree.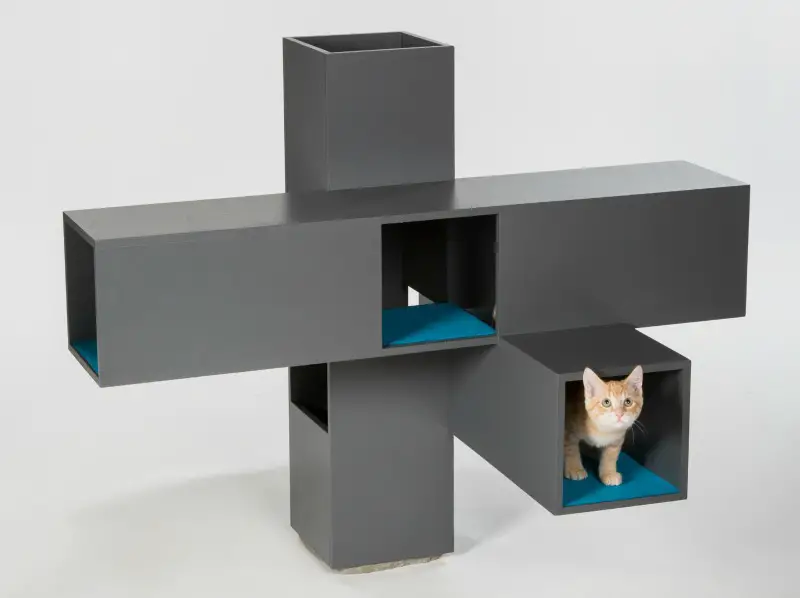 Celebrity Decorated Cat Bowls
Also on display were more than two dozen one-of-a-kind cat food bowls decorated by celebrities, including Morgan Fairchild, William Shatner, Jay Leno, Elvira, Clint Eastwood, Jackson Galaxy, Beau Bridges, Nikki Sixx, Bo Derek, Kristen Bell, Rudy Sarzo and more (all were available for purchase via an online auction).
Following are a few of these cat bowls that were on display: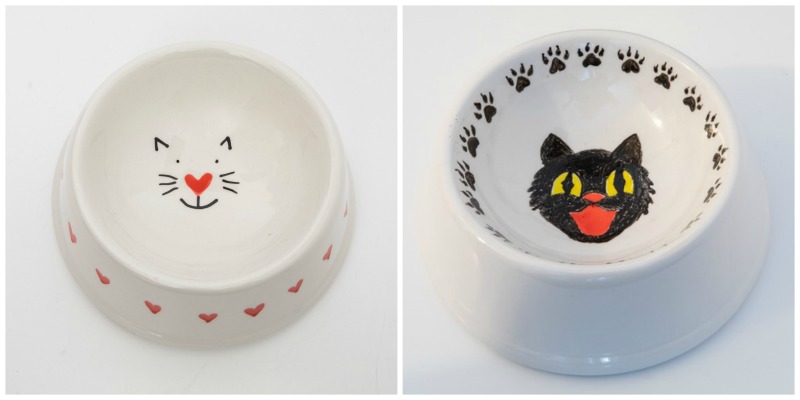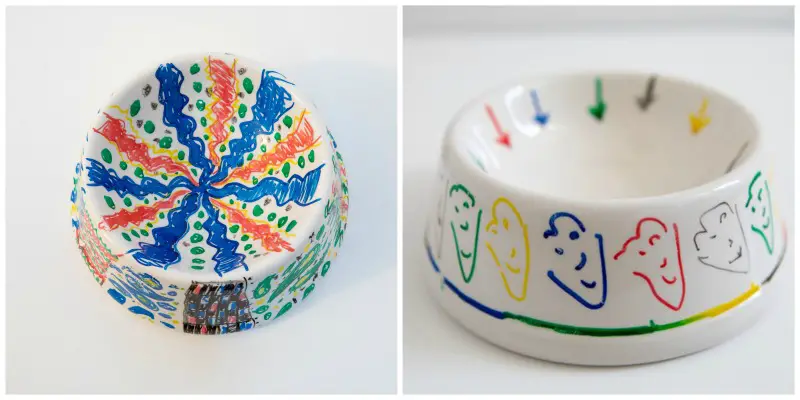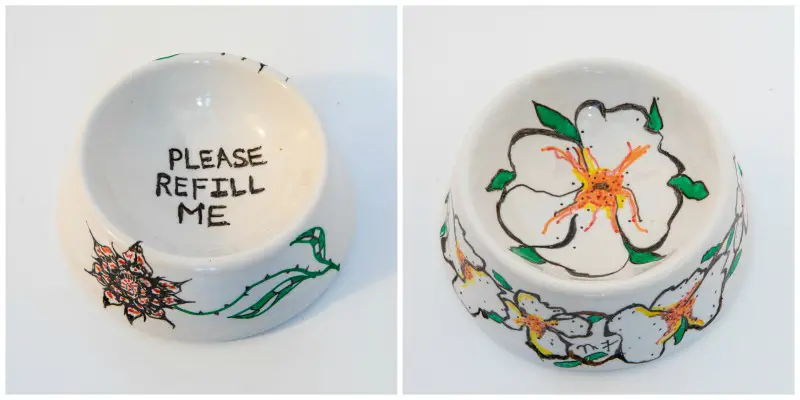 The event was a huge success with all proceeds raised going to benefit FixNation, a non-profit organization that supports TNR (Trap -neuter-return) as a humane way to help the stray cat population. For more details on the event, please visit fixnation.org and architectsforanimals.com.
All photos courtesy Meghan Bob Photography
About FixNation
FixNation is a pioneering Los Angeles-based nonprofit that offers free spay/neuter surgery for homeless cats, as well as community education and outreach, low-cost spay/neuter for pet cats, low-cost vaccines and microchips for pet cats and dogs, adoption partnership programs, loans of humane traps and expert advice about TNR and colony management. FixNation's award-winning programs have successfully sterilized more than 160,000 cats to date.