NHV Tripsy is a natural cat supplement that helps support the health of kidneys, urinary tract and bladder. It is useful for cats with overworking or damaged kidneys, urinary infection, uroliths, bladder stones or renal failure. Since urinary disorders are very common in middle aged and senior cats, Tripsy is a great proactive supplement that can be given to healthy cats too.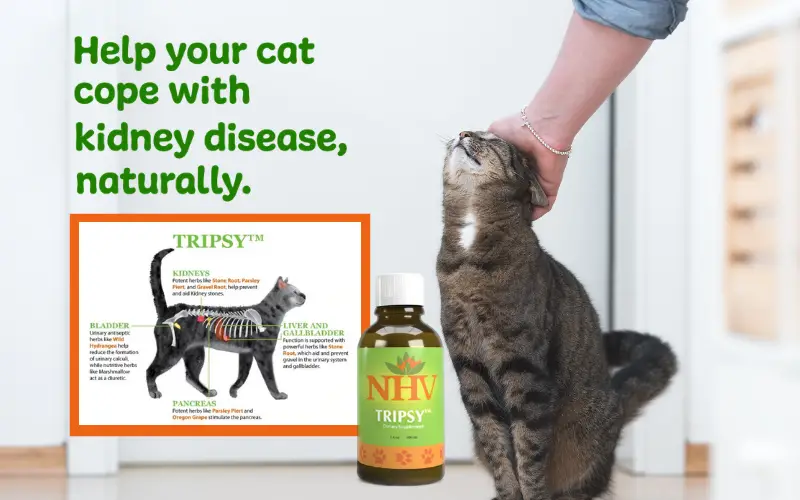 All Natural
It is a natural formula of medicinal herbs based in vegetable glycerin. It contains extracts of herbs like Stone Root, Oregon Grape and Marshmallow blended in a formula that is suitable for animals. It contains no preservatives or chemicals.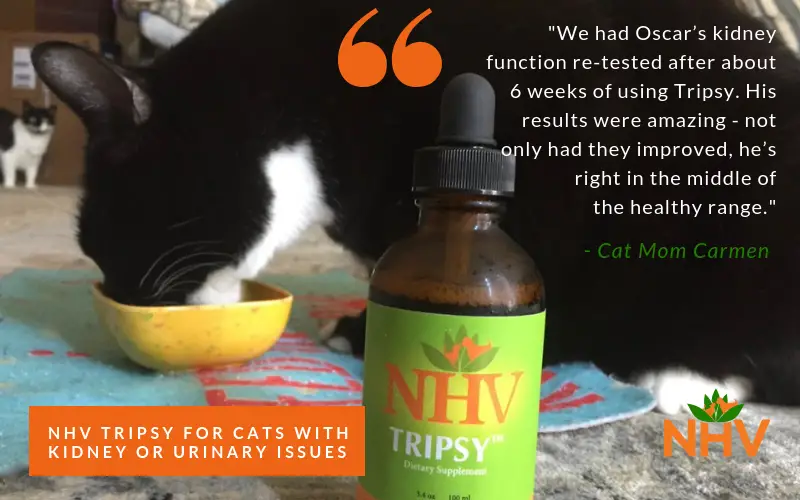 Easy to Administer
It is a liquid supplement with no added flavors. Most cats don't mind the taste and in fact, some cats seem to really love it and come asking for their dosage when it is that time of the day. It can be given directly in the mouth by dropping slowly in the cheek pocket. Or it can be mixed in their food or treats. Healthy snacks like plain yogurt and tuna juice are also great hiding snacks.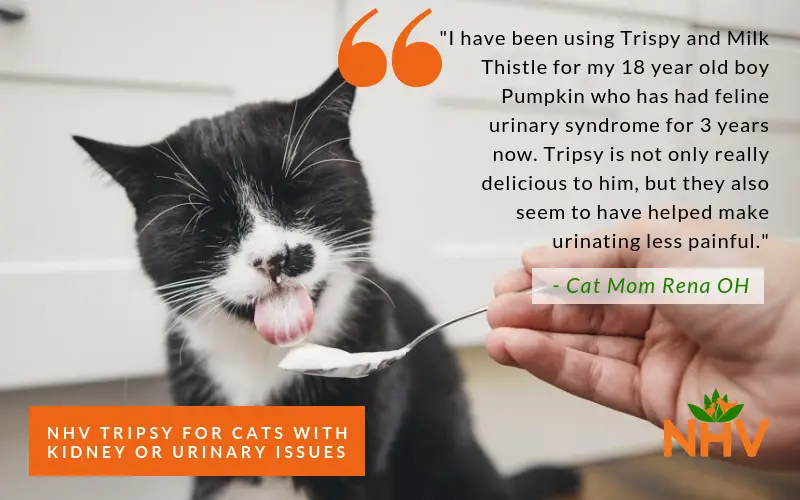 Safe to Use with Medications
NHV Tripsy, like all NHV supplements and remedies, is prepared by a team of holistic vets and master herbalists. It is safe and gentle for animals and can be used in conjunction with any vet prescribed medications.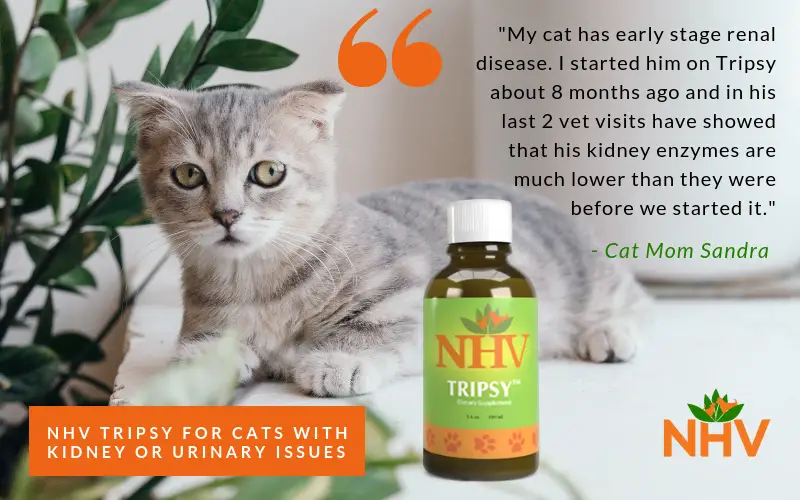 Clinically Tested
Although the many reviews left by pet parents who have used NHV Tripsy and found significant improvement in their pet's health are testimony to this supplement's benefits, but NHV invests in clinical trials as well to make sure that its supplements do what they promise. Tripsy was studied by The University of Georgia College of Veterinary Medicine.
According to the doctor who supervised the study, Dr. Joe Bartges, "When given to young cats and adult dogs, in a relatively short period of time of two weeks, the collected urine samples indicated that Tripsy significantly decreased the risk of developing urinary stones in both groups."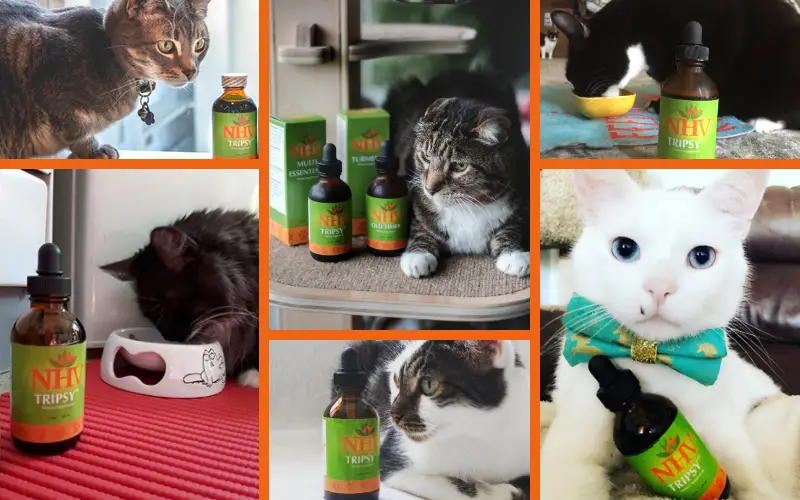 More details here.
Goes Best with Milk Thistle and Turmeric
Tripsy and Milk Thistle when paired together are the perfect holistic support that a pet with kidney disease or urinary disorders needs. While Tripsy works hard on support the complete urinary function, Milk Thistle supports the liver and kidneys specifically. It helps regenerate and detoxify the liver and keeps the kidneys as healthy as can naturally be.
Turmeric is a super herb for pets of all ages and can be used to support all the vital organs – liver, kidneys, lungs and heart. It is not only anti cancer, but it is also helpful for sore and achy joints. This makes it a perfect holistic addition to the regimen of Tripsy and Milk Thistle. Kidneys and heart are very closely related and hence, adding some extra support for the heart with turmeric is a great idea for cats with renal disease.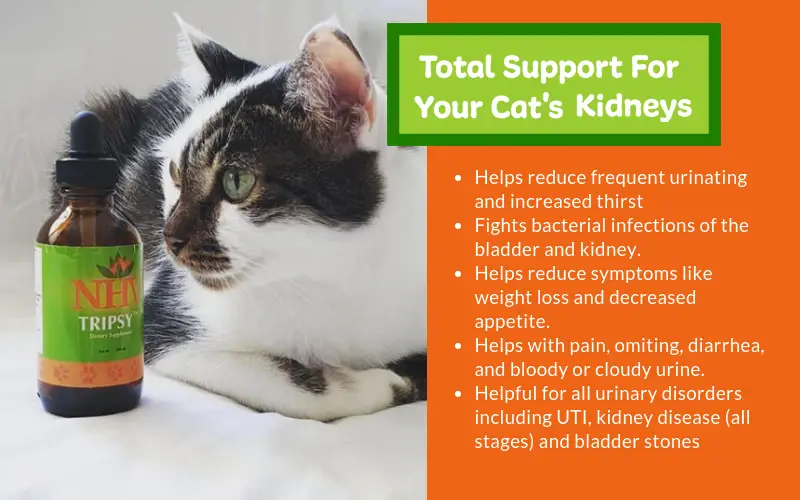 Learn more => Tripsy for cats
Learn more => Tripsy and Milk Thistle
Learn more => Tripsy, Milk Thistle and Turmeric
Happy Tales
Check out these 3 success stories:
1. Patches my little miracle => a cat mom's tale of rescue and love
2. Sammy the cat's recovery post perineal urethrostomy
3. Weight gain due to kidney disease? => Lemon the gentleman finds NHV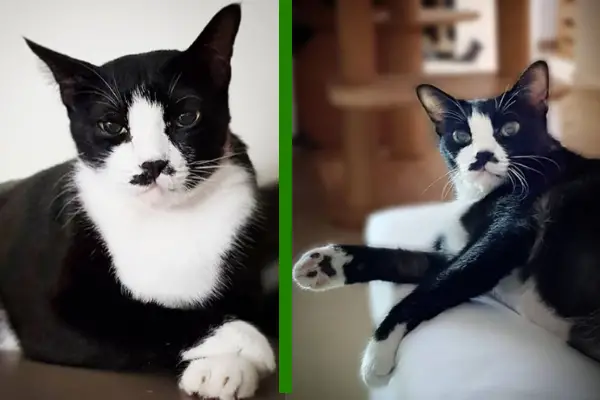 Author Bio
This article was prepared by NHV natural pet products who believe in supporting your cat's health and wellbeing with high quality, vet formulated herbal pet remedies. All their products are human grade, made with 100% natural ingredients, and were formulated by a holistic veterinarian and a master herbalist. NHV products are manufactured at a GMP state-of-the-art facility where they must meet stringent in-house standards before being tested a second time by a third-party lab. NHV have a dedicated group of pet expert professionals, including veterinarians, vet-techs, and other pet professionals to guide you through any questions.