The following is a guest post kindly contributed by our paw pal Janelle from @paws_pdx.
What the saying 'it's like herding cats' means and how to [kinda] successfully herd cats. When one or more adventure cats are seen 'walking' on a trail, the human or humans are officially herding cats.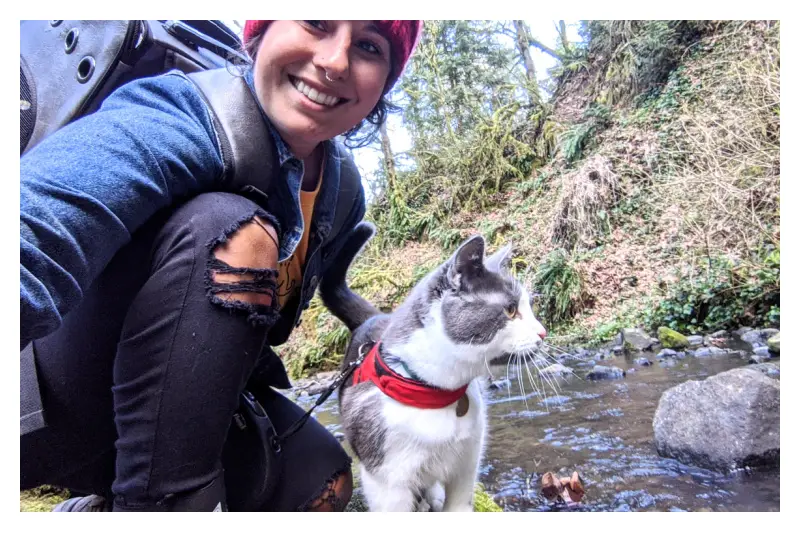 What is an adventure cat?
/adˈven(t)SHər,ədˈven(t)SHər/ /kat/: A cat that has a heightened curiosity and enjoys living its nine lives beyond the boundaries of its house. Secured with a harness and leash, and accompanied by its owner, this cat might be seen hiking a trail, kayaking, and riding on its owners shoulders, among other adventures.
An adventure cat has been trained by its owner; these activities should not be attempted prior to proper outfitting and training procedures.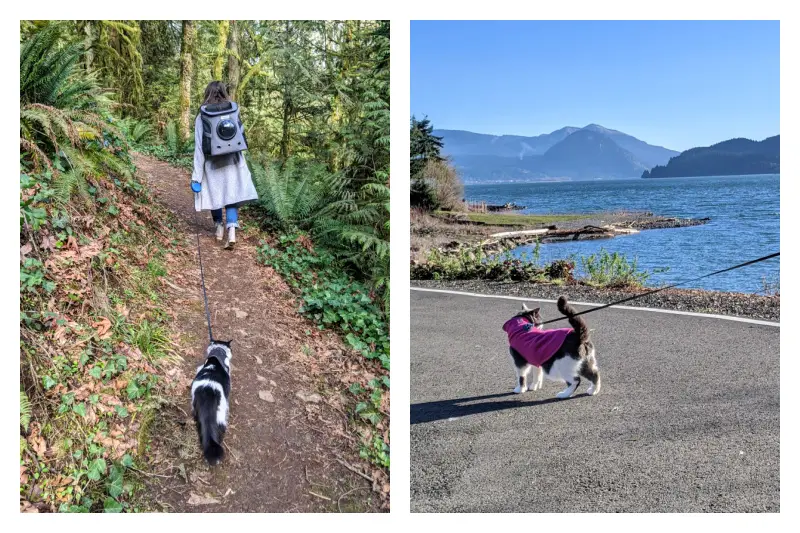 So, what is it like to herd adventure cats?
Herding cats is going on a 7.4 mile hike and carrying your 10 lbs. cat 7.3 miles of it. It's taking two cats out at once and each of them walking in a completely different direction. It is also your cat eating as much grass it possibly can and hacking it up later or pooping it out in a not so healthy manner.
But herding cats is also learning patience. It's taking the trail a little slower than usual and noticing all of the new-to-them things you usually miss. It's safely giving your cat a life full of adventure, new sights, and new smells. Herding cats is experiencing life with your furry feline instead of leaving them behind.
Our cats have seen waterfalls, kayaked under the summit of Mount Rainer, and will soon see the ocean for the very first time!
What is the proper outfitting and training procedures for herding adventure cats?
Harness Training
An adventure cat must be properly secured in a harness before venturing outdoors. There are a few different types of harnesses you can choose from – varying in the amount of fabric on your kitty and types of securing claps. When choosing a harness, you should consider what your cat would be most comfortable and secure in.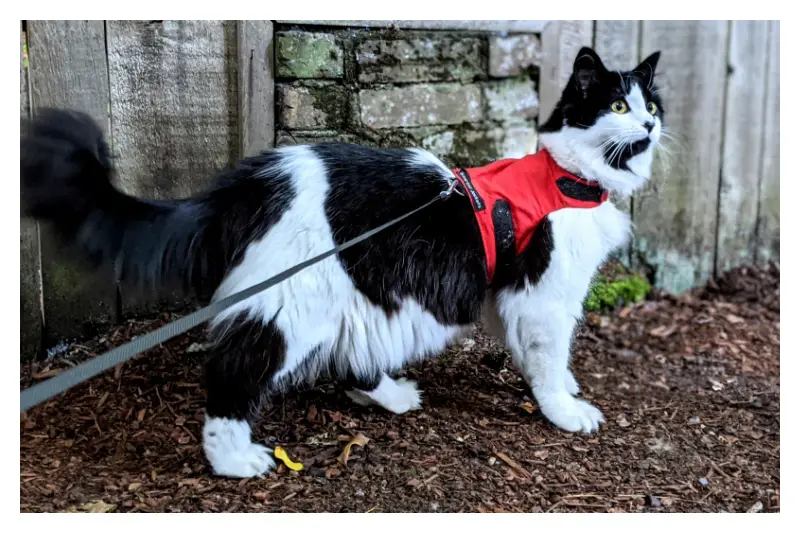 Some harness choices include:
H-harness: The H-harness typically snaps secure at two locations. It is the most open concept and therefore has the least amount of contact with the skin. The Come With me Kitty harness is a popular example.
Vest harness: The vest harness typically requires your kitty to put its head through the neck opening, and secures with a second strap at the back. The Puppina harness is a popular example.
Jacket harness: The jacket harness typically secures at the neck and at the belly. It has the most fabric coverage of all the harnesses. The Kitty Holster harness is a popular example.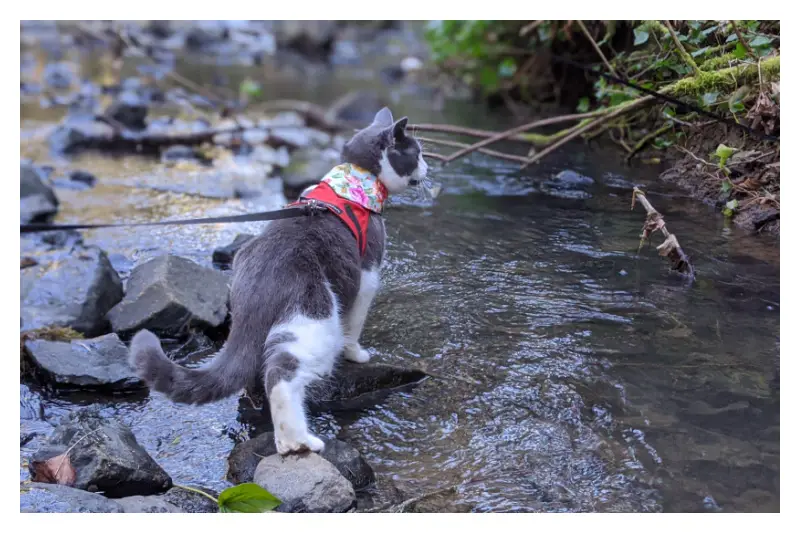 Slowly introduce an adventure cat in training to its new harness indoors. With positive reinforcement in the form of verbal praise, physical praise, and treats, your cat will learn to voluntarily allow the harness to be put on. After hanging out in the harness inside the house while paying with its favorite toys, napping, and eating, your cat will become comfortable in the harness and will be ready for step two!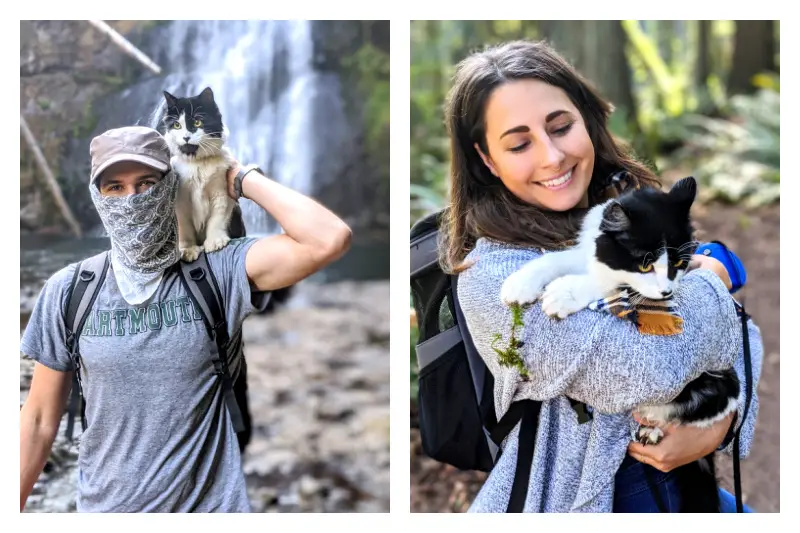 2. Leash Training
Once comfortable in a harness, an adventure cat is ready be introduced to the leash! Some harnesses, such as the Come with Me Kitty, come with its own leash. Others do not, or you may decide to swap out the leash your harness came with.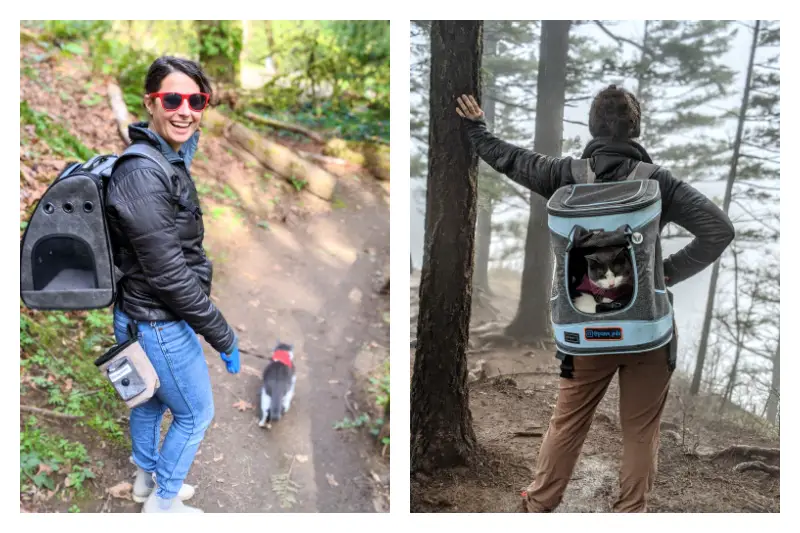 Here are a few basic examples of leash designs:
Bungie Leash. Bungie leashes are typically made of nylon and feature a shock absorbing design. The nylon material will hold up across most elements (mud and vegetation snags), and the shock absorbing design will soften sudden jolts your explorer may make. Depending on your adventures, a limitation of this leash may be length. Typical bungee leashes vary from 3 feet to 6 feet in length.
Rope Leash. A rope leash comes in a variety of braided materials including polypropylene, cotton, and nylon. Rope leashes are known for durability depending on the material, however, as they become more durable, the weight of the leash may increase. Rope leashes vary in size from 5 feet and up!
Retractable Leash. Retractable leashes are typically made of nylon. They feature a wound mechanism inside the handle allowing the user to extend, shorten, and lock the leash length. Although the retractable leash gives your kitty more freedom for exploration, it lacks any absorption of a sudden jolt and may decrease your control if extended to full length. Retractable leashes typically vary in length from 10 feet to 20 feet.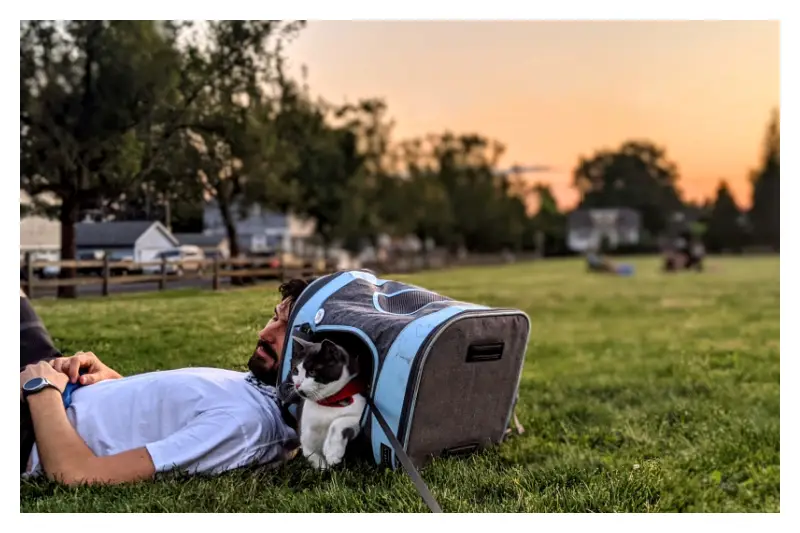 Just like harness training, leash training should begin indoors, then slowly progress to a safe place for the first outdoor adventure.
3. Purchase a cat backpack.
A kitty backpack is a must for successful herding of cats – or for when the herding isn't so successful. A cat backpack:
Provides safe transportation. Our kitties are never allowed to roam the car when we are driving. The dangers of them interfering with the driver is not worth the extra cuddles or the better view they may have. If we were to ever get in an accident with the kitties in the car, just like a human they should be secured in a seat. So, our kitties each have their own backpack that they are securely strapped into in the house, carried to the car, and then the backpack is secured with the seatbelt. Pets are family, they should follow the same safety precautions!
Provides a way for you to carry your kitty, because your cat is most likely not going to walk that entire trail. We recently completed the longest hike yet with our kitties – 7.4 miles with a 1,200 foot elevation gain in the first 2 miles. The cats walked approximately 500 feet of that. It was rainy and muddy and just one of those days that they preferred to take in the scenery from the comfort of their backpacks. Expecting your kitty to be an avid hiker is not realistic, be prepared to have a comfortable method of carrying her!
Provides a chill place for your kitty to decompress. The world outside of your home is BIG. There are new sounds, sights, and smells all around. As exciting as this will be, it could also be a little overwhelming. When your kitty get spooked or needs a little R & R, it is important to have a chill, safe place to go.
So, are you ready to herd cats?
Author Bio
Janelle is a cat mum to two resident adventure kitties and numerous cat and kitten fosters! Janelle and her furry family enjoy filling their days with hiking, kayaking, and seeking out the best cat-friendly destinations. You can follow Janelle, her adventure kitties, and adoptable fosters at @paws_pdx. You can read about their adventures and discover your own next cat-friendly destination at Paws PDX Travels (www.pawspdxtravels.com).