Although you might think that only dogs need chew toys, there are surprisingly many cats that enjoy them. We asked the experts at Toy Pet Reviews for their input and they suggested the following 9 product picks if your cat likes to chew.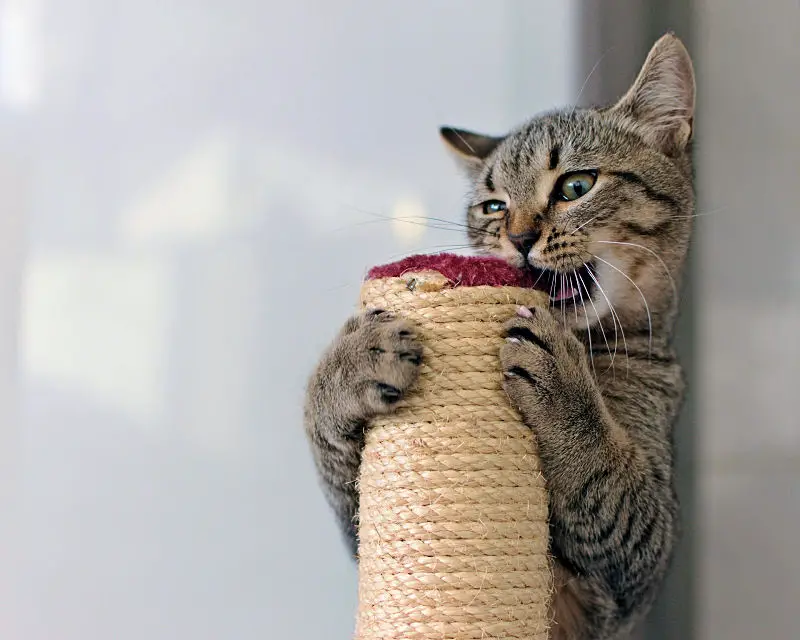 1.   Happy Kitty Tickle Kick Stick
This is a great toy for large cats. Unlike other toys the Tickle Kick Stick is not suitable for kittens, but any medium to large cat will enjoy it. It comes in the shape of a stick. One of the best things about this toy is its size (20 inch). It also contains catnip, but it can wear off after a while. You can purchase catnip spray separately and use it after a few months if you see your cat losing interest in the toy. This is one of the most popular cat chew toys and it is recommended by specialized websites like ToyPetReviews.
2.   Petstages Dental Health Cat Chews
If you are looking for a toy that is both great for the oral hygiene of your cat and that is entertaining, then the Petstages Dental Health toy is the perfect choice. One of the best things about this product is that it alleviates teething pain in kittens. It has a special netting that prevents the toy from unraveling and causing the cat to choke. This toys also contains catnip so that your furry friend stays entertained for hours.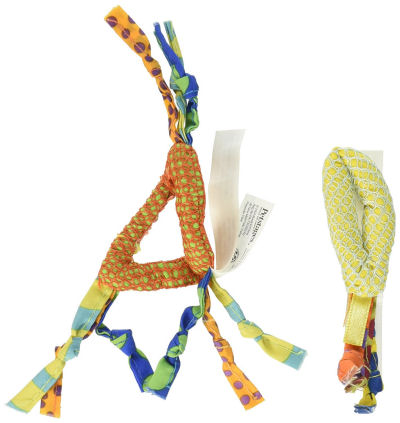 3.   KONG Teddy Bear Catnip Toy for Kittens
This is another amazing toy, especially for kittens that are teething. Just like the Petstages toy, it alleviates the discomfort caused by teething. The Teddy Bear is made of soft plush which means that it won't make any sounds, while the cat's risk of hurting themselves is close to none. Also, it contains catnip to make sure that your kitten never gets bored of it.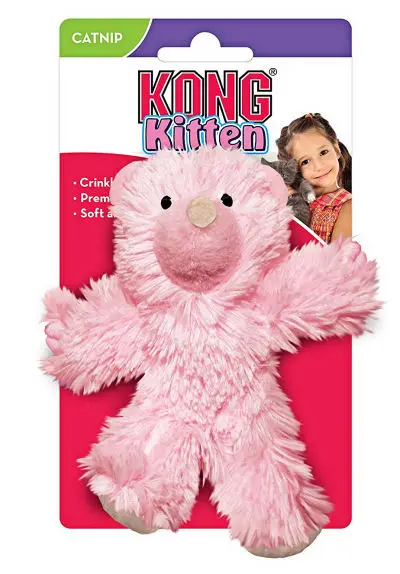 4.   Petstages Catnip Rolls Cat Toy
If you want a toy that is interesting for your cat, but it doesn't make noise, the catnip rolls from Petstages are the way to go. They contain catnip and make the perfect nighttime play companion. It is both soft and durable, so you don't have to worry about buying new toys every month. Just like the previous two toys, Petstages Catnip Rolls toy is amazing at alleviating discomfort from teething. However, this toy is made of nylon rope which has some sharp edges. Make sure to remove them before you give it to your cat.
5.   Petstages Fresh Breath Mint Stick
We are not the only ones who should have great oral hygiene. Since you can't brush your cat's teeth, the fresh breath mint stick from Petstages is here to help. This toy will leave your cat smelling sweet and minty after playing. It doesn't contain any fillers, just dried mint. However, it is almost impossible to find mint spray for cats. So, if you want to keep your cat interested, you might want to purchase some catnip spray.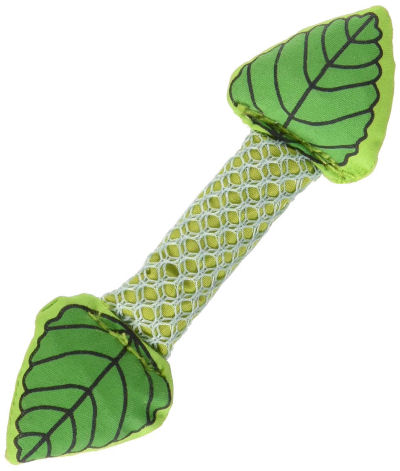 6.   Petstages Catnip Chew Mice
Every cat loves to hunt and play with mice. However, cats living in an apartment don't have this opportunity. This is why the catnip chew mice is one of the best choices for your furry apartment companion as they can "hunt" the mice. You can even throw it around to play with your cat when you want to spend some quality time together. A catnip spray is mandatory because this toy's scent can wear off in a short period of time.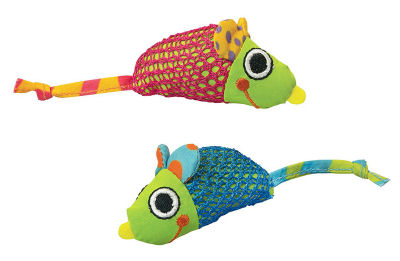 7.   CatTwig Organic Silver Vine Catnip Alternative Stick Toy
The best thing about this toy is that it is made only out of natural and unprocessed ingredients. CatTwig comes in a pack of 6 and it is great for improving the oral hygiene of your cat. Also, these sticks come in a re-sealable container that keeps them fresh for a new use. This toy helps remove plaque on cats' teeth. Unfortunately, cats can lose interest in this type of toy after a short use.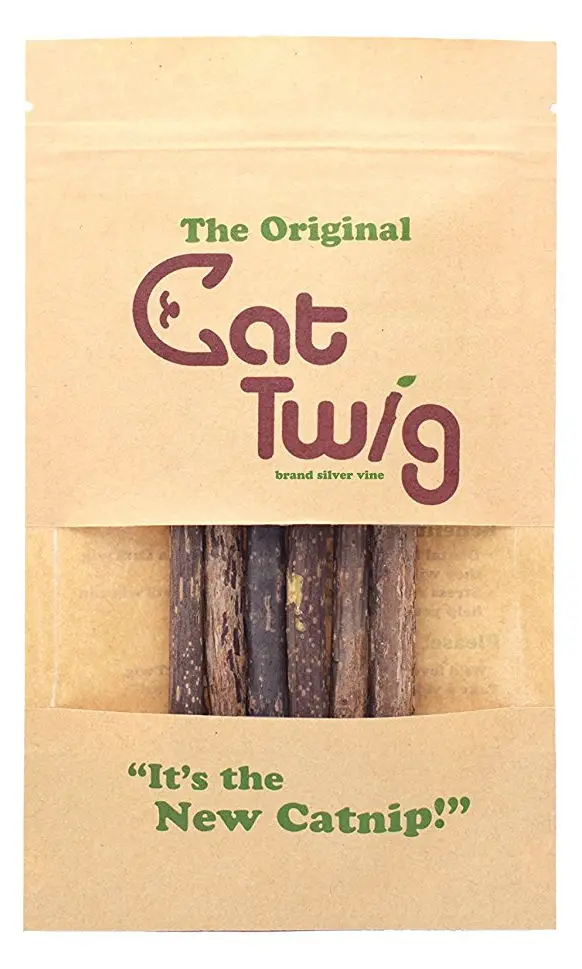 8.   KONG Cat Hugga Wubba Cat Toy
Here is another amazing toy from KONG which is made of soft plush. The Hugga Wubba is great for both kittens and larger cats. Kittens can chew on the smaller parts while cats can take the big part. It comes with a rattle which makes different sounds when it is bounced around. The toy is available in multiple colors and contains catnip that has a stronger odor than the ones in other toys, so you don't have to spray more of it.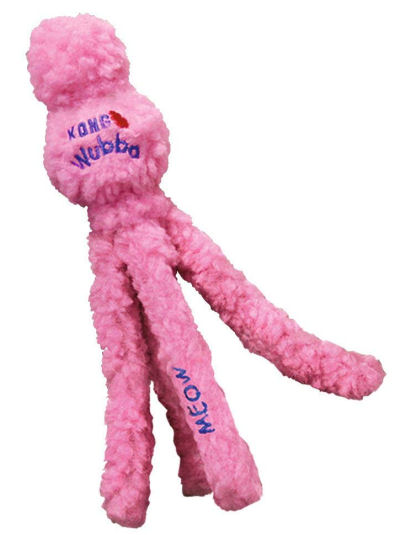 9.   Zuoao Catnip Sticks
The best thing about the Zuoao catnip sticks is that both kittens and adult cats can use it without problems. It is made of natural silver wine with the bark still on. The product is 100% natural and unprocessed, which means the sticks are non-toxic and safe for cats. Also, they improve the oral hygiene of your cat due to its cleaning effect that helps remove plaque. Some customers have complained that the sticks don't have enough catnip to attract the cat.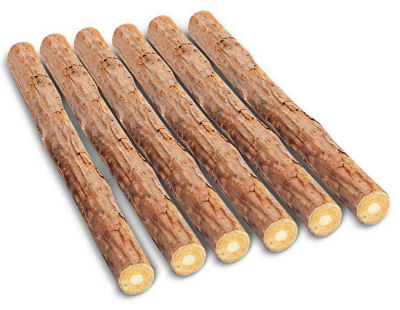 Choose any of these toys if you want to improve the oral hygiene of your cat while also giving it countless hours of entertainment. We believe that these are some of the best chew toys for. If you have a kitten that is teething, buy softer toys because rough sticks can hurt their gums.